It's not a myth! Honda 1987 Fourtrax TRX350 is blessed with all the trouble-free features! TRX 350 riders over the world experienced its performance and how perfectly it can go all year long.
Nonetheless, it's a machine and all machines are bound to face technical issues every once in a while.
Shifting Issue is a common terminology for any Honda ATV. When it comes to the 1987 Fourtrax TRX350, you also have it.

We have discussed shifting issues for different Honda ATV models including the 1985 TRX 250 Shifting issues. Now, our inquiry comes to an end with the 1987 Fourtrax TRX350 Shifting Issue.
For such a favorite model, we believe it will be a crime to not cover the shifting issue! Hop in for more!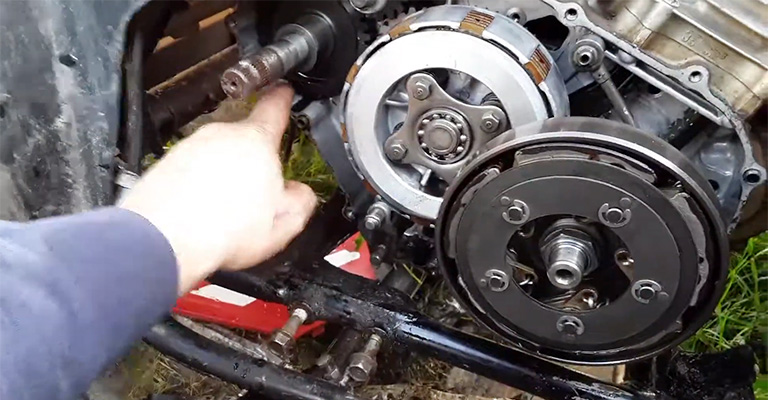 Shifting in 1987 Fourtrax TRX350
Unlike the modern Honda ATVs 420 and above, the shifting system in Fourtrax TRX350 doesn't involve an electrical shifting program (ESP). Rather, you have a mechanical system for the 1987 Fourtrax TRX350.
In detail, the shifting system of the 1987 Fourtrax TRX350 is a combination of mechanical and hydraulic components.
The ATV uses a constant mesh manual transmission with a multiple-disc wet clutch – common in traditional ATVs and motorcycles, but not in modern ATVs 420 and above.
This transmission system uses a manual shift lever to engage different gears and ultimately controls the power delivery to the wheels.
It means you have to use the foot-operated shift lever. Use your foot to push down or lift the shifter and engage different gear ratios within the transmission.
One drawback of manual shifting is you don't get the privilege of automatic gear shifting. It's a ton of a job that often modern riders don't want to find themselves in.
When there is a problem in the manual shifting system, you have a problem with your ATV's performance and usability.
1987 Fourtrax TRX350 Shifting Issue Signs You'll Face,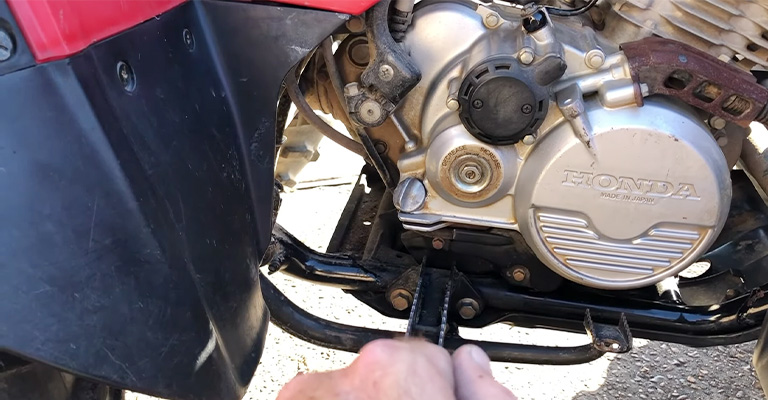 Difficulty Shifting Gears: You can experience difficulty when trying to shift gears using the foot-operated shifter lever.

Grinding Noise: When the gears aren't meshing properly due to misalignment, you may hear a grinding or crunching noise while shifting gears.

False Neutral: If the shifter lever seems to be in a neutral position but the ATV is still in gear, it can generate a false neutral. It happens when the shift forks don't engage the gears right.

Gear Stuck? Your TRX350 ATV can get stuck in a specific gear and not shift to other gears as intended.

Hard Time Finding Neutral? You may have trouble finding the neutral position with the shifter lever.

Clutch Slip: Not related to the shifting system directly, but you can also face issues with the clutch. Without a fully disengaged clutch, pulling the clutch lever will be hard.

Unpredictable Gear Change: Gears might not engage consistently, and lead to unpredictable gear changes. This is unsafe!

Clunking! You may hear a loud clunking noise while changing gears.

Clutch Dragged: If the clutch doesn't fully disengage when you pull the lever, you can feel the ATV trying to move forward even when the clutch is engaged.
When you encounter any of the signs mentioned above, and other components are working just fine, perhaps you should take a look at the shifting mechanism!
So, what steps should you take against such issues? Continue reading and find out!
Fixing 1987 Fourtrax TRX350 Shifting Issue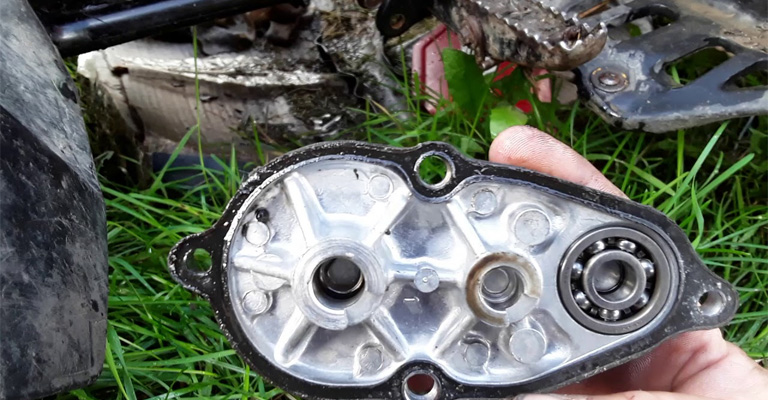 Take a look below and follow the steps to solve the shifting issues you may face with the 1987 Fourtrax TRX350.
1) Inspect the Clutch Operation
Is the clutch cable adjusted right? Ensure the clutch lever has the appropriate free play. When the clutch doesn't fully disengage, you will struggle to shift.
2) Check Transmission Oil
Often left unnoticed, improper oil levels or using the wrong type of oil can affect the transmission. Furthermore, with low oil levels or dirty oil, you can't shift gears smoothly.
Inspect the oil level mentioned in the owner's manual. You will need to regularly drain and replace the oil when it turns out dirty or contaminated.
3) Is the Transmission Safe?
An internal transmission issue might go wrong during the shifting process. You may need to disassemble after inspecting the transmission components for damage.
4) Hydraulic Clutch Left Unsafe
While your TRX350 is equipped, test the hydraulic clutch system for leaks, air bubbles, and proper fluid level. Bleed the system if necessary.
5) May Need Lubrication
The mechanical components regularly need lubrication. Regularly lubricate the shifter mechanism, clutch cable, and other moving parts to reduce friction and maintain smooth operation.
How Do I Know if My ATV Clutch is Bad?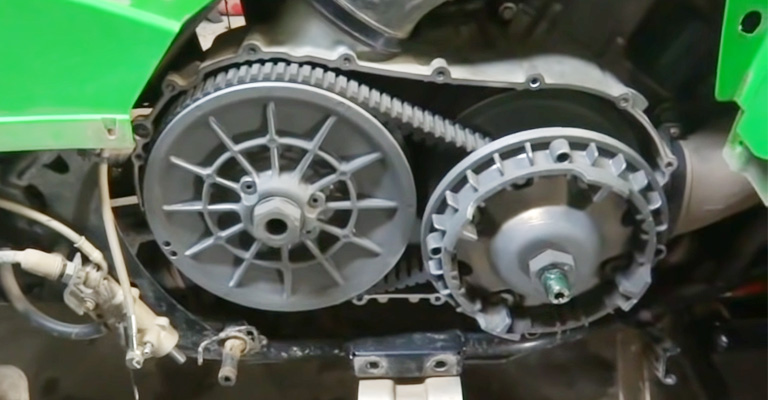 A common question we receive from many ATV riders. You may find it hard to figure out and not know whether you have a bad clutch or not.

The TRX350 doesn't have a hydraulic clutch. It features a mechanical clutch. Here is what you have to do, while the machine is in gear, twist the throttle recklessly.
Sometimes the back wheel does not rotate at the same rate as the engine. Be sure that, something is awry when you're stuck in third gear and only accelerating slowly.
Is The Honda Fourtrax TRX350 Automatic?
No, the 1987 Honda Fourtrax TRX350 is not automatic. It features a manual transmission. You have direct control over the gear shifting, which offers leverage in off-road situations.
However, mark that, it also means that the rider needs to use the clutch and shifter to change gears.
Honda did introduce automatic transmission models in later years for the Fourtrax TRX350, such as the Fourtrax 350D. The 350D was a fully automatic transmission ATV with multiple gear shifting ranges.
But you have the 1987 TRX350 model with the manual transmission.
Learn More About Honda ATVs
Shifting Issue is a common problem for any Honda ATV. Whether it's an automatic vehicle or a mechanical one, riders can genuinely face this issue.
Don't worry! Our article should help you solve the 1987 Fourtrax TRX350 Shifting Issue.

But since it's an old mechanic model and if you can't troubleshoot the problem yourself, an expert's advice is always suggested. Professional Honda mechanics are always ready at your service.

Also, regular servicing is mandatory to maintain the good health of the 1987 TRX350, including all other models.
Feel free to leave a comment and let us know what you think. Share our article with your friends and other TRX350 riders. Thanks for the road!