The 2004 Honda Civic is a popular and reliable sedan that has earned its reputation as a practical and efficient vehicle.
Known for its fuel efficiency, comfortable interior, and impressive reliability, the 2004 Civic has become a favorite among drivers worldwide.
Whether you're a first-time car buyer or a seasoned driver, this comprehensive guide will provide you with all the essential information you need to know about the 2004 Honda Civic.
From its engine specifications and powertrain options to its chassis design and interior dimensions, we'll cover everything you need to make an informed decision about this iconic vehicle.
So, let's dive into the details and explore the features and characteristics that make the 2004 Honda Civic an excellent choice for anyone in search of a dependable and practical sedan.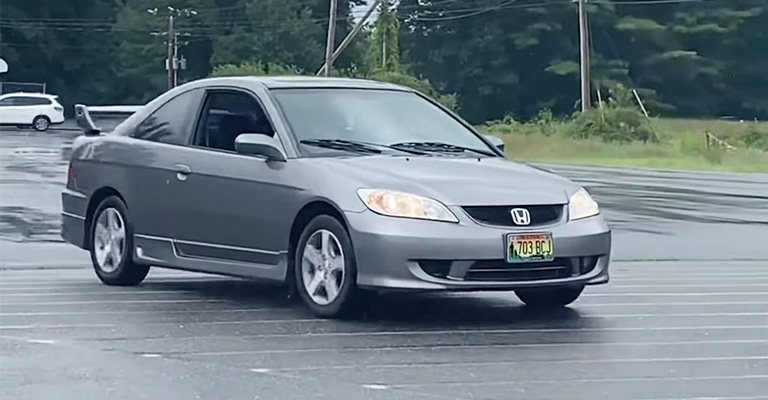 Key Specifications of the 2004 Honda Civic
Engine Type: Aluminum-Alloy In-Line 4
Displacement: 1668 cc
Horsepower: 115-127 @ 6100-6300 rpm (depending on trim)
Torque: 110-114 lb.-ft. @ 4500-4800 rpm (depending on trim)
Bore x Stroke: 75 x 94.4 mm
Compression Ratio: 9.5:1-12.5:1 (depending on trim)
Valve Train: 4-Stroke SOHC and VTEC (variable valve timing)
Fuel System: Multi-Point Fuel Injection
Transmission: 5-Speed Manual or 4-Speed Automatic (CVT available on certain trims)
Drive Type: Front-Wheel Drive
Suspension: Front MacPherson Strut/Rear Double Wishbone
Steering: Power Rack-and-Pinion
Brake System: Power-Assisted Ventilated Front Disc/Rear Drum (ABS available on certain trims)
Wheel Size: 14″ or 15″ (depending on trim)
Curb Weight: 2449-2703 lbs (depending on trim)
Fuel Tank Capacity: 13.2 gallons
The Good
Fuel Efficiency: The 2004 Honda Civic is known for its excellent fuel efficiency, offering impressive mileage figures that range from 29 to 38 mpg in the city and 31 to 38 mpg on the highway, depending on the transmission and trim.
Reliability: Honda Civics have a long-standing reputation for their reliability, and the 2004 model is no exception. It is built to last and has proven to be a durable vehicle over the years.
Comfortable Interior: Despite its compact size, the Civic offers a comfortable and well-designed interior. It provides ample headroom, legroom, and cargo space, making it a practical choice for daily commuting or longer journeys.
Handling and Ride Quality: The Civic features a well-tuned suspension system, providing a smooth and controlled ride. It offers responsive handling, making it enjoyable to drive on both city streets and highways.
Safety Features: The 2004 Civic is equipped with standard safety features such as front airbags, anti-lock braking system (ABS), and power-assisted disc brakes, ensuring a safer driving experience.
The Bad
Limited Power: While the Civic offers decent fuel efficiency, some drivers may find the engine power to be underwhelming, especially in the lower trim levels. The focus of the vehicle is more on efficiency rather than performance.
Road Noise: The 2004 Civic, like many compact cars, can be prone to road noise at higher speeds. However, this can vary depending on the road surface and the quality of the tires.
Improvements Over Previous Models
Compared to previous Honda models of similar segments, the 2004 Honda Civic introduced several improvements:. . . . .
Updated Styling: The 2004 Civic featured a refreshed exterior design with more modern and angular lines compared to its predecessor. It offered a sleek and contemporary look that appealed to a wide range of buyers.
Enhanced Safety: The 2004 model introduced the availability of anti-lock braking system (ABS) on certain trims, further enhancing the safety features of the Civic. This addition provided improved control and stability during braking.
Increased Power: The higher trim levels of the 2004 Civic, such as the EX, received a boost in power with the introduction of the VTEC (Variable Valve Timing and Lift Electronic Control) system. This technology improved the engine's performance and responsiveness.
The Trim Levels of the 2004 Honda Civic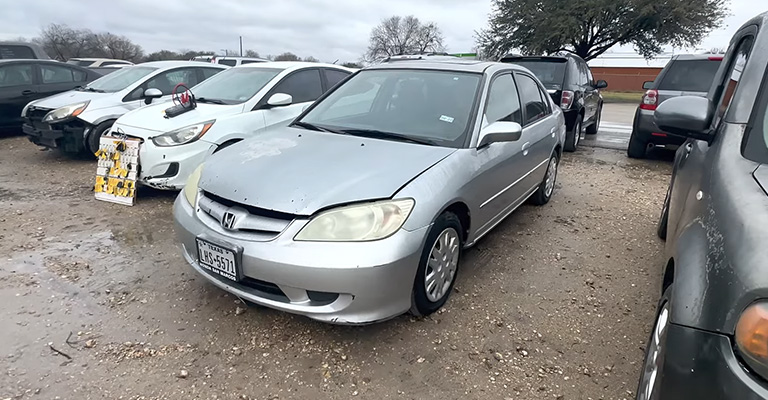 The 2004 Honda Civic was available in various trim levels, each offering different features and specifications to cater to different preferences and budgets.
Here are the key trim levels:
DX
The DX trim level served as the base model of the 2004 Honda Civic lineup. It came with a 1.7-liter aluminum-alloy inline-4 engine, producing 115 horsepower and 110 lb-ft of torque.
It featured a 5-speed manual transmission, front-wheel drive, and 14″ wheels with full covers. The DX trim prioritized affordability and practicality, making it an ideal choice for budget-conscious buyers.
VP
The VP (Value Package) trim level added some extra features and convenience to the base DX model. It included air conditioning, power windows, power door locks, and remote keyless entry, providing added comfort and ease of use.
LX
The LX trim level built upon the features of the VP trim and added more amenities. It offered 15″ wheels with full covers, a 4-speaker audio system, cruise control, and a height-adjustable driver's seat.
The LX trim provided a good balance of affordability and additional creature comforts.
EX
The EX trim level focused on delivering a more premium driving experience. It featured a more powerful 1.7-liter engine, producing 127 horsepower and 114 lb-ft of torque, thanks to the VTEC technology.
It offered 15″ alloy wheels, a power moonroof, a 6-speaker audio system, and keyless entry with an immobilizer system. The EX trim provided a blend of performance, style, and added features.
GX
The GX trim level was a natural gas-powered variant of the Civic, designed for fuel efficiency and reduced emissions. It featured a dedicated natural gas engine with a continuously variable transmission (CVT) and a fuel capacity of 8.03 gasoline-gallon equivalents (GGE).
The GX trim prioritized environmental friendliness and offered a greener alternative for drivers.
Comparison Table of the 2004 Honda Civic Trim Levels
| Trim Level | Engine Type | Horsepower | Torque | Transmission | Wheels | Key Features |
| --- | --- | --- | --- | --- | --- | --- |
| DX | 1.7L I4 | 115 | 110 | 5-Speed Manual | 14″ | Affordable and practical, basic features |
| VP | 1.7L I4 | 115 | 110 | 5-Speed Manual | 14″ | Added convenience features (air conditioning, power windows/locks) |
| LX | 1.7L I4 | 115 | 110 | 5-Speed Manual | 15″ | Enhanced features (cruise control, audio system, height-adjustable driver's seat) |
| EX | 1.7L I4 VTEC | 127 | 114 | 5-Speed Manual | 15″ | Performance-oriented with premium features (power moonroof, keyless entry) |
| GX | Natural Gas | – | – | CVT | 14″ | Natural gas-powered, reduced emissions, environmentally friendly |
Performance of the 2004 Honda Civic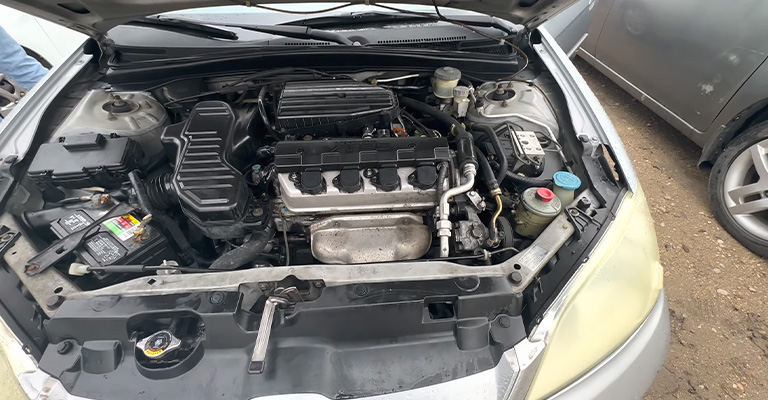 Engine Size, Power, and Type
The 2004 Honda Civic came equipped with a range of 1.7-liter engines across its trim levels. These engines featured an aluminum-alloy inline-4 configuration, providing a balance of efficiency and performance.
Horsepower (Hp)
The horsepower varied depending on the trim level. The DX, VP, and LX trim levels offered 115 horsepower, while the EX trim level featured a more powerful engine with 127 horsepower.
The horsepower output of the 2004 Civic was sufficient for daily commuting and offered decent acceleration for its class.
Torque
The torque output of the 2004 Civic's 1.7-liter engines was consistent across the different trim levels, providing 110 lb-ft of torque. The torque delivery offered good low-end power, making it responsive in city driving and providing adequate passing ability on highways.
Transmission Options
The 2004 Honda Civic offered both manual and automatic transmission options. The manual transmission was a 5-speed, providing precise gear shifting and giving the driver more control over the engine's power delivery.
The automatic transmission was a 4-speed option available in most trims, ensuring smooth and effortless gear changes.
The transmission choice had an impact on the car's performance, with the manual transmission offering a more engaging driving experience and better utilization of the engine's power, while the automatic transmission provided convenience and ease of use.
Fuel Efficiency
The 2004 Honda Civic was known for its fuel efficiency. The manual transmission variants achieved an EPA-estimated mileage of 32 mpg in the city and 38 mpg on the highway.
The automatic transmission models offered slightly lower estimates, with 29 mpg in the city and 38 mpg on the highway. These fuel efficiency figures made the Civic an economical choice for daily commuting and long-distance travel.
Suspension and Handling
The Civic featured a suspension setup with MacPherson struts at the front and a double wishbone suspension at the rear. This configuration provided a good balance between comfort and handling.
The MacPherson strut design improved stability and reduced body roll, while the double wishbone rear suspension offered precise handling and a smooth ride.
Overall, the suspension setup of the 2004 Civic contributed to its responsive and nimble handling characteristics, making it enjoyable to drive on both urban roads and winding curves.
Braking System
The 2004 Honda Civic was equipped with power-assisted ventilated front disc brakes and rear drum brakes. The front disc brakes measured 10.3 inches in diameter, providing effective stopping power.
Additionally, some trim levels offered an available anti-lock braking system (ABS), enhancing braking control and reducing the risk of wheel lock-up during sudden stops or on slippery surfaces.
Additional Performance Factors
Some additional performance factors to consider for the 2004 Civic include:. .
Weight: The curb weight of the different trim levels ranged from approximately 2449 lbs to 2703 lbs. Lighter weight contributed to improved agility and fuel efficiency.
Aerodynamics: The Civic's aerodynamic design reduced drag and improved overall efficiency, contributing to its fuel economy and stability at higher speeds.
Power Steering: The power rack-and-pinion steering system offered responsive and precise steering feedback, enhancing the car's maneuverability.
These factors, along with the engine's power and torque, transmission options, fuel efficiency, suspension setup, and braking system, all contributed to the overall performance and driving experience of the 2004 Honda Civic.
Off-road Ability Depends on Several Factors, Including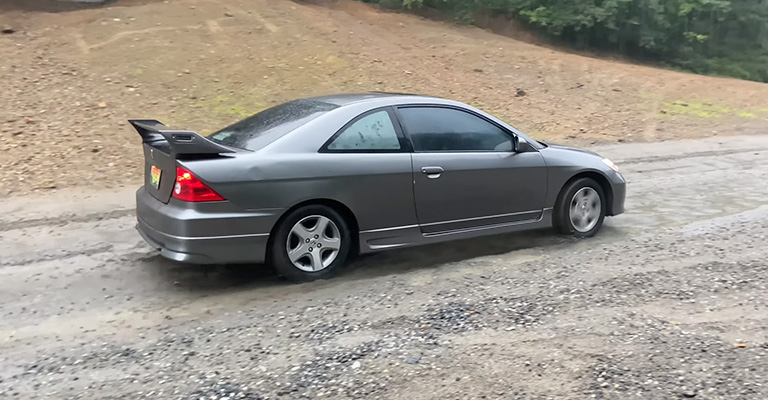 Four-wheel Drive
The 2004 Honda Civic is primarily designed as a front-wheel drive (FWD) vehicle. It does not come with a standard four-wheel drive (4WD) system. As a result, its off-road capabilities are more limited compared to vehicles specifically built for off-road adventures.
Ground Clearance
The ground clearance of the 2004 Civic is not explicitly specified in the provided information. However, it is important to note that the Civic is primarily designed for on-road use and does not have high ground clearance like dedicated off-road vehicles or SUVs.
The relatively lower ground clearance may limit its ability to navigate challenging off-road terrains and obstacles.
Traction System
The 2004 Civic does not feature an advanced off-road traction system such as a locking differential or specialized off-road modes.
While the Civic's traction control system helps improve stability and grip on slippery or uneven surfaces, it is primarily designed for on-road conditions rather than off-road adventures.
Towing Capacity
The 2004 Honda Civic comes with various models and engine options that offer a consistent braked towing capacity of 1200kg.
In the hatchback body type, both the Vi model equipped with a 1.7L unleaded petrol engine and a 4-speed automatic transmission, as well as the Vi model with the same engine but a 5-speed manual transmission, can handle the maximum towing capacity.
On the other hand, the sedan body type offers the Hybrid model with a 1.3L unleaded petrol/electric engine and a speed continuous variable transmission, along with the GLi model available in both a 1.7L unleaded petrol engine paired with a 4-speed automatic transmission and a 5-speed manual transmission.
Despite the variations in engine and transmission choices, all these models maintain the braked towing capacity of 1200kg, indicating their capability to tow trailers or other braked loads effectively.
| Model | Engine | Fuel Type | Transmission | Braked Capacity |
| --- | --- | --- | --- | --- |
| Vi | 1.7L | Unleaded Petrol | 4 SPEED AUTOMATIC | 1200kg |
| Vi | 1.7L | Unleaded Petrol | 5 SPEED MANUAL | 1200kg |
| Hybrid | 1.3L | Unleaded Petrol/Electric | SPEED CONTINUOUS VARIABLE | 1200kg |
| GLi | 1.7L | Unleaded Petrol | 4 SPEED AUTOMATIC | 1200kg |
| GLi | 1.7L | Unleaded Petrol | 5 SPEED MANUAL | 1200kg |
Cargo Space and Storage
The 2004 Honda Civic offers a cargo volume of approximately 12.9 cubic feet. While this provides ample space for everyday commuting and general storage needs, it may not be sufficient for extensive off-road adventures that require carrying larger equipment, gear, or supplies.
Limited cargo space can restrict the amount of gear you can bring along for off-road excursions.
Additional Considerations
Given its focus on urban mobility and compact design, the 2004 Civic is not intended to excel in off-road capabilities. It is important to understand the vehicle's limitations and use it within its intended purpose.
While the Civic can handle occasional light off-road conditions or unpaved roads, it is not suitable for challenging off-road trails, deep mud, or rocky terrains.
If you are specifically looking for off-road capabilities, it is recommended to consider dedicated off-road vehicles or SUVs that offer features such as four-wheel drive, higher ground clearance, specialized off-road suspension systems, and increased towing capacities.
Exterior and Styling of the 2004 Honda Civic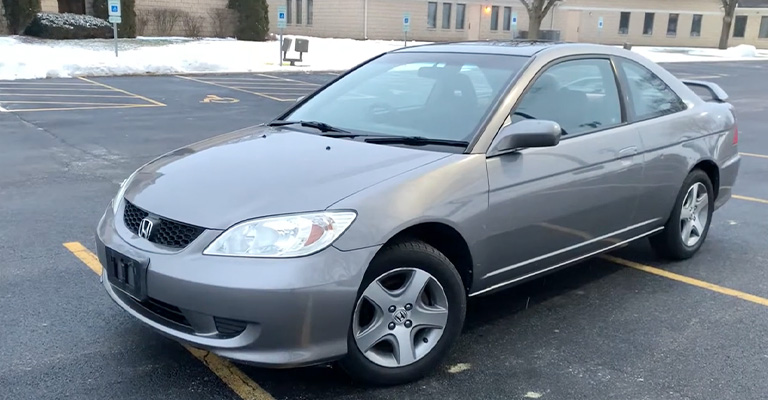 The 2004 Honda Civic showcases a sleek and contemporary exterior design. Its aerodynamic shape and smooth lines contribute to its overall efficiency and modern appeal.
The Civic features a compact body style with dimensions that strike a balance between maneuverability and interior space. The precise details and well-integrated styling elements give the Civic a refined and polished appearance.
With its attractive front grille, stylish headlights, and clean profile, the 2004 Civic presents a visually appealing and timeless design that continues to be appreciated.
Interior Designs and Aesthetics
Inside the 2004 Honda Civic, you will find a well-designed and functional interior. The cabin offers a clean and uncluttered layout, focusing on simplicity and ease of use.
The materials used in the interior are of good quality, providing a comfortable and inviting atmosphere. The Civic's interior features thoughtful touches, such as intuitive control placement and easily accessible features.
While it may not offer lavish luxury, the Civic's interior exudes a sense of practicality and durability, designed to withstand daily use and provide a pleasant driving experience.
The smoothness of the Drive
The 2004 Honda Civic delivers a smooth and comfortable driving experience, especially considering its compact size and class.
Honda's commitment to engineering excellence is evident in the Civic's refined suspension system, which helps absorb bumps and road imperfections.
The precise handling and responsive steering contribute to a composed and enjoyable driving experience.
While individual preferences may vary, the Civic's smoothness of the drive compares favorably to other car models in its segment, offering a balance between comfort and agility.
Ergonomics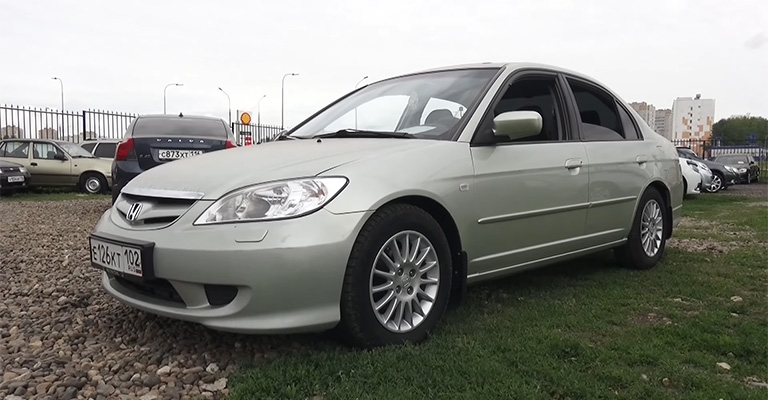 Upper Dashboard Size
The upper dashboard of the 2004 Honda Civic is designed with a focus on visibility and accessibility.
The layout provides clear sightlines and ensures that essential information and controls are within easy reach of the driver.
The placement of the upper dashboard elements enhances the overall ergonomic design of the interior.
Driving Position
The driving position in the 2004 Civic is well-designed, offering a comfortable and commanding view of the road.
The seating position provides a good balance between comfort and visibility, allowing the driver to maintain a relaxed posture during long drives.
The adjustable seats and steering wheel further enhance the customization options to accommodate drivers of varying heights and preferences.
Controls and Instrumentation
The controls and instrumentation in the 2004 Honda Civic are thoughtfully placed and designed for intuitive operation.
The layout ensures that essential controls, such as climate control, audio, and infotainment, are within easy reach and allow for distraction-free driving.
The instrument cluster provides clear and legible information, enhancing the overall driving experience.
Visibilities and Sightlines
The 2004 Civic offers excellent visibility and sightlines, allowing the driver to have a clear view of the surroundings.
The large windshield and well-positioned side mirrors offer enhanced visibility, minimizing blind spots and facilitating safer lane changes.
The rear window and rearview mirrors provide adequate visibility for backing up and parking maneuvers.
Comfort and Seating
The Civic prioritizes driver and passenger comfort with well-padded seats that offer adequate support for long journeys. The cabin provides sufficient headroom, legroom, and shoulder room, ensuring a comfortable seating experience for both front and rear occupants.
The overall seating arrangement allows for a relaxed and enjoyable ride, even during extended periods behind the wheel.
Additional Features
The 2004 Honda Civic may offer additional ergonomic features such as adjustable seat positions, lumbar support, and armrests to enhance driver and passenger comfort. These features contribute to a more personalized and ergonomic driving experience.
Safety Features and Iihs Safety Ratings
The 2004 Honda Civic is equipped with a range of safety features designed to prioritize the well-being of its occupants.
Some of the notable safety features found in the Civic include dual-stage front airbags, side-impact airbags, anti-lock braking system (ABS), and vehicle stability assist (VSA) with traction control.
These safety features provide added protection in the event of a collision and help enhance overall vehicle stability and control.In terms of safety ratings, the Insurance Institute for Highway Safety (IIHS) has evaluated the 2004 Honda Civic in various crash tests.
It received commendable ratings in frontal offset and side-impact tests, demonstrating its ability to provide substantial protection to occupants in the event of a crash.
It is worth noting that safety features and ratings may vary depending on the specific trim level and optional safety packages.
Warranty Coverage and Reliability
The 2004 Honda Civic came with a standard warranty coverage offered by Honda. However, it's important to note that warranty terms and coverage may vary based on the country of purchase and specific dealership policies.
It is recommended to consult the authorized Honda dealership or refer to the official documentation to obtain accurate and up-to-date information regarding warranty coverage for the 2004 Civic.
In terms of reliability, the Honda Civic has established a reputation for being a reliable and long-lasting vehicle. Honda is known for its engineering quality and commitment to producing vehicles with a high level of reliability.
With proper maintenance and regular servicing, the 2004 Civic has the potential to provide reliable performance and longevity.
Life Expectancy
The life expectancy of a vehicle can vary based on several factors, including maintenance, driving conditions, and individual usage patterns. With proper care and maintenance, the 2004 Honda Civic has the potential to remain on the road for many years.
Regular servicing, following recommended maintenance schedules, and addressing any potential issues promptly can help extend the life expectancy of the vehicle.
Oil Type Used
The 2004 Honda Civic typically requires conventional engine oil. It is recommended to refer to the owner's manual or consult with a certified Honda technician to determine the specific oil type and viscosity recommended for the engine.
Following the manufacturer's guidelines for oil changes and using the recommended oil type will help ensure optimal engine performance and longevity.
Problems
While the 2004 Honda Civic is generally regarded as a reliable vehicle, like any car, it may experience some common issues or problems over time.
Some potential issues reported by owners of the 2004 Civic include transmission problems, such as slipping or failure, as well as issues with the air conditioning system or electrical components.
It's important to note that the prevalence of these problems can vary among individual vehicles and is not necessarily indicative of widespread issues across all 2004 Honda Civics.
Regular maintenance, timely repairs, and addressing any issues promptly can help mitigate potential problems and ensure the longevity of the vehicle.
Other Honda Civic Models –