Cars with automatic transmission rely heavily on the shift solenoids. It is an integral part of the car that makes the vehicle run smoothly. So, if any of the solenoids wears down, you are destined to encounter unwanted problems during shifting and might get flooded with dashboard warning signs.
The auto transmission will not function to its optimum if any of the solenoids wear out. Well, how do you diagnose a faulty solenoid? What are the symptoms of a shift solenoid going bad? Knowing the answer to these questions will let you counter any transmission mishaps beforehand.
We have jotted down some of the common symptoms that will allow you to know if the solenoids are bad or not.
What Is a Transmission Shift Solenoid?
Solenoids are small electrohydraulic valves that are responsible for controlling the transmission fluids within the transmission chamber. With an auto transmission car, shift solenoids play a vital role in providing a smooth gear shift of the car.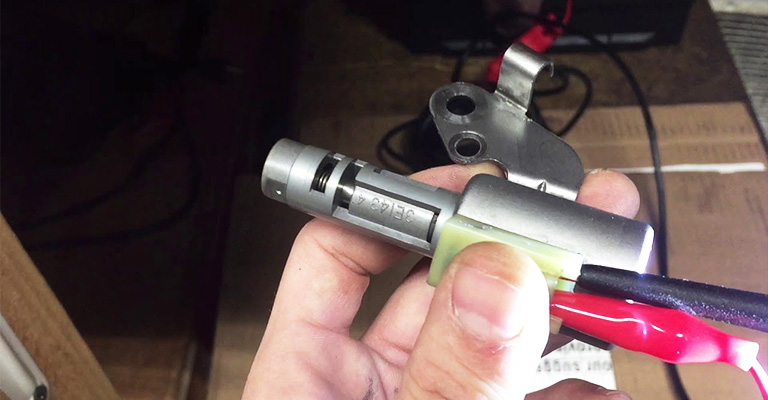 These small valves open up when it receives electrical signals to control the fluids within the transmission system. The signals come from the transmission unit, engines, and sensors. What happens is it allows the transmission to fire up when you increase the speed of your vehicle.
When the reaction process slows down, this is when it starts to hamper the gear shifting system of a vehicle by slipping it or by failing it miserably.
Bad Shift Solenoid Symptoms
When a solenoid goes dead or starts to misfire, you can get a hint from the performance of your car. A common indication of a bad solenoid is the lackluster gear shifting of your car.
Sometimes you will be notified using the dashboard lights, and sometimes your vehicle can enter limp mode. We are here to break down some of the probable inklings of a bad shift solenoid.
1. Check Engine Light Indicator or Transmission Light
This is the first thing that lights up when a solenoid is not working as it should. Not just the solenoid problems, if the car detects any transmission malfunction, it should also indicate you by flaring up the light.
When the malfunction indicator lamp glows, it means your car's automatic computer system has detected a failure within the system. As you see the light pop up, you should immediately seek a solution because leaving it for too long will certainly overheat the catalytic converter to add to your dilemma.
Nowadays, most new car models come with their own transmission warning light indicator, which flashes when there is any problem with the transmission system. The light offers some trouble code, and when you look at the transmission module, it can point to solenoid damage.
Decoding transmission control modules can be tricky, and thus you need the best car code readers that will ease up the complications.
2. Delay in Gear Shift
As you know, solenoids are key to allowing smooth gear shifts. So what if the gear itself is not making the shifts properly? Well, you might have a hitch to deal with. This is mostly recognized when you accelerate or decelerate and observe a sudden bumpiness within your vehicle or erratic behavior in your car's gear system.
3. Jammed Gear Not Shifting Out of Neutral
Whenever there is a lack of electrical signal within the solenoid, it will make the shift solenoid go slow, and therefore the transmission shift will also be restricted down, which can result in absurd gearbox behavior like it will not allow you to shift from neutral to the next great.
4. Hard Shifting
When you have to apply more than the regular force to change from one gear to another, it is a pointer that a hydraulic valve or two is facing some hardships. When the shifting becomes too hard for your hands to deal with, it is a sign that there could be a potential valve impairment.
5. Down Shifting Issue
Does your car rev up when you try to apply a downshift? This should not happen, and if anything like this occurs, then it marks a solenoid performance error. When you are decelerating your vehicle, and the transmission will not allow you to downshift, you've got one or more busted solenoids.
6. Inconsistent Gear Shifts
Whenever you're trying to change gear while driving and observe gear skipping, then it is a direct indication of a damaged solenoid. Whenever you try to engage a particular gear and the transmission shifts it to another gear instead of the one you applied, then you've got serious issues in your hand.
Each gear mode contains a few solenoids in them, and if any of the valves are impaired, then they can cause the gear to jump to another grid rather than moving to the gear you just applied.
7. Delays and Slipping Gears
Whenever you feel there is a lack of fluency in the shifting, you should be aware that the solenoid is not getting enough electrical signal thus, it is causing the transmission shift to go awry.
A common example is slipping gears during a shift, and it could feel uneasy to change from one shift to another. The time of the gear shift also needs to be considered. If the shift you are applying takes too long and has a delayed relocation, then the hydraulic valves are probably going dead.
8. Limp Mode
It is a default function in most cars that doesn't allow some basic gear shifts, for example, mostly it won't let override the third gear.
Why does this happen? It occurs to protect your vehicle. Manufacturers introduced limp mode to protect your car's performance and preserve the transmission to keep away from potential accidents.
Whenever Limp Mode gets triggered, it is advised to park your car immediately. It can jeopardize the safety of your car engine and the driving aspect too.
Limp mode curbs down the speed, and here you won't be allowed to speed up the car, as there won't be many available gear shifts due to the auto restrictions to protect the vehicle.
What to Do If You Detect Solenoid Problems?
Fixing solenoid problems can be extremely difficult for an average car driver, and if you are a newbie, it's not for you. It needs a lot of complex work to make it work again. So, If you face any of the 8 problems we mentioned above, you better hurry to a professional mechanic or garage to handle the intricate issues.
Taking your car to regular checkups can keep transmission issues at bay. Let the trained eye do the hard work for you and make suggestions on whether the car needs a solenoid repair or full replacement.
If you want to know how to replace solenoids or if it's good to rebuild them from scratch, please check out the following link.
How Much Does It Cost to Replace Transmission Shift Solenoid?
It depends on what car model you have, plus the solenoid transmission it uses. The range can go from 100 to 700 dollars, including all other necessary components (filters, fluids, etc.) and service charges.
In general, a single solenoid change can cost 50 to 150 dollars, depending on your car. A full pack of shift solenoids can be around 700 dollars. As the Solenoids are placed inside the valve body, the valve removal cost also needs to be considered as well, which can be around 500 to 1000 dollars.
Frequently Asked Questions
Where are the shift solenoids located?
Solenoids are placed inside the valve body of the transmission chamber. To reach for the solenoids, you might have to replace the valve body first. In some cars, the shift solenoids are visible from the outside, and the valve body doesn't need to be taken off.
Do manual transmissions have solenoids?
Most cars with manual transmissions don't have any solenoids. Whereas the auto transmission system includes many solenoids, which help the transmission fluid to flow consistently, making the gear shifts possible. You should check for the transmission codes.
What are the warnings of a failing solenoid?
We have already discussed the symptoms of a potential solenoid impairment in this article, check out the 8 reasons above. The basic warnings are as such, delayed or erratic gear shifts, the car revs up while braking, stuck gear, and signal lights on the dashboard.
What are the different types of solenoids?
There are three types of solenoids available, lockup solenoid, transmission solenoid, and transmission shift solenoid.
Final Verdict
No matter what car you drive, if you are unlucky, you can end up with gear issues on your vehicle. This mostly happens because of dreaded shift solenoids in the transmission valve.
Most people rely on the dashboard lights to signal them, but there are many other ways to judge whether solenoids are good or not. All you need to do is be aware of the cues the car is giving you. So what are the symptoms of a shift solenoid going bad?
You can mark it up with the performance of your car. We have highlighted potential symptoms to figure out problematic solenoids.
Next time you face any of the issues we mentioned in this write-up, you better take your car to a professional mechanic to fix it. Don't go on to perform the task yourself, it is very intricate and requires experienced hands to re-run the gear system smoothly.