Most automobile owners get confused with brake warning lights on their dashboards and if you are the owner of a Honda Accord, you are likely to see many different types of lights on the dashboard section, starting from engine light, to oil indication light, and the likes of brake-lamp light.
To ease all the confusion about the brake lamp light honda accord, we scoured some of the most common questions and answered them so you know what it means and its purpose of it.
What Is a Brake Lamp Light in Honda Accord?
The brake-lamp light on a Honda Accord could indicate a few different things, either it can signal you that the brake oil is running low and needs to be refilled.
On the other hand, it can also point out that the parking brake (handbrake) is activated. This brake lamp turning on can also indicate some issues with the braking sensors.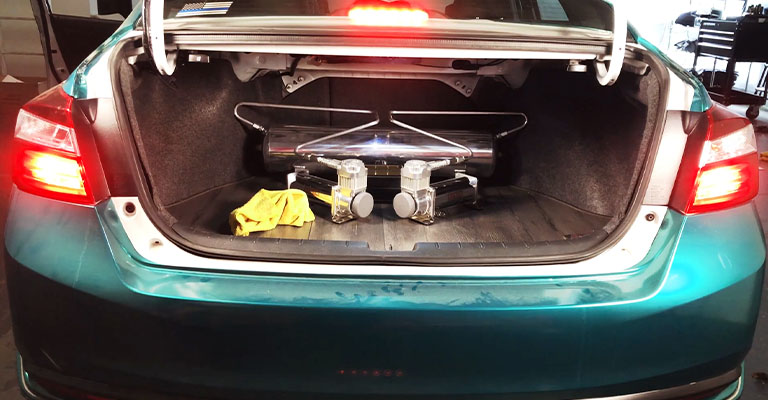 Honda accord brake lights can automatically turn on if the ABS of the vehicle has some flaws. To counter this issue, you have to make sure the handbrake is not engaged, and the reservoir tank is full of fluid.
If the light still flashes, then you need to have it checked by a mechanic who is proficient in reading car codes and providing fixes.
What Does It Mean When the Brake Lamp Light Flashes When You Are Driving?
When you are driving, and the brake light starts glowing, there could be a few reasons behind it. Most likely your vehicle is probably low on brake fluid. Therefore, refilling the reservoir should solve this issue.
Another probability is that you are driving with the emergency brake still engaged. The anti-lock braking on your car might not be functional thus, the light can flash as well, take it as a pointer that the ABS system needs repair. Sensor issues are also liable for brake lights popping up.
Is It Safe to Drive with Brake Light and ABS Light on?
Your car can run even with the brake lamp lights on, but driving in this situation will hamper the braking performance further and raise safety concerns for you. You are most likely lacking some of the safety features, this is why the light comes on.
So if you keep driving, you are further damaging the brakes. Your car might not stop precisely during an emergency, making the braking distance longer and potentially restricting the steering control while braking.
If you see a brake warning light on your dashboard, it means one or more of the brakes need to be serviced. It's important to know that there could also be a problem with the system itself if this light is coming on.
In order for your car to function properly, all of its systems need to work in concert – including the brakes. If you notice anything wrong with them, like fluid leaking or grinding noises, get it checked out as soon as possible by an expert technician.
Otherwise, using caution and following safety guidelines can help keep yourself and others safe while driving.
Other Frequently Asked Questions
Here are some more FAQ on Honda Accord brake lamp light.
What Does Brake Lamp Mean?
Check the brake warning light to see if it's on. If there is a problem with one or more brakes, you'll need service.
The system isn't fully functioning and that means there's a problem with one or more components of your braking system.
You may also have a problem with one or more brakes. If you've had them serviced in the past but they're starting giving problems again now.
Your vehicle needs service because something is wrong with one or other brakes and fixing it won't fix the underlying issue causing the warning light to come on.
What does brake lamp mean on a car?
Brake fluid is a vital part of your car's braking system and should be checked regularly to ensure that it's at the right level. When you see the brake lamp come on, there may be one or more issues with your car's braking system that need to be addressed as soon as possible.
Keep an eye out for warning signs such as low brake fluid levels, activation of the emergency brake, or problems with sensors in order to avoid any potential accidents. If you notice any of these symptoms and can't seem to fix them yourself, don't hesitate to take your car into a mechanic for help.
Knowing what the different indicators on your dashboard mean will help keep you safe on the road – always stay alert.
Can you drive with brake lamp light on?
It is important to know that you can drive with brake lamp light on, but it is still very dangerous to do so. Make sure to always keep an eye on the brake lights when driving in case they go out or something else happens and you need to stop quickly.
If your vehicle has a warning system about low braking fluid levels, be aware of this as well and fill up your brakes if necessary. Turning on all the dashboard lights when you first turn your car on helps avoid any surprises down the road while driving.
Always take care while behind the wheel – even with brake lamp light on.
What is a brake lamp Honda Pilot?
If your Honda Pilot's brake light comes on, it means that the car's brake fluid is low. Make sure to check the level often and pull over if needed so you can top up the fluid.
The brake lamp will also come on when there's a problem with your parking sensors or other related parts of the braking system.
Don't forget that regular maintenance such as tune-ups and replacements of aging components are essential for keeping your Honda Pilot safe and functioning at its best.
Driving without proper brakes could lead to serious injury or worse; always be sure to have enough fluid in reserve.
Where is the brake lamp?
The brake lamp is a safety device that helps drivers see in the dark and stops cars from rolling away.
There are two located either side of the rear bumper, as well as one at the very back of the car, in most cases this will be on top of or just behind your rear window.
The brake light is an important part of driving, so it's important to make sure you know where it's situated on your car and how to use it safely.
In some countries, such as Australia, there is also a third brake light which sits centrally in front of the steering wheel – this can help prevent collisions when turning corners.
If you ever need to replace your brake lamp then take note of its location before doing anything else – sometimes they're quite tricky to access.
How do I fix my brake light?
If your brake light is not working, first make sure that the brakes are applied firmly by pushing the pedal several times. Next, turn off the car's dashboard lights and check if the brake light comes on when you switch them back on.
If it does not work after following these steps, there may be a problem with one of the components in your braking system – consult a mechanic for help. In any case, don't waste time troubleshooting anything; go straight to a mechanic to get your brake light fixed as soon as possible.
Can worn brake pads cause brake light to come on?
If your brake warning light is still on, it may be due to an issue with your brake pads. In some cases, worn brake pads can trigger a separate warning light that looks like this.
Checking for leaks and then verifying the brakes are working properly may help determine the root of the problem.
If you're experiencing problems with your braking system, having professionally inspected could be in order as well (depending on what type of car you have).
What does brake lamp mean on a Honda Odyssey?
If you notice the brake light on your dashboard lit up, it means that either your brake fluid is low or there may be a problem with your braking system.
It's important to have regular maintenance checks done on your Honda Odyssey brakes in order to keep them working properly and avoid any emergencies down the road.
Make sure to get in touch with a mechanic as soon as you see the BRAKE light come on so they can take care of the issue right away. Be aware of when these inspections are recommended and schedule them accordingly so you don't experience any problems later on down the line.
Keep an eye out for warning signs such as seeing yellow fluid coming from under your car, or hearing strange noises while driving – if any of these appear, it's time for a professional repair.
Frequently Asked Questions
What happens when brake light switch fails?
If your brake light switch malfunctions, the rear brake lights won't illuminate, and the driver behind you won't know that you're slowing down, causing a major safety hazard.
Does AutoZone replace brake lights?
AutoZone can help you with brake light replacement if that's something you're considering. They may have a variety of products to choose from, or they could direct you to an expert who can help guide your selection.
How long does it take to replace a brake light?
If you are replacing a tail light bulb, be prepared to take your time. New bulbs may require a little more effort to remove and replace than older ones, but the end result should be the same. Be sure to read customer reviews before making any purchase.
What can turn on the red brake warning light?
If the red brake warning light is on, your car's parking brakes may not be working. If you're unable to stop at a stop sign or while in a tunnel, your car might have gone into "parking mode."
In this situation, the brake pedal will stay pressed until released by hand. Check fluid levels and Brake Master cylinder for brakes if necessary.
Final Thoughts
Brake lamp light Honda Accord – what does it mean? Well, it is a no-brainer and a pretty simple indication that the braking system is enduring some faulty ends. Maybe you are driving with the parking brake on, or it could be the dearth of brake fluid in the reservoir.
Bad sensors and ABS malfunction can also turn on the brake light automatically. If you see the indicator on the dashboard flashing, don't be worried. Stop your vehicle and have it checked. It is advised that you take your Accord straight to a mechanic to have it diagnosed and fixed.