A car's oil is like a person's blood. Nevertheless, your body can purify your blood and make new blood cells over time. That's not something your car can do.
Even though oil changes seem relatively simple, they are among the most important aspects of regular, ongoing auto maintenance.
You may experience poor fuel economy, serious engine damage, or even engine failure if you don't change your oil regularly.
So, before I answer your question about "can low oil cause overheating?" let me tell you what the engine oil does.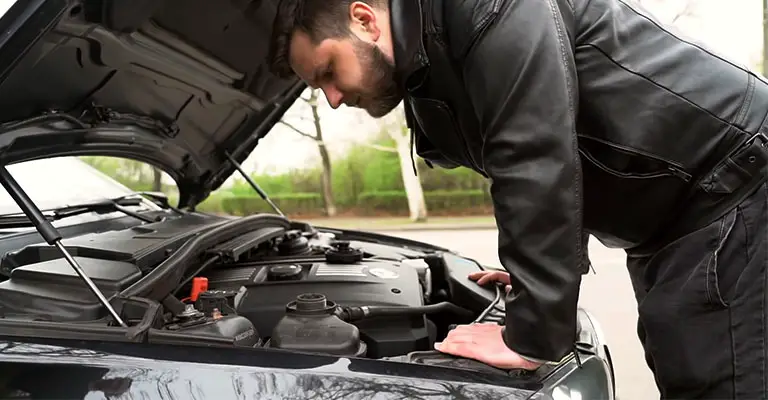 The Purpose Of Engine Oil
The purpose of engine oil goes beyond just providing lubrication. It removes heat from the engine during its circulation through the oil filter and pump. When the oil level is low, less heat can be absorbed, resulting in overheating.
Heat is also generated inside the engine by friction, which is increased when there is less oil. Flow resistance is a measure of oil viscosity.
The thicker it is, the greater the resistance and the greater the amount of heat generated.
Engine oil is responsible for cooling the engine and ensuring the temperatures around all the parts are the same, so no one part heats up (expands) more than the next. As oil thickens, it flows less, which means it cools and equalizes less.
During engine operation, only oil cools the pistons and bearings and takes that heat to the oil pan and rocker covers for cooling and to the block and head for cooling by parallel coolant passages.
Can Low Oil Cause Overheating?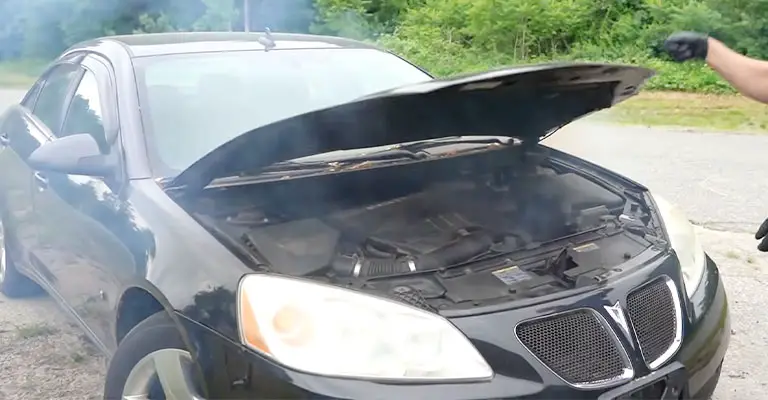 There is generally no association between overheating and low oil levels, although there should be.
A low coolant level can cause overheating, but a low engine oil level can also do the same. So, despite having a full coolant level, this can still happen.
Too little oil keeps the engine from cooling, so it will continuously heat up. As a result, you'll see that your temperature gauge starts climbing as the engine coolant has a harder time siphoning off excess heat.
It is important to note that your temperature gauge indicates the temperature of your coolant, not the temperature of your oil.
Therefore, coolant levels rising to unsafe levels (yellow or red on the gauge) should be pulled over and let cool down.
Make sure the oil level is correct while the engine is cooling. Taking your vehicle to a mechanic requires topping it off if it's low.
It is also a good idea to check your coolant level, but you shouldn't do so before the engine completely cools.
Hot coolant can explode out of a radiator or reservoir, causing serious burns. If the coolant level needs to be topped off, ensure the engine has cooled.
The engine block can crack if overheated, which essentially destroys the engine. Therefore, do not run an overheated engine since it can cause serious damage.
What Causes An Engine To Overheat When It Has Low Oil?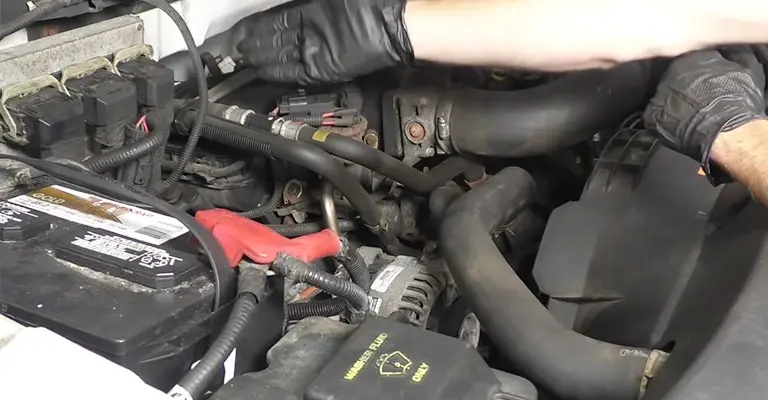 Heat is a natural part of car engines. It is best for petroleum and diesel engines to run at higher temperatures within certain parameters, so it is a good idea to have a hot engine. As a result, it increases gas mileage and is environmentally friendly.
Heat is removed from the engine by the oil filter and pump. It is for this reason that engine oil is so important. Low oil levels reduce the engine's ability to absorb heat, resulting in overheating.
The engine also overheats when there is less oil, resulting in more friction. An oil level warning light usually appears inside the cabin when the oil pressure is too low. An oil pressure sensor relays this information to the driver's ECU.
What Is The Recommended Temperature For Engine Oil?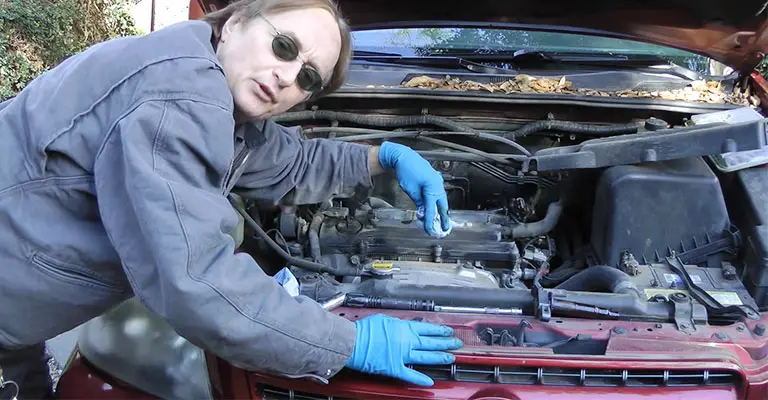 The temperature at which engine oil should be run has limits. 230 to 240 degrees Fahrenheit is the maximum temperature.
When the oil reaches this point, the additives separate from the oil, and the oil degrades. Again, this may or may not be possible for high-performance oils depending on the oil quality.
Temperatures of 230 Fahrenheit are typical for automobile engines. Today, most engines are made from aluminum alloys. Compared to older steel or iron blocks, it is lighter and has better heat resistance.
At much higher temperatures than this, aluminum starts to show signs of distress. Aluminum can melt at much higher temperatures than this.
In addition, low oil levels reduce the engine's efficiency. It is not uncommon for other parts to struggle as well since they rely on the engine to provide power.
Oil levels that are too low can inadvertently put additional strain on the water pump. Serpentine belts on cars power water pumps.
What Are The Other Causes Of Engine Overheating?
Your car overheating may not always be caused by low oil or a damaged water pump. Among the other causes are:
Belts that are broken or loose
The engine thermostat is malfunctioning
The radiator is malfunctioning
Engine coolant low or nonexistent
When Was The Last Time You Changed Your Oil?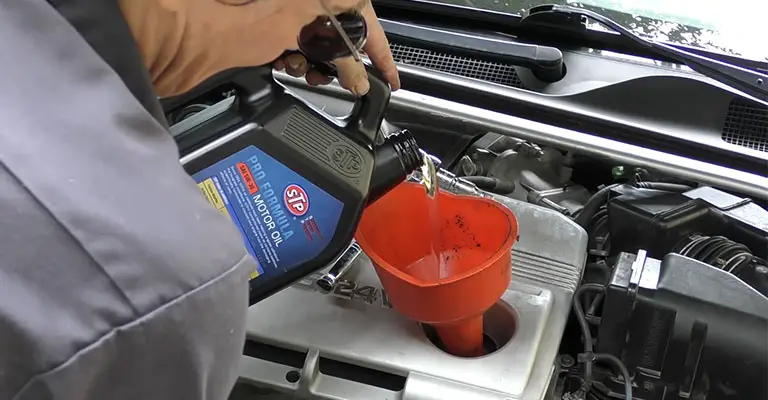 Changing your oil at the recommended interval in your owner's manual will help you avoid problems due to low oil.
Some cars need an oil change every 3,000 miles. Some need it every 5,000 miles, and others need it every 10,000 miles. Oil type determines how long your car can go between oil changes.
How Does Low Oil Affect My Car?
When my oil level is low, what happens to my car? Is low oil likely to cause overheating? Is it worse than that? First, it is important to remember that oil lubricates the engine's parts and ensures they function properly.
Insufficient fuel can stress your engine if you don't keep the right amount. You probably guessed that overheating is one of the consequences of low oil.
A low oil level, for instance, can make your water pump work harder than usual. In addition, your engine will quickly overheat if the water pump breaks, which is one of the primary cooling systems.
Is It Possible To Overheat An Engine With Old Oil?
Unless you have driven your car regularly and maintained a good tune-up schedule, you shouldn't be concerned about this.
Nevertheless, we know that sometimes a car can sit for a long time without maintenance, or a lack of funds can keep it from being properly maintained. As someone who has been there, I can relate!
It can be challenging to quantify the term 'old oil.' It's very subjective. There are three types of car oil: mineral, part synthetic, and full synthetic.
Occasionally, high-performance or older engines can require special oils. A definitive definition of old is impossible because so many factors are involved.
Is It More Likely That Older Engines Will Overheat?
The majority of the time, no. However, engines that are older will have more wear on them than newer ones.
As a result of more wear, pistons, valves, cylinders, rings, pistons, and rods may not be seated properly, causing frictional heat.
However, overheating shouldn't be more of an issue with an older car that's been well-maintained.
The Bottom Line
Your car's oil level and condition should be closely monitored at all times. Make sure you service your vehicle at the right intervals and use the proper oil weight and type as the manufacturer recommends.
It is important to address any signs of low oil, low oil pressure, oil leaks, or overheating as soon as possible. Hopefully, you got your answer about low oil causing the engine to overheat.