ATVs can be your ideal companion in farming, hunting, racing, and even in the military. But, our farming friends can take extra privileges from ATVs with a bush hog.

Hence, we often face one common question from most ranchers, can you put a bush hog on an ATV? Most importantly, how bush hogs can be used?
Today, we will answer all the possible inquiries related to putting a bush hog on the ATV. Additionally, often people have a misconception about this setup. We will also, this in detail, discuss it too.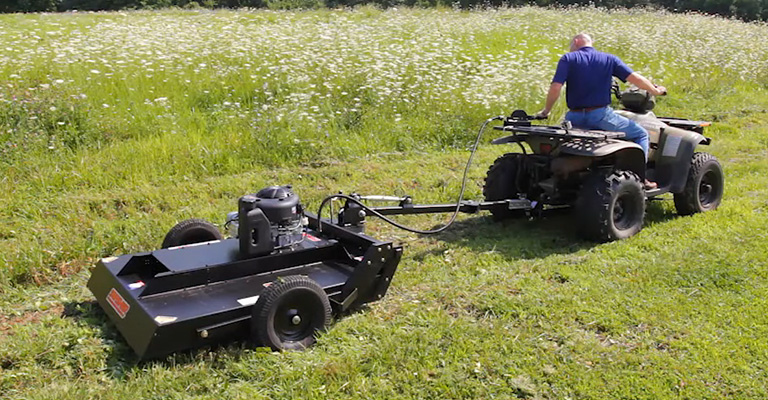 What Is A Bush Hog?
Bush hogs are also known as rotary hogs or brush hogs. To put it simply, it is heavy-duty mowing machinery for clearing thick vegetation, tall grass, and overgrown areas.
A short history, in brief, brush hogs are manufactured by Brush Hog LLC, a leading North American manufacturer of rotary machinery.
Brush hogs can be attached to any tractor including your ATV and is suitable for any rough and tough terrain.

In Urban areas, fellow people need to regularly mow the thick vegetation. The same goes for the city people too who need a bush hog to genuinely clear the lawn.
You can say, the primary objective of a bush hog is, land and vegetation maintenance in agricultural, rural, and even some city house setups.
Can You Put A Bush Hog On An ATV?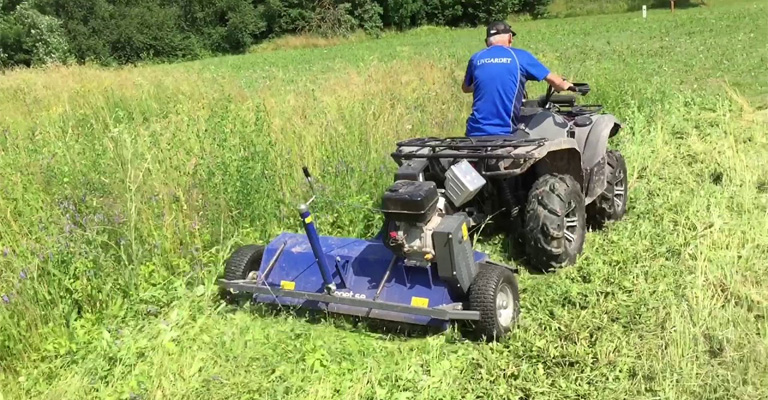 It is a genuine question asked by many, especially at the time of purchasing the ATV. We also advise you to clear any doubts before you buy your first ATV. The answer is,
Yes, you can easily attach a bush hog to your ATV. However, to do so, you must ensure that your ATV has the necessary power and towing capacity to handle a bush hog.
You need to add the bush hogs to the back of the tractor with a three-point hitch, including the power of the PTO – Power Take-Off from your ATV.
Hence, it needs a certain amount of horsepower (12-15HP) to effectively cut through thick vegetation and bushes.
Check the manufacturer's specifications for its towing capacity and the HP and be sure that your ATV can handle the additional power usage.

Some of the best ATV bush hogs to keep on your list are,
Swisher Rough Cut Trailcutter
Swisher 14.5 HP Pro Trail
King Kutter XB Rotary Kutter
Land Pride RCR12 Series Rotary Cutter
Farm King Kutter ATV Rotary Cutter
Titan Attachments ATV Flail Mower
Field Tuff ATV Finish Mower
RanchEx Single-Spindle Rotary Cutter
County Line Rotary Cutter
How to Put A Bush Hog On An ATV?
Let's be clear! Follow the official manual that's been provided to you at the time of purchase to have a detailed insight into your ATV and its features before you attach a bush hog.

Here's our general guideline for you to follow while you are about to attach a bush hog to your ATV.
Things You'll Need,
Bush Hog – Compatible bush hog, suitable to your ATV's specifications and towing capacity.
ATV Hitch Receiver: You need to install a Hitch Receiver to attach the bush hog.
Hitch Pin or Fastener.
Wrenches, Sockets, Pliers, and other tools.
Gloves and Safety Goggles.
We believe you have already gone through your ATV specifications and selected an ideal Bush Hog for your vehicle. Now, follow the steps below with us,
1) Start With the ATV Hitch Receiver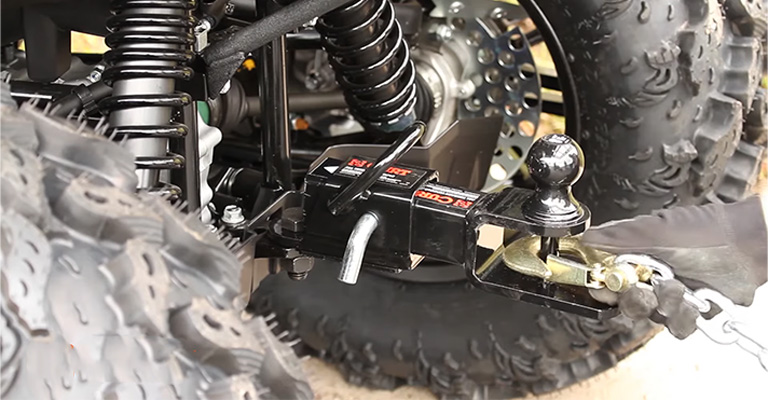 Your ATV should have a Hitch Receiver by default. It is a metal tube and mounts on the frame of your ATV. Its primary objective is to attach any hitch-mounted machinery to your vehicle.

Almost all the recent ATV models have a hitch receiver. Make sure whether your ATV has one or not. In case, your ATV doesn't have one, you will have to install one.

We would suggest the Camco Black Roar ATV/UTV Multi Hitch to start with. It will be the connection point for the bush hog.
2) Place and Attach the Bush Hog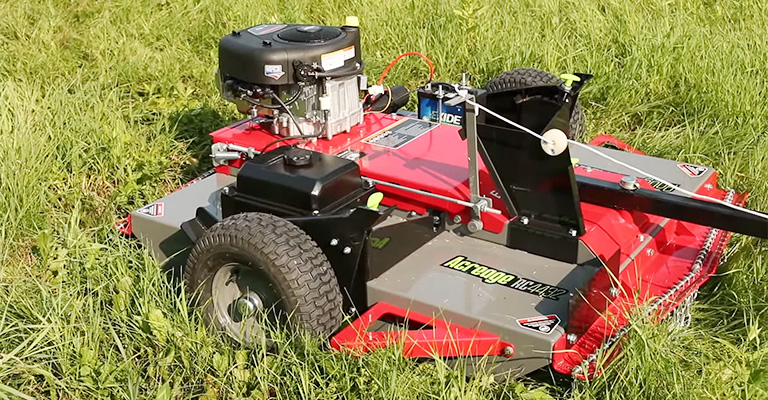 Now, carefully place the bush hog behind the ATV, and align the hitch on the bush hog with the ATV's hitch receiver.
At this point, you have to perform some manual work. Lift the bush hog's hitch and align it with the ATV's hitch receiver.
Once you have done it, secure the bush hog to the ATV by inserting a pin or fastener through the holes that are aligned with the ATV.
3) Adjust Additional Connections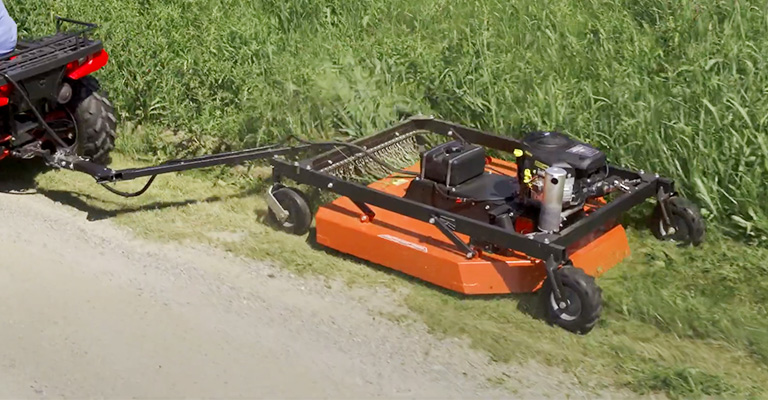 Your primary task is complete. But now, you have to look for additional connections (if there are any).
Based on your Bush Hug model, you may find additional safety chains, straps, or latches that are wise to secure.
Now, give a look at the instruction manual of the bush hog and follow the steps to secure a solid connection.
4) Prepare for A Test Drive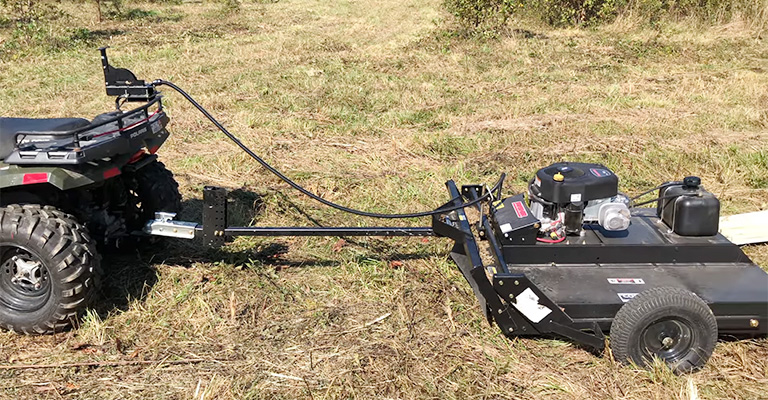 We are almost done. Now you have to go through a final trial round. In this step, we will take your ATV for a test drive.

But before you turn on the engine, ensure a steady and balanced position for your ATV with the newly attached bush hog. You can adjust the ATV's weight distribution if essential.
Start the ATV's engine and let it sit idle. Carefully, engage the brake and ensure the ATV is neutral.
5) Test Operation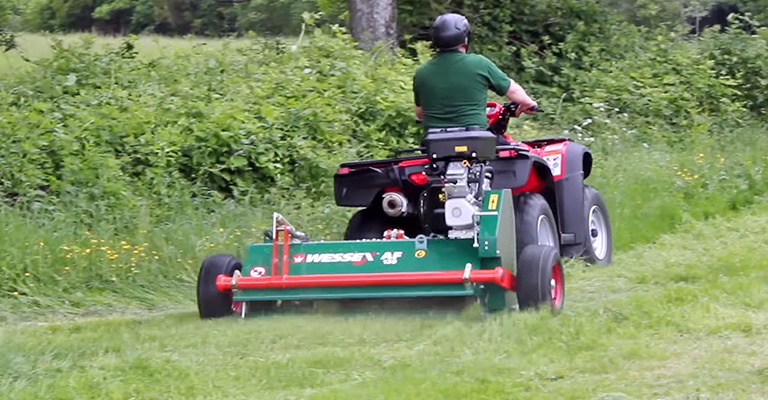 Finally, you have to engage the bush hog's power and slowly move your ATV forward. Test the operation of the bush hog. You can also add some additional weight to observe how the ATV responds to it.
We suggest operating the ATV and bush hog at a slow and controlled speed at first. Let your vehicle settle down a bit and take some time, especially during the initial testing phase.
Get familiar with how the ATV handles the additional load.
Here goes our genuine guideline on attaching the bush hog on the ATV. We hope you had your answer to, "Can you put a bush hog on an ATV?"
Note that steps may vary for different ATV and bush hog models. This is why, we highly recommend you consult the manufacturer of both, your ATV and Bush Hog before you jump to any conclusion.
Help is always at your service! Take help from professionals if needed.
Lastly,
Bush hogs are the best utility manager to clean your lawn or simply assist you in farming. It is essential to ensure your ATV is the right fit for a bush hog before the purchase.
Spend your money wisely but effectively! We are here to offer useful suggestions and tips to help you get on board with your new ATV. If you have anything more in your pocket, let us know with a comment below!