There are some warning lights on your dashboard that won't indicate an immediate problem, but your battery light needs your attention.
This will basically cause your vehicle to "die," and even a boost from another vehicle will only provide a small amount of power.
In most vehicles, the battery light is designed to warn you when something goes wrong with the recharging system. You are simply running on the charge your battery has left, as it is not charging anymore.
Lights are controlled by circuits that measure the voltage produced by alternators. Low voltage produces the light to turn on. Unfortunately, there is a problem with charging the battery, which is the reason for the light.
In this instance, the alternator runs solely on energy stored in the battery if the light comes on while driving. Therefore, the battery will eventually drain, and your vehicle will stop working if you continue driving.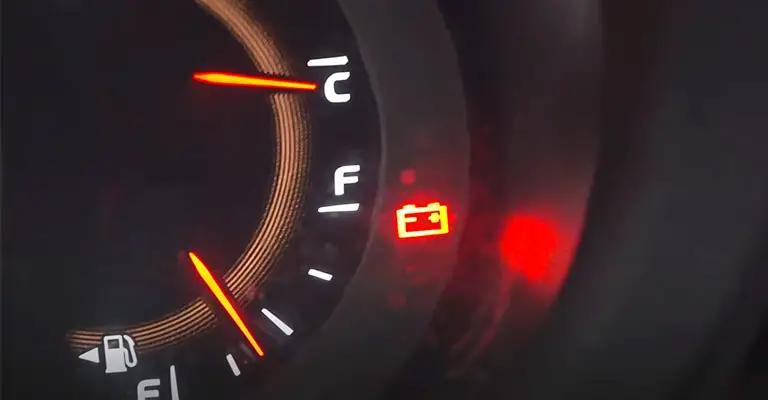 What Does It Mean When Your Car Dies, And The Battery Light Comes On?
Whenever you start your car, the battery light will come on. This light will illuminate when you turn on your car for the first time. Then, after a few seconds, the light will go out.
Watch out if the light continues to illuminate while you're driving. The battery may also show other signs of weak charges, such as power windows that are slow to start or an unresponsive stereo.
It just means that the alternator is malfunctioning or not charging the battery when the battery light comes on while driving.
Reserve power will continue to be used while the vehicle continues to function normally. Once the reserve is depleted, the car dies.
An alternator that does not produce enough power to run the electronic systems and charge the battery can also cause a problem.
It will continue to function normally as long as there is enough, but it will eventually die.
A dashboard battery light generally indicates that the battery is not charging. It's possible that your car battery isn't providing enough voltage to operate properly. As a result, the battery does not have enough juice to keep your car alive.
Signs Of A Bad Battery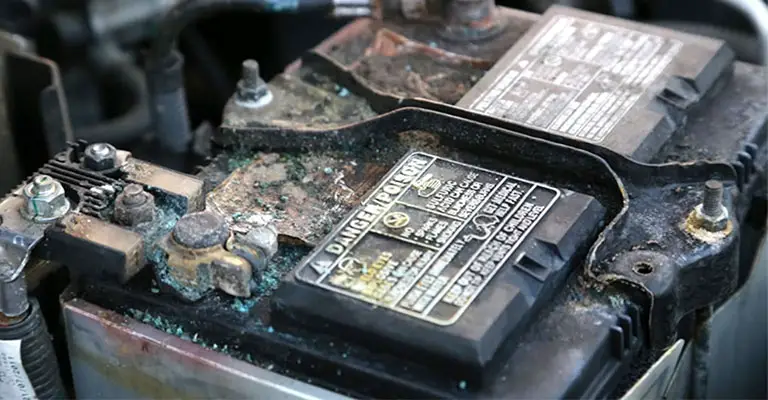 You can identify a dead battery by checking for the following symptoms:
You Have A Swollen Battery
The design of battery casings should make it easy for you to notice if a battery is bloated: bulging is easily noticeable. In this situation, your alternator has overcharged the battery due to a bad voltage regulator.
Suddenly, Your Car Stops Working
There are several reasons for this, but checking your battery is the best place to start. A battery with only enough voltage to start the vehicle usually causes this strange problem, which occurs only in certain vehicles.
There Is A Problem With Your Radio
Whether you have your ignition on or off, your battery should be able to operate your radio, headlights, windshield wipers, and other electronics. It's possible that your battery needs to be charged if your radio display or headlights are flickering or dimming.
The Battery In The Car May Be Old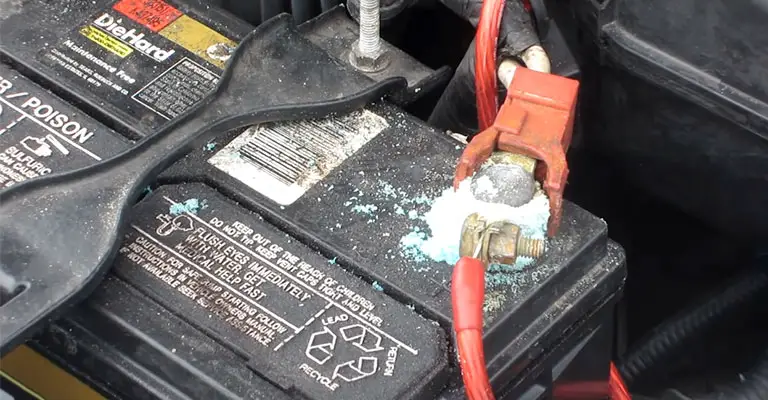 The metal inside batteries corrodes with age, which reduces their ability to retain a charge. Between three and five years is the average lifespan of a car battery.
The battery's charge eventually decreases to a point where the alternator cannot supply the battery with enough power to start the car, no matter how much power the alternator supplies it.
If Your Battery Light Comes On, Follow These Steps
The good news is that you can preserve your car's battery life by taking some simple steps. To conserve the battery's charge, turn off everything electrical except the headlights once your battery light appears.
Ensure that the vehicle does not overheat or lose power steering. You should turn off your vehicle immediately if either of these events occurs. To determine why the battery light has come on, you can take the following steps:
Battery Inspection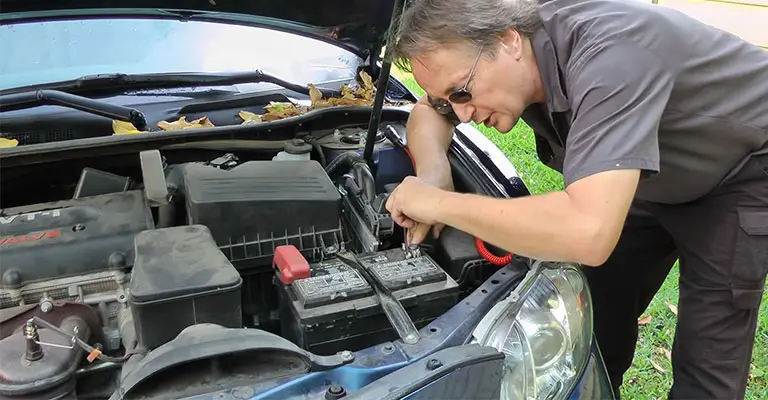 Battery terminals can be damaged or corroded if you do not inspect them regularly. The clamps should be securely attached to the terminals, and any corrosion should be removed.
Make Sure The Alternator Is Working
Make sure that the electrical connections to your alternator are not loose or missing by checking it out.
Take A Look At The Serpentine Belt
The serpentine belt may be to blame if you are experiencing overheating and loss of power steering. If the belt is broken or cracked, or completely missing, look for major cracks or breakages in it.
Make Sure Your Fuses Are Working
It's worth checking if any fuses are blown and replacing them, even if they don't cause battery charging issues directly.
Make Sure The Battery Is Working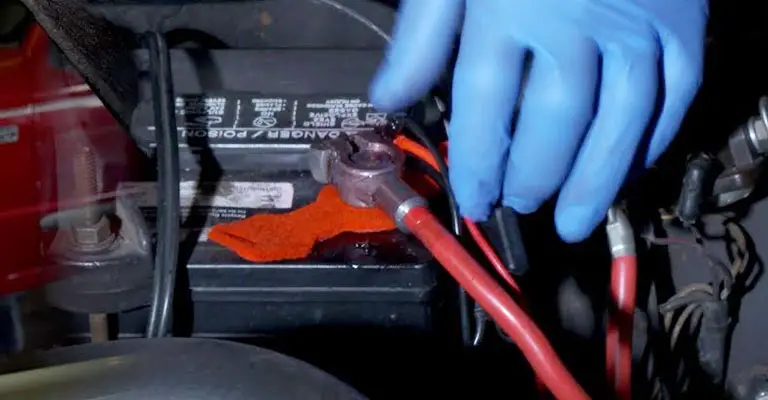 Having completed these steps, you should test your battery by starting your car. You have likely fixed the problem if the light turns off. An alternator issue is probably the cause of the light remaining on.
Additional Troubleshooting Tips
In addition to corrosion and lose clamps, a minor issue like corrosion might trigger the light.
Follow the steps below carefully to troubleshoot your battery by putting on some protective gloves, consulting your owner's manual, and consulting your battery's owner's manual.
Make Sure The Cable Clamps Are Tight
It's sometimes caused by a weak connection between your battery and the cables that connect to it that a car battery light illuminates.
Verify that your battery clamps are securely attached to the terminals of your battery while you have the hood open.
In the event of loose clamps, tighten them with a small wrench or pair of pliers until the clamps fit snugly around the terminals. Detailed instructions for your vehicle make/model can be found in your owner's manual.
Battery Terminals Should Be Cleaned
This could explain why your car battery light is on if you notice significant corrosion or grime around the terminals.
With some elbow grease and some common household items, you can easily and inexpensively clean your battery terminals.
Also, give the terminals a thorough scrub after removing the terminal covers and disconnecting the battery cables.
Conduct A Corrosion Check
During summer months or in regions with warm weather all year round, fumes from the regular operation can lead to corrosion accumulating on top of the battery terminals.
To check for corrosion, remove any covers from the terminals on top of your battery. If you see a white or greenish substance on the top of the battery or around the terminals, you've got corrosion!
While battery corrosion is common, it can interfere with the conduction of electricity from the battery to the rest of your car. Don't touch battery corrosion with your bare hands, as it could cause skin irritation.
How Does The Battery Work?
Under the hood of your vehicle, there is a 12-volt rechargeable battery. This battery feeds an electrical current to the starter to get your engine started.
Once the vehicle is started, the alternator supplies power to your vehicle's electrical system.
The alternator, located next to your engine, also recharges the battery as your engine is running, ensuring that once your vehicle is turned off there is enough power in the battery to start it again.
The serpentine (or drive) belt, named for its long and winding appearance, drives the alternator via the engine.
It maintains the effective and smooth operation of your alternator, power steering pump, air conditioning, and – in some vehicles – your water pump.
Your vehicle's electrical system also includes fuses, which are necessary for preventing over-voltage and short-circuiting.
They are designed to "blow" when the current flow of a circuit reaches unsafe levels. Once blown, electrical power is prevented from reaching devices on that circuit.
The Bottom Line
While your car can run with a faulty alternator for a short period of time, doing so includes risks and can be dangerous for you and everyone else on the road.
Driving on a bad alternator can cause various issues in other parts of your car, including the engine and electrical components.
Also, your car's battery will deplete eventually, causing your car to die. If you don't have the resources available to jump into your car and find yourself in a remote area, this could leave you stranded.
Your vehicle can also lose power on its power steering, which can result in you losing control of your car. For these reasons, it's best to get your alternator fixed to protect yourself and other drivers on the road.