Automotive engines are powered by spark plugs, which serve several essential functions. The ignition coil, plug wires, and distribution system produce a high-voltage, timed spark.
By doing so, they can expel fuel and air at precisely the right moment in the cylinder when they are compressed.
Unfortunately, it is common for spark plug electrodes to wear out over time due to high internal cylinder temperatures.
Various factors, including the type of spark plug and its performance capability, can cause spark plug failure, including sputter and other symptoms.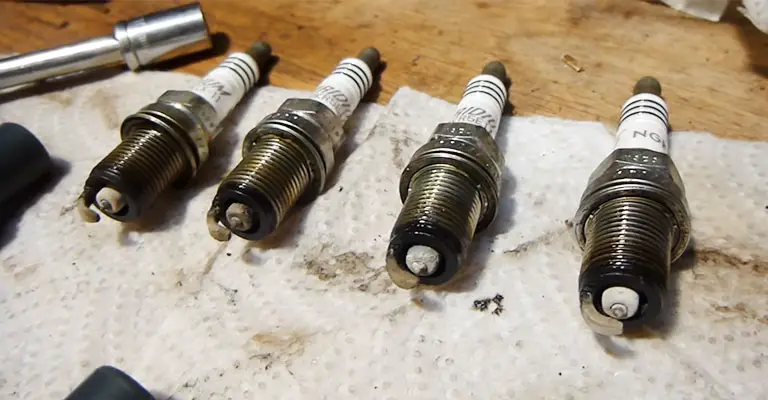 Will A Bad Spark Plug Make My Car Sputter?
Sputtering of spark plugs is when the spark plug misses or doesn't fire. It happens when the electrode doesn't ignite or pre-ignite out of sequence, also known as sputtering.
Sputters or misses are caused by cylinders that fail to fire and produce compression strokes.
Under various driving conditions, a sputtering failure will sound like a continuous ping, knocking, or plopping noise or sporadic misfiring.
Thus, fewer horsepower and fewer engine revolutions per minute are produced. In addition, spark plug cases, connectors, and insulators may sputter or misfire due to structural damage.
Spark plug connectors can lose voltage signals if their screwed-on tips become loose. In addition, the voltage can escape the plug's inner core and be grounded against metal from a cracked insulator body, causing a sporadic or continuous sputter.
What Causes A Car To Sputter After Changing Spark Plug?
Sputtering in an engine can have a variety of causes. In addition to vacuum leaks, a faulty oxygen sensor, a catalytic converter showing signs of deterioration, and fuel system issues could be the cause. If the problem persists, one plug may fail again even though they have been replaced.
1. Dirty or Bad Spark Plugs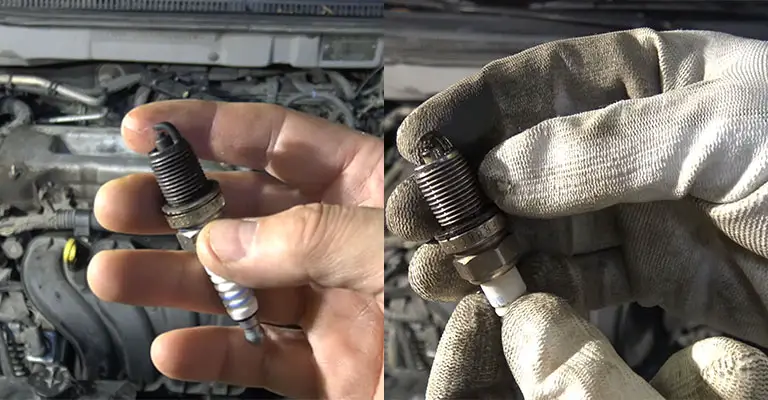 Your vehicle might also need new spark plugs if it is sputtering. Spark plugs are among the most essential parts of your vehicle.
When spark plugs ignite, air and fuel are combined in your engine, sending power soaring through the engine.
Eventually, you may not even be able to start your vehicle if they're dirty or not working properly.
Sputtering or misfiring occurs when dirty or faulty spark plugs fail to ignite the fuel properly. It will either be necessary to replace or clean them.
Make sure your spark plugs are clean and free of debris by removing them and visually inspecting them. It may also be necessary to check the ignition coils, which can cause the same issue.
An experienced mechanic can diagnose and repair engine sputtering because it can signal something more serious.
A further diagnostic test will be needed to determine which system is causing the problem and then identify which component is at fault.
2. Structural Damage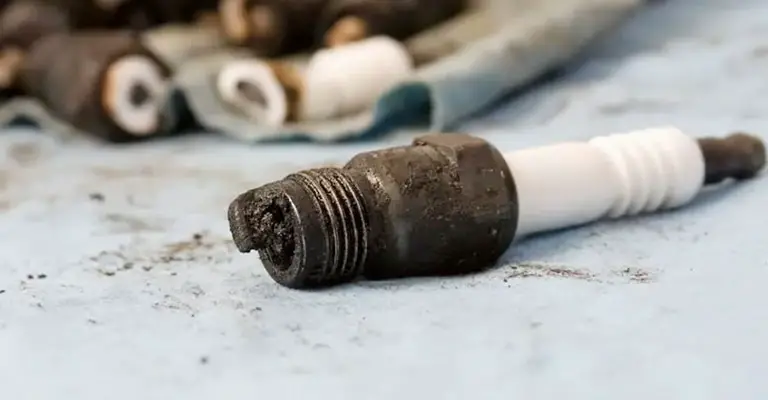 It's possible to sputter or misfire if there's structural damage to the spark plug case, connector, or insulator.
For example, if spark plug connectors have screw-on tips, the voltage signal gets lost if they come loose.
Whenever the insulator body cracks, voltage escapes and grounds against metal, causing the plug to sputter or miss continuously or sometimes.
When an electrode or ground strap breaks, usually due to excessive heat, it won't fire, causes a hot spot in the head or cylinder, or damages pistons and valves.
3. Spark Plug Heat Range
Sputtering can occur when a spark plug is not in the right heat range. An electrode insulator's ability to transfer heat is determined by its length.
Higher temperature ranges remain at higher temperatures for more extended periods than lower temperature ranges.
During low-speed, heavy load, and colder temperature driving, higher heat ranges burn hotter and perform better than lower heat ranges.
It is possible to blister the electrode, causing high engine temperatures and pre-ignition if the heat range is too high.
Especially when the air-fuel mixture is overly rich, a cooler-than-normal heat range can cause weaker sparks and fouling. It is more difficult for plugs with colder heat ranges to work with hot, self-cleaning firings.
4. Spark Plug Gap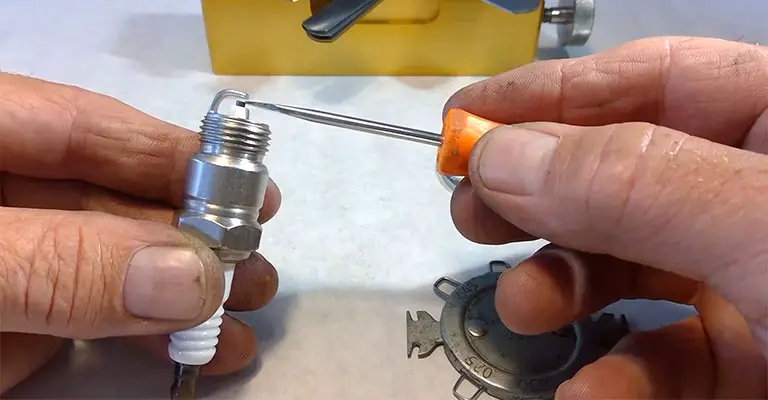 An electrode tip with a large gap between it and the ground strap may require more voltage to fire than one with a smaller gap or one with an incorrect setup.
Plugs with significant gaps can miss or sputter if the ignition system produces insufficient voltage. Especially when the engine is loaded heavily or at high speed, wide-gapped plugs will sputter.
If you drive at low speeds, start, and stop frequently, and have a narrow gap in your plug, you will experience sputtering or misfiring.
Colder heat ranges also cause the electrode tip of the spark plugs to wear out faster.
5. Carbon Deposit Fouling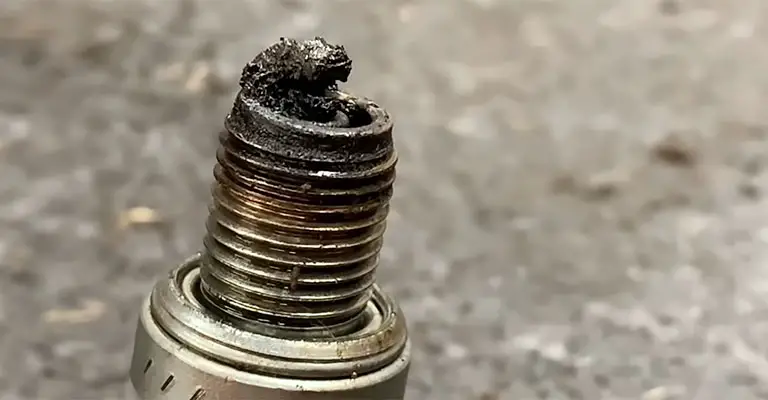 Spark plugs may sputter due to carbon deposits fouling them. At temperatures of approximately 450 degrees Fahrenheit or below, carbon deposits are formed on or between electrode contacts from unburned hydrocarbons.
Carbon deposits are formed as a result of lower temperatures, and this dilutes or blocks the high ignition voltage needed for firing.
Pre-ignition caused by large deposits causes sputtering symptoms. There will be carbon deposits if the fuel is overly rich, the oil consumption is too high, the ignition timing is retarded, and the spark plug heat range is too cold.
6. Wet Fouling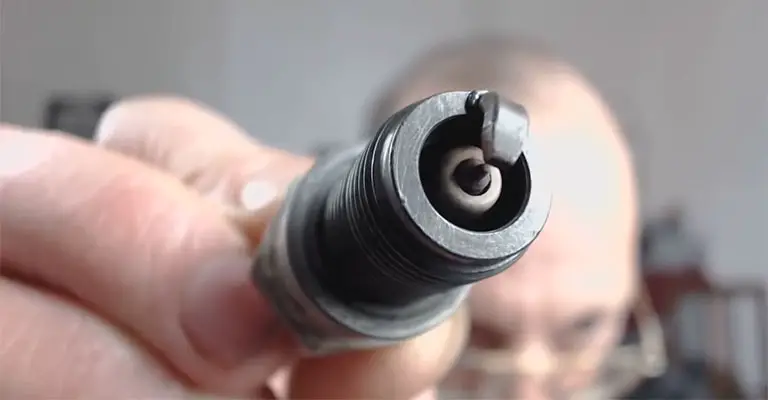 Wet fouling of spark plugs is caused by an early induction (fuel pre-delivery) or an excessive amount of fuel entering the combustion chamber, causing the electrode to cool rapidly.
In the case of flooding, the electrode will not be able to reach the ignition temperature when it becomes too cold.
An engine sputters or misfires when the spark plug gap is too tight, the fuel injector or carburetor settings are incorrect, the plugs are being used at a lower heat range, or the primary and secondary ignitions lack voltage.
As a result, gas mileage will be decreased, horsepower will be reduced, and cold hard starts will result from wet foul sputtering.
Wet fouling is evident in electrodes that have been soaked in fuel or are black in color.
Other Common Reasons
It is possible to locate the root cause of an engine malfunction in several systems. A common example is an exhaust system that fails and a fuel system that fails. Sputtering in engines can be caused by a variety of factors, including the following:
Exhaust Manifold Leak
Leaked exhaust manifolds can make the car run unevenly or sputter. Getting a check engine light on can also be a problem.
The engine might also make more noise if it's not performing well. It's dangerous to drive with a leaking or cracked manifold! Exhaust fumes and escaping gases can melt plastic parts. So, you should get it fixed as soon as possible.
Failing Catalytic Converter
Is there a smell of rotten eggs in the air? Are you experiencing rough engine operation or sputtering? Catalytic converters need to be checked.
Hydrocarbons in the exhaust can be burned off when it starts to fail. Also, the engine's sulfur cannot be broken down by it. That's why it smells like rotten eggs. The converter will eventually stop working if you don't replace it quickly.
Malfunctioning Oxygen Sensors
If your oxygen sensor fails or becomes dirty, your engine will receive too much or too little fuel. It malfunctions because of that. To avoid this, check these sensors regularly and replace them when necessary.
Vacuum Leak
It is possible to experience sputtering or rough engine operation when there is a leak in this system. In addition, you will experience stalling or hesitation when you accelerate if you don't fix the problem.
Worn Gaskets or Seals
Replacement of seals and gaskets is necessary regularly. Sputtering and rough running will result from failure to do this. Keep an eye on these! A damaged exhaust manifold can result from failing to replace them, and that's an expensive repair.
Does A Wet Spark Plug Indicate A Problem In A Car Engine?
Something is wrong with it, but it is determined by what's on the spark plug. There is probably a problem with the injector if it is gas.
In the case of oil, you may have a problem with the piston rings or the valve seals. Unfortunately, you will not be able to fix it for cheap, whatever it is.
Final Words
It is not uncommon for a car to sputter after a plug change. Therefore, anticorrosion coatings are applied to the electrodes of spark plugs. During their break-in period, they will be cleaned of any fouling that may develop.
Some mechanics use lubricants on threads to ensure a strong bond. However, incorrectly gapped plugs and worn or loose plug wires can also cause misfiring.