The CV (constant velocity) axle is a critical component in a vehicle's drivetrain. It connects the wheels to the transmission and allows for smooth and efficient power transfer. However, if a CV axle begins to leak grease, it can cause a range of issues for the vehicle.
This can lead to reduced performance and further damage if not addressed. It is recommended to have a mechanic inspect the axle and replace the seal if necessary. This article will discuss the common causes and consequences of a CV axle leaking grease and what to do if it happens to your vehicle.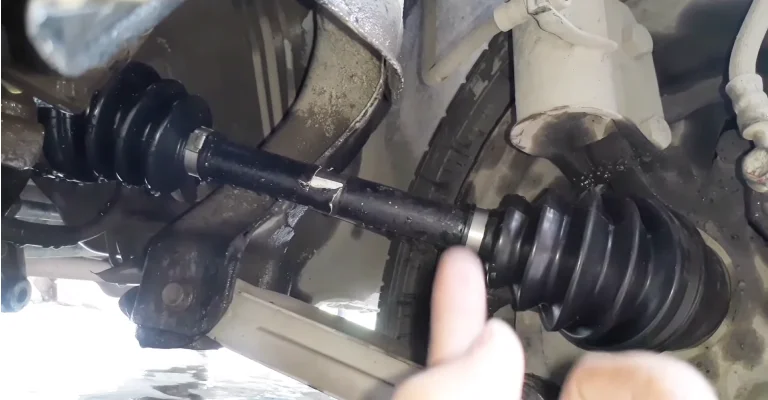 The Basics
To propel a vehicle forward, constant velocity axles, commonly referred to as CV axles, transfer power from the transmission to the wheels.
To accommodate wheel movement created during turns and when the suspension travels, the axle has a constant velocity joint that flexes in various ways.
CV Boots are rubber boots that cover this flexible joint. In addition to keeping dust and dirt out of the CV joint, the boot also keeps grease, which lubricates it.
CV joints can become damaged by contamination when a CV axle boot fails. Paying attention to the symptoms of a problematic CV boot is usually necessary to avoid further damage.
Did You Know?
The axle's job is to convey power from your engine to your wheels. The axle needs to be inspected and serviced or repaired if you hear strange sounds from the axles or if the axle seal leaks, or if the CV boot is torn.
Common Signs of a Leaking CV Boot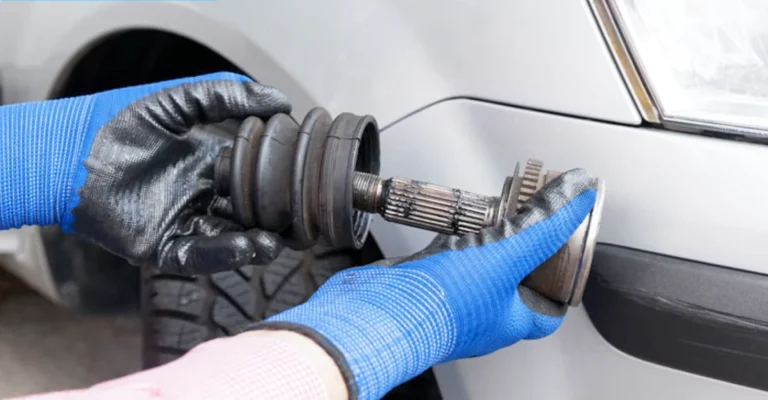 Vehicles are propelled forward by constant velocity axles, which transfer power from your engine to the wheels. A CV axle's flexible joint, which allows wheel movement, is covered with a rubber boot, known as the CV boot.
The CV joint boot is a simple dust cover to keep dust and dirt out and grease in. It might seem obscure; one you shouldn't worry about. However, CV boots are important for keeping CV axles and joints clean and prolonging their service lives.
If a CV boot leaks, it can damage the attached joint, posing a serious safety risk. The following symptoms are usually produced by a tough CV boot, alerting the driver to the need for service:
1. Grease Leak
A CV boot that leaks grease is probably the most common sign. The rubber CV boot can become dry or brittle over time, causing cracks or tears. If this occurs, the boot will leak grease onto the inside of the wheel.
When the axle turns, grease is often thrown onto the chassis and other parts on the vehicle's underside. Additionally, a torn boot can allow dirt, debris, and moisture into the CV joint, causing the joint to deteriorate.
2. Clicking During Turns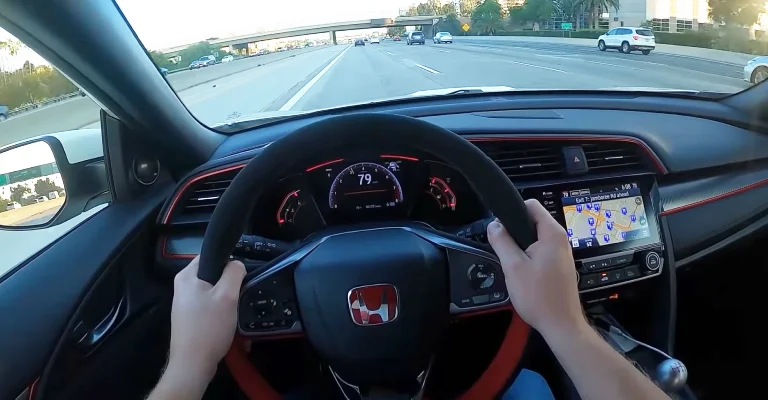 In addition to clicking noises from the axle, abnormal rotation is one of the more serious symptoms of a torn CV boot.
It indicates that play has developed in the joint, causing it to click during turns when it has become loose. As CV joints are usually not repairable at this level of damage, clicking CV joints will need to be replaced.
3. Vibrations
There is also vibration from the axle area when you have a bad CV boot. In addition to dirt, debris, and moisture entering the CV joint through a torn boot, the joint can become damaged and vibrate. It is usually necessary to replace a vibrating CV axle.
4. Noise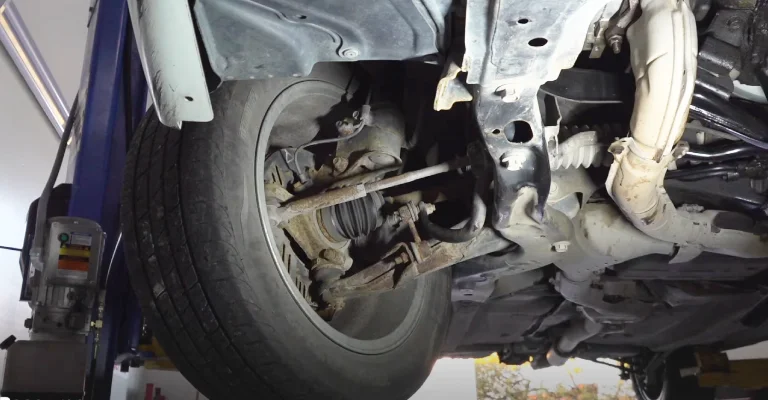 There is just natural wear and tear of axles over time, and they must be replaced. It is also possible for axle seals to leak, resulting in premature axle wear. A leaky lubricant can cause water and dirt to enter the gears, contaminating them.
Your wheels might make strange noises when this happens, especially when turning. The sound will come from the rear of a vehicle with rear-wheel drive.
You will hear the sound upfront if you have a front-wheel drive vehicle. The sound can come from either side of the car with an all-wheel drive. When turning, a groaning or clunking sound may be heard.
What Happens When A CV Boot Becomes Damaged?
A rubber covers CV joints or plastic boots called CV boots or drives axle boots. The boots prevent dirt and water from getting into the CV joints and keep them lubricated.
In the event of a CV boot leak, the attached joint can become damaged, posing a serious safety risk. When this happens, grease will leak from the boot onto the inside of the wheel.
During axle rotation, grease is often flung onto the chassis or other parts on the vehicle's underside.
The presence of moisture or dirt can reduce the lifespan of a device if it is not properly covered or lubricated. A brake or suspension component with extremely worn bearings may not function properly.
Can You Drive With A Leaking CV Axle?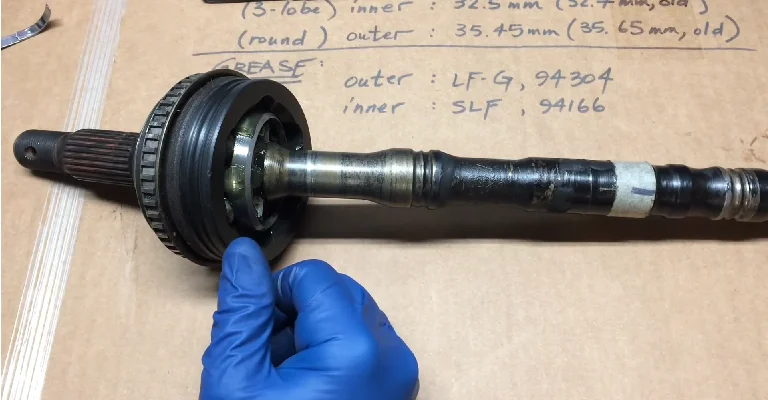 Despite the possibility of driving with a leaking CV boot, you should have it repaired as soon as possible. You could lose axle function if this is left unattended. Most mechanics do not recommend driving if your axles are failing.
You may lose control of your car when your axle fails; when your axle fails, you may cause an accident or crash. Rather than taking a chance, it's far better to get the problem diagnosed and repaired now.
How to Fix a Leaking or Bad CV Axle?
A professional mechanic is recommended for an accurate diagnosis and proper repair of a leaking or bad CV axle. To remove an axle, you must separate the lower ball joint and separate the outer end of the drive shaft from the steering knuckle/hub.
In order to free the shaft from the transaxle, it should be pried or tapped. During the disassembly of the axle shaft, it is important to thoroughly clean and grease the affected CV joint.
The inner boot had to be removed and replaced in order to disassemble the shaft, so it makes sense to replace it as well.
Snap Ring pliers and a boot clamp tool will help with this job, which is greasy and requires a few special tools. The service manual recommends/recommends that all fasteners be tightened properly when assembling suspension parts.
Final Words
Boots serve the simple but important purpose of keeping CV axles and joints clean and ensuring that they last a long time.
Have a professional technician inspect the vehicle if you suspect your CV boot may be damaged to determine if you need to replace the CV boot or if the entire CV joint needs to be replaced.