Truck covers are a popular choice among truck owners who want to protect their vehicles from the elements and keep them looking new. DiamondBack is a well-known brand in the truck cover industry, offering a range of covers with different features and price points.
Whether you're in the market for a simple, basic cover or one with advanced features like UV protection and ventilation, DiamondBack has options to choose from.
Whether or not a DiamondBack truck cover is worth it depends on several factors, such as the quality of the cover, the specific model, your personal needs, and preferences. In this article, we'll discuss the pros and cons of DiamondBack truck covers to help determine if they are worth it.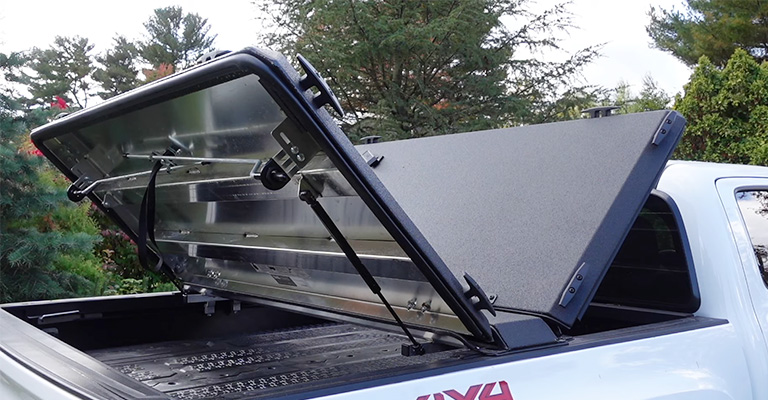 DiamondBack Truck Bed Cover Review
Since a young age, I have been a loyal DiamondBack truck bed cover fan.
DiamondBack bed covers have been my favorite aftermarket parts among all the ones I've ever installed on any of my vehicles for their usefulness, durability, and added value.
The DiamondBack HD ATV cover I inherited from my father is the original DiamondBack that I still possess. Throughout the years, I have hauled countless ATVs and many other random materials and loved them each time.
Over the years, DiamondBack has made many incremental improvements that have allowed its cover design to develop since I acquired my first cover. After being asked about trying out one of the new covers, I couldn't wait to see the improvements – which are numerous.
DiamondBack HD Truck Bed Cover Specs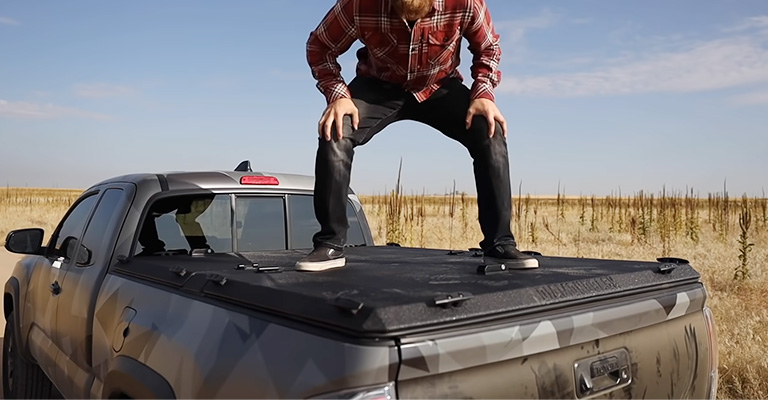 Taking a quick look at DiamondBack's specs and features will get you started:
3/8-inch deadbolt style rods that actuate under the bed rail of your truck
A zinc-coated die-cast lock handle is included with the stainless steel exterior hardware
The door is wholly weather-sealed with an EPDM compression gasket around the perimeter, the hinge points are gutter-protected, and the key cylinders are positioned sideways
12 cleats around the perimeter for securing gear
7 structural studs
1,600 lb. haul capacity
50 lb. max panel weight
Made of .100″ 3003 alloy aluminum
Limited lifetime warranty on the manufacture and parts of the cover
Three finish options – rugged black, smooth black, and aluminum
Having looked at these specs, we can see that DiamondBack comes to the yard ready to go. It's not a case of putting together a lazy design or using sub-par materials.
I'm impressed by how well this truck bed cover is put together! Having said that, let's switch gears and discuss the performance.
DiamondBack HD Truck Bed Cover Performance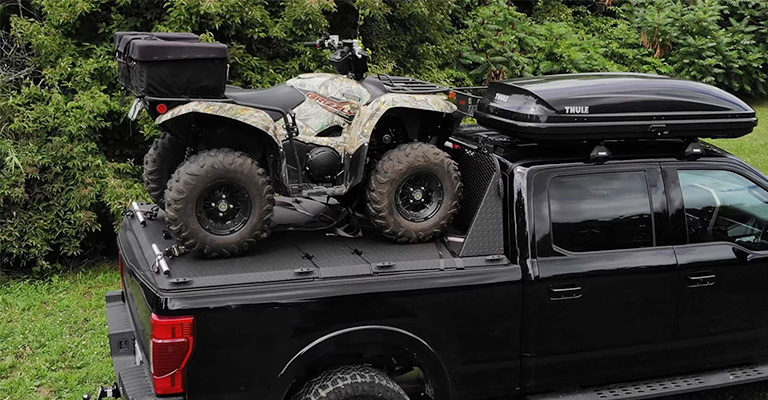 One thing that makes this truck cover stand out in terms of its build quality: its weather sealing. As far as the development of this system is concerned, DiamondBack took its time. This thick, neoprene compression gasket on the cover's perimeter (shown below) protects my truck bed from sand, rain, and snow.
The DiamondBack HD performed admirably at Glamis Sand Dunes – where there's a lot of sand and wind. In addition, the cover helped keep a tremendous amount of snow and moisture out of bed a few weeks ago at Big Bear.
This cover protects me from the high-pressure stream from the washer hose when I wash the truck. I have found everything inside to be completely dry. It has been a wonderful experience so far! A cleat system around the perimeter of this cover is one of its most significant features.
It doesn't matter if you're headed out for an off-road excursion or returning home from a home improvement store—tying down your gear is easy. One of the cleats on my hammock was used to secure one end of it while only one tree was available.
Diamond Back Build Quality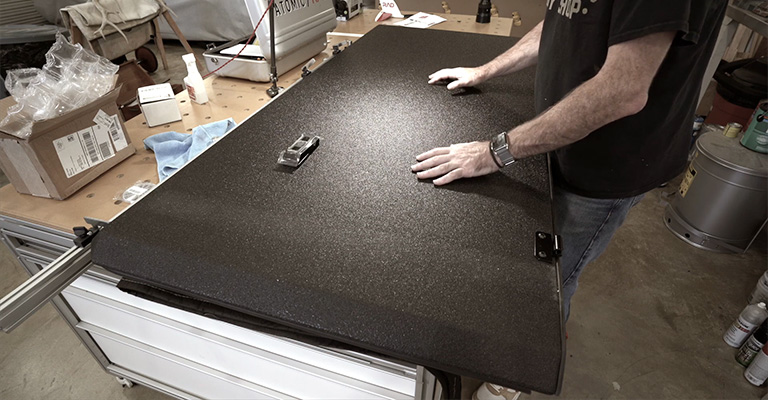 A truck cover is as tough as a tank, so it is built similarly. As a lightweight aluminum alloy cover, it's strong and lightweight, so you have a long-lasting, durable bed cover without weighing down your truck.
Stainless steel hardware guarantees years of reliable service since it resists rust and corrosion. It is also worth noting that there are two locking mechanisms, and two deadbolt rods secure under the bed rails, providing you with the best security.
The bed cover certainly provides me with the security I need for my gear since trucks like my Jeep lock the doors and the tailgate.
It is beautifully made in every aspect of this cover, from the support structure to the finish to the hardware, locking mechanisms, and cleats. It shows an incredible amount of attention to detail.
If you are Ridgeline user, you might read the best tonneau cover for Honda Ridgeline.
Carrying Weight & Looks
Although I haven't tested the 1,600 lb carrying capacity of the bag, I haven't carried heavy items in it.
There is simply no need for capacity on my part. Standing on top of it is extremely safe for me, and I often do so to set up my tripod for taking photos and videos.
I preferred the Smooth Black DiamondBack HD primarily because it reminded me of a bed liner. Even though the Rugged Black and Aluminum options look great, I think this looks absolutely killer.
In addition, I was a little concerned about how easy it is to clean the Smooth Black cover. There's a gritty texture to it, so I was afraid hard, caked-on mud would be difficult to remove. It turned out I was mistaken. Easily and quickly, this cover can be cleaned up without any hassle.
Installation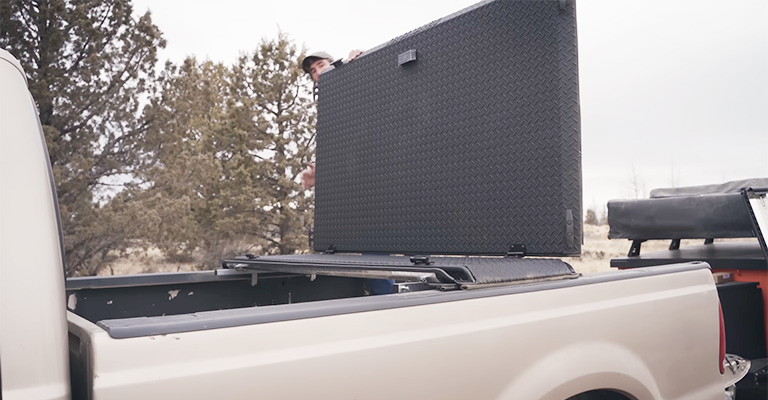 As a bonus, these covers can be customized to fit your specific vehicle, so you don't have to worry about it not fitting. Installing your cover is simple since it is specifically tailored to your rig's specifications.
A total of one and a half hours was spent on the installation. Installation instructions are well-written and easy to follow, making a quick installation possible.
Even a lot of thought was put into the shipping materials DiamondBack uses. When ordering something online, the cover doesn't always come in a protective crate that can protect it from damage.
DiamondBack Vs. Renegade
Certainly, the DiamondBack Cover boasts high weight-bearing capacity, flexible finishes, and great accessories. Consider other covers before clicking "Add to Cart." You may find another is more suitable for your situation.
Versatile Design
If you're okay with a low weight-bearing capacity, DiamondBackSE, DiamondBack270, and DiamondBack180 will slightly vary in access panels, but none will provide full access to the entire truck bed. Having a tri-fold design is a feature that only Renegade offers.
On top of the cover, each DiamondBack model has locks, hinges, and cleats. Because of its tough, rugged appearance, you cannot use this cover as a flatbed.
When you load a pallet onto the tonneau cover, and it doesn't sit flush on top, this might not seem like a big deal…until you want to slide an item smoothly onto the cover. Smooth surfaces are not likely to cause these problems on your Renegade Cover.
Likewise, if it's a Renegade, you won't need to use any tools when you install or remove your new cover. The DiamondBack design is also slightly larger than the Renegade's, at 2.75 inches as opposed to 1.5 inches for Renegade. The DiamondBackHD also has four locking pins instead of the Renegade's eight, which makes it less secure.
In terms of build quality, the DiamondBack has exposed welds on the top of the cover and tack-welded cross members underneath. A friction stir welding process is used throughout the entire Renegade cover.
Weight-Bearing Tonneau Cover
The DiamondBack HD Tonneau Cover only provides a substantial load-bearing capacity. Despite DiamondBack's HD cover's ability to support 1,600 pounds, its other covers can only support 400 distributed pounds.
Despite DiamondBack's status as the industry standard for weight-bearing tonneau covers, it is not the leader. On Top of Renegade's Tonneau Cover, it can haul up to 2,000 pounds! You can now enjoy a wide variety of activities and uses for your cover, removing any doubts that you may have had about its strength.
Tonneau Cover Accessories
Many accessories are available for DiamondBack Tonneau Covers and Renegade Tonneau Covers. DiamondBack covers will require you to permanently drill into them.
Alternatively, Renegade features a unique integrated L-Track system, which you can use to connect an unlimited number of accessories via their Threaded Stud Attachments. It allows you to attach Renegade Hooks, Aero Bars, Renegade Racks, Headache Racks, or another accessory that you like.
The Heavy-Duty Tie-Down Anchors snap into the L-Track without any required bolting. Renegade is the best tonneau cover on the market because of its ease of customization and versatility.
As a bonus, Renegade comes with the unique Riptide Water System, an adjustable roadside shower that ensures Fido's muddy paws never come into contact with your cab again.
The Winner
The decision is yours. Is it worth it to invest in DiamondBack Tonneau Covers? A DiamondBack cover is a good choice if you want a less secure, less capable, and less versatile cover.
You might think twice about a DiamondBack purchase but check out Renegade's offerings. Despite this, I still prefer the DiamondBack HD for various reasons, which I will explain in this section.
Why This Bed Cover and Not Something Else?
Choosing this particular bed cover was the product of lots of research, a lot of reading, and a lot of consideration.
As a result, I discovered DiamondBack HD, and I was impressed to no end. It's not just me who's praising this cover – take a look at the reviews, and you'll see why! As part of my research, I considered what I would need for my type of adventure.
It is more expensive to buy a DiamondBack truck cover than a typical bed cover. It's not your typical bed cover, though – this is a much more impressive one.
There is something to be said about the old adage, "you get what you pay for.". This cover is well worth the higher upfront cost after years and years of service.
Final Words
Almost all trucks on the market can be covered by DiamondBack, regardless of the make, model, or bed size. Also, you can customize the covers to meet your needs by choosing from various styles.
The company offers a 30-day return policy if you're unsatisfied with the cover. All DiamondBack covers come with free shipping.