These days of sky-high gas prices, we are all looking for fuel-saving methods. Would you like to drive more fuel-efficiently? Those who own Hondas are in luck. You can rely on Honda for it.
Honda Econ Mode is an energy-saving feature that the driver can activate at any time. This system reduces fuel consumption and emissions by reducing engine output.
It also adjusts throttle response and gear shift timing to reduce fuel consumption further. As a result, a decrease in fuel efficiency of about 10-20% can be expected when using Honda Econ mode.
Perhaps you're wondering how it works. Well, here is everything you need to know about Honda Econ mode, why you should consider using this feature, and when you should not.
What Does ECON Mean On Honda?
The ECON mode button is part of an ECO Assist System that comes with the vehicle. By doing so, drivers will be able to understand better how their driving patterns affect the fuel economy of their vehicles.
It's common for the response time to be slower when this system is engaged since the vehicle is speeding up or slowing down efficiently. However, by modifying certain features of your Honda, you will be able to make it run more efficiently.
You can reduce fuel consumption in your Honda by activating the Econ button, which changes the cruise control, air conditioning, and throttle response.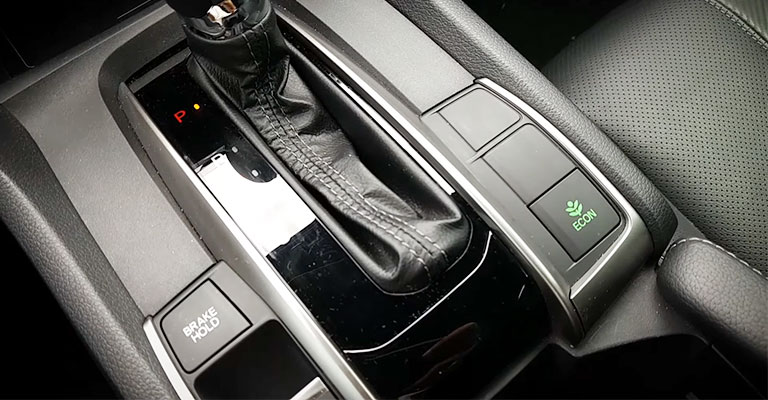 Where Is The ECON Button Located?
To activate Econ mode, you must press the Econ button on your Honda's left side of the steering wheel. When the green leaf on the Econ button lights up, it means the Econ mode is on. Otherwise, it means the Econ mode is off.
How does Honda's ECON Button work?
Those who haven't used Honda Econ mode may wonder: "What does it do?" In essence, Honda Econ mode changes the settings on a variety of different systems to save you money on gas, including:
Air Conditioning
Although it may take a little longer to cool off the car, you're unlikely to experience a scorching summer.
This is because, in addition to improving fuel economy, the Econ button also increases the frequency of air conditioner compressor turnarounds.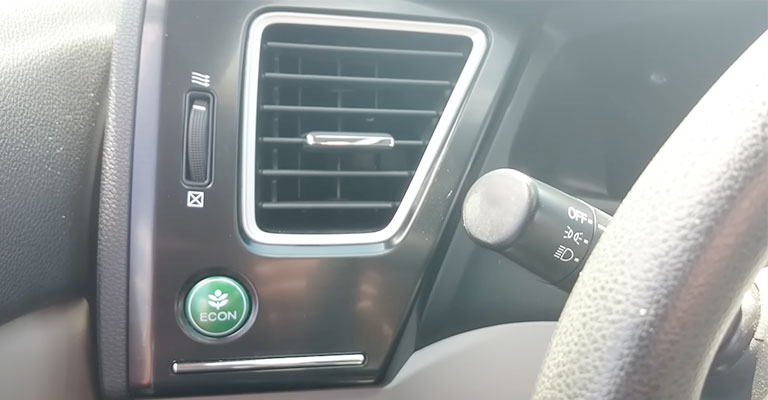 Cruise Control
Using cruise control will decrease the likelihood of downshifting to maintain speed. While this may result in a slight difference in speed on hills, it will save money on gasoline.
Transmission
Shifting at lower RPMs reduces fuel consumption by recalibration of the gear shifts.
Throttle
When traveling on highways, throttle response is altered to reduce acceleration. It's likely that you'll leave the Econ button disengaged if you're a race-minded driver.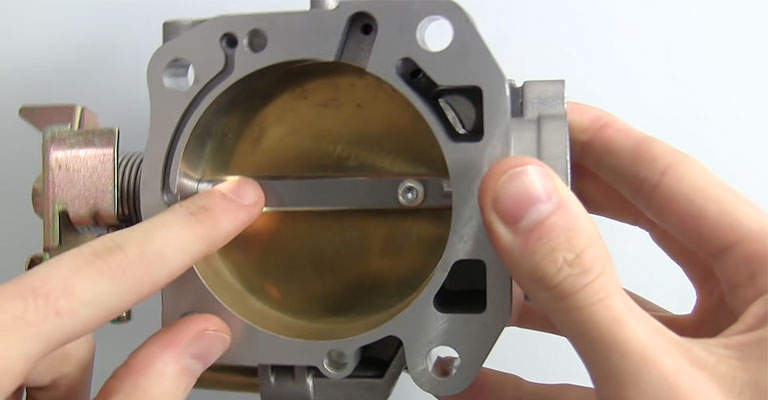 When Should I Use Honda Econ Mode?
Honda recommends using this mode for prolonged periods of driving where there are no stops or traffic lights for more than 5 minutes.
A driver should be aware that there are certain instances where the ECON mode should not be used. Hot days, merging onto highways, and dangerous roads are some of the situations when this should not be used.
Instead, it is best to use this button when traveling at a steady pace on the highway, driving like usual on city streets, and in other traditional driving situations. You can use the Econ button for most daily driving if you are wondering when to do so.
You can safely engage the Honda Econ mode button and save fuel if you don't have to accelerate quickly or on challenging roads.
This mode can be used in the following situations:
During days when it's not unbearably hot, and you won't need the maximum amount of air conditioning
Nothing is being towed
Areas with relatively flat terrain
Typical city driving conditions
Driving along the highway at a steady speed
Does Honda ECON Mode Actually Save Gas?
Gas savings are mainly due to pedal power reduction. In ECON mode, your car's transmission can adjust to power so that it can move accordingly.
You will undoubtedly save more fuel when your vehicle runs at a lower power level. As well as providing a smoother and gentler ride, the ECON button model also offers easier acceleration.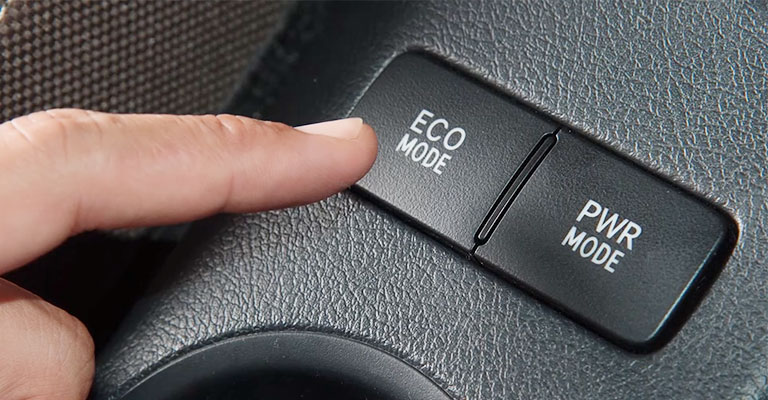 How Much Gas Does Econ Mode Save?
Econ switches the car to an energy-saving setting when you press it. The result is a one to two miles per gallon improvement in fuel efficiency. You can't save fuel instantly by pressing the Eco mode button.
Its real value is its ability to promote frugal driving behaviors to make a difference. A smooth driving style can increase mpg by 2 to 3 compared with an erratic driving style, according to some tests we have seen.
Fuel economy is displayed in real-time in the instrument panel when this mode is engaged, serving as a training tool. Therefore, activating this mode may be the best reason to do so.
Can You Leave The Econ Button On?
Depending on your best estimate, you should turn on your Econ Button when you want the maximum effect. The economy mode should only be used on routes that are not considered hazardous or unusually challenging.
Is It Okay To Always Drive On ECON Mode?
When you are traveling at the speed limit on mostly level ground, you should use the Honda Econ mode. If you want to decide whether or not to use Econ mode, you mostly need to use your common sense. Be careful when driving your vehicle, and make sure you are not under any unusual circumstances.
When Should I Not Use Honda's ECON Button?
You can save a lot of fuel by pressing the Econ button on your vehicle, but it won't work on all roads and under all conditions.
The Econ button should be turned off in some situations, so it is important to know when the best time is. It's not a good idea to use Honda's Econ button if you're merging onto a highway since you'll have to accelerate quickly.
It would help if you also disengaged the Honda's Econ mode button when driving down precarious roads since both throttle response and transmission change when it is engaged.
It is recommended that you turn off Honda Econ mode during these times:
Steep hills on dangerous roads.
Large amounts are being towed.
Passing other vehicles on the road.
Merging onto and off of a highway
During very hot weather.
Honda Econ Mode Problems
Your vehicle will not suffer from ECON mode. Your car will actually cost less to run if you do it this way. Additionally, you will become a better and gentler driver due to it. You will not benefit from this system if you continue to drive aggressively.
When you need air conditioning, activating ECON mode makes no sense. You want maximum cooling power when the weather is brutal. Since you don't want to get sweaty at work, you won't be willing to trade this for superior fuel economy.
The air conditioner works harder on a hot day when driving in ECON mode since it cannot run at full power. In addition to reducing fuel economy, this condition leads to excessive wear on the air conditioning system.
Does ECON Mode Make Your Car Slower?
The eco mode function indeed helps reduce fuel consumption by slowing down a car. In addition, using the eco mode prevents driving at high speeds since high-speed driving consumes a lot of gas.
It is important to have maximum power and torque when you are towing heavy cargo with your Honda. For the engine and transmission to function properly, they must be operated as designed.
When you set the ECON mode, the power will be reduced, making towing more difficult. This will end up using more fuel and causing the engine to wear out faster.
How To Turn Off Econ Mode Honda?
By pressing the Econ Button, you can turn Econ mode on and off in your Honda. Econ mode can be entered while moving or at a standstill. Depending on your car's model and year, the button can come in a variety of shapes.
There is usually a round, green button on the driver's side of the dashboard on some Honda models. In addition, some models have an econ mode button next to the gear shift between the driver's seat and the front passenger's seat.
Does Eco Mode Drain Battery?
It will not drain the battery when you use Eco Mode. This system regulates the power output of certain vehicle features so that the battery is not overtaxed.
The Bottom Line
A driver should be aware that the ECON mode can and should be used in certain situations. However, there are times when this should not be used, such as on hot days, when merging onto a highway, or when driving on a dangerous road.
Using this button is the best option when you are traveling at a steady pace on the highway, driving like you normally would on city streets, or in other traditional circumstances.