Picture yourself cruising down the road, enjoying the wind in your hair and the rhythm of your engine. Suddenly, you notice an unusual ticking sound and a strange smell creeping into your car.
Little did you know, an exhaust manifold leak could be causing all this trouble under your hood. These stealthy culprits can mess with your engine's performance and compromise your safety on the road.
Even though you may be tempted to ignore the problem until your following oil change or tire rotation, an exhaust manifold leak could cause severe damage to your vehicle. Furthermore, it poses a threat to your health.
Here is what you need to know to identify an exhaust manifold leak and why you should have it repaired as soon as possible.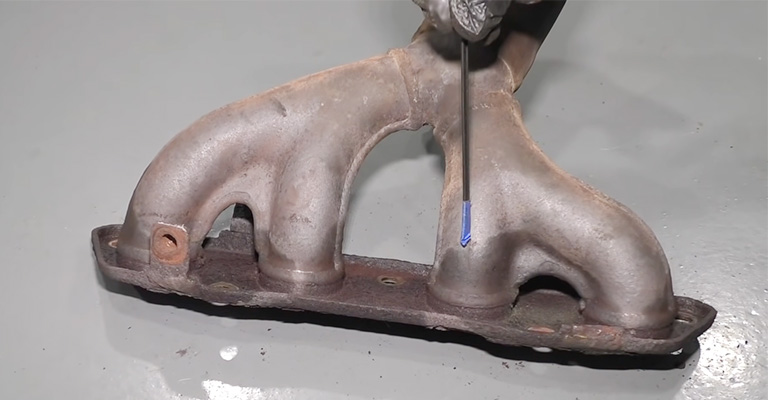 What Is An Exhaust Manifold?
A car's exhaust system is responsible for removing these gases from the car. A typical process for cooling them down and cleaning them is to cool them down to a safe temperature. Gas is released through your exhaust pipe when they are ready to be released by the exhaust system.
There are several components to your exhaust system due to its large workload, including the manifolds, catalytic converter, heat shields, joints, tailpipe, flexible unions, and mufflers.
They require routine maintenance because they are subjected to harsh conditions, such as high temperatures, and wear out much faster than other parts. Due to their ability to withstand extreme temperatures, cast iron or stamped steel exhaust manifolds are typically used.
When your exhaust system leaks, gasses that are toxic and dangerous could leak into the cabin instead of being dispersed outside, in addition to putting your health at risk, it may result in your car running worse than it should and cause other issues.
What Are The Symptoms Of Leaking Exhaust Manifold?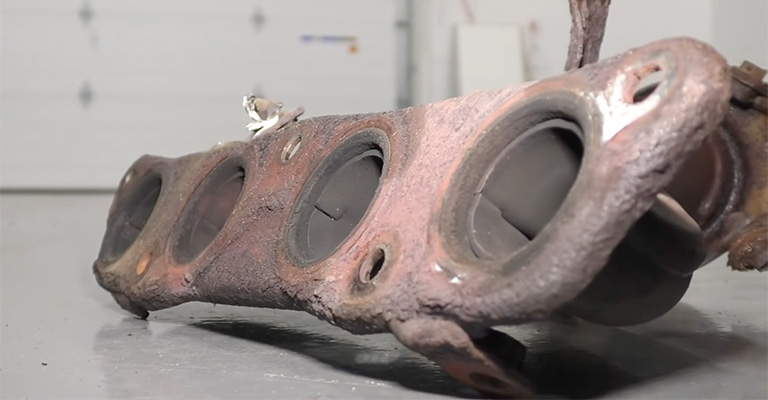 Getting into your car may lead you to notice strange noises, odors, or the check engine light, one of everyone's least favorite signs of trouble.
An exhaust manifold leak may seem like a small problem after all, but it is a severe problem that shouldn't be taken lightly or ignored.
Make sure you get exhaust repairs done as soon as possible. Multiple signs could indicate a leaking exhaust manifold, so make an appointment immediately if you notice any or all of them.
Check Engine Light
If you see this helpful symbol on your dashboard that indicates something is wrong with the exhaust manifold, you may know what is wrong.
Visible Damage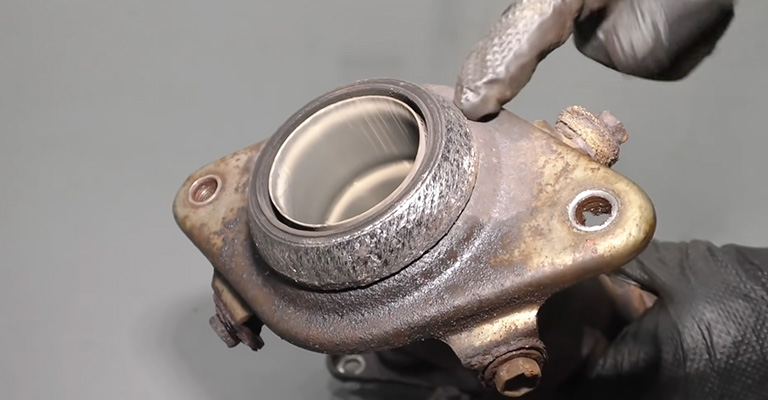 A manifold leak may be caused by the failure of the studs or bolts connecting the manifold to the cylinder head. Also, a warped exhaust manifold could cause the studs to overextend and break.
Poor Vehicle Acceleration
A leaky exhaust manifold can also cause your car to perform worse in acceleration, just like a leaky exhaust manifold can reduce fuel efficiency.
It will probably seem like a subtle difference at first, but the longer you wait to get your car checked, the worse it can get. As a result, driving will become more complex and dangerous.
Reduced Fuel Efficiency
A leak in the exhaust manifold could be responsible for you being unable to drive as far on a full gas tank as you could last month.
Due to this leak, the oxygen sensors mistakenly perceive a lean mixture in the engine, which requires a boost of fuel from the electronic control unit (ECU).
Exhaust Smells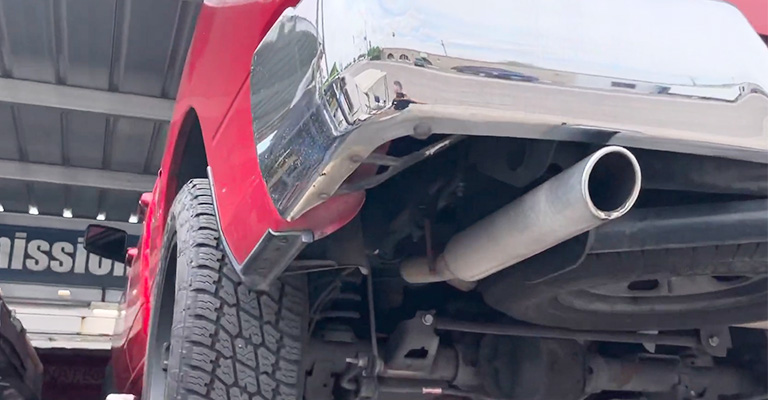 Even with the windows closed, you may smell exhaust or other gasses in the car because the exhaust manifold is leaking. It is worth noting, however, that a leak can also release odorless carbon monoxide into the car.
The body replaces oxygen in red blood cells with carbon monoxide, which can be fatal if you breathe in too much of it.
When you feel weak, dizzy, or nauseous while driving, pull over, turn off your car, and step out immediately to get fresh air.
You should have the vehicle towed to the repair shop if you notice this sign of a leaky exhaust manifold.
Inaccurate Oxygen Sensor Readings
The oxygen sensors in most modern cars provide essential information regarding the fuel-air ratio in your vehicle's engine.
Depending on how the exhaust system is designed, the sensors may be placed either inside the exhaust manifold or inside the pipes behind it.
They measure the oxygen level in your exhaust. The data provided in this table can be helpful in determining the engine's efficiency.
Leaky manifolds can lead to misleading oxygen sensor readings. In this case, you may find that your car's computer alters the settings for your engine's air intake.
A mistake like this can increase fuel consumption and exacerbate present performance problems.
Noisy Engine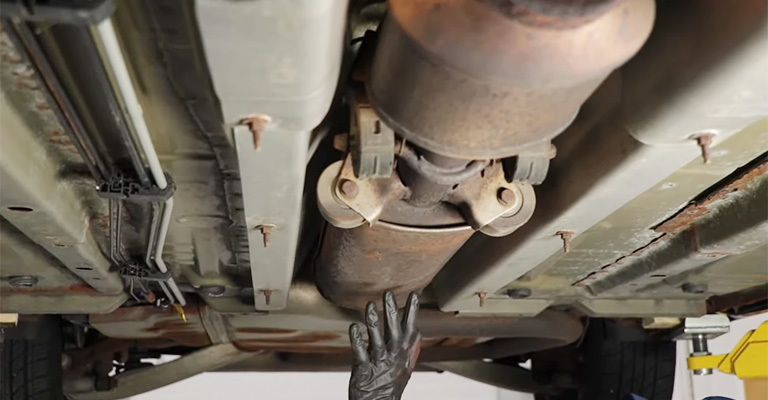 The sound of strange noises coming from the engine indicates a leak in the exhaust manifold. Gasses escaping from an engine may cause it to sound louder than usual, or you may hear tapping.
After turning the car on, you will hear a ticking or tapping sound. In this case, the exhaust manifold will expand to seal the leak, and the noise will end until you start up the car again.
What Causes An Exhaust Manifold Leak?
A leaky exhaust manifold has several common causes, which all relate to how the engine heats up when the car is running, and then cools down dramatically when the car isn't.
Broken Bolts And Studs
As the temperature changes from hot to cold when the car is running to not running, bolts and studs can become brittle. There is a possibility that they will leak if they break.
Worn-Out Gaskets
Keeping gasses from leaking out of the engine block is held possible by gaskets installed between the exhaust manifold and the engine block.
Over time, the temperature changes wear out the gaskets, and they eventually fail and must be replaced.
Thermal Stress
The exhaust manifold is literally exposed to a lot of heat when driving as part of the engine's exhaust system.
When you shut off the car, they cool down considerably. Eventually, all this expansion and contraction can wear down the metal, creating cracks and leaks.
How to Find an Exhaust Manifold Leak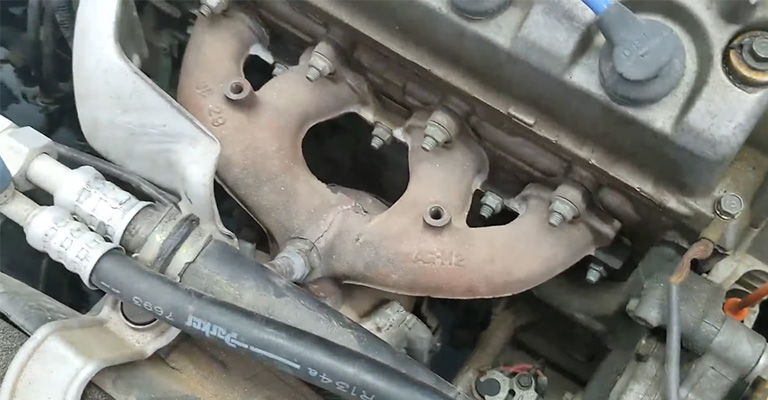 Find your exhaust leaks before replacing the wrong part to avoid replacing the wrong component. There are times when leaks occur elsewhere in the exhaust system, presenting symptoms similar to leaks occurring in the exhaust manifold.
Consequently, verifying that the leak is coming from the manifold before attempting any repairs is critical. When you suspect an exhaust leak has occurred, you should first ask yourself, "What does an exhaust leak sound like ?"
A visual inspection and listening to the vehicle are usually enough to detect an exhaust manifold leak. You can often find an exhaust manifold leak by listening to the vehicle and visually inspecting it.
Start the engine cold and listen for the ticking or tapping sound that signifies the presence of an exhaust leak.
In addition to hearing the noise coming from the manifold, you should also check for soot stains and missing studs to confirm a leak. Also possible are melted components (for example, spark plug wires) near the exhaust leak.
Discovering an exhaust manifold leak is often possible by listening to the vehicle and inspecting it visually.
Sometimes you may have to remove the exhaust manifold to confirm that it has failed. By removing the manifold, you can see if any hairline cracks need to be replaced.
When you don't see cracks, use a flashlight and a precision straightedge to look for warping in the manifold.
Make sure the manifold is clean of any old gasket material. After that, lay the straightedge across the manifold.
Look at the intersection of the straightedge and manifold with your flashlight. If the manifold is warped, light will shine through.
Repair Or Replace A Leaking Exhaust Manifold?
Taking care of a leaky exhaust manifold as soon as possible is essential. Basically, this part is crucial to moving toxic gasses from the engine to the catalytic converter, which then discharges them into the atmosphere.
A leak can cause serious problems. Gasses in the car can leak into the cabin and expose you and your family to dangerous substances like carbon monoxide (which is lethal), volatile organic compounds, and other hazardous gases.
As well as putting your health at risk, a leak can cause more damage to other parts of your car over time.
Burned exhaust valves, damaged oxygen sensors, or a failure of the catalytic converter can occur with exhaust leaks. Furthermore, you may pay more per gallon for gas if your fuel consumption increases.
Since exhaust manifold leaks can be dangerous, leaving it to the pros is best. Professionals are well-equipped to identify and resolve leaks with their knowledge of multiple causes.
Whenever your exhaust manifold leaks, contact a trusted auto repair shop immediately so the leak can be repaired or replaced.
Is It Safe To Drive With A Exhaust Manifold Leak?
You should take your car's exhaust leak seriously if it is present. It will affect the performance of your vehicle.
You and your passengers will suffer serious health consequences if you are exposed to carbon monoxide and other poisonous fumes.
In the long run, a leaking manifold can lead to additional problems, such as the premature failure of the catalytic converter.
A leaking exhaust manifold can also cause a health hazard if carbon monoxide enters the passenger compartment.
Is An Exhaust Manifold Leak Expensive To Fix?
It typically takes two to three hours to complete this type of repair. There is a typical hourly rate of around $80 to $90 in independent shops, so there should be a labor cost of $160 to $270.
If you are working with a dealership, you can expect to pay between $220 and $330 for labor at a rate of approximately $110 per hour.
Various factors, such as your vehicle's year, make, and model, will determine the final cost.
The Bottom Line
The damage to your engine can be severe if an exhaust manifold leak isn't addressed sooner. You might be able to stream combustion exhaust back into your intake manifold if your exhaust manifold gasket leaks.