When it comes to maintaining and repairing your Honda Element, one important aspect to consider is the health of its suspension system.
The front struts play a crucial role in providing a smooth and comfortable ride, as they absorb shocks and vibrations from the road. Over time, however, these components can wear out and require replacement.
The cost of front strut replacement for a Honda Element can vary depending on several factors, including the year of the vehicle, the region you're in, and whether you're replacing just the strut or the entire strut assembly.
Prices may be higher at a dealership, or an authorized repair shop compared to an independent mechanic.
Additionally, if other components need to be replaced or if there are additional issues with the suspension system, the cost may increase further.
To get an accurate estimate for your specific Honda Element, I recommend contacting local repair shops or using online platforms that provide cost estimates for car repairs based on your location and vehicle details.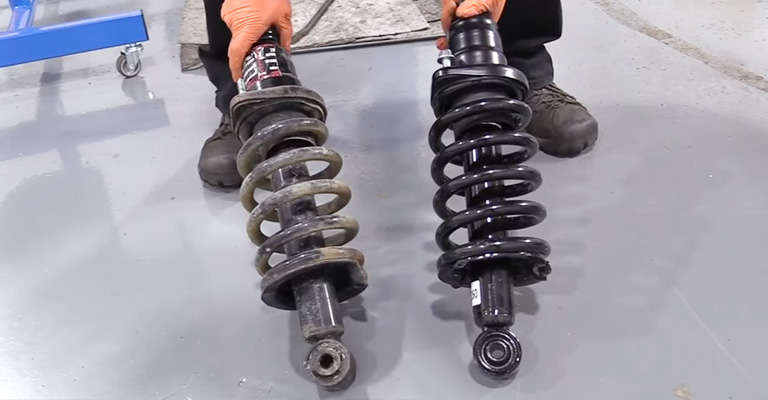 How Much Does It Cost To Replace Struts On A Honda Element?
Typically, it costs between $840 and $914 to replace the shock or strut in a Honda Element. Approximately $282 to $355 will be spent on labor, while $509 to $559 will be spent on parts. A suspension shock or strut replacement price may vary depending on your vehicle and location.
If you intend to keep your car, don't buy the "standard" aftermarket junk struts that Advance or AutoZone sell. In a couple of years, all Chinese metal will fall apart.
OEM parts are expensive because they last a long time. That being said, buying non-Chinese quality is easier than buying OEM (which is becoming more and more difficult).
What Is A Suspension Shock Or Strut?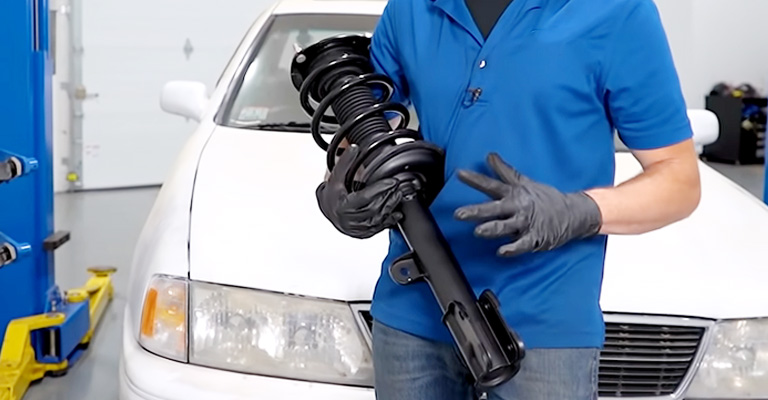 A steering and suspension system is integrated in the majority of cars, trucks, and SUVs today.
A strut assembly is at the center of the suspension, a mechanism that combines a shock absorber and a coil spring to absorb road bumps and keep the tires on the ground.
The upper pivot point of the steering system is also located on the top of the strut. Despite this, many vehicles past and present still use shock absorbers instead of integrated shocks and struts.
Except for the fact that they are independent of the coil spring, they function exactly the same as coil springs.
How Do Suspension Shock Or Struts Work?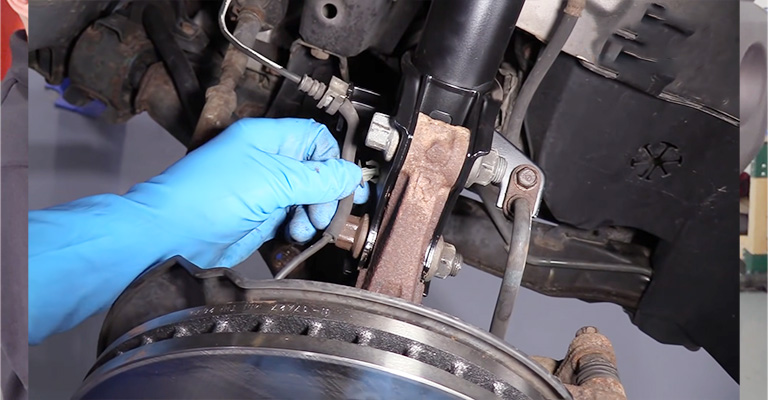 A vehicle's steering and suspension systems are composed of many components. Wheel hubs are bolted to steering knuckles, which turn inside bearings.
Knuckles are connected at the bottom to a moving bracket called the lower control arm, and at the top to struts and possibly upper control arms.
Through the tie rods, the steering gear is connected to the knuckle, so when the steering wheel is turned, the knuckle rotates on the lower control arm and upper strut mount.
Generally known as MacPherson struts, the strut assembly includes a special shock absorber, a coil spring, as well as a rotating upper strut mount and bearing assembly.
The shock absorber will be mounted to the chassis and the lower control arm on vehicles using shock absorbers instead of struts.
As a result, the shock absorber is able to moderate the movement of the coil spring, preventing the vehicle from bouncing up and down uncontrollably.
What Is The Strut Assembly All About?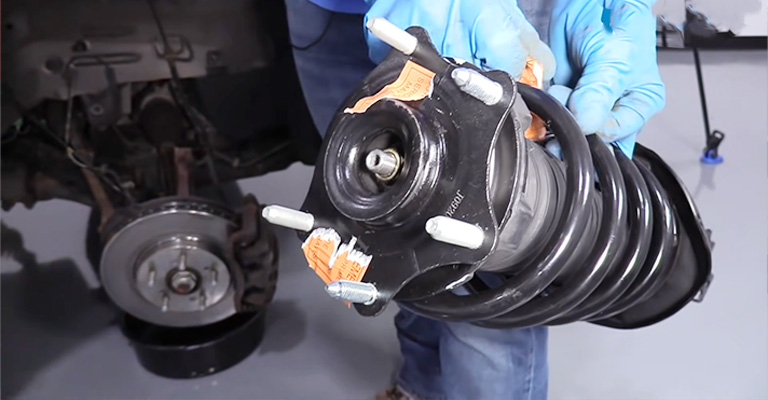 A strut assembly serves as the suspension system's shock absorber, absorbing road shock and ensuring a smooth ride for your car.
A shock absorber is usually located at the back of a car and a strut assembly is found at the front of a car made after 1995.
All four wheels may be equipped with shock absorbers in older cars. Ride comfort and braking performance are affected by faulty or damaged struts.
For additional support, the strut assembly, located either in the front or rear of the car, consists of a shock absorber and a coil of springs. The front wheels need extra support to absorb shock from the road due to the extra weight of the engine.
Gas or liquid substances are contained in the piston and cylinder of the shock absorber. Pistons are attached to springs.
In a cylinder, the piston moves up and down against the gas/fluid and spring to absorb the shock when you drive over a bump.
Strut assemblies are subject to wear and tear over time, especially on bumpy roads. The gas/liquid will eventually leak out, resulting in an unstable or rough ride.
Wearing out struts may cause the tires to lose contact with the road and/or premature tire wear.
Keep in mind:
It is necessary to replace both front and rear struts at the same time.
This service may require wheel alignment at a shop. The wheel alignment machine is not available to a mobile mechanic.
How it's done:
Make sure the struts are damaged.
The struts need to be removed and replaced.
Ensure that no worn or damaged parts are present in the suspension system.
What Are The Symptoms Of A Bad Suspension Shock Or Strut?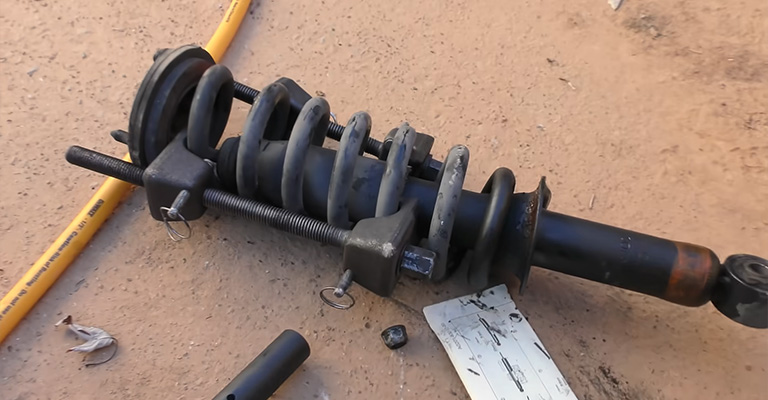 Since the suspension struts and shocks support the entire weight of the vehicle, they are susceptible to wear and tear. It is usually the shock absorber that fails first.
As a result, the vehicle's ability to corner in a turn diminishes, and the ride quality becomes "bouncy" or loose. There may be oil leaks from some types of shock absorbers and struts.
Over bumps and during turns, the upper mount will eventually break down due to constant turning or compression.
A squeaking sound when the steering wheel is turned can indicate degrading rubber bushings in the upper strut mount for struts.
A clicking or growling noise when turning can indicate a worn bearing inside the upper strut mount. When turning or going over bumps, strut coil springs can break and cause a loud clunking sound.
How Often Do Suspension Shock Or Struts Need Replacement?
In most vehicles, suspension struts and shocks will need to be replaced at some point, but there is no replacement schedule.
These parts may be shortened by rough driving habits. It is recommended to replace shocks and struts between 50k and 100k miles.
Struts and shocks should be replaced immediately if they leak, break, or are damaged. Last but not least, you should always replace them in pairs. The other front shock or strut should also be replaced if one is replaced.
Can I drive with a bad Suspension Shock or Strut?
Shocks and suspension struts may fail slowly or suddenly. Each member of the group fails at a different rate.
It may take some time for you to notice the decline because it is gradual. Despite the fact that worn shocks or struts can still be driven, the ride quality will be compromised. It will also compromise the vehicle's handling.
The struts or shocks play an important role in keeping a car level when it turns, with traction distributed equally between all four wheels.
The suspension's ability to perform properly also declines as the condition of the suspension struts and shocks worsens – especially in an emergency.
When struts and shocks are severely worn, a vehicle can lose control and roll over. Vehicles with broken or bent struts or shock absorber shafts should not be driven until they are repaired or replaced.
Final Words
Struts help absorb shock in the front of your vehicle. Your vehicle needs extra help absorbing shocks and vibrations from the road due to its heavy weight at the front (due to the engine placement).
With the strut assembly, your engine and cabin are protected from the full vibrations of the road by a shock absorber with a spring coil.
The strut assembly no longer acts as a shock absorber when damaged. It is necessary to install this shock absorber to ensure a smooth and comfortable ride, as well as to protect your engine from possible damage.