With the advancement of technology, vehicle manufacturers are continuously looking for ways to make driving safer and more convenient. Honda is one of the leading companies striving to improve the driving experience using its blind spot monitoring system.
So, what is Honda Accord Blind Spot Monitoring? It is a safety feature that uses sensors and cameras to detect vehicles in the driver's blind spots. The system alerts the driver with a warning light or sound if a vehicle is in a blind spot. Hence, they can take necessary action to avoid a potential collision.
This article will dive deeper into the technology behind Honda Accord Blind Spot Monitoring and how it can benefit drivers.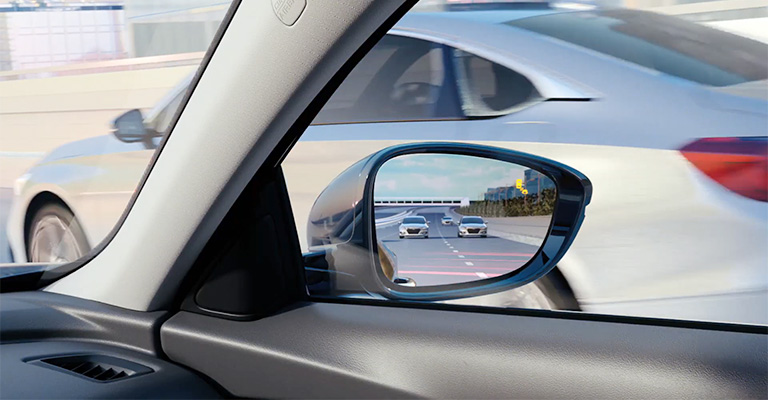 What is Honda Accord Blind Spot Monitoring? Meaning of Blind Spot Monitoring
Blind-spot monitoring is a fantastic safety feature that helps drivers avoid accidents on the road. If you haven't heard of it before, it's a system in your car that detects other vehicles in your blind spot and alerts you to their presence.
This technology was first introduced by Volvo in 2007 and has since become a standard feature in many vehicles.
Studies have shown that blind spot monitoring has reduced accidents by up to 23%! That's a pretty significant impact, and it's not hard to see why. Honda also joined in on the action and introduced their version of the technology in 2018 for testing on select models.
How does Honda Accord Blind Spot Monitoring Work?
Let's take a closer look at how the system works:
Radar Sensors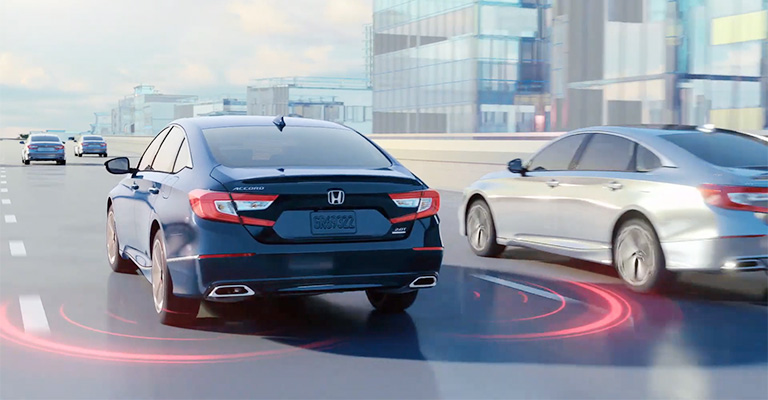 These sensors are placed on the car's sides, usually near the rear bumper. They send out radio waves that detect other vehicles in your blind spot. As soon as another vehicle enters your blind spot, the radar sensors signal to the car's computer, letting it know something is there.
Cameras
If your Accord has this system, it will have cameras on its side mirrors or near the car's rear. They capture a video signal and send it to the car's computer. It then analyzes the signal to determine if there's a vehicle in your blind spot.
Alerts
When the car's computer receives a signal from the radar sensors and cameras that there's a vehicle in your blind spot, it sends an alert to the driver. This alert can be a warning light in the side mirror, a sound, or both.
The warning light will stay lit until the other vehicle leaves your blind spot, and the sound will stop once you've safely changed lanes.
Interactive Display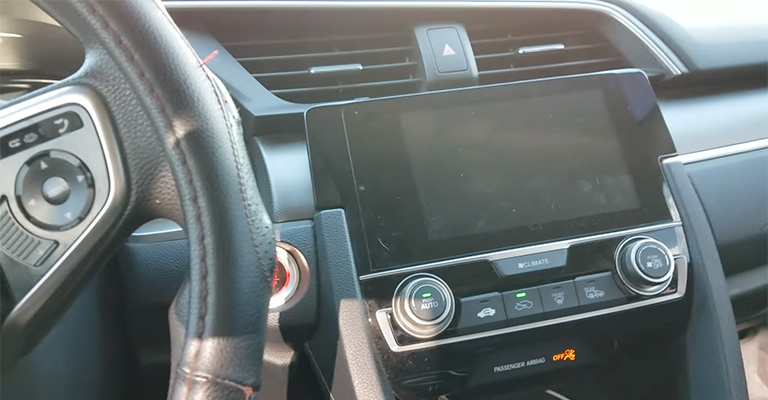 Some Honda Accord models have an interactive display showing you when a vehicle is in your blind spot. This display is located on the dashboard and is color-coded to indicate which side of the car has a vehicle in the blind spot.
The interactive display is an even more detailed way for drivers to keep an eye on the road, making informed decisions while driving.
Which Honda Accord Models Have Blind Spot Monitoring?
Honda has included this technology in several Accord models starting in 2018. The following models come equipped with Blind Spot Monitoring:
Sport 2.0T
EX
Touring
EX-L
Touring
Hybrid EX
Hybrid EX-L
Hybrid Touring
How to Use Honda Accord Blind Spot Monitoring
Here is how you should use this system:
Step 1: Familiarize Yourself with the System Indicators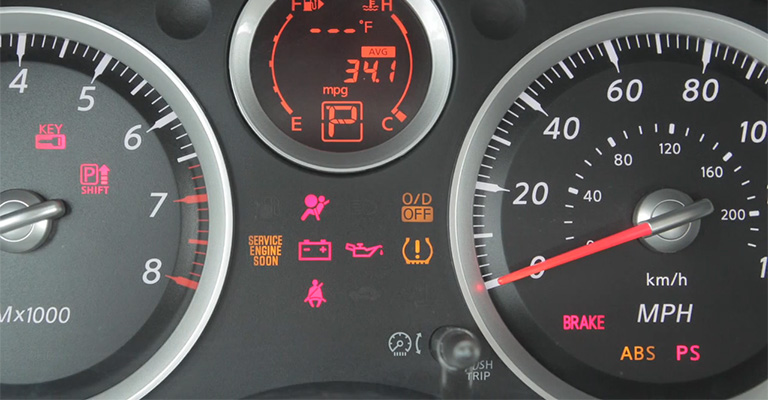 On Honda Accord, the indicators are located on your side mirrors. As a vehicle or an object approaches your blind spot, the indicator will light up, alerting you to the presence of another vehicle.
Note that the indicators will show you cars behind you by 10 feet. On the sideways, it will capture 1.6 to 10 feet. As you drive it on highways. It will adapt and expand the monitoring zone to about 82 feet.
Step 2: Check the Indicators Before Changing Lanes or Merging
Before you change lanes or merge onto the highway, look at the Blind Spot Monitoring indicators. If the indicator is lit up, it means there is a vehicle or object in your blind spot, and it's best to wait before changing lanes.
Step 3: Use Your Mirrors and Turn Signals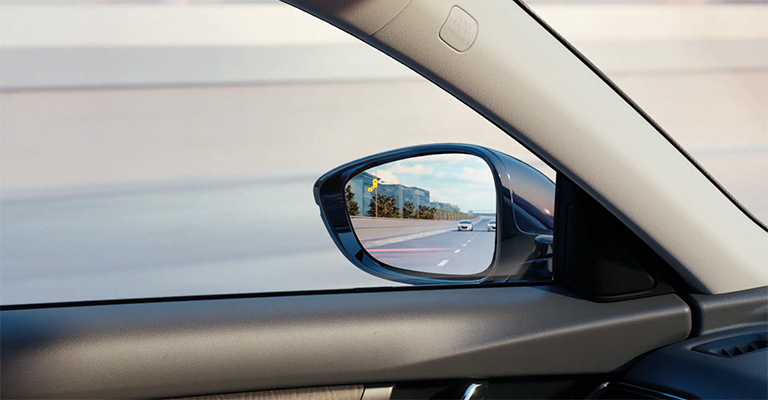 Even with this system active, double-checking your mirrors and using your turn signals before changing lanes or merging is always a good idea. This helps ensure that other drivers are aware of your intentions.
Step 4: Trust but verify
Blind Spot Monitoring is an excellent tool, but it's not a substitute for paying attention to your surroundings. Keep an eye out for other vehicles and objects on the road. Use your best judgment before making any driving maneuvers.
Step 5: Know How to Turn it On and Off
If you need to turn off Blind Spot Monitoring, you can press the blind spot button on your Honda Accord's dashboard. The location of this button may vary depending on your model, so consult your owner's manual for specific instructions.
However, in most Accord models, it is located on the left side of your steering wheel. It has a sign with a car inside a circle.
Once you have pressed the button, check your dashboard. Rotate using the selector wheel on your steering wheel till the blind spot symbol is highlighted. Tap to disable it. If you want to turn Blind Spot Monitoring back on, simply press the button again.
You should note that turning off this system should only be done in certain circumstances. You may switch it off while driving on a single-lane road with no other vehicles around.
You can check this video to learn how to use blind sport.
Advantages and Disadvantages of Honda Accord Blind Sport Monitoring
The advantages of this system include the following:
Improved Awareness: The system helps drivers stay aware of their surroundings while on the road.
Reduced Accidents: With the added safety feature, drivers are more likely to avoid collisions and other dangerous situations.
Convenience: With a simple alert sound and light, you'll know exactly when a vehicle is in your blind spot. This makes it easier for you to change lanes and confidently make other driving decisions.
The disadvantages are as follows:
Cost: While it's a handy and beneficial safety feature, it can be expensive to add to a new or used vehicle. You will need cameras, various sensors, and software.
False Alerts: From time to time, the system may generate false alerts, distracting and annoying.
Dependence on Technology: It encourages too much dependence on technology rather than their driving skills.
FAQs
Here are answers to common questions regarding the system:
How Accurate is the Honda Accord Blind Spot Monitoring System?
The Honda Accord's blind spot monitoring system is highly accurate and reliable. It uses advanced sensors and cameras to detect other vehicles in your blind spots and is designed to provide you with real-time information while you're on the road. 
Nevertheless, sometimes, the system might not be able to detect tiny vehicles, motorcycles, or bicycles.
Can I Retrofit my Older Honda Accord with Blind Spot Monitoring Technology?
It is possible to retrofit your older Honda Accord with blind spot monitoring technology, but it can be a complex and expensive process. Depending on the age and model of your vehicle, it may require significant modifications to the wiring, sensors, and infotainment system. 
So, it's best to consult a Honda dealership or authorized repair shop to determine if a retrofit is feasible and what it would entail.
What Happens if the Blind Spot Monitoring System Fails or Stops Working?
If the blind spot monitoring system fails or stops working, it will typically trigger a warning light or message on your dashboard. Take your vehicle to a Honda dealership or authorized repair shop for diagnosis and repair. Do not attempt to repair it by yourself as this is a critical system.
Conclusion
The above information puts to bed the question, what is Honda Accord blind spot monitoring? It is a technology that employs cameras and sensors to keep you aware of your blind spots.
This technology is a valuable addition to your driving experience. It provides an extra layer of safety, reducing the risk of accidents by detecting vehicles in your blind spot. With its ease of use, it's no wonder the system is quickly becoming a popular feature among Honda Accord drivers.