In today's world, the search for eco-friendly and cost-effective cars has become more crucial than ever before.
With the advancements in automotive technology, hybrid cars have become increasingly popular for their fuel efficiency and sustainability.
One such car that has caught the attention of many is the Accord Hybrid by Honda. But, the question remains, is an Accord Hybrid worth it?
To help you make an informed decision, we'll dive into the features and benefits of the Accord Hybrid and explore whether it is a worthwhile investment for your driving needs.
So, buckle up, and let's take a closer look at what the Accord Hybrid has to offer! More than 15 years ago, Honda introduced the Accord Hybrid, featuring a powerful V-6 hybrid system.
However, this system did not offer significant improvements in fuel efficiency compared to the non-hybrid version.
Today, the Accord Hybrid has undergone a remarkable transformation, and it has emerged as a highly efficient sedan that is also enjoyable to drive. The car is thoughtfully designed and boasts a comprehensive package of features.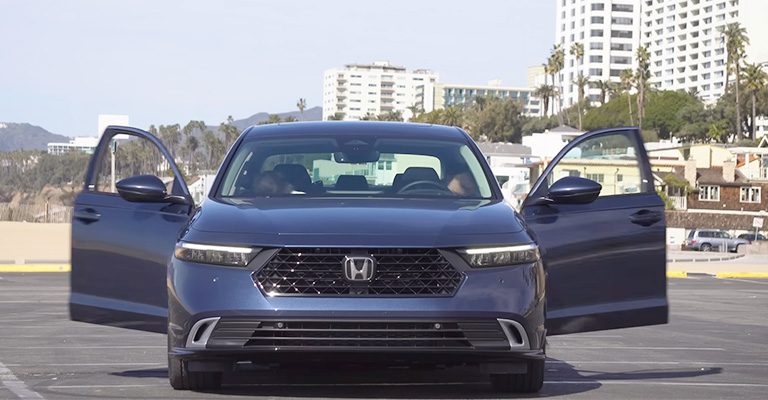 Is The Hybrid Honda Accord Worth It?
With its redesign, the 2023 Honda Accord Hybrid has surpassed its already remarkable predecessor and established itself as one of the finest hybrid cars in the market.
The Accord Hybrid boasts of an opulent and commodious cabin, cutting-edge technological features, polished handling, and an economical, yet lively hybrid powertrain.
The top position of the 2023 Honda Accord Hybrid in the category of Hybrid Cars is a result of its remarkable score.
The Honda Accord Hybrid has received a score of 8.6 out of 10, which has been determined after a meticulous evaluation of 13 research pieces and data elements that have been obtained from diverse sources.
Reflecting upon my experience with the 2023 Honda Accord Hybrid, I would describe it as a week of serenity and comfort.
The powertrain of this car is unique compared to most hybrids, as it primarily relies on its electric motors, with the gasoline engine serving as a generator rather than a motor.
This distinctive design results in significantly reduced noise levels in comparison to other hybrids, such as the Toyota Corolla Hybrid or Hyundai Elantra Hybrid.
The Accord Hybrid also delivers swift acceleration from a standstill and ample power for highway passing maneuvers. Additionally, the ride quality is luxuriously smooth.
Fuel Economy and Real-World MPG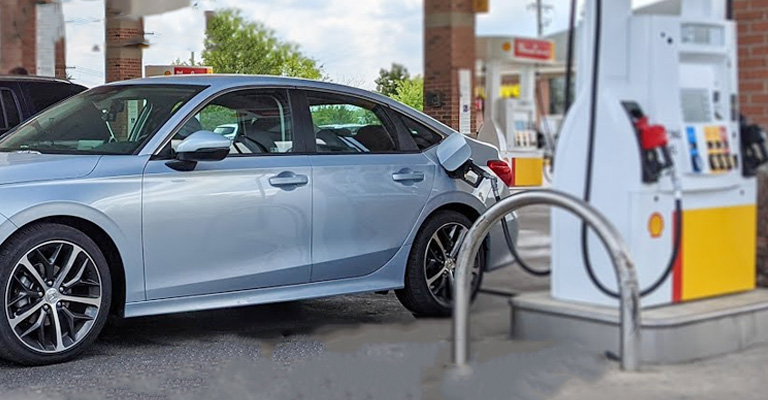 As per the latest findings from the Environmental Protection Agency (EPA), the 2023 Accord hybrid boasts impressive fuel efficiency ratings of 51 mpg in the city and 48 mpg on the highway.
Although the fuel economy figures for the nonhybrid Accord are yet to be disclosed, we anticipate them to be closely aligned with the outgoing 2022 model, which was capable of delivering up to 30 mpg in the city and 38 mpg on the highway with its turbo 1.5-liter four-cylinder engine.
To get a comprehensive understanding of the Accord's fuel economy, we recommend visiting the EPA's official website.
Accord Hybrid Ride and Handling
While the Accord Hybrid boasts well-rounded driving dynamics, it doesn't quite match up to the polished feel of its nonhybrid sibling.
That said, the sedan still offers a stable and secure ride when tackling turns, thanks to its impressive suspension system that effectively absorbs bumps and rough patches on the road.
For those looking for an even smoother ride, opting for the available 17-inch wheels with their higher-profile tires is highly recommended.
The steering is both nicely weighted and responsive, while the brakes deliver strong stopping power. However, the brake pedal can feel a bit too much like an on/off switch at times, making it challenging to achieve consistently smooth stops.
2023 Accord Hybrid Gas Mileage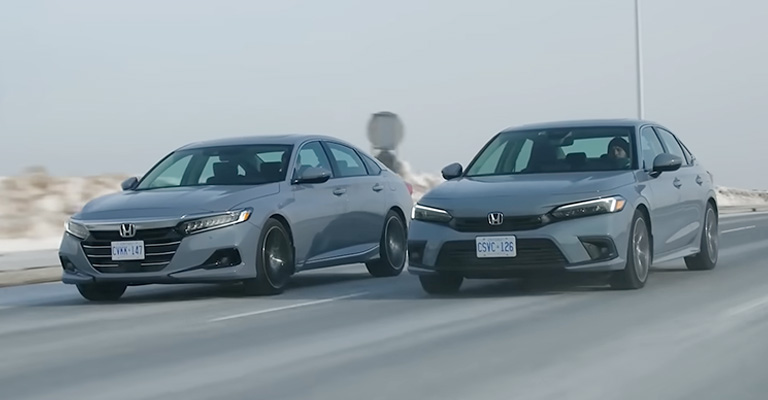 With an EPA-rated 46 mpg in the city and 41 mpg on the highway (with the exception of the EX-L trim, which boasts a rating of 51/44 mpg city/highway), the 2023 Accord Hybrid stands out as an excellent midsize sedan with terrific fuel efficiency.
However, it's worth noting that when compared to other hybrid cars like the Toyota Prius, the Accord Hybrid's fuel economy falls significantly short.
2023 Accord Hybrid Engine
Under the hood, the 2023 Honda Accord Hybrid packs a 204-horsepower hybrid system, consisting of a 2.0-liter four-cylinder engine, two electric motors, a lithium-ion battery, and front-wheel drive.
While the hybrid system itself is quite complex, with the electric motors taking on most of the workload and the engine primarily functioning as a generator, the overall driving experience remains refreshingly normal.
The Accord Hybrid is quick off the line and in town, and its powertrain delivers ample midrange punch for passing other vehicles and accelerating to highway speeds with ease.
The vehicle can go from zero to 60 mph in just 7 seconds, while the throttle response is reasonably quick.
One of the most impressive features of the hybrid system is that it simulates gear changes like a traditional automatic transmission, which eliminates the previous model's issue of a high-revving engine drone when accelerating hard.
2023 Accord Hybrid Interior Quality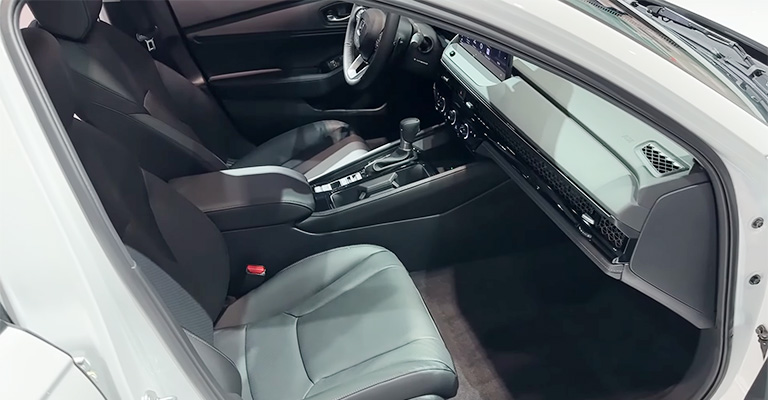 Despite its price point, the interior of the 2023 Honda Accord Hybrid rivals some entry-level luxury cars in terms of design and build quality.
The dashboard boasts a modern and clean-cut appearance, with a thin honeycomb grille cleverly disguising the air vents. Soft-touch materials are prevalent throughout the cabin, with hard plastics taking a back seat.
Every surface feels sturdy and built to a high standard, creating an overall sense of luxury. Even the climate control knobs have a high-end feel, with a knurled finish and precise detents.
How Much is a 2023 Honda Accord Hybrid?
Starting at $31,895 for the base Sport trim, the Accord Hybrid is comparatively more expensive than several other hybrid vehicles in the market.
However, the vehicle provides an array of features that make it worth your investment, such as a power-adjustable driver's seat, a 12.3-inch touch screen, and an abundance of active safety features.
For those seeking more comfort, the EX-L trim, priced at $33,540, offers leather upholstery, heated front seats, and a power-adjustable front passenger seat.
Additionally, the Sport-L trim, which begins at $33,875, provides larger wheels and sportier styling elements.
Finally, the top-end Accord Hybrid Touring, which has a sticker price of $37,890, comes equipped with ventilated front seats, heated rear seats, an upgraded 12-speaker audio system, and a head-up display, thereby making it the ultimate package for luxury seekers.
Is the 2023 Honda Accord Hybrid a Good Car?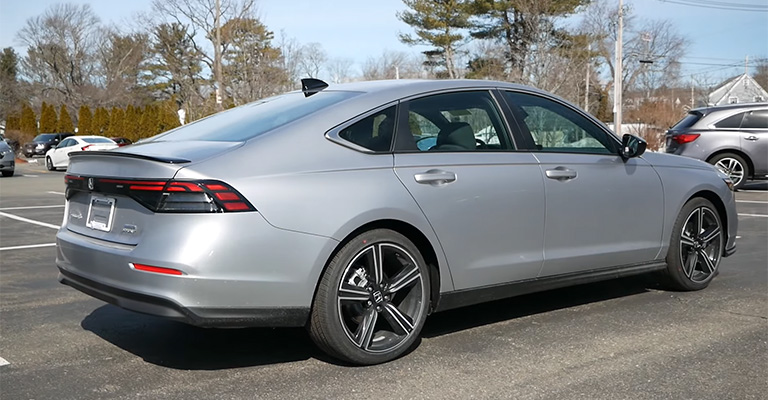 For those in the market for a hybrid car, the all-new 2023 Accord Hybrid is an excellent option.
With its 204-horsepower hybrid system, the Accord provides impressive acceleration and remarkable fuel economy (up to 51/44 mpg city/highway).
Not only is it an athletic vehicle to drive, but it also offers a comfortable ride. The interior is approaching luxury grade, with comfortable seats and a sleek and user-friendly infotainment system.
Furthermore, the Accord boasts a spacious trunk and a wealth of standard safety features, making it an even more attractive choice.
How Many People Does the 2023 Accord Hybrid Seat?
The Accord Hybrid is a spacious four-door sedan with a seating capacity of five. The vehicle comes equipped with standard cloth upholstery, while leather upholstery, heated and ventilated front seats and heated rear seats are also available as options.
The front seats are supportive and well-cushioned, and the wide range of seating adjustments makes it easy to find a comfortable driving position.
Moreover, there's ample head- and legroom in the front, and the Accord provides great outward visibility to the front, sides, and rear.
While the rear seats may be a bit stingy in terms of headroom, legroom is abundant, and the vehicle can comfortably accommodate three kids or two adults.
The cabin does an excellent job of reducing road, wind, and engine noise, ensuring a quiet and peaceful ride.
The Non-Hybrid Option
Toward the end of the day, I had the opportunity to take a brief 10-mile drive in the non-hybrid 2023 Accord.
The vehicle is equipped with a 1.5-liter turbocharged four-cylinder engine that has only undergone minor improvements from the previous generation, with no significant changes to its power output of 192 hp and 192 lb-ft of torque.
The non-hybrid model's fuel economy has decreased slightly, with a reduction of one mile per gallon across the board, estimated at 29 cities, 37 highways, and 32 mpg combined.
Additionally, the non-hybrid models come with a smaller 7-inch center touchscreen display and lose wireless Android Auto and Apple CarPlay. However, they still retain wired USB connectivity.
Although the non-hybrid Accord in EX trim is a capable and enjoyable vehicle, it falls short in comparison to the more polished and feature-rich hybrids, which provide a smoother, livelier, and more high-tech driving experience – especially when you drive them one after the other.
As such, Honda's decision to discontinue the 2.0T Sport option for this generation seems like an even bigger letdown.
Final Take: Should I Buy the 2023 Honda Accord Hybrid?
Although the latest Accord Hybrid is a great car overall, you may want to explore some other hybrid models before making your final decision.
The Toyota Camry Hybrid and Hyundai Sonata Hybrid, for instance, both cost less than the Accord Hybrid and offer superior fuel efficiency.
Additionally, if you don't mind driving a gasoline-only vehicle, the standard Honda Accord is also worth considering.