We often face unfortunate situations where we fit the car key in the door lock, and it just doesn't want to turn. Sometimes the key doesn't go inside the lock at all or fails to unlock the door even after you turn it in the right direction.
If you own a somewhat older Honda Accord, you might face this problem more often and want to know why your Honda Accord key won't unlock door and how to fix this issue.
Your door keys fail to function properly for a few reasons, including damaged locks and keys, lack of lubrication, worn-out fob batteries, frozen locks, etc.
Here we will discuss the main reasons why your Honda Accord keys fail to unlock the car door. Plus, we will tell you how you can fix these problems and get your car keys working again. So let's jump right in.
Why Your Honda Accord Key Won't Unlock The Car Door?
If you have the right key to open your door and it still doesn't work, then the problem might be in your keys or the car lock. While some common problems like faulty keys and locks can be identified easily, some problems are slightly critical and difficult to notice.
Below are some of the most common reasons why a Honda Accord key might not work and some effective solutions. Have a look —
1. Worn-Out Key
This is one of the most common causes of car key failure. A worn-out or damaged key doesn't necessarily break into pieces or display visible damages. The grooves or teeth of the key might lose their shape and fail to match the inner mechanism of the car lock.
As the car keys are made of metal, and we use them constantly, it's natural for your Honda Accord key to wear and tear after a certain period. Lack of maintenance, putting excessive pressure while unlocking, overuse, etc., can easily damage your car key.
Try using a spare key and check whether the car unlocks with it or not. If the car lock opens with a new or spare key, it surely means that your previous car key is worn-out.
How to Fix a Worn-Out Key Issue?
Unfortunately, there are no DIY methods of fixing a damaged key. You need to take your old key to a locksmith to get a new one using the registered key code of your vehicle. In case you own a transponder key, the replacement key requires to be programmed with your Honda Accord for functioning properly.
2. Damaged Lock
Just like a worn-out key, a damaged lock is a pretty common issue with Honda Accords and untrained eyes will find it difficult to spot the issue.
Your car lock might not function properly if you use your car key rarely and unlock your car by other means like remotes or fobs. Also, the lock mechanism might get damaged due to the impact of a collision.
If your car key goes inside the lock and easily turns but fails to unlock the car, the problem is in the car lock assembly. Otherwise, the problem is in the lock cylinder, and you'll be able to unlock your car with your fob in such cases.
How to Fix a Damages Lock?
You need to take the car to a professional car expert or your car dealer to seek assistance for repairing the lock or installing a new one.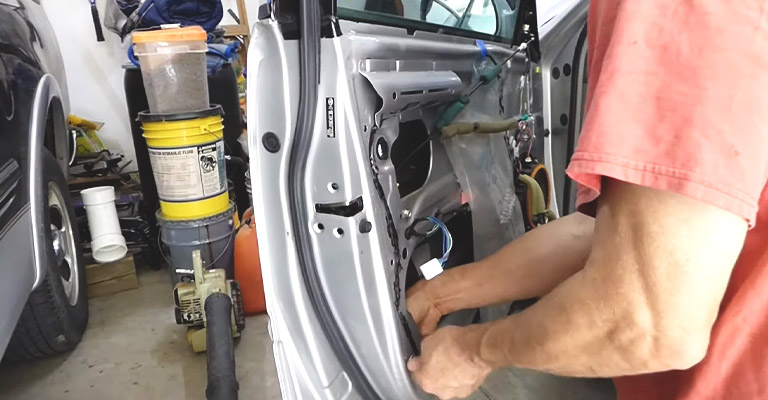 3. Insufficient Lubrication
As your car locks are exposed to different weather conditions and include several moving parts, sometimes the locking mechanism might stop working due to a lack of lubrication. Also, dirt, microscopic rust, and debris might accumulate inside your car lock and restrict the key movement.
How to Fix the Insufficient Lubrication Issue?
The solution is simple, use a lubricant to fix the locking mechanism and remove the dirt. WD-40 spray lubricant is a perfect way to lubricate the mechanism and clean the area. You can use a straw to directly spray it inside the keyhole or you can spray the key only.
Spray over and place the key inside the car lock and rotate at 180 degrees angles in both left and right directions. It will spread the oil properly and remove dirt.
4. Frozen Car Lock
We often forget to take proper maintenance measures for our cars during the winter season, and it causes different parts of the car to freeze. On excessive cold days, the lock of your car gets seized and stops functioning. The frost needs to get thawed so that you can enter your car key and unlock the car.
How to Fix a Frozen Car Lock?
To solve a frozen lock issue, you can use a commercial solution like Lock De-Icers or simply use your pocket lighter. Use the lighter to heat your car key and quickly put it inside the lock.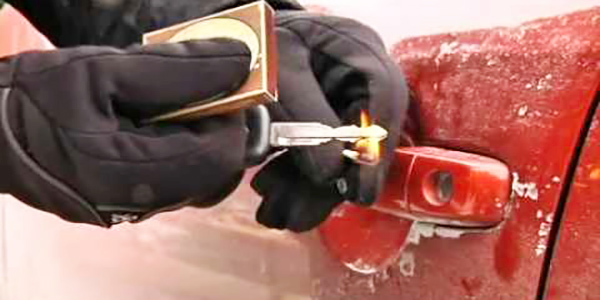 Keep repeating the process until your car key can move inside the lock and open the door. Be careful about overheating as the material around your car lock might get damaged. Typically, heating only the tip of the key is enough to get your car lock working.
5. Worn-Out Fob Batteries
The keyless entry remote a.k.a. the key fob works on batteries that might run out after some time. When your Honda Accord stops responding to the commands of your key fob, you can assume that your key fob batteries have worn out. Sometimes also the key fob stops working.
How to Fix Worn-Out Fob Battery Issue?
You just have to replace the old fob batteries with some new ones to get your keys working again. You can find the batteries in any local hardware store. Check out the owner manual of your car to find out which type of battery your key fob needs. You can also visit the manufacturer's website to get this piece of information.
Final Words
So there you have it all. You have all the reasons why your Honda Accord key won't unlock door. You should also know how to fix all those issues. Just remember that you can't perform the task of a professional locksmith unless you have previous experience.
Hence, make sure that you connect with an expert when necessary. You can also contact the Honda manufacturers to solve more serious issues related to your car key.