The Honda Accord has long been famous for drivers seeking a reliable, efficient, and stylish sedan. However, even the most dependable vehicles can experience issues from time to time.
One problem that some Honda Accord owners have reported is difficulty shifting into reverse gear. This issue can be frustrating and even dangerous, as it can prevent drivers from maneuvering their vehicles in tight spaces or backing up safely.
This is a sign that a transmission is failing seriously in most cases. The vehicle is prone to this issue. There has been a history of transmission failures in the Honda Accord, and the reverse gear is often the first to fail.
It is usually a good idea to drain the transmission fluid first and inspect its condition. If the transmission smells bad or is really dirty, you should consider replacing it. This vehicle may have an electronic fault if the fluid is fine. Having this checked out by a transmission specialist is a good idea.
It may be that your transmission system is malfunctioning if your car cannot be reversed. Usually, repairing a gearbox involves replacing the transmission fluid or tearing it down and rebuilding it.
Our goal will be to examine some of the problems that commonly affect transmissions and how they can be fixed. No one wants a transmission problem, but reading on can help you be prepared if you have a car that cannot reverse.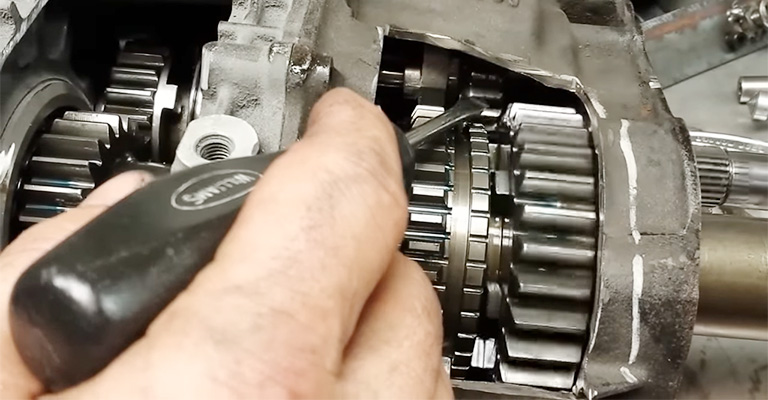 What Does It Mean When Your Car Won't Go In Reverse but Drives Fine
Having a car that won't reverse can be frustrating at best, putting you in a dangerous position if you can't back out.
You may not be able to engage the reverse gear at all if your car doesn't go into reverse. Nonetheless, you can drive forward. Engaging the reverse gear may also be possible, but your car won't reverse.
If you don't notice that the reverse gear doesn't work, then you might consider it a nuisance. When you drive out of a garage or parking lot, take a moment to consider your driving style. The same applies if the reverse isn't working, as backing into a place is impossible.
Keeping this in mind, we'll look at some common reasons reverse won't work and how to fix it.
Common Reasons Why Your Automatic Transmission Car Won't Reverse and How to Fix
An automatic transmission does not work in reverse when a few things have to be checked first.
Sometimes, there is no reverse gear in an automatic transmission that simple, low-cost solutions can fix. It will also be necessary to consult a professional mechanic at times.
1. Bad Transmission Selector Sensor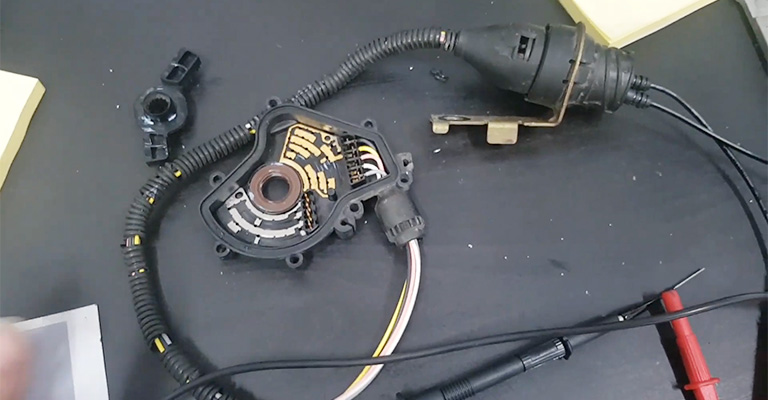 When a vehicle is placed in reverse, a sensor signals the drivetrain control module to engage reverse. This may not happen due to a faulty sensor, and a check engine light might come on.
Bad sensors are likely to be to blame when your car cannot back up in reverse or move beyond third gear forward.
2. Low Transmission Fluid
The automatic transmission cannot be put in reverse when the transmission fluid level is low. Overheating or stalling of the engine may occur along with fluctuating shifting.
It can cause weird stuff to happen to your vehicle when its systems are forced to work harder than they were designed to. A low fluid level results in gears not getting proper lubrication, affecting manual transmissions.
3. Correcting Low Transmission Fluid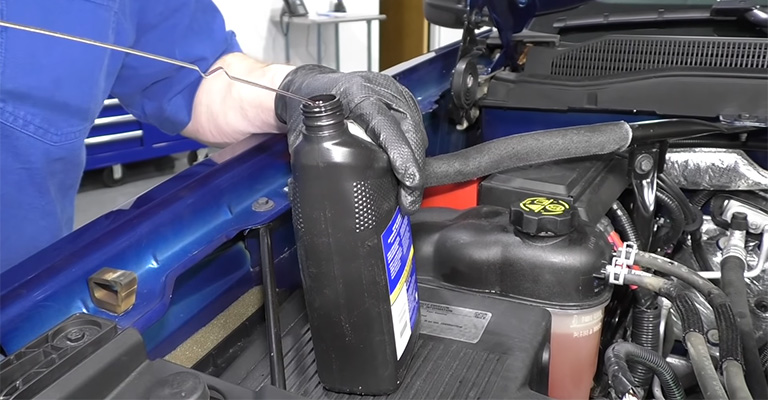 Make sure the transmission dipstick indicates that there is enough fluid in the transmission.
In cases where you are uncertain about its location or how it works, consult the owner's manual. Ideally, the fluid should be checked when the engine is hot, and the transmission is neutral.
Setting the parking brake and being aware of any moving parts under the hood is essential. Adding transmission fluid alone is insufficient, so you should replace any remaining filter.
In addition to removing contamination, these steps will improve the transmission's longevity.
Additionally, this would be an excellent chance to examine the ground where your car usually sits for a while to see if there are any transmission fluid puddles.
A transmission leak, like a bad gasket, can cause a low fluid level, so it should be checked out by a mechanic as soon as possible. Hydraulic fluid can sometimes be referred to as transmission fluid.
4. Malfunctioning Lockout Ring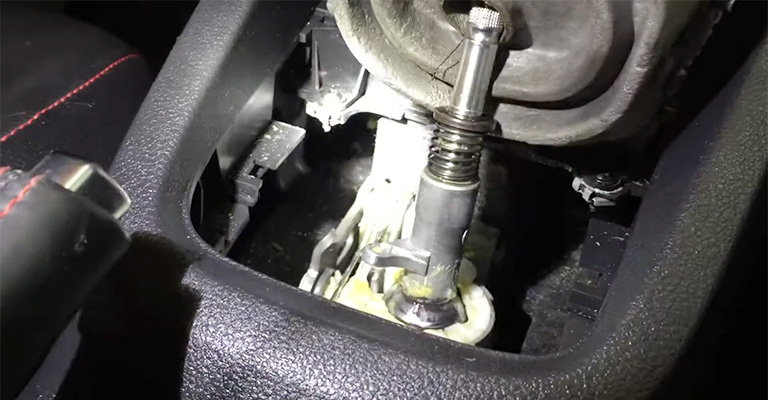 Lockout rings are not available for automatic transmissions, so this applies to only manual transmission vehicles. With a lockout ring, you can't accidentally shift into reverse when the car is moving forward, which may cause catastrophic damage.
If faulty, the lockout ring might not work correctly in your vehicle, preventing you from shifting into reverse. There is an affordable fix for this problem, which will usually cost you between $100 and $300.
You can replace it yourself by putting your car in reverse, taking the shifter head off, removing the old lockout ring, replacing it with a new one, and putting the shifter head back on.
5. Broken Reverse Gear
This may sound too simplistic to be accurate, but it's not. You can simply break your reverse gear, no matter whether you have an automatic or manual transmission.
This occasionally happens from wear and tear or repeatedly stripping the gear when you have a stick shift. If your reverse gear is damaged or stripped, your car will not be able to go reverse, but it will still be able to go forward.
The cost of replacing reverse gear by a mechanic usually runs upwards of $1,000. If you intend to perform the service yourself, drain the transmission fluid first, then remove the vehicle's transmission.
Take it apart, install new reverse gear, and then reassemble everything in reverse. Replace any other parts that look even the slightest bit worn at the same time, just for your peace of mind.
6. Faulty Shift Mechanisms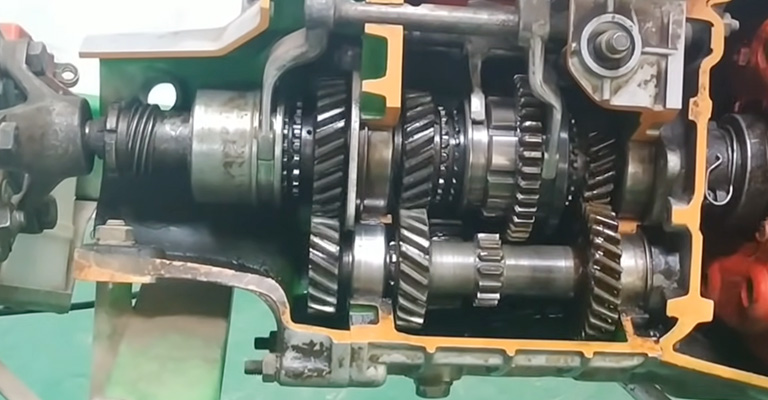 Although automatics and manuals have different shifting mechanisms, they can both have the same issue. The reverse gear may not be accessible if your shift cables or links have been damaged or stretched out.
When the car is in neutral, adjust the linkage by tightening the nuts behind the transmission cable bracket, then shifting into reverse with a helper. Ensure the cables are tightened until they are snug but avoid over-tightening. An average repair costs between $300 and $500 at a mechanic.
Fixing A Bad Transmission Selector Sensor
Typically, the diagnostic codes on your car will confirm a bad transmission selector switch. Leaving this to a professional is a good idea.
Dirty Transmission Fluid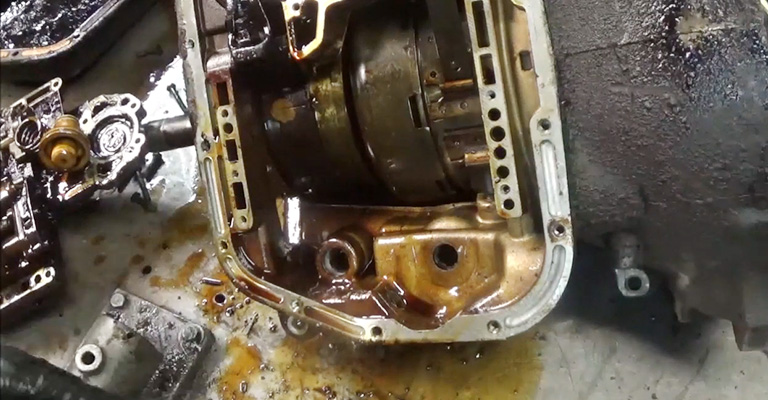 In the same way as low transmission fluid causes problems, dirty fluid or a clogged filter can cause similar transmission problems.
It can affect the shift into reverse or other gears if the transmission is improperly lubricated or contaminated with debris.
A dirty fluid is typically caused by corrosion, a defective gasket that allows contaminants in, or when the fluid begins to degrade and form sludge. A manual transmission is also capable of experiencing this problem.
Replacing Dirty Transmission Fluid
Fill the transmission with the appropriate fluid for your automobile after draining the dirty fluid. During this process, replace the filter as well.
Whether you need to use what fluid and filter depends on the manufacturer's instructions or if your local mechanic can do it for you.
How Much Does It Cost to Fix a Car That Doesn't Reverse?
The reasons why a car won't go in reverse or drive have been covered. The cost of minor adjustments may be between $100-200, while replacing transmission fluid and filter may cost $20-$30.
In most cases, it is necessary to repair the reverse gear complexly, which can run from $1,000 to $3,000. It is from that high point that a transmission is replaced in its entirety.
Final Points on Reverse Gear Issues
Vehicle transmissions are, along with engines, among the most complex components. It is best to look for simple causes, such as replacing the oil and filter, when dealing with problems like a manual or automatic transmission that won't go in reverse.
Even though transmission repair can be expensive, you have to realize that a repair for a car that isn't reversing may only involve a minor adjustment or small part replacement.
What If It's Not The Transmission?
Your car can display warning lights when your computer malfunctions. The best thing you can do is talk to a trained technician about performing a simple reset, which will get your car up and running again.
Shaking and bumping can be signs of a bad transmission, but damaged mounts can also cause them. A misfiring cylinder may also cause the problem, so get your car inspected regardless.
The smell of burning should never be present around you. The worst thing you can do is forget to take an ingredient out of the oven, whether it is your car or a chicken you forgot to take out of the oven.
You might not always be the victim of a bad transmission in your vehicle. The burning smell you are experiencing in your car may be caused by an oil leak or other fluid leaking onto it.
Tips
If you experience a transmission problem, you can also diagnose it by checking your transmission fluid. Nevertheless, make sure you read your vehicle's manual before checking your dipstick.
During your inspection of the fluid, it will tell you whether your car should be running or not. Doing so will ensure an accurate reading, but it will vary from model to model.
Consider the color of your transmission fluid when checking it. Fluids for transmissions are dyed pink or red to make them easier to see. A translucent material would also be ideal.
In the case of dirt or a dark color, it could mean you need to replace your transmission fluid. In addition, it could be a sign that the transmission needs to be replaced.
You might also want to smell it. You should smell a sweet or tart scent coming from your transmission fluid. To have it replaced, you should take it to a professional if it smells burnt.
Final Words
Hopefully, now that you know the warning signs of a bad transmission, you can take better care of your car. Schedule an appointment immediately if you notice any of these warning signs or suspect your transmission is bad.