A malfunctioning USB port in your Honda Civic can be frustrating whether you're trying to play audio or access directions. Sometimes you may encounter problems with your connection, as is the case with all technology.
If your Honda is not recognizing your USB device, there are several potential reasons for this issue. First of all, you need to ensure that your USB device is compatible with your Honda's infotainment system.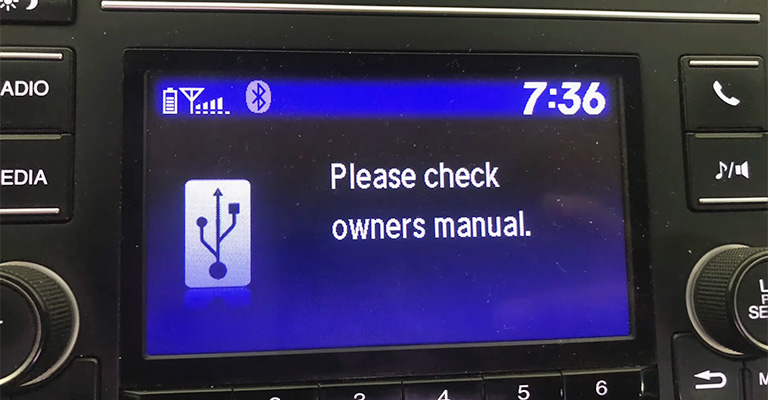 Why Is My Honda Civic USB Port Not Working?
There are two simple things you can check if the USB on the Honda Civic does not work. The first thing to check is the port itself; ensure the contact plate is not damaged and the slot is not clogged with dust or debris.
The fuse box by the steering wheel needs to be checked if this is not it. To locate the fuse box, look along the dash to the left of the steering wheel for a small crack or seam. Then you will need to pop it open with a screwdriver or pry bar.
There are a lot of fuses inside the fuse box. You will see a diagram on the back of the panel that you pulled open that shows what each fuse does. If it is not on the back of the panel, you can also find a picture of this in the owner's manual.
Pull out the fuse once you have figured out which one you need. There should be a thin metal strip connecting the two sections that stick up.
The fuse must be replaced if it has been broken. If the strip is there, the fuse can be put back in. Fuse replacements are fairly inexpensive, costing about 10 dollars.
Honda Says Bad USB Device When I Connect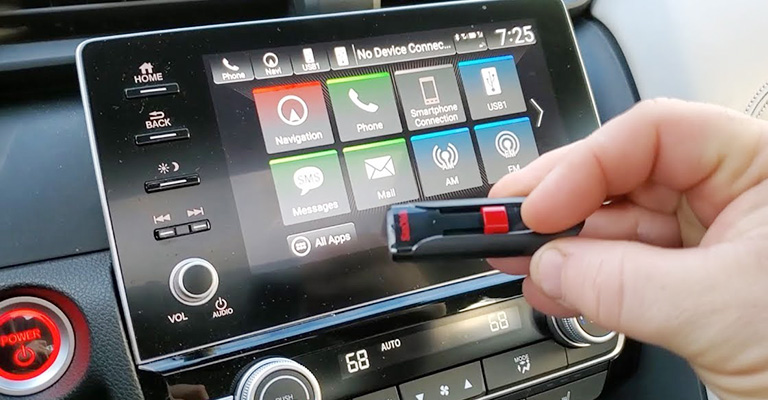 If your Honda Civic is displaying a message that says "Bad USB device" when you connect a USB device, it typically means that there's an issue with the USB device you're trying to connect or the way it's formatted. Here are some steps you can take to resolve this issue:
Check the USB Device
Ensure that the USB device (such as a flash drive or smartphone) is in good working condition. Try connecting a different USB device to see if the issue persists.
USB Format
Make sure the USB device is formatted correctly. Honda vehicles often require USB devices to be formatted as FAT32 for proper compatibility. If it's formatted in a different file system (e.g., NTFS or exFAT), it may not be recognized.
File Compatibility
Check the files on the USB device. Ensure that the music or media files are in a compatible format that your Honda's audio system can recognize (commonly MP3, WMA, or AAC). Unsupported formats may trigger the "Bad USB device" message.
USB Port
Try using a different USB port in your Honda Civic if available. Sometimes, a specific port might be malfunctioning.
Reboot
Disconnect the USB device, turn off the vehicle, wait a few moments, and then restart both the vehicle and the USB device. Sometimes, a simple reboot can resolve communication issues.
USB Cable
If you're connecting a smartphone or other device with a USB cable, make sure the cable is in good condition and properly connected. A faulty cable can cause issues.
Software Update
Check if there are any software updates available for your Honda Civic's infotainment system. Sometimes, software updates can improve compatibility with USB devices.
Compatibility
Verify that your USB device is compatible with your specific Honda Civic model and its infotainment system. Refer to the owner's manual for information on supported USB devices.
Professional Assistance
If the issue persists and you've tried all the above steps, consider contacting your local Honda dealership or a qualified technician to diagnose and resolve the problem.
Can A USB Port Go Bad In A Car?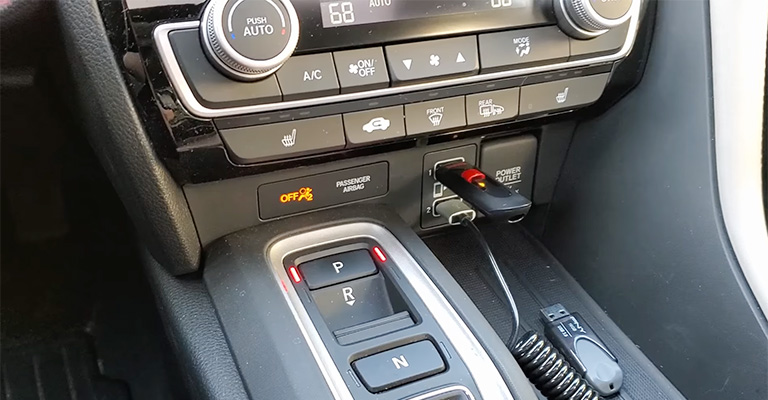 It is usually the hardware or software that is at fault when your car's USB port fails to function.
The open nature of these devices makes them more susceptible to particles entering due to their power and usefulness. This means that food, dust, and other debris can get into the port.
Make sure nothing has made its way into the USB port of your vehicle before trying anything else. Using a wooden implement like a toothpick or a thin plastic piece, remove debris and other particles from the USB port if you notice anything inside.
It is also possible for USB ports to become loose, which may not require a maintenance checkup. To make gadgets fit snugly into the USB port, it is also possible to tighten it on your own.
Insert your USB device and fiddle with the link if you think the USB port is not working because of a loose or broken connection internally.
It's likely that either the cable or the USB port is malfunctioning if there is a brief connection followed by a disconnect.
The best way to fix such problems is to use a needle or an object with a sharp edge and work on it with enough lighting or by using a torchlight.
USB ports come with two-pin holders that provide support for devices connected to them.
You can use a needle or sharp object to raise the two pins you spot, but be sure to do so gently as you do so. The USB port should now be tightened properly.
Often, however, re-starting your engine is all that's needed to fix USB ports that aren't working properly.
What Are The Symptoms Of USB Failure On A Honda Civic?
The USB cable or the USB ports on a vehicle may be damaged and cause USB performance issues. Symptoms include USB devices not working, intermittently working, or wiggled USB cables when plugged in.
Final Words
It is recommended to remove the USB device and then re-insert it if it isn't recognized. Make sure your car stereo's firmware is up-to-date.
You can find downloads on the model support page. The car stereo must be set to the required USB mode before connecting your device.