If you've noticed a sudden drop in your Honda Civics' coolant level or a puddle of coolant underneath your car, your car is likely leaking coolant. At the same time, this issue may seem like a minor inconvenience, but ignoring a coolant leak can lead to severe engine damage and costly repairs.
But what causes a Honda Civic to leak coolant? Well, there are several reasons why your Honda Civic might be leaking coolant, including a damaged radiator, a blown head gasket, a faulty water pump, or a cracked engine block.
This article will explore the common culprits behind coolant leaks in Honda Civics and provide tips for diagnosing and fixing the issue before it's too late. So, if you're wondering, "why is my Honda Civic leaking coolant?" keep reading to find out!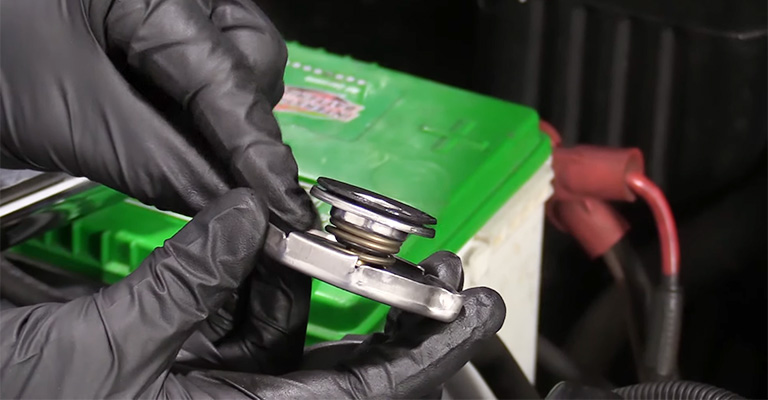 Reasons A Honda Civic Has A Coolant Leak
Coolant leaks are indicated by the fluid on the ground in your garage (or wherever your car is parked).
Your engine can leak more than just this type of fluid, so you need to know how to determine what type it is. There is usually a sweet smell to cooling fluid, and it tends to be green, orange, or pink in color.
People and pets both suffer severe poisoning from leaking coolant, so you should always clean it up right away. Checking your temperature gauge is another way to check for coolant leaks.
Although some fluctuation in the temperature gauge is normal, rapid or significant changes in temperature are usually signs that something might be wrong that should be checked out before it gets worse.
Check your expansion tank's coolant level and refill it if necessary. Then monitor the level to see if fluid is leaking.
After determining that the leak is coolant, you can pinpoint where it is coming from. Five of the most common causes of coolant leaks will be examined in this article.
You Have A Problem With Your Expansion Tank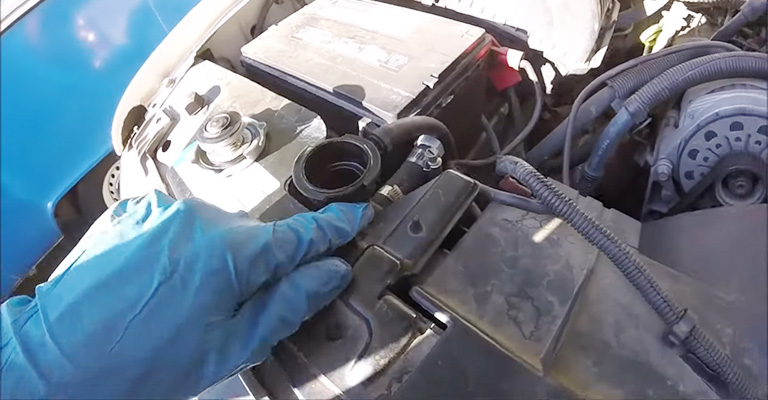 The plastic container beside the engine holds your car's expansion tank, which helps supply coolant to the radiator. During engine operation, coolant is fed into or received from it via a rubber hose tied to the radiator.
Temperature changes and time can weaken the plastic of that component and the parts attached to it. Coolant may leak from the container if the cap cracks or leaks, so it may escape. There might also be a loose connection between the radiator and the hose, causing fluid to leak out.
Your Water Pump Has Failed
To circulate coolant throughout the cooling system, the water pump is crucial. Typically, it is powered by a belt and is located near the drive belts on the lower part of the engine.
When it's connected to the lower radiator hose, the connection can corrode or become loose. A leak may also result from some sort of external damage. It doesn't matter what the cause is; your engine will eventually overheat when your water pump cannot move coolant through the system.
Your Head Gasket Is Blown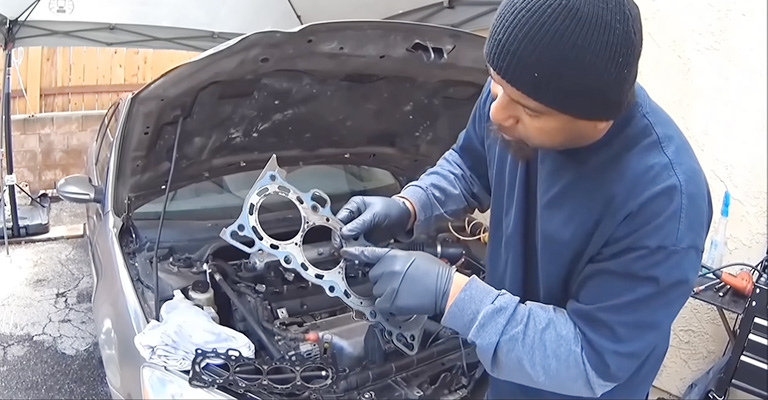 The performance of your engine is directly affected by your car's head gasket. Frequently, you don't know that a head gasket has blown for quite some time after it happens.
Many people don't realize they are having a problem until they have driven several miles before they start to notice it. It is also required to contend with both extremely high and very low pressures in the engine due to the wide range of temperatures the head gasket has to deal with.
Whenever it develops a leak, it is referred to as blown because it sits between the cylinder head and the engine block.
This can lead to engine failure due to a combination of engine oil and coolant that can no longer be kept separate. Coolant can leak out of your engine, and when the coolant level drops, so does your car's ability to cool.
You Have A Leaky Radiator Cap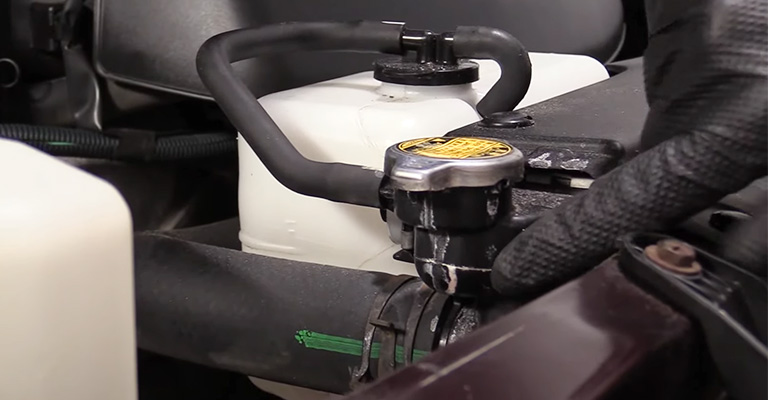 Although it may be small, the radiator cap performs a vital function. Keeping the cooling system at the correct pressure is the responsibility of the cap, as the radiator is highly pressurized. In time, however, the seal can deteriorate, or the spring might start to wear out, allowing coolant to escape.
There's A Hole In The Radiator
The parts of your car engine suffer a great deal of wear and extreme temperatures, impacting them in various ways. One of the most common causes of coolant leaks is corrosion within the radiator.
It is possible to get sediment or debris inside the tubes as they age and weaken. It is also possible for the gasket between the tank and the radiator to wear out, which could cause a leak.
Getting older, hoses will become hard and brittle, so they fail to seal properly. Your hoses can also be a culprit; as they age, they will become harder and more brittle. Consequently, the radiator, water pump, and heater core become susceptible to leaks.
Honda Civic Coolant Leak: Common Repairs
Coolant leaks in Honda Civics are affected by the root cause, so the appropriate steps depend on the issue. Different types of coolant leaks can be fixed with the following fixes:
Head Gasket Replacement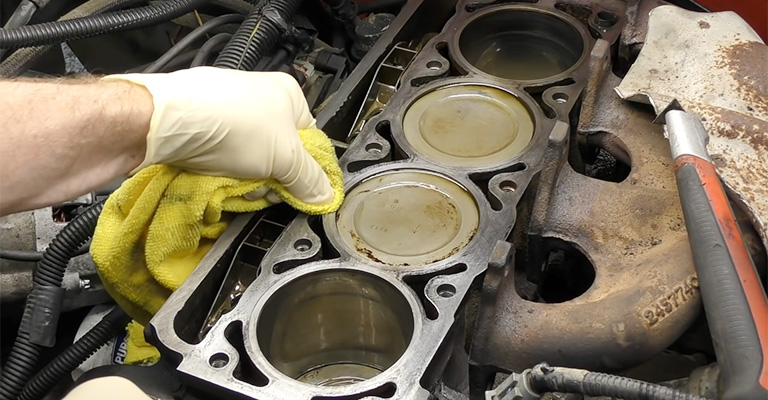 An engine that fails its head gasket may not show any symptoms at all. Engine oil leaks, engine coolant leaks, and engine cylinder leaks only occur when the leak has reached one of these passages.
There is a possibility that the engine will be difficult to start and run roughly when idling. Oil or coolant may be leaking, and the engine begins to overheat.
Depending on the temperature, there may be coolant in the engine oil pan. This will appear creamy and lighter in color than the oil. Furthermore, the radiator or cooling system may sound gurgling, contain engine oil, or smell combustion.
There will also be an illuminated check engine light. Engine coolant produces white exhaust with a sweet scent reminiscent of engine coolant.
Within minutes of starting, an engine that lacks a head gasket will overheat, stall, and then refuse to start again.
Heater Core Replacement
The interior of a car may smell like engine coolant due to a failing heater core. Whenever you turn on the heater, the smell will worsen. A prolonged repair may also result in the engine running hotter.
Overheating can result in extensive damage to the engine, which is the worst-case scenario. Clogged heater cores will blow cold air when the heater is turned on.
Radiator Replacement
Overheating or running hot of the engine can result from a malfunctioning radiator. Metal and plastic are the most common materials used in radiators. With time, the plastic parts of the air conditioner can crack and leak coolant (typically green or pink).
There are recommended service intervals for coolant renewal determined by all manufacturers. The additives in the coolant will inevitably break down over time and form solid deposits as it ages.
It is not uncommon for these deposits to build up in the cooling system passages and eventually clog various components, including the radiator. It is essential to replace a radiator if it is leaking or clogged.
Some automatic transmission cars with a transmission cooler integrated into the radiator. In heavy-duty applications, such as towing or off-roading, transmission fluid circulates through lines going to and from the transmission.
The integrated cooler can fail, allowing transmission fluid and coolant to mix. As a result, shifting will be problematic, as well as overheating.
Intake Manifold Gasket Replacement
It can result in the following symptoms when the intake manifold gasket fails: Illuminated check engine light, Erratic engine performance, oil and coolant leaks Poor gas mileage.
Thermostat Replacement
When the thermostat is stuck open or closed, it can cause two kinds of problems. It is possible that a stuck thermostat can cause the engine to run colder than normal and trigger the check engine light to come on.
In addition, it may lead to poor fuel mileage and cool air coming from the heater. A stuck thermostat can cause the vehicle to overheat. Other cooling system issues may need to be checked if a new thermostat does not resolve engine temperature problems.
Thermostat Housing Replacement
A faulty thermostat could cause an overheating vehicle, and a damaged thermostat housing could lead to a leak. The leak could be caused by cracked, warped housing or a failed seal.
Depending on the style of the thermostat, it can be made from metal or plastic. If the thermostat is an integrated part of the housing, the housing can be replaced as a single unit, or it can be a separate part.
Radiator Hose Replacement
There may be a leak in the hoses that leak coolant. Depending on the oil leak and the age of the hose, it may cause damage to the coolant hose. To avoid overheating, replacing the hoses before they leak, or crack is recommended.
Water Pump Replacement
Loud noises and leaks are the two most common signs of a bad pump. Leaking water pumps can damage drive belts and timing belts, as well as cause an overheating engine. If your water pump fails, a bad thermostat, radiator, or head gasket may cause other problems in your cooling system.
Can I Drive A Car With A Coolant Leak?
It may be possible to drive with a radiator leak for a short period, depending on the cause of the leak. You'll eventually overheat your vehicle due to a lack of coolant.
There is a risk that various engine bay components could be damaged as a result. When you notice an issue, it's a good idea to stop and investigate it right away.
Final Words
A leak in your car's coolant may not seem like a big deal, but it could create a hazardous situation for the engine. If you do not apply enough antifreeze to your engine, it might overheat (or even freeze in winter).
Considering how important coolant is to the performance of your engine, you should check it regularly. Particularly for older cars, which may not operate as efficiently as newer ones.