On your way to show off some stunts to your friends? But! What if a warning light shows up on the dashboard? Nothing can ruin your day with a red light on the runway!

Moreover, not knowing about Honda dashboard lights meaning would be extremely troublesome for you. This is why it is highly recommended that you learn about the signals.
No idea where to look for it? Keep reading our article to understand your Honda better and resolve it before any disaster!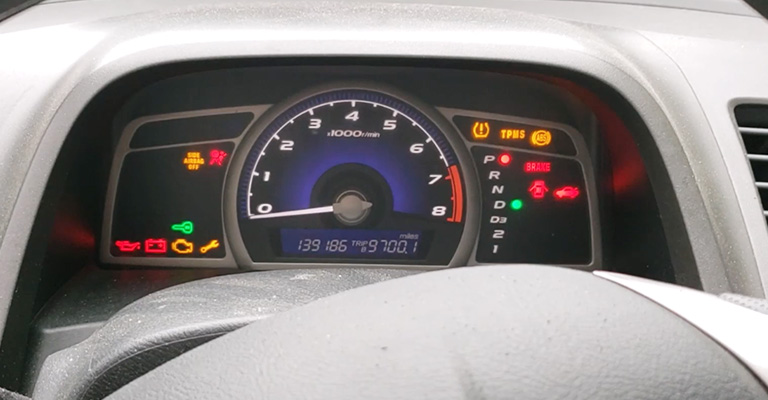 What Are We Learning Today?
We will start with the Honda dashboard lights meaning and then learn how you can resolve the signals before any minor event turns into a major issue.
Honda Dashboard Lights
Unlike other automobile manufacturers, Honda is better when it comes to improved features and quality.

To let users know what's going on with the vehicle, Honda previews a wide array of lights. What do the lights do?
The lights indicate how your Honda is performing and the overall state of it. If you take them lightly from the beginning, it may end up with major faults in your vehicle.
The lights can show up due to three major reasons:
whenever there is a malfunction in your vehicle
when an action is left undone, such as a door left unlocked or loose seat belts, etc
simply on/off indicator to show a system is running or close
Before we dive any deeper, do you know how many colors Honda shows? In the next part, our discussion will be about dashboard light types in Honda.
Warning Light Colors in Honda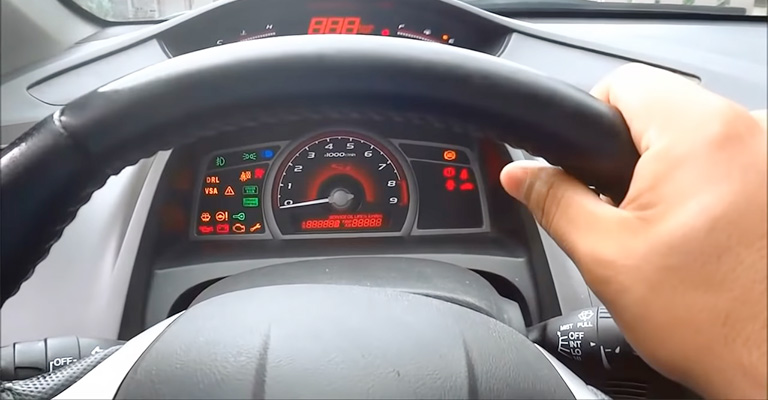 Your favorite Honda dashboard interface follows the green, red, and yellow traffic light system. In fact, in other brands, you may notice orange, blue, and white colors also.
Other colors are not warning but advisory types to improve your Honda efficiency. Let's get the details here:
1) Green Light
Generally, there is nothing to be concerned with a green light. The green light in your vehicle simply means a system is running and on.
In Honda, green light usually applies to your cruise control or simply a turn-on signal. It falls under the On/Off indicator.
2) Yellow Light
If you see a yellow light on your Honda dashboard, it means something is not working right or a system may become dangerous soon. Thus, you may take one or two days but still have to resolve it to avoid any major technical issues.
A yellow light won't stop your vehicle from moving, however, it needs to be taken care of soon. You can go to your nearby service center to get it checked or if it turns out simple, you can do it yourself.
3) Red Light
Now that's something you should be concerned about. Red lights are for serious situations, usually, it indicates malfunction indicators.
The most common red light warning points to rising temperature – a distress call for your hot engine!
If you do not pay heed to the mechanical malfunctions, be ready to stop in the middle of the road causing a traffic jam. Red light malfunctions often require technical supervision.
Thus, when you see the red light warning, go to a professional maintenance shop asap!
Remember that, not all red light warnings require thorough supervision. Such as the door ajar signal is also red, and so are the seat belt signals too.
4) Orange Light
In case, there is an orange light showing up on the Honda dashboard, it can possibly mean that there is something wrong with the engine. But not major!
No need to rush and pull over immediately. You can go to the maintenance shop when you are free to go.
Some users actually prefer orange over red light. Thus, don't get confused when you see orange light instead of red in a Honda car.
5) Blue/ White Light
Temperature can vary in two ways in your Honda vehicle, (1) it can raise with red light, (2) it can go down with a blue light.

When you see a blue warning light on the dashboard, your vehicle is facing some cold temperature issues.
On the other hand, a white warning light typically indicates a non-urgent or informational message. The manufacturer of Honda put a white warning to inform the driver about different vehicle systems or conditions.
For instance, when the cruise control is activated, the white light will come on.
Honda Dashboard Lights Meaning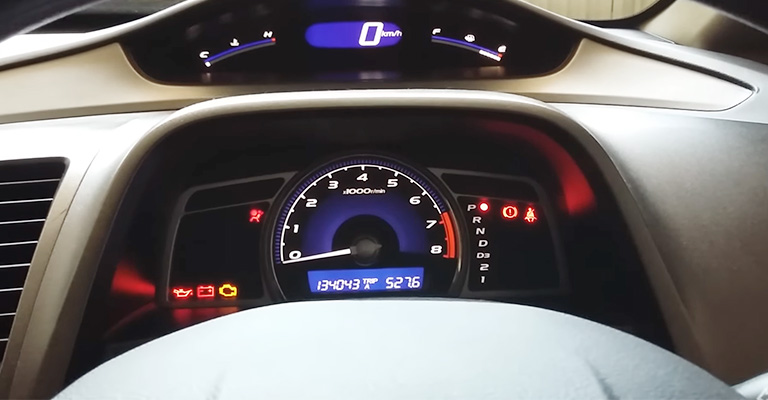 We now know what colors to expect from our Honda dashboard. There are tiny signals that will change color whenever there is an issue.
Let's take a look at what to learn from the signs and the colors.
1) Check Engine
Whenever it is time to check the engine or service your machine sooner, you will see a submarine sign going yellow.
It is not a matter of urgency. You can be patient and service your engine in a day or two. The sooner, the better.

Yellow light genuinely points at an emission or regular engine running problem. In fact, in older Honda vehicles, the yellow light will glow up whenever you turn on the engine. Usually, it goes away after one or two blinks.

But if it doesn't, it means there is an engine malfunction in your vehicle. Plus, if the check engine light starts to blink repeatedly, it genuinely indicates an engine misfire.
Solution?
Take action accordingly,
The check engine light may stay turned on. In this case, take your vehicle to the nearest automobile service shop.
Drive at a gentle speed (slow acceleration and declaration). If you drive your vehicle at a regular speed or higher, you may end up harming yourself and damaging your vehicle.
2) Temperature Warning Light
The most common vehicle warning we have faced at least once in our road journey is the temperature or engine coolant warning light.
Now, there are two signs to indicate the issue – pirate ship or submerged key in the water. It generally means your car engine is almost overheated.
You may also see a message, "engine overheating" or, "temp" glow up. In some Hondas, there is an illuminated radiator or a fan sign.
However, this warning light might not be present in all vehicles. You may end up with a temperature gauge with a red area (H) at the top of the instrument.
With setups like this, prevent the engine from overheating as fast as you can. Do not let the needle cross the red mark before it's too late.
Reminder: No matter how frequent the warning is, keep the coolant reservoir cap shut by all means when the engine is still on and running.
Solution?
Turn off the engine and give it some time to cool down. Stop your car and never drive while the engine is still hot.
If you notice the sign for a long time, that probably means you have a faulty coolant, radiator, or water pump.
And, in case you have to drive the car, drive it at a slow speed to the nearest mechanic shop.
3) Oil Pressure Warning Light
Are you well prepared for the road? Filled up the tank? If not, get ready to see the oil pressure warning light blip on your vehicle. It's a red light sign and needs immediate treatment.
Your Honda can show this to you in two different ways, (1) with a magic genie lamp or (2) Neti lamp.
When your engine is no longer lubricated, any attempt to run the vehicle can damage internal engine parts.
Solution?
In events like this, you must stop the engine and find out a roadside pump service to oil your vehicle.

Plus, you can also keep a jar of oil in your Honda and use it in cases like this. Additionally, you can check your oil level frequently.

However, if filling up the tank doesn't help, we advise you to contact a professional and get your vehicle checked.
4) Battery Light Warning
Another red light warning is the battery light warning. It happens when the charging system fails. You will have a battery sign going red with the warning.
Honda cars have a charging system like many other vehicles. The sign going red means, your Honda is short of power or simply not charging right.
A shortage of electrical power can leave your car dead or even leave you trapped.
Furthermore, if you notice your Honda's power steering, braking, lights, and engine not working properly, it already means something is wrong with the battery or the alternator.
Solution?
With a problem in the charging section, you most likely need to replace the battery. Pull over to a safe place and get proper service as soon as you can. No good in delaying with dead brakes or lights.
5) Tire Pressure Monitoring System (TMPS)
It is a yellow warning light. You can pay attention when you are good! No need to pull the vehicle over in haste.
TMPS or tire pressure monitoring system usually means you may need to put air in your tires. Most Hondas are equipped with a boiling pot sign. 'Most' because you may not find the sign in other brands' vehicles.
In Hondas, the TMPS warning light turns yellow. But don't freak out if you see a red TMPS sign in other vehicles.
Solution?
Monitor the tire pressure of your Honda. Every vehicle comes with a manual. Check if your measure matches the manufacturer's suggested PSI (Pounds per Square Inch) level.
6) Supplemental Restraint System (SRS)
Another red mark sign on any Honda. Be a Civic or HR-V, you will see the 'ball on top of a person' sign going red when the vehicle detects any issue with the airbag.
Solution?
An airbag is not something that you can fix yourself. You should get to the nearest mechanical shop to ensure your and others' safety.
7) Seat Belt Reminder
Wearing a seat belt can be your choice. But it is a wise practice to wear it regularly. Your car will show a red sign of a man with an open belt if the seatbelt is not tied.
It's a reminder sign. No technical or mechanical issue is raised here. You can also hear a beeping sound in most Honda models.
Solution?
Wear your seatbelt and tighten it. However, the sign may still remain if you put too much body weight on the seat. You can try lifting some of your weight from the seat.
8) Brake/ Parking Brake Warning
A red sign that you must never avoid. Brake/ Parking Brake is a serious warning sign that indicates there is a potential fault in your braking system. It can involve the brake fluid or simply the brake system.
You may have a problem with your hydraulic circuits (broken hose, leaky disk caliber, or something else) if the light only illuminates when you use the brakes.
Pull the car over as soon as it can be done safely. No time to wait when the pedal feels loose or goes all the way to the floor.
Solution?
Start with the brake fluid and check whether the parking brake is on or not.
Don't waste time and have the braking system checked right away should refilling the brake fluid and releasing the parking brake don't stop the light.
Here are some of the major warning signs you might notice on your vehicle. It's not just the lights – Red, Blue, and Green only. You have tons of signs to associate with and detect the problem.
Other familiar signs you may notice are System Message, Road Departure Mitigation, ECON Mode On (Green), and many more.
Before you take your Honda out on a tour, be sure to get familiar with the signs and warnings. For more, we are here with you.
Learn More Honda Warning Lights
We will come back with more! Start with the major Honda warning signs we mentioned here. Gradually, you will get used to the terms and lights.
If you like our article, feel free to share it with others. Also, don't hesitate to comment below and let us know if we are missing something.