When it comes to finding the ideal compact SUV that seamlessly blends practicality, versatility, and reliability, the Honda Element is a name that stands out.
Renowned for its distinctive boxy design, spacious interior, and Honda's renowned engineering, the Element has become a favorite among adventurous individuals and urban dwellers alike.
But within the Honda Element lineup, two trims, the EX and the LX, often leave potential buyers pondering over the differences and which model suits their needs best.
In this comprehensive guide, we will delve into the key differentiating factors between the Honda Element EX and LX, enabling you to make an informed decision when it's time to choose your perfect ride.
Whether you're seeking a feature-rich driving experience or a more budget-friendly option, understanding the nuances between these two trims will help you identify which variant aligns with your preferences and lifestyle.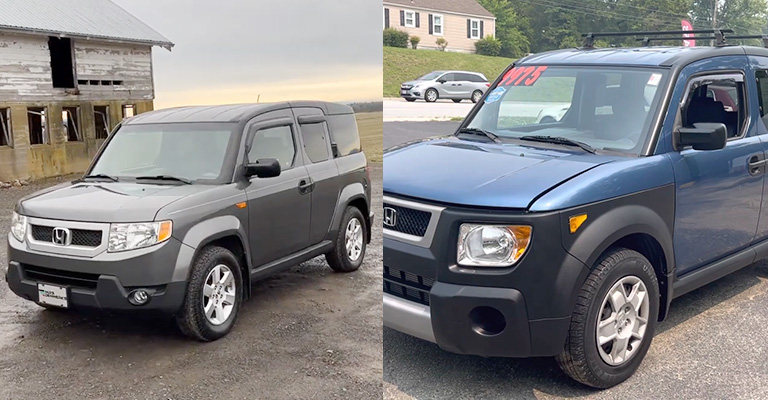 What Is The Difference Between Honda Element LX and EX?
The Honda Element EX and LX trims offer distinct features and options, catering to different preferences and budgets. Here are the key differences between the two trim levels:
Features and Technology
The EX trim generally offers a higher level of features and technology compared to the LX. It may include advanced features such as a premium audio system, an upgraded touchscreen infotainment system with navigation, and Bluetooth connectivity.
The LX trim, on the other hand, focuses on essential features and functionality. It may come with a basic audio system, manual air conditioning, and a standard infotainment system with basic connectivity options.
Exterior Styling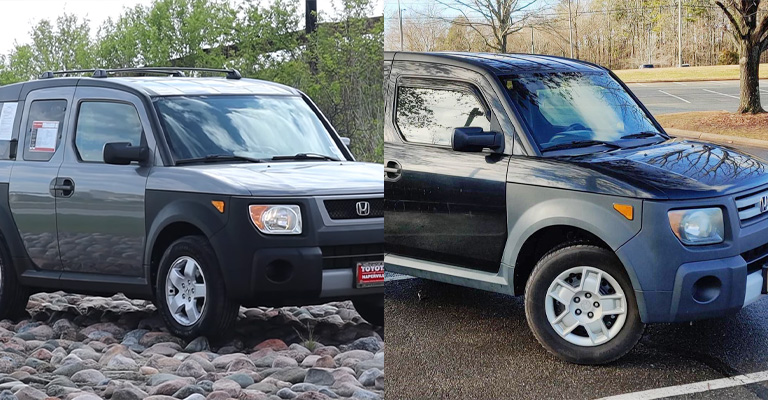 The EX trim often boasts additional exterior styling elements, such as alloy wheels, body-colored door handles, and mirrors, giving it a more polished and visually appealing look.
The LX trim typically features simpler exterior styling with standard steel wheels and black door handles and mirrors.
Cargo Area Utility
The EX trim may come with additional cargo area features, such as a removable center console with a cooler box. This feature provides convenient storage options and allows for easy organization of items in the rear cargo space.
The LX trim, while still offering ample cargo space, may not include the removable center console with a cooler box. This can be a consideration if you frequently transport perishable items or require enhanced organization in the cargo area.
Interior Comfort and Convenience
The EX trim tends to offer more comfort and convenience features. It may include upgrades like a power-adjustable driver's seat, heated front seats, and a leather-wrapped steering wheel.
The LX trim usually focuses on practicality rather than luxury, featuring cloth seats, manual adjustments, and a standard steering wheel without leather wrapping.
Radio and Console Design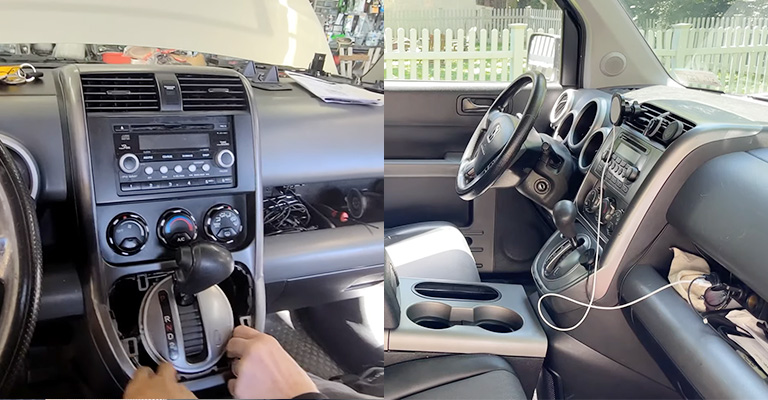 Additionally, the LX trim features a different radio unit compared to the EX trim. This distinction allows for a cubby space in the console, providing a convenient storage option for smaller items.
While the LX radio may lack some advanced connectivity features found in the EX trim, it still offers basic functionality and quality sound for your daily commuting needs.
Upholstery Material
The EX trim might come with upgraded upholstery materials, such as premium cloth or even leather, providing a more luxurious feel and enhanced comfort for occupants.
The LX trim generally features standard cloth upholstery, which is durable and easy to maintain. While it offers comfort, it may not have the same premium feel as the upholstery in the EX trim.
Additional Safety Features
The EX trim may offer additional safety features beyond the LX trim. These can include options such as a rearview camera, parking sensors, or advanced driver-assistance systems like lane departure warning or forward collision warning.
The LX trim typically includes essential safety features like airbags, anti-lock braking system (ABS), and stability control. However, it may not have the same level of advanced safety technologies available in the EX trim.
Price
As the higher trim level with more features, the EX trim is generally priced higher than the LX trim. The added technology, comfort, and styling enhancements contribute to the increased cost.
The LX trim is often the more budget-friendly option, appealing to buyers who prioritize affordability while still enjoying the versatility and reliability of the Honda Element.
Market Value Considerations
For those concerned about future market value, it is worth noting that the LX trim may not hold its value as well as the EX trim. This is partly due to the absence of certain premium features that are highly sought after by used car buyers.
However, the LX trim's affordability and reputation for reliability can still make it an attractive choice for budget-conscious drivers.
Enhanced Features and Premium Appeal
The EX trim takes the Honda Element experience up a notch with its enhanced features and premium appeal.
This trim level includes alloy wheels, which not only add a touch of sophistication to the vehicle's exterior but also offer improved performance and handling.
Alloy wheels are generally more resistant to corrosion compared to their steel counterparts.
Painted Plastic Panels and Fade Concerns
When Honda introduced painted plastic panels, they designated those models as EX-P. These gray or black plastic panels can give the car a sporty look.
But it's important to note that over time, they may experience fading due to exposure to sunlight and other environmental factors. While this fading does not affect the car's performance, it can detract from its overall aesthetic appeal.
Conclusion
Choosing between the LX and EX trims of the Honda Civic ultimately comes down to personal preferences and priorities. If you value simplicity, practicality, and a lower initial cost, the LX trim may be the right choice for you.
On the other hand, if you desire enhanced features, premium appeal, and potentially higher market value in the long run, the EX trim is worth considering.
Regardless of the trim level, the Honda Element remains a reliable and popular choice among drivers seeking a balance of affordability and quality.