The Honda F20C engine is a true masterpiece of engineering, a marvel of technology that has become synonymous with high performance and unmatched power.
Developed by the legendary Honda Motor Company, this 2.0-liter four-cylinder engine was specifically designed to deliver an exhilarating driving experience, and it did not disappoint.
It is known for its high-power output and revving capabilities and is considered to be one of the best high-performance engines Honda has ever produced.
With its advanced VTEC system, redline of 9000 RPM, and track-proven record, the F20C engine is a true legend in the world of high-performance engines.
If you're a car enthusiast or just someone who appreciates the finer things in life, the F20C engine is a must-see, must-experience piece of machinery.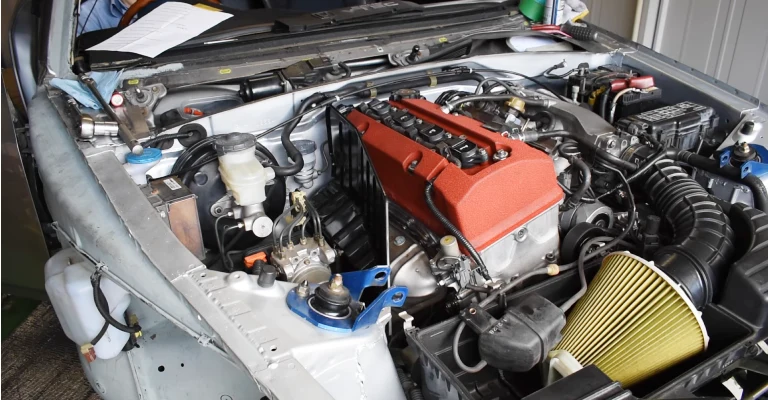 From Factory to Track: The Honda F20C Engine Story
A natural-aspirated Honda F20C, renowned for its 9,000 RPM redline, gets an in-depth look at its incredible tuning potential.
A naturally aspirated engine had never produced more specific power than the F20C up until the Ferrari 458 Italia launched in 2010.
You'll agree that the F20C still offers better value for money, with 123.5 HP/L vs. 124.5 HP/L for the 458 Italia!
Even before you consider the insane aftermarket tuning support available with the engine.
We were somewhat underestimating the true potential of this mighty inline-four, despite its on-paper potential.
The Honda F20C is a powerful motorcycle, and we've written this guide to help you understand it better.
Honda F20C – History & Specs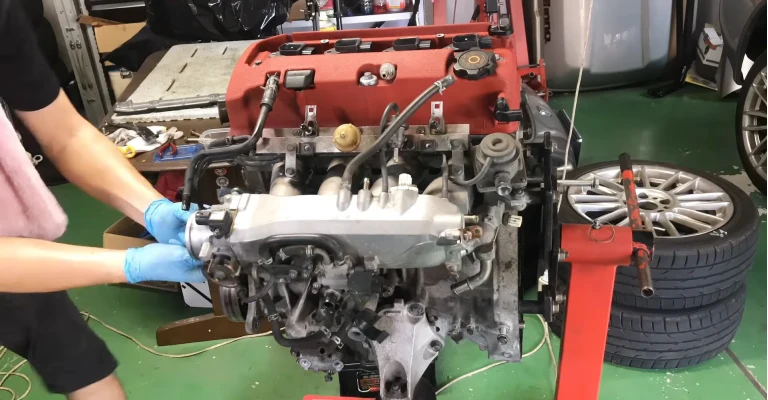 With some of the greatest tuning potential on the market, Honda is best known for its extremely reliable powerplants.
A longitudinally designed engine that fits rear-wheel-drive cars isn't quite as well known at these companies – and that's one aspect that makes the F20C so special.
There are quite a few similarities between the F20C and the K20A, which many consider to be by far the more popular, performance-oriented F-family of yesteryears.
While comparisons can be drawn, Honda designed the F20C engine almost entirely from scratch, creating a new aluminum block design and many parts by hand, as demonstrated in the following video:
Despite Japan receiving the ultimate F20C with an 11.7:1 compression ratio, the rest of the world received a more-than-respectable 11.0:1 ratio, with forged pistons and lightweight connecting rods.
As a result, power output varies somewhat depending on the version, with the JDM engine producing 247 horsepower and the North American and European variants pushing out 234 horsepower.
A Lasting Legacy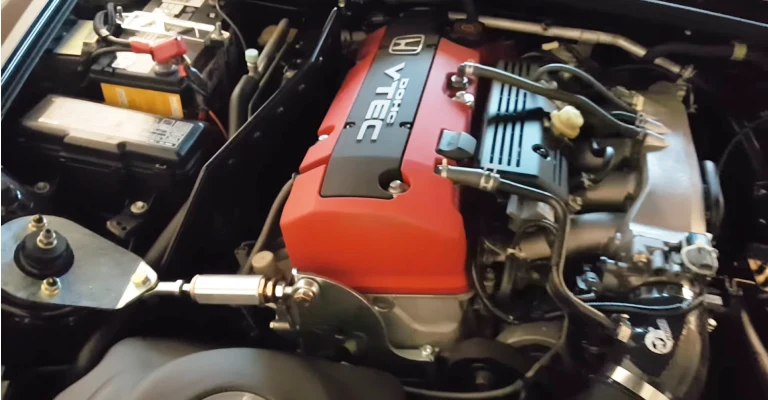 It was in the decade during which the S2000 made its mark on the global sports car scene that the F20C and F22C engines lived and died. The legacy left behind by it endures to this day.
Going further than perhaps any other drivetrain in establishing Honda's engineering expertise during that period, and one that is unlikely to be repeated in the turbo era of today.
As high-revving, track-focused, high-performance explorations at the edge of the performance envelope, Honda S2000's two engines rank among Ferrari and Ford's most advanced engines ever produced.
Honda F20C Engine Specifications
Production years: 2000-2009
Max horsepower: 247 hp (JDM), 237 hp (USDM/World)
Max torque: 162 lb/ft (JDM), 153 lb/ft (USDM/World)
Configuration: Inline-four
Bore: 87mm
Stroke: 84mm
Valvetrain: DOHC (4 valves per cylinder)
Displacement: 2.0 L
Weight: 326 lbs
Compression ratio: 11.7:1 (JDM), 11.0:1 (USDM/World)
Cylinder head material: Aluminum
Cylinder block material: Aluminum
Which Cars Have The Honda F20C Engine?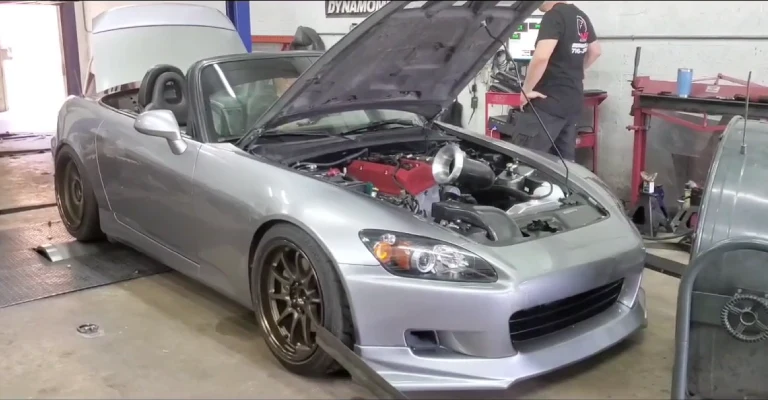 1999-2005 – Honda S2000 (Japan)
2000-2003 – Honda S2000 (North America)
1999-2009 – Honda S2000 (Europe & Australia)
2009 – IFR Aspid
Powered by a naturally aspirated engine, the Honda F20C produces mind-blowing power thanks to the technology found in their racing engines.
To maximize the engine's potential, both intake and exhaust camshafts were equipped with two separate cam lobe profiles and a special VTEC solenoid instead of the typical variable cam phasing.
There are fiber-reinforced metal sleeves inside the aluminum engine block and a Molydebnum Disulfide-coated piston skirt to reduce friction. A timing chain drives two overhead camshafts that use roller followers to further reduce friction.
With that said, Honda was eager to prove they could deliver a high-performance engine to the masses, and that's without even mentioning the engine's mind-blowing tuning potential, which we'll walk through shortly.
Before that, let's take a quick look at the Honda F22C1 engine.
Differences Between The F20C And F22C1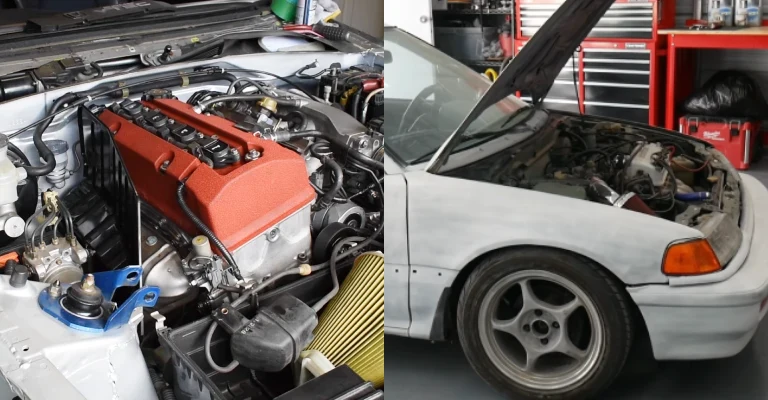 A typical F20C may not be found under the hood of an S2000. Instead, you might find an F22C1.
It is often believed that the F20C is the only S2000 engine, but the F22C1 was introduced exclusively for the North American market for 2004 and 2005 models and later used in the 2006 JDM-spec model.
This long-stroke engine is similar to the F20C, except that it has an additional 160cc capacity and 162 pounds-feet of torque.
Even with the bigger displacement, there was not much difference in power between the USDM and Japanese variants, with the USDM variant having 240 hp, while the Japanese market lost a bit of power from 247 hp to 240 hp.
As a result of the longer travel distance of the stroked pistons, the redline was reduced to 8,200 rpm (from 8,900 rpm on the F20C).
Despite the F22C1 being used in the US between 2004 and 2009 and in Japan between 2006 and 2009, the F20C was still used on S2000's sold in other parts of the world, including Europe.
Considering the F22C1, you'd be right in thinking it sounds appealing. Both these and the F20C are excellent engines that provide their own unique driving experiences.
Some enthusiasts believe the F20C provides the S2000 at its rawest form with a 9,000 rpm redline, whereas others prefer the F22C1's improved performance throughout the powerband.
Despite all the Honda fanboys arguing on internet forums about which model is the best, it's best to test drive and determine which suits your personal driving style.
Honda F20C – Upgrades & Tuning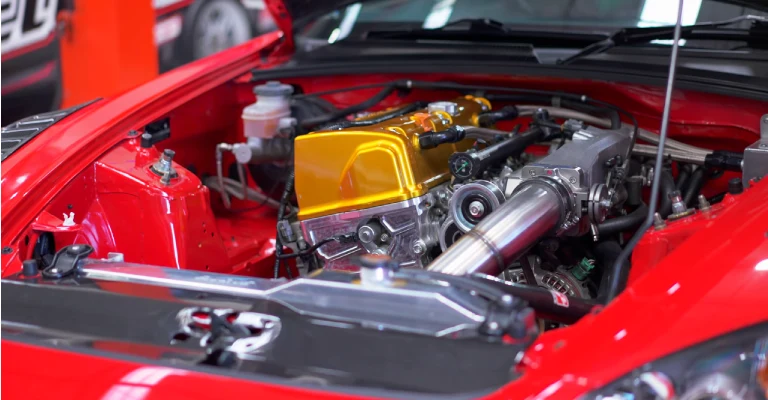 With aftermarket upgrades, the F20C engine becomes an entirely different beast, despite the ridiculous redline and impressive output.
F20C's high-performance pedigree makes it no surprise that it has so much potential untapped, but its true potential has earned it cult status among tuning enthusiasts.
Bolt-on upgrades
Although bolt-on breathing mods, such as an aftermarket exhaust and cold air intake, will help upgrade your car, they won't give you huge gains immediately.
The real gains will only be around 10 hp with a 4-2-1 header, and an ECU remap, yet the sound will certainly be improved.
The next steps
It is possible to retain Honda's naturally aspirated concept by taking advantage of head porting, which adds bronze valve guides and larger intake and exhaust valves.
In addition to bolt-on modifications, 50mm throttle bodies can be considered, as well as higher-compression pistons, uprated camshafts, and adjustable cam gears.
Adding fueling and cooling modifications and an upgraded flywheel and remapping will enable you to achieve 300 horsepower.
A stroker kit can increase the displacement to 2.2 or 2.4L once the power exceeds 300 hp.
Unleashing The Beast
The F20C is brought to life by forced induction despite many natural aspiration options. Adding an F20C supercharger kit to your stock engine will result in even more horsepower, even if you can achieve 300 hp with natural aspiration.
Is that not enough? How about more than 400 horsepower? You're right; adding a turbocharger to your F20C puts it in the 400-horsepower realm, making it an insanely fast road car.
Have you ever wondered what it feels like to drive a roadster with 600 horsepower? You won't want to miss these awesome reactions:
A key feature of the F20C is its ability to withstand impressive power, and we have seen stock blocks push out 700 horsepower when properly tuned and modified.
We don't recommend pushing the boundaries to preserve Honda's reliability, but seeing what's really possible is fascinating.
For example, if we were looking for 600 hp or more, we would invest in head porting and titanium valve retainers, fueling and cooling upgrades, and fine-tuning.
You will inevitably need to upgrade your S2000 seats when you reach this sort of power!
Honda F20C – Reliability & Common Issues
Honda's high-performance reliability earned it an impressive reputation in the automotive industry, and the F20C is no different.
It's undeniable that the F20C is getting old, and with the newest models now being 21 years old (jeez, that's old), some things will have to be considered.
Many driving enthusiasts are eager to push their vehicles to the limits without being quite so concerned about service intervals, so we always recommend looking for engines or cars with as much service history as possible.
Heavy Oil Consumption
Despite having been recently serviced, some potential owners may want to consider their options if the dipstick shows less oil than expected.
Often, if the F20C seems to be burning oil, it means you need to replace the piston rings and valve stem seals, which is not a cheap fix.
Even though it's difficult to detect initially, if you come across the problem soon after ownership, we recommend you have it inspected by a professional.
A simple change of oil can often solve the problem (some owners have reported issues with Mobil1 oil), and others have used catch cans to solve the problem.
Valve Retainers
In the long run, you may end up starving your F20C of oil if the valve retainers degrade too far.
To prevent a seized engine, we recommend that you monitor these and replace them along with the valve locks before it's too late.
Timing Chain Tensioner
Changing your timing chain tensioner is the first step if you hear new sounds when starting your F20C or under idle.
It sounds like cards in a spoke when the timing chain tensioner (TCT) is engaged.
Some F20Cs have been reported to have this problem at 50,000 miles, but other owners have reported having no problems beyond 100,000 miles, so it's worth keeping an eye out.
Conclusion
In addition to providing jaw-dropping naturally aspirated performance, the F20C also offers incredible tuning potential and reliability, making it a Ward's Ten Best Engine for three consecutive years.
Despite being released on the market over twenty years ago, Honda continues to prove its insane potential, with enthusiasts pushing the limits and achieving more than 700 horsepower on the stock engine.
Even with its stock, naturally aspirated form, the F20C can produce almost 250 hp thanks to its ridiculous 9,000 rpm redline, which makes it a powerful car not just for tuners.
We have identified some potential reliability niggles, but these are almost bulletproof when pushed regularly, and we would have no concern about reliability.
As long as you maintain the recommended servicing intervals, the F20C will provide you with years of smooth daily driving.
Natural aspiration provided Honda's racing engineers with the opportunity to push the power out of the F20C as much as possible. Therefore, for your money, moving on to a boosted setup is the only way to maximize performance.
Although it isn't an engine that will throw you into your seat in stock form, it's a unique power delivery that leaves you giggling.
As these engines are designed to be pushed to their limits, the engine will not make for the most exciting daily driver on busy streets.
You'll immediately realize that the F20C was designed to be driven fast once VTEC is engaged.
The forced induction capabilities of the F20C make them an even more appealing proposition when you feel like stepping up the power, as very few alternatives do boost so well.