No need to repeat it again, we all know how popular and efficient the modern-day ATVs are!
A versatile range of ATVs is available. But, the Honda 450 holds a special place among them. Cold temperature, snow shower, or rough ranch work with heavy mud clogs, the 450 can fight back anything you throw at it.
One important factor, to note down is, to run your Honda 450 smoothly and without any trouble, you should regularly monitor the oil pan and understand the oil capacity better.
The honda foreman 450 oil capacity offers valuable insights into maintaining an overall healthy ATV.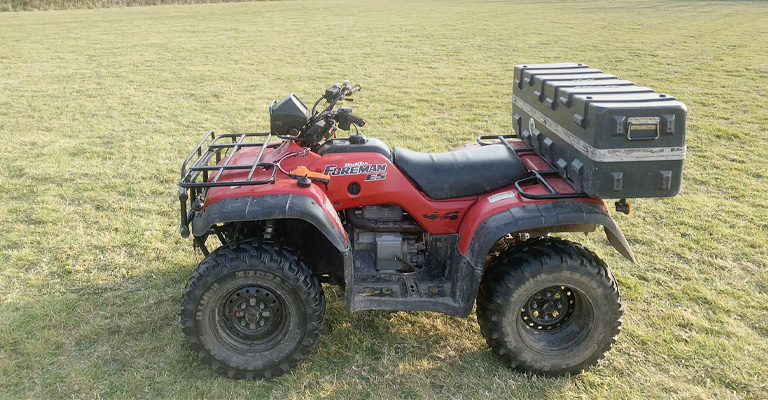 Honda Foreman 450 Oil Capacity
Like any other vehicle, the Honda Foreman 450 needs a specific amount of oil to operate optimally.
But when you exceed or fall short of the optimal capacity, you may face poor engine performance issues. This is why it is essential to learn what's going on in the oil pan of your Honda Foreman 450 before it's too late.
The Foreman 450 series require 3 Quarts of Honda Pro GN4 10W-40 four-stroke motorcycle oil.
However, it's important to note down, oil capacities can vary based on the recent models and any potential alterations that may have been added to the engine.
When Oil Replacement is Necessary For Honda Foreman 450?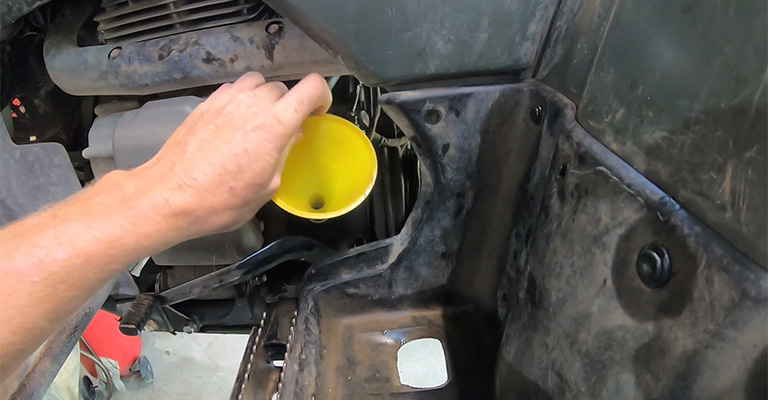 How frequently do you have to change the oil of your Honda Foreman 450? Well, the answer is, it depends on various factors, including your vehicle condition and also the type of oil you are using.
For most ATVs, including the Honda Foreman 450, a common suggestion is to change the oil every 20 to 50 operating hours. Measuring in distance, you should change the oil every 1,000 to 2,000 miles.

It serves as a genuine guideline. However, other factors like, rough use, and terrain type including the oil you are using will rise oil-changing situations.
You should also check the maintenance log to track when the oil was refilled last. It helps to strictly follow a maintenance schedule.
How to Change Honda Foreman 450 Oil?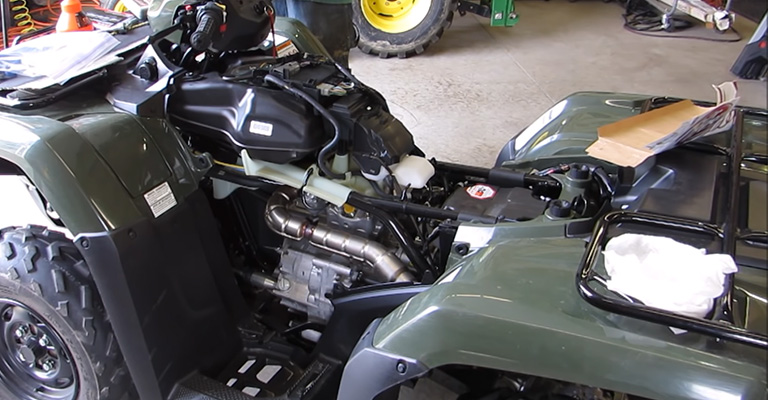 After checking through your vehicle condition, do you finally have to change the oil in the Honda Foreman 450? This part will guide you through.
What Do You Need to Change Oil?
It involves a few steps only. Gather the equipment mentioned below, you will need them.
Ratchet
8mm, 17mm sockets
Torque wrench
Oil filter
Honda Pro GN4 10W-40 Oil (3 Quartz)
Follow the steps below with us,
Step 1:
First, you have to warm up the oil. To do so, keep the motor running on idle. After a while, release the access panel cover.

Now, you have to ensure the oil unloads faster. Remove the dipstick to create the channel.
Step 2:
Insert the drain pan under the engine, to make a route for the oil drainage. Now, remove the 17mm drain bolt. And, compress the washer from the foot of the engine.
Now, you have to ensure there is no wear and tear in the crush washer. In case you find any, replace it if needed.
Step 3:
Wait a while and allow the older oil to drain away fully. If there is any wear in the crush washer, replace and reinstall it. And, also don't forget to torque the bolt to 24.5 Newton meters.
Step 4:
Now, you have to access the oil filter. To do so, remove the seat and the right-side cover.
Step 5:
Take out the oil filter cover and the three 8mm bolts. After that, pull the old oil filter and replace it with the new one. Mark that, the oil filter spring is still intact in the place.
Step 6:
Test and replace the O-ring connected with the oil filter cap (optional). Set the bolts to 7-foot pounds and replace the oil filter cover. Then, bring back the right-side cover and seat.
Step 7:
Now, it's time to refill the engine with 3 Quarts of Honda Pro GN4 10W-40 oil. You can also use any other oil suitable for any automatic clutch system.
Step 8:
Replace the dipstick and repeat Step 1 – allow the engine to sit idle for 15s. It will give some time for your engine to ensure proper flow of oil in the engine.

Now, turn off the motor and let the oil settle down for a minute.
Step 9:
You are almost done! Now, put away the dipstick and clean it. Now, return it inside the crankcase without threading it back in.
Again, remove the dipstick, this time, to investigate the oil level. Don't forget to cover up the level before reinserting the dipstick. Now, close the panel lid.
The steps mentioned here are all the same for any Honda ATV series. However, it is always advisable to keep in touch with the operator's manual to check for the latest update and any modifications.
What Kind of Oil is Used in Honda Foreman 450?
You usually have two options when it comes to engine oil: conventional and synthetic.
Conventional Oil: Suitable for standard operating conditions. It is more affordable but you may have to more frequently change oil compared to synthetic oil. Such as Honda GN4 10W-40 – the one we used here.
Synthetic Oil: Offers better performance in extreme temperatures, with improved engine protection, and additional oil change intervals. It is a great choice for demanding conditions or if you want longer-lasting oil. Such as, Honda HP4S Full Synthetic 10W-30 Oil
Anything More?
Make it a daily job to monitor the oil level of your 450 ATV. Honda 450 is capable of handling 3 Quartz oil.
On the other hand, other Honda models may vary in oil capacity. You can use Honda Pro GN4 10W-40 Oil, but can use any other oils too. Also, research a bit on conventional and synthetic oil types too and find out what best suits your Honda Foreman 450 model.
Keep an eye on our blog section, and get more latest updates on the Honda Foreman series. Also, don't forget to share this article with other foreman users!