There are three places where a knock sensor can be found on a car: the intake manifold, the cylinder, and the engine block. By sensing unusual pulsations caused by the engine's detonation, the knock sensor can determine whether there is a problem.
Modern injection engines commonly feature knock sensors (KS). KSs are not used by all injection engines, however. This sensor outputs a small electrical signal when it detects an 'engine knock.'
Fuel detonation within the cylinder head has to do with ignition timing. ECUs (Engine Control Units) temporarily adjust (retard) ignition timing when they receive a knock signal.
In some engine systems with a KS, it is possible to detect engine knock at a cylinder level. By retarding timing for that cylinder alone, the ECU will prevent knocking from occurring. A KS stops an engine from detonating (destroying) itself when it's running by stopping it from detonating.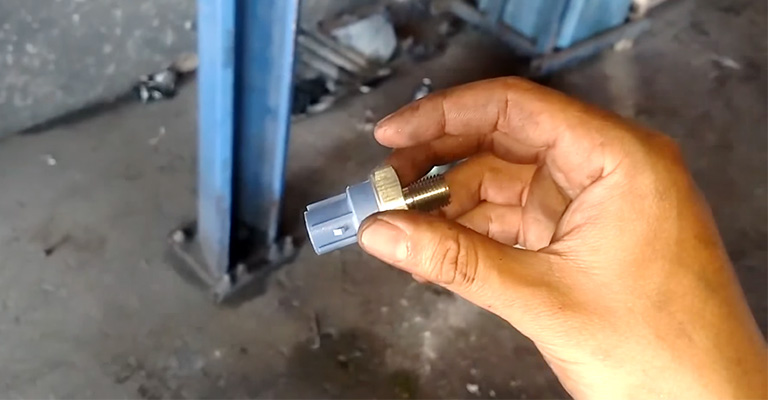 What is Knock?
It can also be referred to as engine ping or detonation. An engine knock is a sound and reaction caused by an unexpected ignition or explosion within a cylinder, separate from the regular spark plug ignition.
Therefore, knocking is not suitable for your engine. There are a few things that must happen for this to happen. Through the remaining cylinder space, the flame front is created by the spark plug ignition.
The remaining air and fuel mixture becomes pressurized by moving that flame front. The increase in pressure results in an increase in temperature, which can cause a second ignition in some cases.
As a result of the second ignition, another flame front is created, and when the two flame fronts collide, a knock occurs.
What Is A Knock Sensor?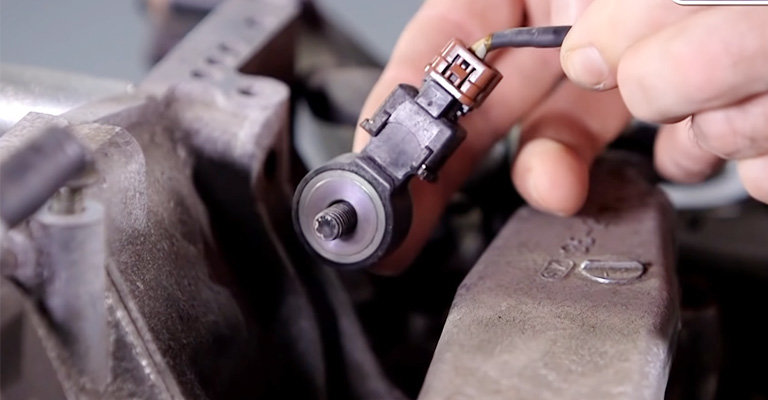 Your car's knock sensor is located on the engine block, intake manifold, or cylinder head and detects abnormal vibrations caused by engine detonation.
Knock sensors detect small internal tremors and relay voltage signals to powertrain control modules, which adjust ignition timing to prevent detonation.
An engine knock sensor is a piezoelectric device mechanically attached to the cylinder block. An engine knock occurs when the compressed cylinder experiences an uncontrolled detonation of air-fuel mix.
Piezoelectric sensors are highly sensitive to the ultrasonic and sonic vibrations produced by detonation, which can be converted into electrical signals.
By modifying engine operating parameters such as spark timing and air-fuel ratio, the Engine Control Unit attempts to prevent engine detonation.
Knock sensors ensure that your Honda engine works properly and doesn't get damaged while you drive it.
What Does Engine Knock Sound Like?
There is usually a knock, ping, or click coming from the engine when there is an engine knock. As a result of throttle input and/or acceleration, the sound usually becomes more noticeable.
What Does A Knock Sensor Do In A Honda?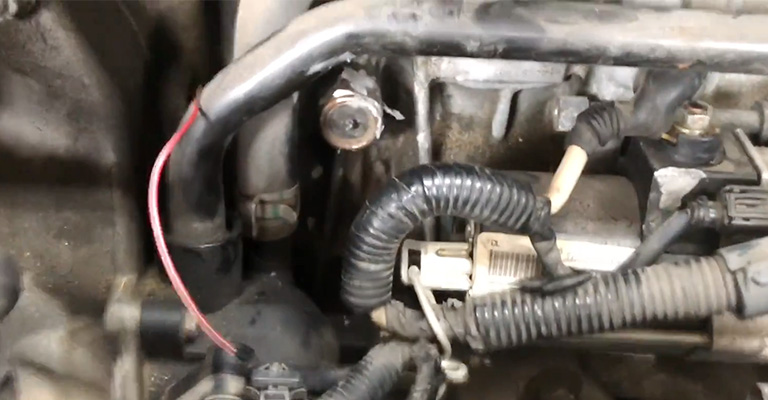 An engine knock is detected in the knock sensor, which can result in engine destruction at some point. It is possible to cause pre-detonation by oxidizing nitrogen caused by high temperatures. Also known as a knock. The computer will implement a countermeasure, which will adjust the timing and decrease the power.
In addition, the CEL will continue. A problem with the EGR could be the cause of this. When the engine requires premium gas, do not use it. There are several things to consider.
In some cases, you may not see the code because the computer adjusts for it. Changing the knock sensor automatically does not mean changing it automatically. A persistent knock may cause the engine to shut down, causing the car to go into limp mode, which reduces the speed and throttle position of the engine.
It's fairly easy to replace; you just locate it on your engine, remove it, disconnect it, and then plug in and install a new one using a shop manual or online resources. Also, a bad knock sensor can result in the engine not accelerating properly on the highway, resulting in the vehicle not getting the best fuel economy.
What Causes Engine Knock?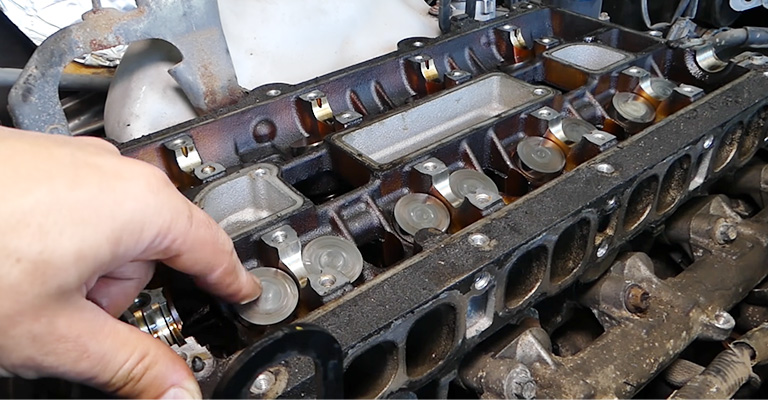 Engine knock can occur for a variety of reasons. The following are a few potential causes:
Faulty, Unhealthy, Or Incorrect Spark Plugs:
The wrong spark plug type, a spark plug with deposits, or an incorrect spark plug gap may cause a poor spark or incorrectly timed spark.
Deposits Inside The Cylinder:
The presence of dirt, grime, and contaminants in cylinders can cause many problems.
Improper Air And Fuel Mixture:
Ignition problems may arise if the air-to-fuel ratio is incorrect.
Poor Timing:
There is a problem with the ignition timing of the spark.
Can A Knock Sensor Keep My Car From Starting?
You will not be unable to start your car if you have a bad knock sensor. Knock sensors detect pre-ignition sounds in running engines and convert them into signals for the electronic control unit.
ECUs do this so that ignition timing can be retarded. The knock sensor can be missing entirely and will not prevent your car from starting. If your knock sensor is bad, you can drive with it, but it could have long-term effects on your engine.
Pre-ignitions are common in cars and don't pass state inspection until they are repaired. There may be an intermittent electrical failure if you are experiencing starting issues.
It will likely happen again if it has already happened once. Having an expert examine the vehicle in person may be in your best interest if the problem continues.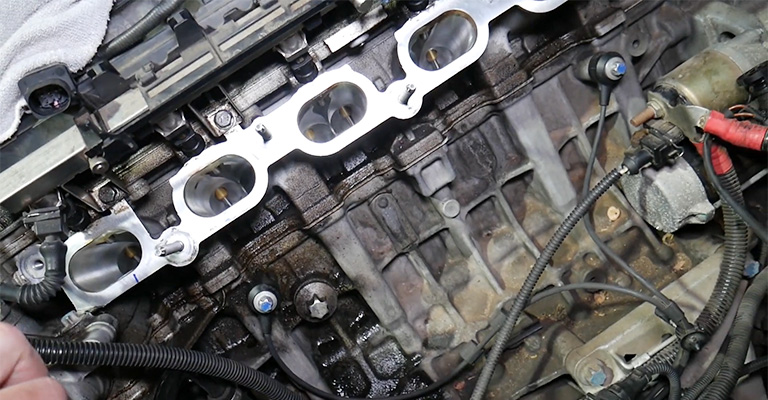 Can You Drive With A Bad Knock Sensor?
In situations where the engine starts and runs but a warning light or fault code indicates a faulty knock sensor, you can (probably) safely drive the car, but the engine may not perform as well as it should.
A knock sensor is needed to advance the ignition timing to its optimum point. By retarding spark timing, the knock sensor prevents pre-ignition knock using a lower grade of fuel.
The fuel octane will be assumed to be lower if the engine can be started with electronic control. It is imperative to replace the knock sensor as soon as possible.
The engine may not accelerate properly when the knock sensor is defective, resulting in reduced fuel economy. A malfunctioning knock sensor will most likely cause your vehicle to lose power as soon as the computer realizes it.
What Happens If I Don't Replace Knock Sensor?
The engine may start pinging if the knock sensor doesn't work, which the computer can't detect. When pistons are pinging, they can burn or blow holes in them due to the combustion process.
An engine with a rod or piston knock may keep detecting knocks if it has an internal engine noise. After reaching a set limit, the computer will continue to decrease the ignition timing.
As a result, the computer will set a knock sensor code. If the knock sensor code persists, the engine should be checked for internal problems. When the knock sensor fails to function as expected, the engine will have reduced power, decreased fuel efficiency, and hesitations if not replaced.
How Often to Get a Knock Sensor Replacement?
A knock sensor can last 150,000 miles or more, but it could fail sooner due to a range of factors. No matter if you have a shop fix it or you do it yourself, if you're noticing any symptoms of malfunctioning knock sensors, you should replace them as soon as possible.
Knock Sensor Replacement Cost
Repairing a knock sensor can cost anywhere from $20 to $400, depending on whether you hire a mechanic or do it yourself. No fees, taxes, location, make, or model of your vehicle are included in this estimate, and it is based on national averages.
For instance, a spark plug, or wire replacement may also be required for related repairs or maintenance. Depending on how easy or difficult the sensor is to reach your vehicle, replacing an engine knock sensor can take anywhere from 20 minutes to three or four hours.
There is a minimum labor cost some shops will charge, so expect to pay for a full hour of labor regardless of how much time it takes. Once it's within reach, replacing the knock sensor doesn't take long once it's bolted to the side of the engine.
As well as the wiring and harness that plug into the knock sensor, the mechanic should inspect for damage. As with a bad sensor, this could cause problems.
Final Words
Therefore, you can drive with a bad knock sensor if you want to ruin your engine and drive your car atrociously. You should swap out your knock sensor with a high-quality replacement as soon as you realize it has seen better days.