The Honda Passport is a nameplate that has been around for quite some time and has always been synonymous with ruggedness, reliability, and versatility. But now, Honda has introduced a new version of this popular SUV – the Passport TrailSport.
This latest addition to the Honda family boasts a range of features that make it perfect for off-road adventures, including beefed-up suspension, more ground clearance, and a tough exterior design.
If you're a fan of the outdoors and love to explore new terrain, the Honda Passport TrailSport might just be the perfect vehicle for you.
In this article, we'll take a closer look at everything you need to know about this exciting new model from Honda. So, buckle up and get ready to hit the trails!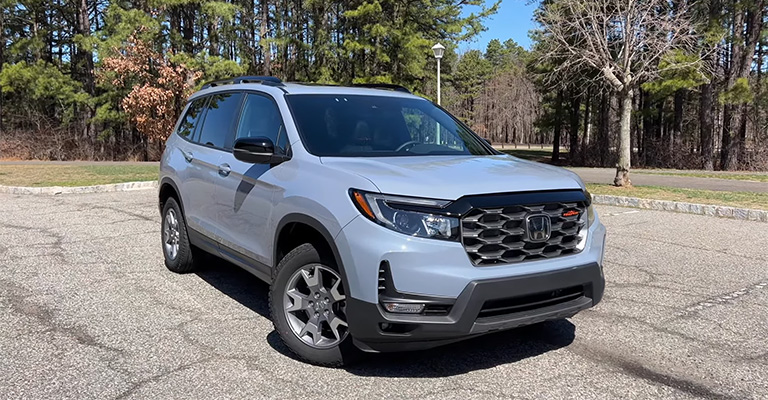 2022 Passport TrailSport Overview
With the recent release of the updated Passport SUV, Honda has taken a step towards expanding its off-road-oriented TrailSport lineup.
As the name suggests, TrailSport is geared toward adventure seekers who value ruggedness and versatility in their vehicles.
The latest addition to the Passport lineup, the TrailSport, occupies a unique position as the mid-grade trim level, priced at $43,695.
Positioned between the base EX-L and the top-of-the-line Elite model, the TrailSport promises a blend of performance, comfort, and affordability.
The 2022 Honda Passport TrailSport is the first Honda SUV to receive the TrailSport treatment, but it falls short of being a true off-road champion.
While the TrailSport offers some off-road-oriented features such as improved ground clearance, underbody protection, and all-terrain tires, it lacks the advanced suspension and four-wheel drive systems found in more capable off-road vehicles.
Nevertheless, TrailSport is a commendable effort from Honda to cater to the growing demand for off-road-capable SUVs, and it is sure to appeal to those who seek a balance of ruggedness and refinement in their vehicles.
What's New?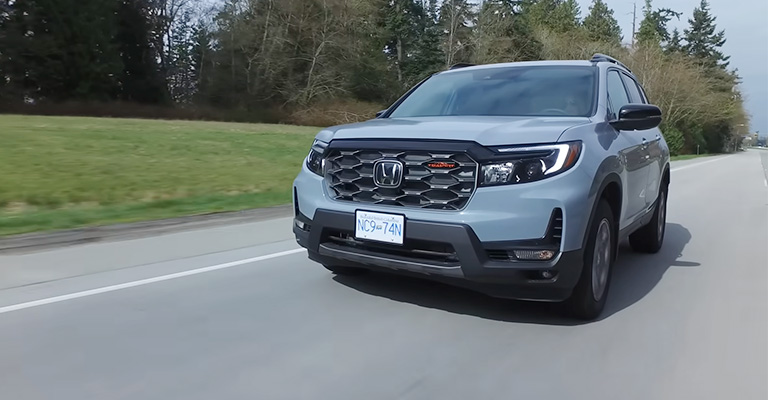 Honda's latest addition to its TrailSport lineup is the rugged three-row Pilot, which has received similar treatment to the Passport.
While the TrailSport package on the Pilot is not as extensive as some off-road enthusiasts may have hoped, it does add some stylish touches such as a gloss black grille and TrailSport badges with orange accents.
These additions enhance the Pilot's already muscular look and make it more appealing to those seeking a rugged SUV.
Honda's decision to create a TrailSport variant for its SUV lineup came in response to similar packages offered by competitors such as Subaru and Toyota.
In late 2022, Honda unveiled the Passport TrailSport Rugged Roads concept, which showcased some of the TrailSport's capabilities, including increased ground clearance, all-terrain tires, and skid plates.
Although the final product is not as aggressive as the concept, the TrailSport package does provide some added off-road capability and enhances the vehicle's rugged appearance.
While the Rugged Roads was making its debut, Honda also unveiled the first Passport TrailSport, which happens to be the focus of our discussion.
However, unlike the former, the latter doesn't come with any functional upgrades. What it does have, though, is an aggressive exterior appearance.
All the 2022 Honda Passports, including the TrailSport model, now feature a newly-designed front fascia, a hood with a power bulge, and an updated instrument panel.
Moreover, the TrailSport variant, which comes exclusively with an all-wheel drive, sports orange badging and stitching in the interior, rubber mats that resist mud, and a distinct set of wheels that give it a slightly wider track compared to other versions.
2022 Honda Passport TrailSport Specs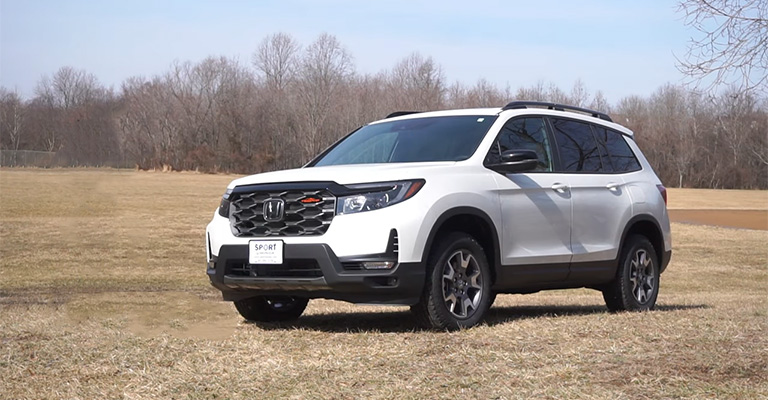 | | |
| --- | --- |
| Base Price | $39,665 ($43,365) |
| Powertrain | 3.5-liter V6 |
| Horsepower | 280 @ 6,000 rpm |
| Torque | 262 lb-ft @ 4,700 rpm |
| Seating Capacity | 5 |
| Cargo Capacity | 41 cubic feet |
| Curb Weight | 4,229 pounds |
| EPA Fuel Economy (mpg) | 19 city |
Driving the Honda Passport TrailSport
The engine is undoubtedly the most noteworthy aspect of the Passport TrailSport. It's hard to believe that Honda's naturally aspirated V6 could sound so good in a family SUV, and it's a pleasure to operate.
Despite the V6's impressive sound, the Passport TrailSport isn't meant to be a sports car.
Rather, it's a practical vehicle for everyday use, intended to transport kids, groceries, luggage, and all the other necessities of life. And I must say, it excels at doing so.
Honda has nailed the basics even in this large SUV. The steering is fantastic; it feels light but provides good on-center feedback, and just the right amount of resistance when turning.
This instills confidence in the driver while maneuvering a vehicle of this size. The steering certainly saved me from a few close calls with daredevil cyclists during rush hour traffic in Manhattan.
The ride quality is also typically Honda; firm enough to maintain composure but soft enough to ensure comfort. The Passport may not be a sporty SUV, but it's composed, collected, and inspires confidence.
What About Off-Road Performance?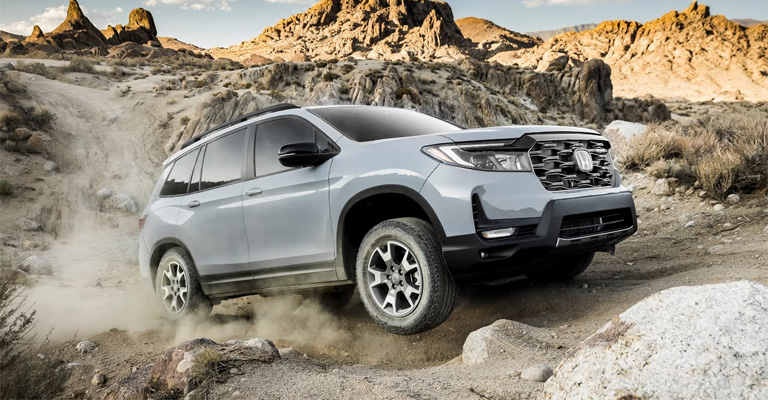 During our recent trip to Big Bear, California, we had the opportunity to test the 2022 Honda Passport TrailSport on an off-road trail that any decent SUV should be able to handle, but not a sedan like the Honda Civic.
The Passport boasts sufficient ground clearance, and its all-wheel-drive system performs admirably in finding traction even when one wheel is in the air.
The SUV tackled the dirt trail with ease, until we experienced a flat tire, forcing us to gingerly complete the remainder of the trail using the Passport's compact spare.
This was a reminder that good off-road tires are not only essential for better traction but also for increased durability.
When discussing this matter with Honda or any other automaker, their most probable response would be a reminder that only a minuscule percentage of SUV buyers actually venture off-road. For those who don't, the initial form of the Passport TrailSport makes perfect sense.
However, there are plenty of buyers who seek adventure, and we believe that their number has only increased in a world affected by the pandemic, where travelers are opting for less-crowded vacation destinations.
2022 Honda Passport TrailSport Off-Roading Features
Experience the rugged capabilities of the 2022 Honda Passport TrailSport – an off-road vehicle built for adventure seekers and nature enthusiasts. With its formidable engine, this versatile machine can traverse any terrain with ease.
Its superior suspension and brakes are designed to tackle even the roughest of paths, ensuring a smooth and safe ride throughout your journey.
All-Wheel Drive System
The Honda Passport TrailSport boasts a remarkable attribute in its all-wheel drive mechanism.
With this advanced system, power is effectively distributed to all four wheels of the car, resulting in enhanced performance and handling on demanding landscapes.
4-Wheel Independent Suspension
Few SUVs can compete with the off-road capabilities of Honda's Passport TrailSport. Thanks to its cutting-edge independent suspension system, which incorporates coil springs and dampers, the vehicle delivers a smooth and comfortable ride, making it the perfect companion for off-road adventures.
Intelligent Traction Management
The TrailSport's Intelligent Traction Management system is designed to maximize the vehicle's grip on any terrain by optimizing power delivery to the wheels.
Whether you're driving on wet or dry surfaces, or traversing challenging off-road landscapes, this advanced feature enables the TrailSport to perform exceptionally well in any condition.
Rugged-Style Tires
With its rugged-style tires, the 2022 Honda Passport TrailSport is engineered to handle the toughest terrain with ease, delivering exceptional traction and stability.
These air-tight tires are specifically designed to enhance grip and stability in challenging conditions, making the TrailSport the ideal choice for off-roading and other rugged adventures.
What Does Trailsport Add On Passport?
For those seeking a more visually striking SUV, the TrailSport trim of the Honda Passport is a great choice.
This upgraded trim level boasts a range of amped-up aesthetics that are sure to turn heads, including bold orange and black badging, chunky-looking tires, and pewter-color 18-inch wheels.
Additionally, the TrailSport's unique interior package features logo-embossed leather seating, adding a touch of sophistication to the vehicle.
Although TrailSport doesn't include any major off-road upgrades, it's still a great option for those who prioritize style and aesthetics.
How Many MPG Does A Trailsport Passport Get?
Both the 2022 Honda Passport TrailSport AWD and the Elite AWD come equipped with a 9-speed automatic transmission and have a fuel efficiency rating of 19 mpg in the city and 24 mpg on the highway
The Highs and Lows
The Honda Passport TrailSport presents a mixed bag of attributes that are both commendable and questionable.
One of its strong points is its superior driving experience which outperforms many other crossovers and SUVs in its category.
Its steering is remarkably responsive and its ride/handling balance is finely tuned. Additionally, the V6 engine sets it apart from the majority of turbocharged models on the market.
Nevertheless, it falls short in terms of modern technological features such as larger infotainment screens, digital gauge clusters, and wireless Apple CarPlay, which are standard in most comparable Hyundais and could leave some customers wanting.
Regarding CarPlay, I observed an irritating flaw in the Honda's wired implementation where it would disconnect whenever I unlocked my phone for any reason.
This issue did not occur with any other car, ruling out the possibility of my phone being at fault. However, I'm uncertain if this problem was unique to the specific test car I used, or if it's a recurring issue among all Passport models.
What truly impressed me about the Passport TrailSport was its practicality. It easily accommodated two car seats, a stroller, multiple backpacks, a diaper bag, my four-year-old son's vast collection of toys, and four passengers, with ample space to spare.
The interior cubbies were thoughtfully designed, providing convenient storage for all our belongings, and the car had plenty of cupholders, even for tall water bottles. However, the interior's low-quality materials were my biggest grievance.
The abundance of cheap plastics in areas that are frequently touched, such as the center console and switchgear, gave it a brittle and fragile feel.
Despite this, I'm willing to overlook the subpar materials because of the interior's usefulness. Nonetheless, the lack of quality is a disappointment, particularly for a brand like Honda, known for producing vehicles with decent build quality.
Final Words
In conclusion, we appreciate how well the Passport TrailSport performs on the road. However, if Honda intends to establish TrailSport as an off-road brand, it must deliver on the hardware promised in the Rugged Roads concept to add true value to the brand. Nevertheless, we cannot dispute the Passport TrailSport's impressive test results.