The alarm system in your Honda Pilot is an automatic feature to protect your vehicle.
But sometimes the alarm system can keep going off even if there's no one around your car. Why does it happen?
Well, this problem can be caused by an oversensitive sensor, low battery life, defective key fob faulty hood latch sensor. To fix these issues, you can try resetting the alarm system or replacing the weak car battery.
But don't worry, in this Honda, Pilot alarm keeps going off – why and how to fix the article, we've discussed all the reasons and their fixes.
So, without wasting much time, let's get into that part immediately.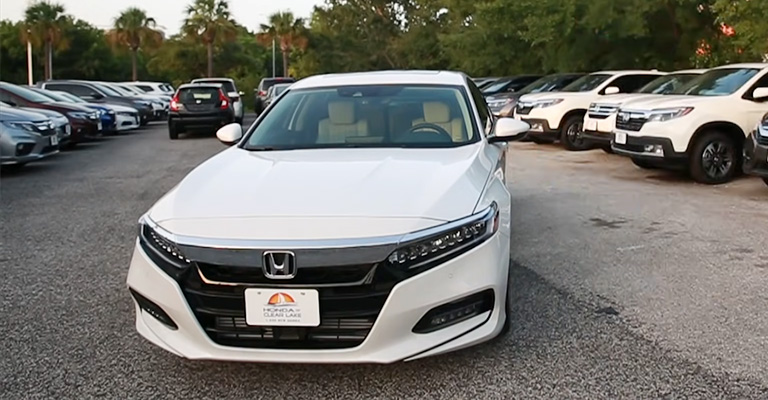 Honda Pilot Alarm Keeps Going off – Why and How to Fix
The alarm system of your Honda Pilot will start making noise in danger, which is a relief. But if it keeps getting off all the time, it can be super irritating.
And multiple reasons can cause this problem. However, now we're about to discuss each reason and their solution.
Let's proceed, shall we?
Reason 1: Over-Sensitive Sensor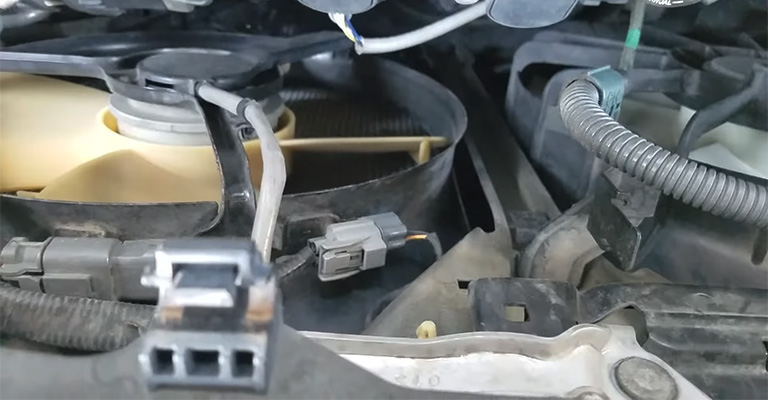 While creating the Honda Pilot vehicles, many sensors were attached to protect them from damage. These sensors can detect any activity around them and make noise to alert you.
And some sensors can be super sensitive and get triggered by the slightest movement. Due to this problem, your car alarm will go off even if there's any slightest motion.
Usually, adjusting the sensitivity level solves the issue; it's nothing complicated.
How to Fix It
When the alarm system is triggered more often, you should inspect and change the sensitivity level. For this procedure, you must check the owner's manual that came with your car, and the problem will be fixed.
Reason 2: Low Battery Life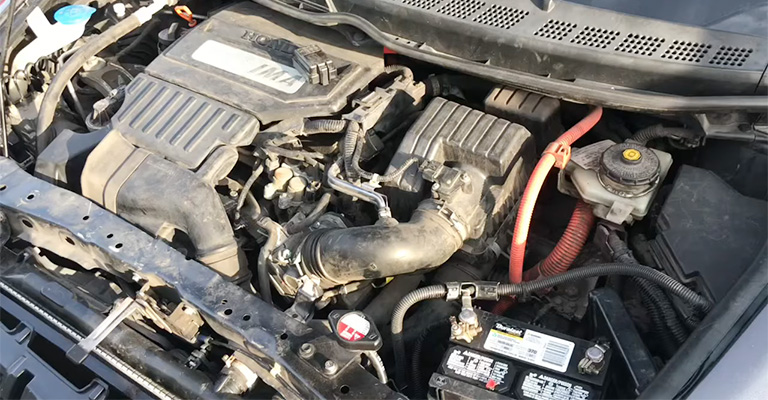 The alarm system is not only for protecting your car from intruders. I will let you know if there are any internal issues with your Honda Pilot.
For instance, when your car's battery is weak, the alarm system will try to notify you.
How to Fix It
To identify this reason, you need to check the vehicle's battery with a voltmeter. If the reading comes under 12.6 volts, you should think about recharging or replacing the battery as soon as possible.
However, this whole procedure can be difficult and unsafe, so consider getting professional help.
Reason 3: Defective Hood Latch Sensor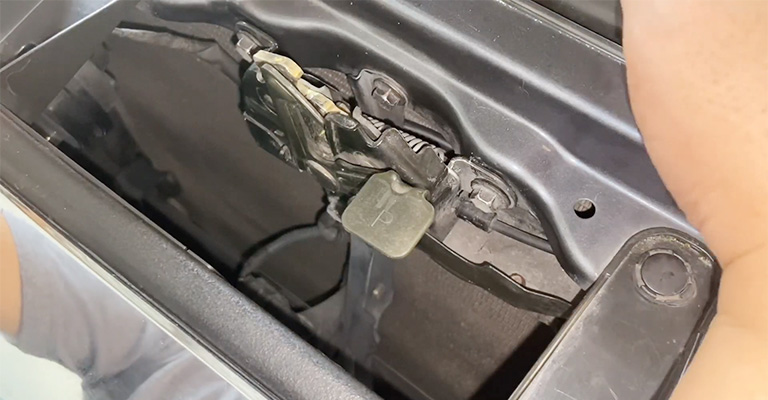 Sometimes faulty hood latch can set off the car alarm without any cause. Generally, the alarm system sends you a warning when you don't close your car hood properly.
But if you've shut the hood and still getting signals, there might be defects in the hood latch sensor.
The sensor under the Pilot's hood is vulnerable to dust and grime. Therefore, the sensor will fail to send proper signals if you don't keep it clean.
And the alarm system will think that you haven't closed the hood, which will trigger the alarm.
How to Fix It
You can prevent this issue from happening by cleaning the hood latch sensor. And while cleaning this part, make sure you're using a soft cloth and gentle motion only.
Otherwise, you'll damage the sensor, and you don't want that.
Reason 4: Key Fob Problems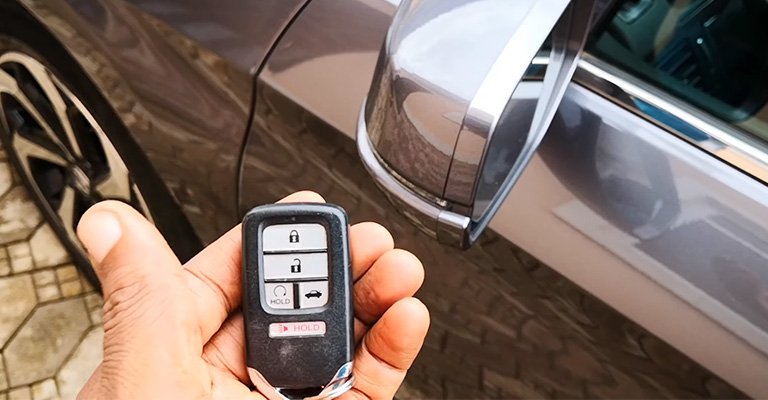 The Key fob is one of the handiest things when controlling your car smoothly. It can start your car and open the door, and it's also connected to the alarm system.
Well, this electronic key sends signals to your Honda Pilot to get things done. That's why if it's malfunctioning, the alarm will get the wrong transmission and go off anytime.
How to Fix It
The key fob mostly malfunctions due to weak batteries. Hence, if you haven't replaced the battery in a long time, you can try that.
Furthermore, sometimes the key fob button gets stuck, which can also trigger the Pilot's alarm.
In that case, you can take it to the professionals for fixing. If it doesn't work, you can replace the electronic key for a better experience.
How to Reset Your Honda Pilot's Alarm System – Step by Step
Try resetting the system when your Honda Pilot's alarm system is having trouble and you cannot fix it. It's one of the most effective ways to solve alarm issues.
And here's how you do it.
Step One – Insert the Key
First, take your car key and insert it into the door of your driver's side door. And then twist it to unlock the door, lock it and unlock it again.
Step Two – Keep the Car Running
When you're done unlocking the car for the second time, keep the car lock on the ignition for around ten minutes. And that's all you have to do.
How to Turn off the Alarm System in Honda Pilot – All You Need to Know
It's not just the Honda Pilot; any car's alarm system comes with a loud and irritating noise. And when it's going off without any threat from intruders, it can be quite embarrassing.
So, if the alarm is triggered, you need to turn it off as soon as possible.
Here are some methods you can try to shut off the alarm system.
Use the Key fob
The easiest and fastest way to turn off the noise is to click the panic button on your key fob.
This usually does the trick, but it won't work if the button is stuck, it won't work. But don't worry; there're tons of others you can try.
Start Your Car
Another thing you can go for is to start your car. Once you get in the driving seat and turn on the vehicle, the alarm system will know that the panic noise isn't required anymore.
Lock and Unlock the Doors
Unlocking and locking the car doors also helps to silence the alarm system. If you can't do that with your key fob, you can try it with the physical key provided with your Honda Pilot.
Disconnect the Battery
Okay, this method is the trickiest one. If you're acquainted with disconnecting the car battery, you can make an attempt.
However, it can be risky, so be careful while doing that. Here's an instruction you can follow to detach the car battery −
Firstly, get into the engine bay and locate your car's battery.
Now, carefully remove the positive terminal and wait for a while.
After disconnecting the positive terminal, the alarm should become silent. When it happens, you can reconnect the battery again.
But here's something you need to keep in mind. If you're not good with these DIY mechanical fixes, you should avoid this part.
You can always take professional mechanics for a safer experience.
The Bottom Line
So, we're at the end of our Honda Pilot Alarm keeps going off – why and how to fix article. As we've discussed all the possible issues and solutions here, you won't have to worry about that again.
However, before disabling the alarm system, always ensure you know the exact reason behind this problem.
And try to fix the issue without any delay. The car's alarm system is provided to keep it secure. Hence, your negligence may cause you big time, and nobody wants that!