There's a hype in the market! Honda is about to launch the first electric vehicle – the Prologue series for mass production in 2024. Learn more about what's interesting about Prologue here.
The new Honda Prologue Series promises a set of ergonomic features, along with a commitment to zero carbon emission. One such feature we will talk about today is the Apple Carplay in Honda Prologue.
Although the Apple CarPlay is available on most Honda models, is the new Prologue SUV going to have them? If so, what's in it for us? Today, we will get a board POV on Apple Carplay and how it will privilege you.
** Take a Short Note: Most Honda models feature Apple CarPlay, Yes! But only a few Honda model features wireless Apple CarPlay. It was not long ago when the wireless Apple CarPlay came into the market in 2016.
BMW introduced the wireless car play first in 2016, later followed by other automobile manufacturers, including Honda. So, yes, not every other Honda model may support and associate this feature globally.
To know more about Honda Prologue + Apple CarPlay, continue reading our article.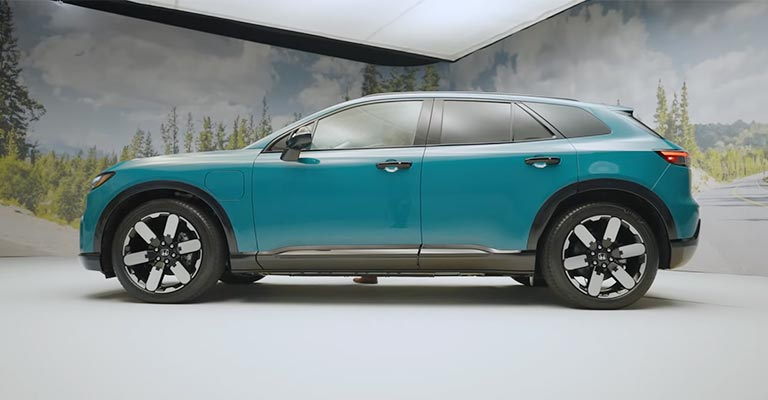 Key Features of Apple CarPlay:
The Honda Prologue, unlike most Honda models, offers a unique integration with Apple CarPlay.

You can seamlessly connect your iPhones for a more intuitive and convenient driving experience. Plus, you don't need a cord anymore to connect your Apple accessories with the CarPlay.

It's a hands-free operation. You can control different functions with Apple's flagship assistant Siri. More safer and more versatile.

Again, it's a real-time solution. Because it provides up-to-the-minute navigation updates. You will always be on the fastest route and can avoid traffic jams.

It's even easier to integrate other third-party apps directly from the Prologue's infotainment system. With this easy feature, both efficiency and entertainment remain on the same track during your daily commute.

You can also personalize the infotainment system as you want – keep the apps you need while removing the less used ones.

The list of compatible apps in integration with Apple CarPlay is growing. Our Honda Prologue is fully optimized to work with them. You have access to a vast ecosystem of features.

This is because Honda Prologue gets the upper hand with the safe and sound Over the Air (OTA) software updates. It improves the functionality and capability of the car play system, taking care of the Prologue computer modules.

Experience a real-life virtual assistant in Prologue with Apple CarPlay. It not only plays the songs of your preference but also suggests playlists and songs that may suit your taste.

It also keeps you connected with others without compromising safety.

The best is yet to come! There's the first pocket-type wireless charging option for your iPhone. So, you really don't have to worry about the battery life and connect anywhere anytime!

Here are some key features of wireless Apple CarPlay in Honda Prologue. You can say, it's the smartest solution to stay onboard while being connected all along.
Let's elaborate on things below.
Honda Prologue + Apple CarPlay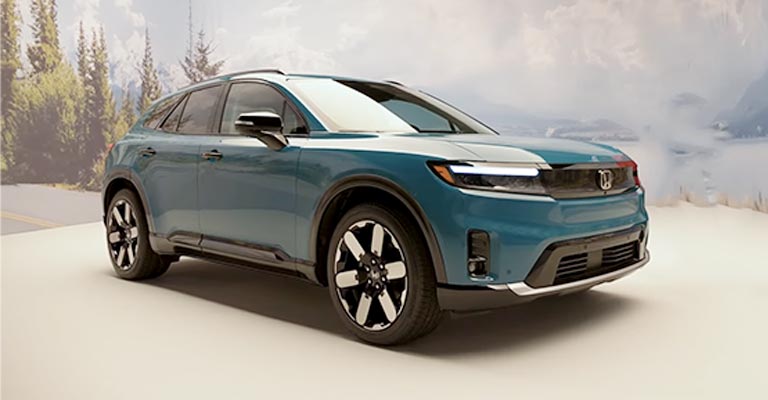 Back to our first look at Honda Prologue, you already know, that the 2024 Prologue will be built in the United States of America.
Here's what Assistant Vice President, Raj Manakkal of Digital Services Development for American Honda Motor Co., Inc. said about this new edition of Prologue SUV,
"Honda's long-standing in-vehicle tech collaborations with Google and Apple allow us to offer our customers their choice of intuitive and accessible digital services that will enhance the ownership experience of the all-new 2024 Honda Prologue"
Zooming out a bit, despite the key features, the new display will be 7×3-inch, with a 12-speaker Bose premium audio system. It's all in there to create a home system!
The new Honda Prologue integrates the same functionality of any other wireless Apple CarPlay system, but it only gets better with time.
Apple is all about flexibility and ergonomics. Following this, one of the hallmarks of Apple technology is its user-friendly interface. And that's precisely what you will have together with Apple CarPlay and the Honda Prologue.
It's an intuitive interface and everything you have – all the menus and icons are familiar to you. No icon can confuse you with the functions which makes navigation like a piece of cake.
You can seamlessly check your emails, make a call, or easily play your favorite music. It all takes a fingertip!
Honda also ensures you will experience the robust connectivity that Apple has, plus some more.
It's all up to Apple to make sure you stay connected on the road, now with Prologue it's way safer! After all, it's Honda's universal commitment to Safety for Everyone.
Send messages, make calls, or receive texts, but without using your hand! Just send a voice command and let Siri take care of the rest. You don't have to take your hands off the wheel, not for a second.
We have heard of vehicles with wireless Apply CarPlay before. However, in integration with the first electric SUV for global markets, it's a double package!
Remember, in a world where vehicle manufacturers have been cutting off the wire connections (well obviously! More wire means more management!), wireless Apple CarPlay can be the real game-changer i.e. also in the first global electric SUV. It's an evolution to a new age!
Note that, this article is for Apple users who want to connect their Apple devices seamlessly with their Honda Prologue, which is yet to hit the market in the first quarter of 2024.
Android users also get the benefits of Android Auto™, effortlessly connecting their smart devices with their Prologues!
Are You Ready for It?
Do you love what you are reading above? And can't wait any longer to grab all the smart features of the wireless Apple CarPlay? Hold a bit longer. It's going to soon hit the market and will be available at your next Honda dealerships!
The Apple CarPlay with Prologue, the first electric SUV will make our life easier with all the easy-to-use features of Apple and Prologue together!
Not planning to buy a Honda Prologue now? Take a look at Honda CRV 2024. This Sport-L Trim might be the one you are looking for! Let us know in the comment section what you think!