Like any other Honda ATV, the Rancher 420 series also has the ESP (Electric Shift Program). The ESP helps your vehicle switch between gears without manual clutch operation.
Without a functional ESP, you may not be able to start your Rancher 420. That's why, when something is going on in the electric shift department, it should be your top priority to detect and fix the problem.
And, we are here for you! Today we are going to describe Honda Rancher 420 electric shift problems, the symptoms, problems, and the solutions. Complete the article before turning the ignition on.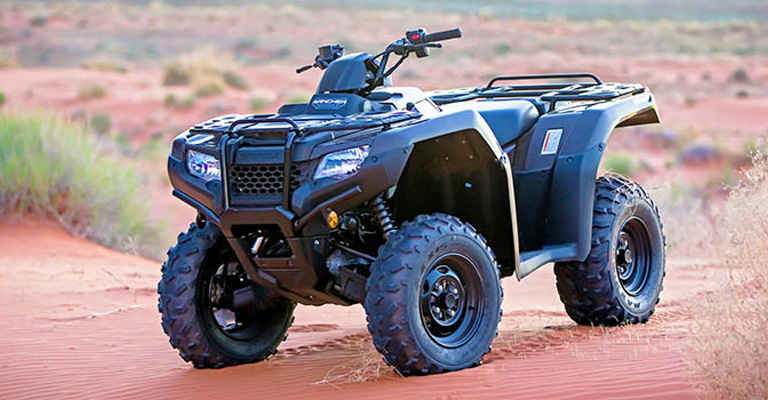 What is Electric Shift in Honda Rancher 420?
The Honda Rancher 420 features an automatic clutch system. With the ESP available, you don't need to use the manual clutch system to change gears.
Your ATV is meant to move along uneven terrains and perform a variety of tasks. This list of activities often requires frequent changes of gear.
There is an electric shift button in the ESP that automatically shifts gears. The system utilizes a combination of sensors, solenoids, switches, and an electronic control unit (ECU) to manage the entire shifting process.
The workflow process of the ESP is as followed, Shift Lever Input> Shift Angle Sensor> Electronic Control Unit> Shift Solenoid> Clutch Engagement> Transition> Error Detection.
If there's any problem in any of the stages mentioned above, shifting gears will not be an automated process anymore!
In the next part of our article, we will discuss the problems every Rancher 420 may face during their ride off-road.
Honda Rancher 420 Electric Shift Problems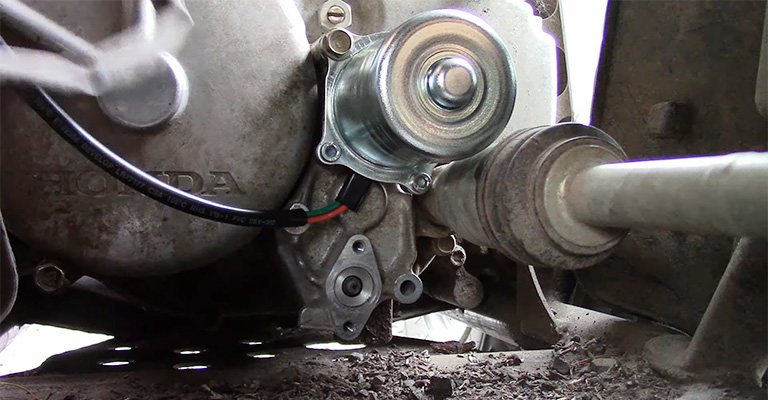 The electric shift problem in Honda Ranchers is not so uncommon ever since its release in 2007. The most common ones are,
1) Shift Angle Sensor At Fault:
The shift angle sensor in the electric shift system detects the gear position you need to change and relays the information to the ECU. Sometimes, this sensor can malfunction and fail.
And when it fails, the ECU has no idea whether the ATV has altered gears, despite the shift motor receiving the signal to do so.
2) Shift Solenoid Not Working:
An electromechanical component of the electric shift program is the shift solenoid. It controls the engagement and disengagement of the gears.
You end up with a faulty shift solenoid due to rough shifting. It will affect the electric shift unit and result in a non-operational ATV.
3) Low Battery Voltage:
The electric shift system requires a certain level of battery voltage to function. Low battery voltage can lead to sluggish shifting or prevent shifts altogether.
4) Unit Issues:
The core of the ESP is the electric shift unit. It manages the overall operation of the electric shift system.
Often, the ECU can deliver wrong readings or stuck between gears due to malfunctioning. Sometimes, it can also select the wrong gear during the shifting process.
5) Loose Wire
Different shifting components such as the shift angle sensor, shift solenoid, and the ECU establish connections between them with wires.
Now, these wires can sometimes tear apart with harsh rides. Damaged wires can disturb the communication between different components of the electric shift system. When this happens, you will not have an automatic gear-shifting system.
Here are some of the few reasons that can hamper the automatic electric shift system of your Rancher 420. Now, when this happens, don't let it go undetected, rather look for the symptoms mentioned below.
Symptoms of Honda Rancher 420 Electric Shift Problems: The Red Flags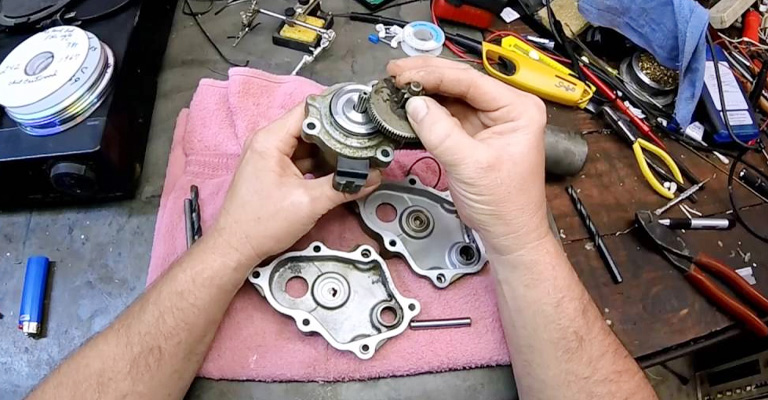 When you would know that your Rancher 420 electric shift is in a problem? Keep reading and find out if your ATV shows any of these signs,
1) Difficulty Shifting Gears: The first sign is obvious difficulty in shifting between gears. Your ATV may get stuck in a specific gear or, may experience trouble shifting up and down.
A malfunctioning electric shift system can also take more time to engage gears, resulting in poor acceleration, and performance.
2) Flashing Error Codes: Many modern ATVs, including the Rancher 420, have a diagnostic feature. It displays error codes on the instrument panels.

When an error code pops up, follow the instruction manual and figure out if it's a code for the electric shift problem. Codes that indicate Electric shift problems are
Error Code 8(1): Low voltage in the sensor circuit (less than 0.22V).
Error Code 8(2): High voltage in the sensor circuit (higher than 4.93V).
Error Code 11: No signal in the VS sensor.
Error Code 21(1): Low voltage in the shift circuit sensor (less than 0.37V)
Code 21(2): High voltage in the shift circuit sensor (more than 4.62V)
Error Code 22(1): The electric shift not working due to the control motor lock.
Error Code 22(2): The electric shift not working due to the control motor being stuck.
Error Code 23: Voltage variation in the shift sensor response.
Error Code 24: Control motor circuit or the drive circuit malfunction.
Error Code 32: Fail safety relay circuit malfunction.
Error Code 33: EEPROM (user-modifiable ROM) is facing a malfunction.
Error Code 41(1): Gear position switch circuit malfunction (short).
Error Code 41(2): Gear position switch circuit malfunction (open).
Error Code 42: Gearshift (Up/Down) switch circuit malfunction (short).
3) Wrong Gear Selection: With an underlying electric shift problem, your Rancher 420 may unexpectedly shift gears without input from the rider. In the worst-case scenario, you may lose control of your vehicle.
4) Neutral Light Off:
A dashboard indicator light is found in almost all Honda Rancher models including your 420 Rancher. It informs you about the current state of your Rancher 420.
With the transmission in the "neutral" position, it means that the engine's power is disengaged from the wheels. You can now, safely start the vehicle without any risk of sudden movement.
The neutral light may not come on when the 420 is in neutral or stays on when your ATV is in gear. When you experience this, it clearly indicates an issue with the shift system.
Here are a few common symptoms you may face in your Honda Rancher 420 when there is an issue going on regarding the electric shift system.

However, the problems may not always be detectable. Your vehicle may not start at all, and you would still be left clueless. In such a case, don't waste any time and take suggestions from an official mechanic.
Troubleshooting Honda Rancher 420 Electric Shift Problems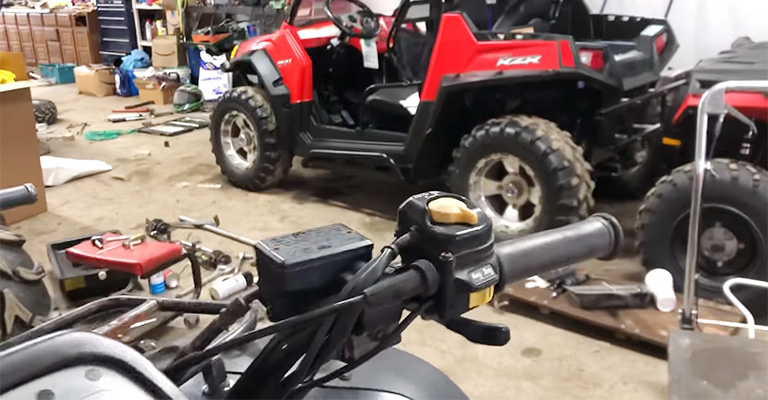 Here are a few steps you should take to get the ESM back into operation. But when the matter is out of hand, we highly suggest you consult a Honda service mechanic.
1) Charge or Replace the Battery
Is the problem with the battery or low voltage? Sometimes low voltage can often lead to a non-operational ESM system. Test the battery with a multimeter and charge or replace it as necessary.
2) Fix the Shift Angle Sensor
In case you face issues with the Shift Angle Sensor mentioned above, you can start by cleaning or replacing it to solve the issue. The shift angle is near the gearshift mechanism, shouldn't be hard to locate and replace.
3) Test Shift Solenoid
To be certain that the problem started from the Shift Solenoid, use a multimeter to test the resistance of the shift solenoid. If it shows abnormal reading, a replacement could be the answer.
4) Test the Connections
Access the ECU and test both its terminals and connections. If you find any wiring loose, replace or fix it. And, in case you find the task too difficult, consider taking help from an expert.
Last Words
We are almost at the end of our article.

Honda Rancher 420 Electric Shift Problem is a genuine problem you may face once in a while.
But if you want to be trouble-free and ensure you have a healthy and stable ATV all along, large-scale another way than to better maintain it and regularly service it.
Schedule a Honda Mechanic every month and prevent any serious issues before they cause any harm to you and your vehicle.
Remember, regular servicing is never a waste of money. Rather, it may save you a lot from any possible large-scale damage.
Do you like our article? Leave your comment below. Also, don't forget to share our article with other Rancher 420 riders! We will rock the road with you!