Honda Fourtrax 300 is undeniably one of the fastest ATVs to ride. But it's not too unusual for the speed lovers out there to improvise the regular speed of Fourtrax 300 and make it faster.
One common question we get often is, how can I make my Honda fourtrax 300 faster?
It's a genuine inquiry for riders who like it rough on the off-terrain. But is it even possible to surpass the maximum speed of your Fourtrax 300? We will soon find out today.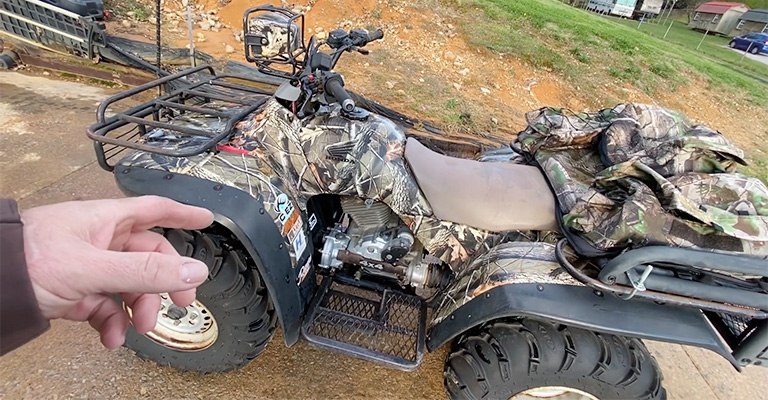 Regular Speed of Honda Fourtrax 300
The Honda FourTrax 300 is capable of reaching a top speed of around 40 to 45 miles per hour (64 to 72.5 kilometers per hour) under optimal conditions.
However, remember that you can't run this 282cc air-cooled mono-cylinder engine under optimal state always.
Factors like weather conditions, terrain type, vehicle load, and most importantly weather status can often affect the average speed of Fourtrax 300.
To increase the regular speed of 300 fourtrax and maintain the speed at a high speed, you can apply a few simple tricks. Read our article to follow.
How Can I Make My Honda Fourtrax 300 Faster?
Increasing the average speed of the Honda Fourtrax 300 starts with these simple steps. Learn with us,
1) Tune Your Engine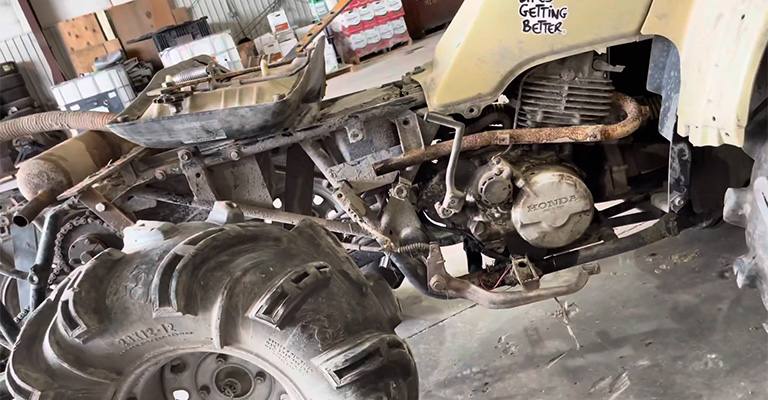 It is a fundamental step to increase the speed of your ATV. A lot of steps blend and tune your engine. Here's what you have to do.
Upgrade the Air Intake: You will have plenty of aftermarket high-performance alternatives. You can replace the air filter and intake system to improve your ATV airflow.

Upgrade the Exhaust: Less restrictive exhaust system can always offer a better evacuation of exhaust gas and potentially improve the engine's performance.

In case you can't afford a complete exhaust system, which is completely normal, you can go for the slip-on exhaust. You may not have a boost in horsepower but it will surely give you a little extra HP.
Adjust the Jet and Carburetor: If you have already made some modifications to your quad, you need to adjust the carburetor jetting to match the modifications you have made. Hence, you have the right air-fuel mixture for optimal combustion and efficiency.
2) Change the Fuel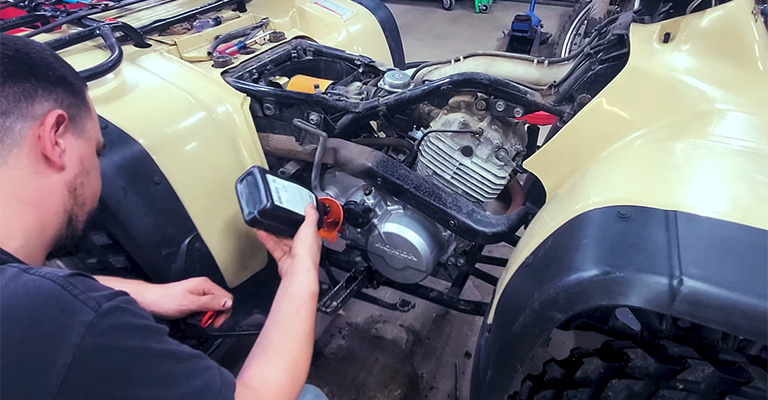 High-octane fuels can be a good point to start. It burns clean and you have higher mile coverage with the least corrosion to different components of your ATV.
However, most ATV riders use ethanol-based fuel. But once you switch, you will notice the difference yourself.

High-octane fuels can cost you a few more bucks. But, the additional money is worth the boost. Simply mix a small amount into the gas in your quad and move it back and forth.
3) Change The Tires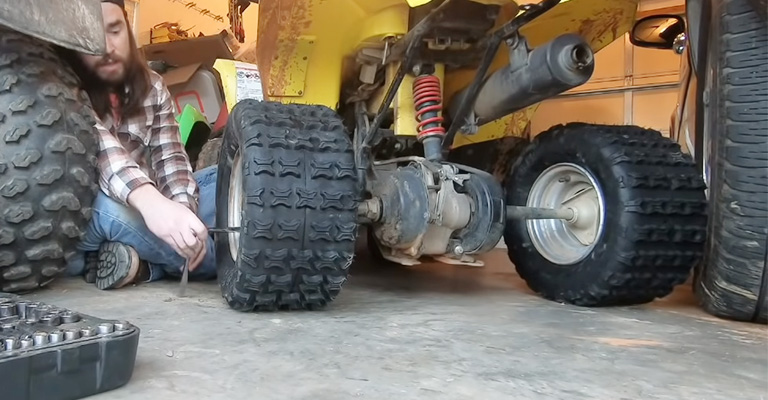 Light tire means better performance. Tire pressure plays an important role in the performance.
For example, you can't ride safely on a bumpy road of snow or rock with a high-pressure tire. You need a low-pressure tire for this. The exact opposite goes for smooth terrain or flat roads.
Don't go for the steel wheels, rather opt for the aluminum wheels. They will make your quads faster and the ride more smoother. To speed up fast, you can go for the smaller tires while larger tires can help you with the top speed.
4) Have A Nitrous Kit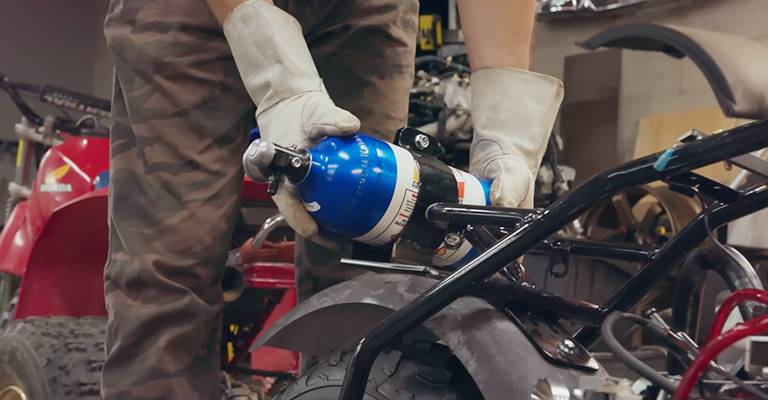 To have a quick power boost, you can think of adding a nitrous kit to your ATV. They can increase up to 30-40% of your ATV speed. With an additionally purchased jet, the percentage is higher.
It is easy to install the nitrous kit in your vehicle. Even though your ATV can be different. It is completely up to you to select the one that you feel secure with. However, many people have prized themselves with extra speed using the nitrous kit.
5) Gear Updates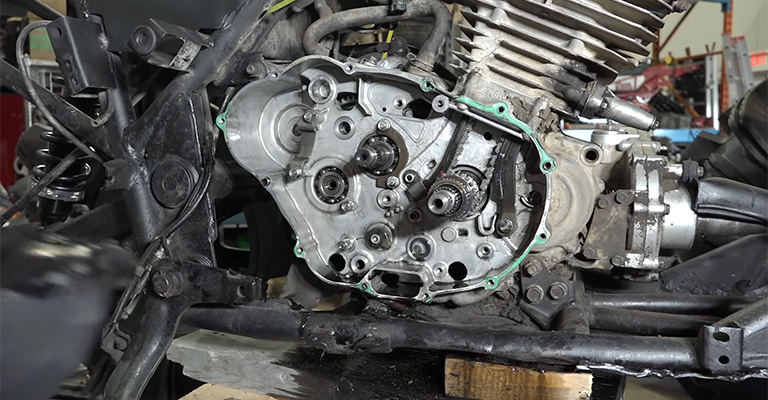 A quick trick to boost your ATV speed is to adjust the gear ratios. Consider replacing the front and/or rear sprockets with options to offer more teeth for increased top speed.
It might require some mechanical know-how and the right tools. But you can do it with a little backup! Use the torque wrench to replace the front and rear sprockets and install the new ones.
But! It is wise to note that if you alter the gears too often, it may affect low-end torque and the ability to climb!
Here are the five effective tips to speed up your Honda Fourtrax 300. But there are more!

You can enhance the speed of your ATV in other ways too! Such as by upgrading the air filter. What matters most is the method that suits you the most.
Last Words
Honda Fourtrax 300, itself is a fabulous vehicle for journey off road. If you are a rookie rider and simply a hobbyist, the regular speed should do just fine.
But for professional riders, it may not be enough and it's completely fine to adjust the new speed.
We hope we provided the answers you were looking for to boost up your Fourtrax 300 speed – a quick guide you need to speed up for the road!
Stay tuned with us to get more useful updates about your ATV. Also, don't forget to share our article with your friends who are struggling to speed up their ATVs.