Honda Accord owners are recommended to update their software in order to fix various issues that may arise. The process of updating your car's software can be time-consuming, but it is definitely worth the effort in the end.
A connection to the internet and downloading files are required for this process; however, it should not take too long. Many people choose to update their Honda Accord's software at least once a year because it fixes many problems on its own.
Even if you have no issues with your car yet, upgrading its software will help keep everything running smoothly down the road.
How Do I Update My Honda Accord Software?
The following steps will guide you through updating your system.
In some vehicles, Steps 1-3 will be automatically performed in the background. In that case, please proceed to Step 4 and click "Install Now".
Select "HOME" from the display audio menu in your vehicle

Click on "System Updates"

Choose "via wireless"

Click "Install Now" when the download is complete

When the Installing bar reaches 100%, the installation has been completed

You should see "Installation of new software completed" when the installation is complete.
It takes about 17-20 minutes for the update to complete. A strong cellular connection is required.
You can confirm your update was successful by following these steps.
Select the "HOME" button on the vehicle audio display screen

Choose "System Updates"

Choose "via wireless connection" as your connection method

You will see a message saying "System is up-to-date".
Move the car to a place where the cellular signal may be stronger before installing the software. The software will be installed successfully if you see "Installation of new software complete".
The OTA update can also be completed with an appointment with your dealer, at no additional cost.
Honda Accord Requires Software Updates
Honda Accord owners should be aware that their cars require software updates in order to maintain optimum performance and safety. The process of updating the software is relatively easy, but it can be time-consuming if done incorrectly.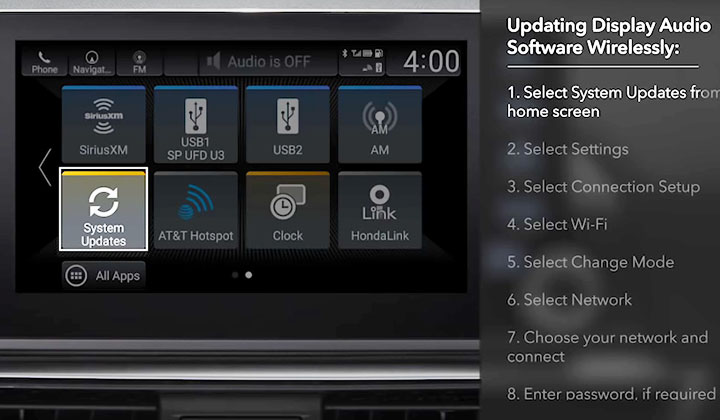 There are several ways to find out when an update is available for your car, so you can prepare yourself accordingly. You don't need any special tools or knowledge to perform an update; just access the Honda Accord's computer system through the Internet or a USB port on your car.
Be sure to keep your vehicle up-to-date by checking for new updates regularly.
Updating Your Car's Software Can Fix Issues
Updating your car's software can be a quick and easy way to fix common issues. There are a few different ways to do this, depending on your car model. Be sure to check the Honda Accord owner's manual for specific instructions on downloading and updating your vehicle's software.
Don't forget–updating your car's software is important not only for fixing issues but also for keeping your car safe and secure. Make sure you have all of the necessary information before starting the update process–you don't want to run into any problems along the way.
Connecting To The Internet And Downloading Files Is Required
In order to update your Honda Accord software, you will need to connect to the internet and download files. You can find instructions on how to do this online or in the owner's manual.
Make sure that your Honda Accord is properly connected before beginning the update process. Proceed with caution as updating your software may result in loss of data or other problems if done incorrectly.
If everything goes according to plan, you should have new updates available shortly after connecting to the internet and downloading files.
Update Process Takes Time, But It's Worth It In The End
Honda Accord owners are always looking for ways to improve the car's performance and functionality. The update process can be time-consuming, but it is well worth it in the end.
Owners should not hesitate to take their cars in for an upgrade as soon as they notice a change that could benefit them. There are various ways to go about updating the software on your Honda Accord, so do some research before making a decision.
Be patient; updates can sometimes require multiple steps and involve reinstalling certain programs on your computer or device.
Important of Updating software
Honda Accord software updates are a great way to resolve many of the issues that you may be experiencing with your car. There are multiple ways to update your Accords software, so find one that is best for you and get started.
Make sure to back up any important files before proceeding with the update process. If you have any questions about updating your Accords software, don hesitates to reach out to customer service or a specialist online. Keep in mind that not all Honda Accords require an update; it is just something worth considering if there are certain problems that you would like to solve.
FAQ
Does Honda charge for software updates?
Honda offers free OTA (over the air) updates to its vehicles, even for older models. You can schedule an appointment with your dealer to update your software, but there's no charge for the update itself.
How do I update my Honda computer?
To update your Honda computer, press the HOME button and then select System Updates. Next, connect the USB device with the updated files to the USB port on your computer.
A notification will appear on-screen letting you know that the system is updating; wait until it's completed before continuing to step 4. After finishing the installation process, restart your computer and enjoy updated features.
How do I do a system update on my 2018 Honda Accord?
The "System Updates" function is available on the audio display screen of your car, and can be done wirelessly or using a USB cable connected to a PC.
After providing necessary information such as your VIN, make & model of car, etc., press ENTER key on the central controller or touchscreen interface for further updates installation Restart the engine after installing updates if any problems arise
How do I update my Honda software USB?
Go to System Updates in the touchscreen interface of your Honda, and follow the onscreen instructions.
Once you've updated your Honda software, continue with "Check for Updates" below to make sure all updates are installed properly. If there are any problems during or after updating your software, visit our Support section for help resolving them.
Sometimes a bad update might create problem like voice command not working.
Are car software updates free?
Most software updates for cars are free and can be downloaded through the manufacturer's website or app store.
To Recap
If your Honda Accord software is out of date, you may not be able to access certain features or receive updated security updates. You can update your Honda Accord software using a USB drive or by connecting to the internet.