A ticking time bomb, a silent guardian, and the unsung hero are just a few ways to describe the timing belt tensioner in your vehicle. This small yet critical component plays a crucial role in maintaining the proper timing of your engine's valves and pistons.
However, like all mechanical parts, they can wear out over time and must be replaced. If you're curious about the cost of a timing belt tensioner replacement, you've come to the right place.
In this guide, we'll explore the factors that impact the cost of this important repair and give you a general idea of what you can expect to pay.
Whether you're a seasoned mechanic or a car owner looking to understand more about your vehicle, this guide will provide you with the information you need to make informed decisions about timing belt tensioner replacement. So, let's get started!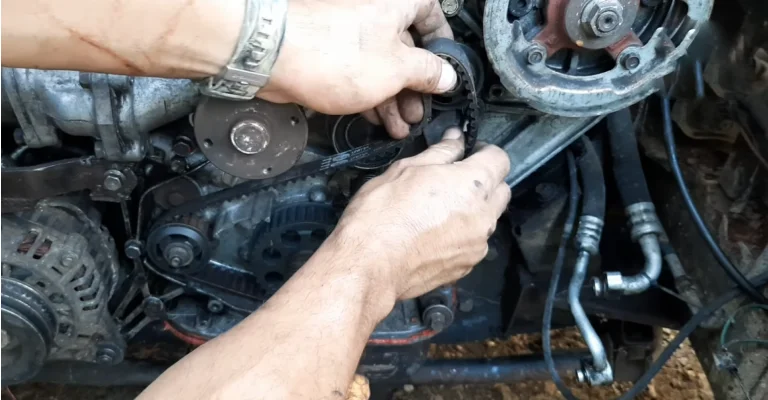 Timing Belt Tensioner Replacement Cost & Other Factors Explained
The cost of replacing a timing belt tensioner can vary depending on several factors, including the make and model of the vehicle, the location of the repair shop, and labor costs.
On average, the cost of a timing belt tensioner replacement can range from $400 to $1000 or more.
However, some high-end luxury vehicles or complex engine designs can cost more. It is best to consult with a qualified mechanic or dealership for a more accurate estimate specific to your vehicle.
How Much Does It Cost To Replace Timing Belt?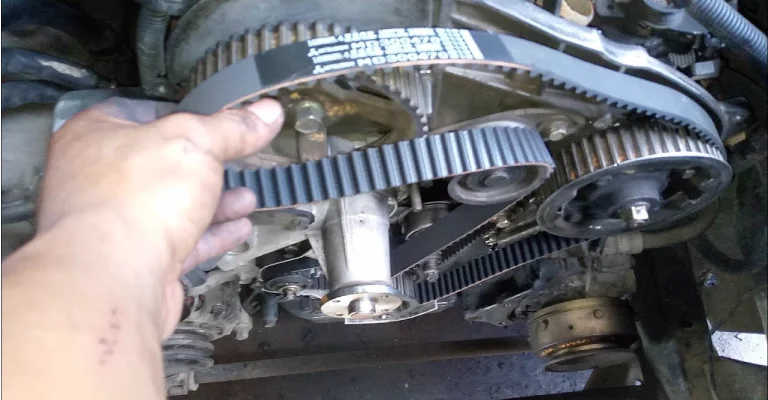 It will be expensive and time-consuming to replace your timing belt, depending on your vehicle. The average cost of replacing a timing belt before it breaks is between $500 and $1,000.
Waiting until it breaks can cost upwards of $2,000 or more. When another damage occurs during the process, it should be addressed as soon as possible.
Timing belt kits usually contain idler pulleys, the belt itself, and a tensioner. The job will be completed when all these components are replaced. A timing belt kit typically ranges between $100 and $ 350.
A timing belt usually takes between 3-5 hours to replace, which translates into costs between $400 and $1,000. Make sure you don't choose just a belt replacement. It may be cheaper, but the chances of further failure are higher.
Cost Can Add Up
It is more than just changing the timing belt that is involved in timing belt service. Despite what most people believe, this change is not just a belt change. The tensioners and idler pulleys that hold a timing belt in position all contain bearings and are subject to failure.
Timing belts drive the water pump on many vehicles as well. When replacing the water pump with a new one simultaneously, since the labor to expose the pump is being completed anyway, it is quite logical to change the unit at the same time.
The worst thing that can happen is to pay for a timing belt service and decline the water pump replacement for $100, only to find 6 months later that the water pump is leaking, and now everything needs to be replaced again.
Cost Of DIY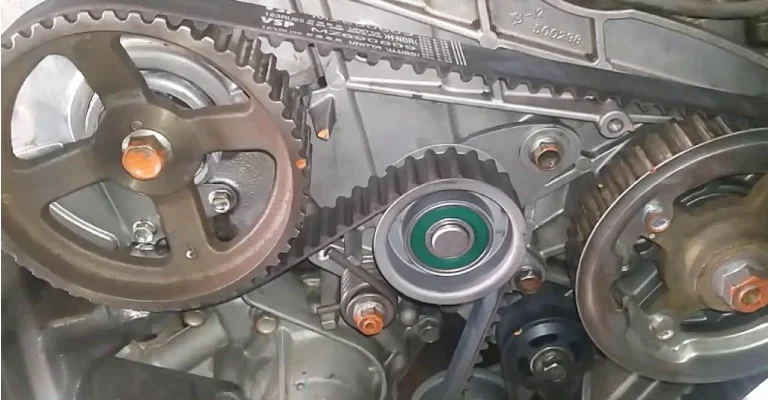 You should follow each step of removal and reassembly carefully and do as much research as possible if you decide to do the work yourself.
You may need to use a special tool during timing belt installations – don't be intimidated by this. Even though these tools are readily available, many are vehicle-specific, so there can be a lot to choose from.
Various other tricks are available online to keep the camshafts properly in place when installing the new belt, many of which do not require any tools.
Ensure that the new belt is correctly tensioned once it has been attached to the engine by hand, rotating the engine slowly and checking the belt alignment.
Whenever resistance is encountered, stop! Recheck the alignment. Timing belt failure is a severe problem, and the damage is far more severe. It is now necessary to remove the cylinder head, replace the valves, or remanufacture a new cylinder head.
By doing this, that $400-$1,000 timing belt job just went up to $3,000- $5,000. There are many times when the cost of repairing a timing belt breakage exceeds the vehicle's value.
It might be easier to DIY adjust timing belt tension rather then replacing it DIY.
Can I Replace The Timing Belt Tensioner Myself?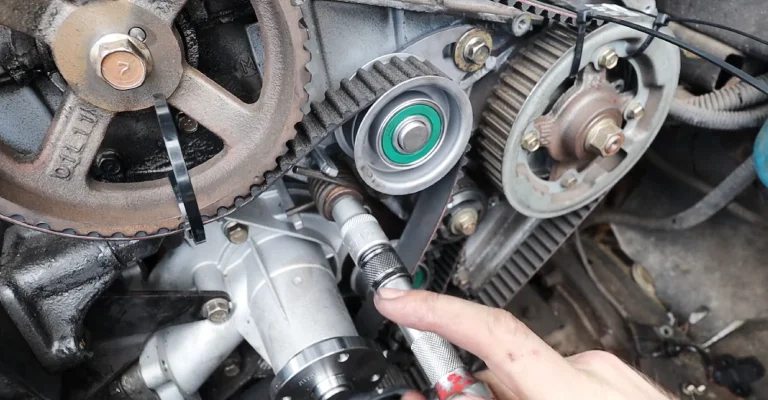 It is not recommended for the DIYer to attempt timing belt tensioner replacement since it requires removing timing components.
In order to properly perform this repair, you must thoroughly understand the internal engine components, engine timing, other systems, and several specialty tools.
What Will Happen If The Timing Belt Breaks?
A broken timing belt will cause bad things to happen. In the engine, the belt keeps the camshaft and the crankshaft in sync. The engine runs at optimum efficiency because the combustion sequence occurs at the appropriate time.
Breaking or failing the timing belt could result in the valves not opening correctly, and your car's timing might become misaligned. It can also cause misfires, loss of performance, and more if the air and fuel mixture is not ignited correctly.
The valves can become bent when timing belts fail, which is a common problem when timing belts break. It is also possible that the cylinder head and camshaft may be damaged. It's not good.
Symptoms Of A Bad Timing Belt
It won't be our purpose to teach you how to replace a timing belt. Anyone who wants to read would find that a long process.
Here are some tips to help you determine when to replace your timing belt. Having any one of the following symptoms can indicate a need for timing belt service.
Are you having trouble starting the vehicle? Is the engine running hot?
How does your car's engine perform these days? Is it lethargic and less powerful than it used to be?
Has there been a sudden shaking or vibration you've noticed?
Do you suddenly notice that your engine is leaking oil?
Have you heard a funny sound? You should investigate immediately if you hear ticking, squealing, or other knocking sounds.
Other Common Symptoms Include:
The car won't start.
There is a squealing noise coming from the engine compartment.
The timing cover makes grinding noises.
From the engine, noises of slapping or scraping are heard.
The car starts or accelerates with a rattling noise.
There is an inconsistency in the humming noise.
The RPMs of an engine will change quickly, erratically, when driven at a low speed.
How Often to Get The Belt Tensioner Replaced?
The drive belt tensioner is not subject to an interval of replacement. If there is a failure of the belt tensioner or pulleys, they need to be replaced. There is generally no need to replace them because they should most likely last the life of the vehicle.
In most cases, you won't have to replace the belt tensioner until 125,000 miles, or more have been logged, but if dirt gets stuck in the tensioner housing or it corrodes, it might be necessary sooner.
You should replace the belt tensioner if and when you have to replace the serpentine belt on an older vehicle. Check your owner's manual for information about when and how to replace the belt tensioner.
When To Replace Your Timing Belt?
There is no difference between timing belts and serpentine belts regarding the rubber composition. Eventually, after years of constant heat cycling, the rubber begins to degrade, causing the belt to fail.
Faulty timing belts usually do not provide any warning before breaking. You'll be stunned when your car suddenly dies while you're driving.
The manufacturer recommends when to replace a timing belt on every vehicle equipped with a timing belt because of the severity of a belt break. It is common for these intervals to range from 70,000 to 90,000.
Online or in the owner's manual of your vehicle, you can find recommendations specific to your vehicle.
Mileage is just a general indicator; older, low-mileage vehicles should always be considered for timing belt replacement since time degrades rubber just as much as the user does.
In other words, your 2016 vehicle has 60,000 miles on it, and its timing belt recommendation is 70,000 miles. Timing belt service must be planned at this point.
On the other hand, you own a 2001 vehicle with only 40,000 miles and minimal usage but no evidence of a timing belt change since it was manufactured.
It is time to replace this belt since it has been used for over 20 years. In either case, this is one maintenance item you cannot ignore and must plan for.
Timing Belt Safety
If you're looking under the hood of your car, you should be safe whether you're getting the timing belt changed or just visiting a shop.
If you're working on an older car, wearing gloves and eye protection is a good idea. The worst thing that can happen is something will break and send shrapnel flying.
Wearing loose-fitting clothes or dangling jewelry while working under a hood is not recommended. The danger of getting caught in a spinning belt or gear is not limited to damaging your trinkets.
Make sure you don't start grabbing random parts under the hood right after you've driven it for a while. Extreme temperatures are common in engines and engine components.
Can You Drive With A Bad Timing Belt?
You cannot do that. This could be all we need to do, but it might be best to elaborate a bit further. Keep driving if you suspect the timing belt is bad and you lose power; you may bend valves, damage your cylinder head and camshaft, and experience other engine issues. Adding up the costs can be a challenge.
Final Words
To conclude, all I can say is that it depends on the car. It may take 1 hour and a $50 kit to replace some, while it may take 6 hours and a $400 kit to replace others.
You can also do some jobs with hand tools and others with specialist tools; some require new coolant and a water pump, and others don't. Basically, you are asking the automotive equivalent of "how long is a ball of string."