Transmission fluid is a type of lubricant used in a vehicle's transmission system. It helps to reduce the friction between gears and bearings, which can cause wear and tear.
The transmission fluid in your vehicle plays a crucial role in keeping your vehicle running smoothly for years to come, so you should know how to check it.
There's no need to worry about your transmission fluid since it's so easy to check. Here is a guide that will assist you in reviewing your transmission fluid.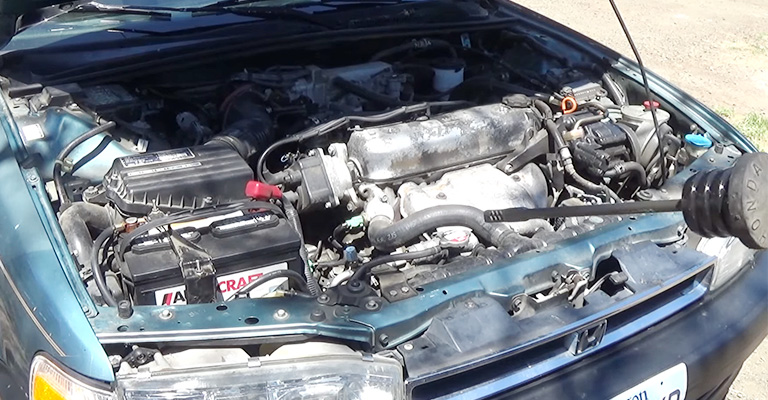 How to Check the Transmission Fluid of Your Honda Accord?
Your Honda accord transmission fluid needs to be checked frequently, how often do you do it? A monthly transmission fluid check is generally recommended for drivers.
It's important to check more often if you frequently drive on gravel roads or other uneven surfaces. These steps will help you determine if your transmission fluid needs to be changed:
Before you check your transmission fluid level, turn your car on so the engine has warmed up. The Honda transmission fluid check does not require the engine to be running; the engine does need to be warm but not hot. Before shutting off the engine, run it for about five minutes and cycle through all the transmission settings.
To check the transmission fluid, find the dipstick. The oil dipstick usually sits right next to it on front-wheel drive cars. If you cannot locate it using this method, consult your owner's manual for guidance.
Below a large coolant cable, you'll find the yellow or orange transmission dipstick buried between the engine block and the battery. Use a paper towel to wipe it clean after pulling it out. Then, replacing it is as easy as putting it back in and pulling it out again.
Put your thumb and pointer finger over the dipstick and touch the fluid. The fluid of a healthy transmission should be near clear with a little pink tint. It's time to replace your transmission fluid if it smells burning or is dirty.
See what the fluid looks like. The old fluid must be drained completely and replaced with new fluid if it's dark brown or black and smells bad. Reddish fluids are fine if they are reddish. You can check the level of transmission fluid by checking the crosshatch.
Fill the tank with a full quart of fluid if the fluid levels are below the crosshatch. Add half a quart of fluid if the crosshatch is less than halfway up the dipstick.
Remove your dipstick from your vehicle and wipe it clean with a rag. Then, recheck the level with the dipstick.
You should add more transmission fluid if its level is below the marking that indicates fullness. Be careful not to overfill the funnel when adding transmission fluid.
Pour In Transmission Fluid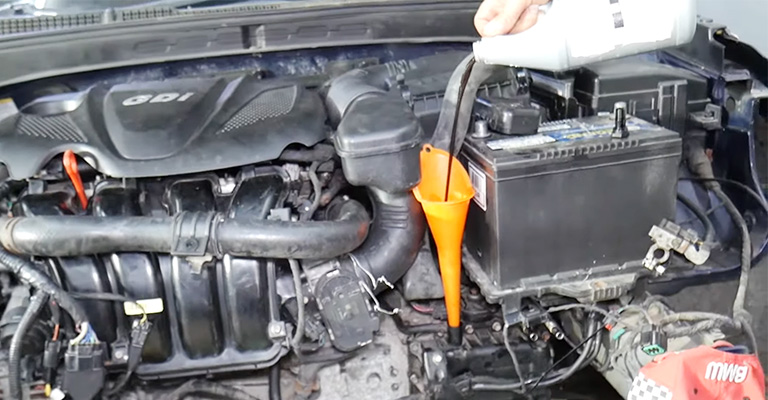 Some Honda transmissions have a dipstick plug too small for a funnel, but you can pour in the fluid through a separate plug labeled ATF. Fill the plug with Honda ATF-DW1, a half quart to a full quart at a time, using the funnel.
You'll want to use Honda's transmission fluid because Honda transmissions are very sensitive to other fluids. Ensure you don't overfill the dipstick after checking the amount on the dipstick. When the fluid level has been correctly measured, secure the dipstick.
What Happens When You Drive With Low Transmission Fluid?
If your transmission fluid is low, your vehicle's components will be permanently damaged. In addition, the cost of repairing or replacing your transmission will be high if you damage it. Therefore, regular inspections are important for your car.
As soon as you get your transmission fluid low enough, you will notice a difference in your driving. These problems include hard shifting. The car will jolt forward or back when you experience hard shifting. When your fluids are low, you'll have difficulty shifting.
The transmission can also overheat when low on transmission fluid. Transmissions overheat when the transmission fluid is low or out since there is nothing to lubricate and dissipate heat.
It is best to have your vehicle serviced by a mechanic to prevent low transmission fluid. The transmission fluid level can be checked by a mechanic on some newer cars without a dipstick.
What Are The Signs Of Low Transmission Fluid?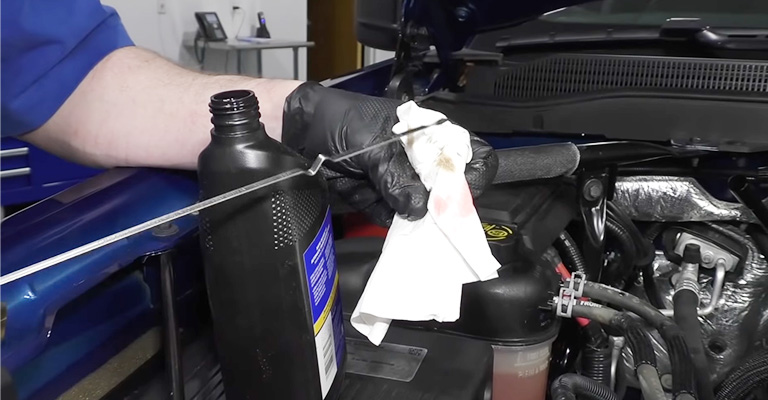 The consequences of driving a vehicle with low transmission fluid are numerous. The following are some of the signs you must keep an eye out for to determine if you are low on transmission fluid.
Stepping on the gas does not accelerate the car
The limp mode
Noise
There is a burning smell
Under your vehicle, you may find puddles of fluid
Issues in shifting
Vibrating and shaking
A low transmission fluid can cause your car to shake or make grinding noises. Your car may also not speed up even if you increase the RPMs and step on the accelerator.
In addition, you can inspect your car visually to determine if it is running low on fuel. For example, a puddle of fluid underneath can may be caused by a leak, or your check engine light may indicate that something is wrong with your vehicle.
Transmission Fluid Facts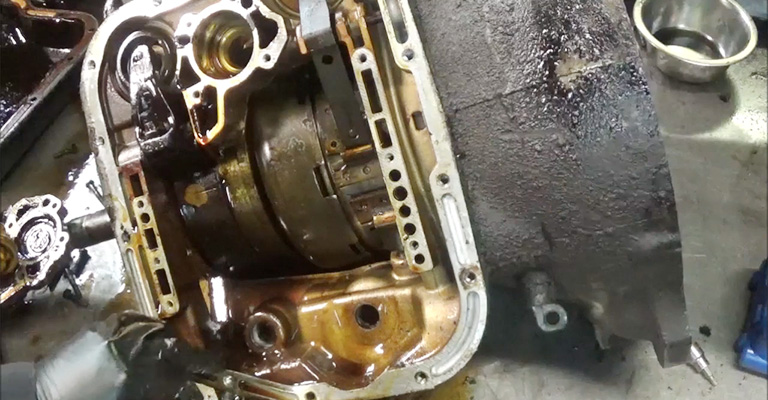 As you learn how to check transmission fluid in your Honda, you'll be interested in finding out more about transmission fluid facts! Here are some things you should know:
The interval between transmission fluid changes should be between 50,000 and 100,000 miles.
The vehicle may hesitate as you shift gears if the transmission fluid is low, or it may be a sign of something more serious. A service appointment is definitely necessary in this case.
Manual cars often have a plug under the car that you'll need a jack to access. Again, our service professionals are the best people to handle this task unless you are very skilled.
Cars with more recent model years have sophisticated transmission fluid, while older models have less sophisticated fluid.
Additionally, different types of fluid are available for manual and automatic transmissions. To determine which transmission fluid is recommended for your car, consult your owner's manual.
What Is The Cost To Change Transmission Fluid?
Maintaining the health of your transmission fluid is one of the best ways to keep your vehicle in good condition. Transmissions transmit power from the engine to the wheels, which makes them an essential part of a car. Depending on who performs the transmission fluid change, the process will differ.
The cost of bringing it to a dealership will range from $150 to $250.
In the range of $80 to $150, it will cost to have it serviced by a mechanic.
It will cost between $50 and $100 to change the transmission fluid yourself.
When Checking Transmission Fluid Level
Check your user manual for more information if you can't locate your dipstick or if your car doesn't come with one. For example, some newer models may not be a dipstick visible on the engine bay.
In that case, you should check your user manual for directions. The inspection plugs on some transmissions are only located on the side of the case, so special procedures must be followed to inspect them.
Final Words
If you are unfamiliar with changing the transmission fluid on your Honda Accord, we recommend bringing it to a mechanic or dealer.
Additionally, they will keep track of when your transmission fluid was changed and when you need to have it changed again. Repairing or replacing your transmission will be very expensive, so maintaining it is essential.