The Honda Accord is a popular vehicle that is known for its fuel efficiency and reliability. However, like any other car, the Honda Accord can have problems with the fuel injector.
The fuel injectors are responsible for delivering gasoline to the engine. If they are clogged or dirty, then it will lead to poor performance and engine failure.
To avoid these issues, it is essential to deep clean your Honda Accord's fuel injector periodically. This article will describe how to deep clean a Honda Accord's fuel injector to keep it running smoothly.
Over the years, I have discovered several cleaning methods for the engine's internal parts. The following are the things I've read so far:
Run cleaners through the fuel injection system by pouring them into the gas tank
Cleaning the carb cleaner out of the IACV after removing it
The brake booster hose is sprayed with Seafoam liquid
The intake manifold and throttle body should be sprayed with carb cleaner while the engine runs. Fuel injection systems will be cleaned out by pouring the stuff into the gas tank. Many different products are used, including BG 44k, Seafoam, etc.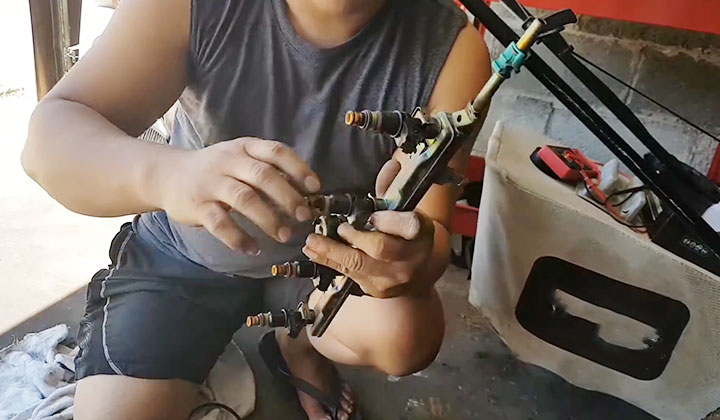 How to Clean Fuel Injectors in Your Honda Accord Without Removing The Fuel Injectors?
It is very common for vehicles to accumulate carbon in the engine and fuel injectors as they age, causing them to burn a lot more gas. As a result, it is possible to have your fuel injectors clogged up, resulting in more gas being consumed than you need. However, you can solve this problem quickly.
1. Using a Fuel Injector Cleaning Kit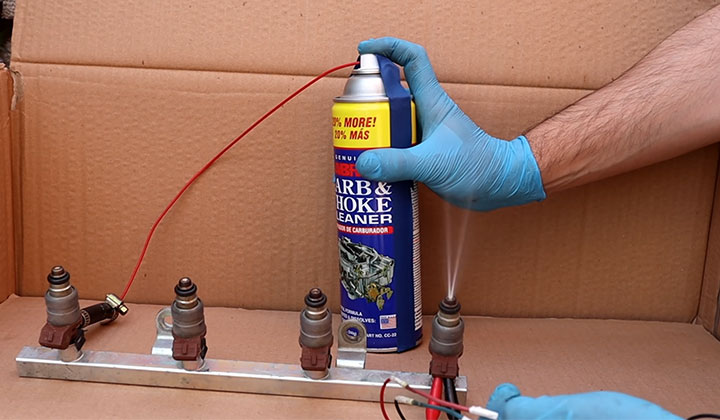 You can use fuel injector cleaning kits for most vehicles but check the package or ask a store clerk for details. Clean your fuel injectors with a PEA cleaning fluid by purchasing a fuel injector cleaner kit.
Ensure the cleaning kit you purchase is suitable for your vehicle type. Fuel injector cleaner should be included in each kit and a hose to connect to the fuel rail and injectors.
If you want the best results, use a cleaning fluid that contains polyether amine (PEA), which dissolves thick carbon deposits more efficiently than other ingredients.
A cleaner with polyisobutylene amine (PIBA) removes and prevents buildup, but it is milder and less effective than one with polyethylene amine (PEA). It is possible to avoid new deposits with polyisobutylene (PIB) cleaners, but existing deposits will not be removed.
2. Review Your Vehicle's Engine Layout To Locate The Fuel Injectors
You may have difficulty finding your fuel injectors because different engines have different layouts. The location of the fuel injectors in your vehicle can be found in the manual. This information can also be found online by searching for your vehicle. Under the hood, you will find fuel injectors.
3. Disconnect The Fuel Pump From The Fuel Injectors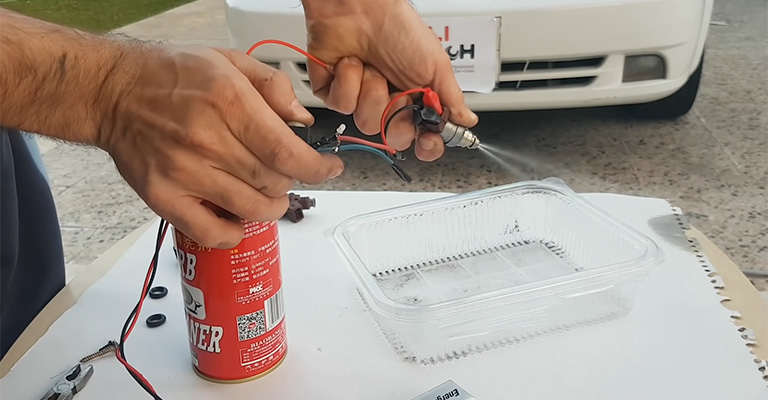 On the side of the engine, you will find a fuel pump that needs to be braced. You will need to gently pull the fuel injectors out of the pump to remove them.
When the injectors are removed, connect the fuel return line to the fuel pump so the gas will return to the tank while the injectors are being cleaned.
Alternatively, a U-tube can be inserted to funnel the gas into the tank. Finally, ensure that the fuel injectors are properly disconnected by following your vehicle's manual instructions.
4. Disconnect The Pressure Regulator Vacuum Line If You Have One
Search for the vacuum line attached to your vehicle's fuel pressure regulator if it has one. Attach a bracket just above the vacuum line's connection to the regulator. You can disconnect it by gently pulling it out.
You may need to perform this step based on your vehicle's manual. Just behind the fuel injectors is usually where you'll find the regulator.
5. Connect The Cleaning Kit To The Fuel Port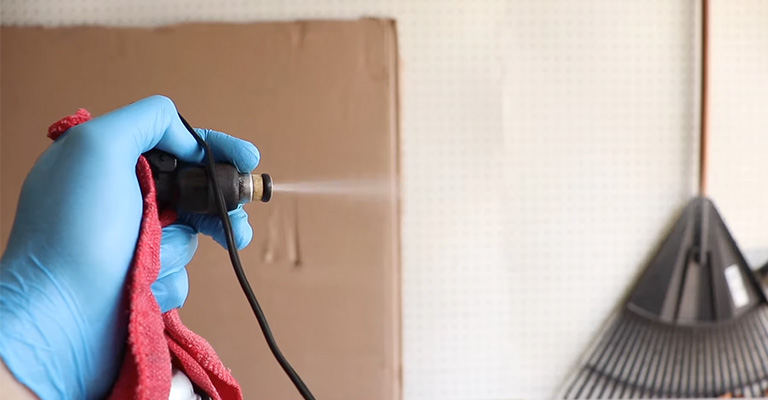 You should be able to find the fuel port attached to the fuel rail of your engine. Attach the hose and fitting to the port according to the detailed instructions provided in your cleaning kit.
Kits will differ, but you should ensure that you properly attach the fitting to the port and hose. Because the cleaner is flammable, ensure that the injectors do not come into contact with fuel.
6. Remove The Cap From The Fuel Tank To Prevent Pressure Buildup
A cleaning solvent will be injected into the fuel injectors under pressure to remove debris and grime. Before starting the cleaning, remove the tank cap. By doing this, you will prevent excessive pressure from accumulating, which could cause combustion.
7. Turn The Vehicle To Let The Cleaning Fluid Into Your Injectors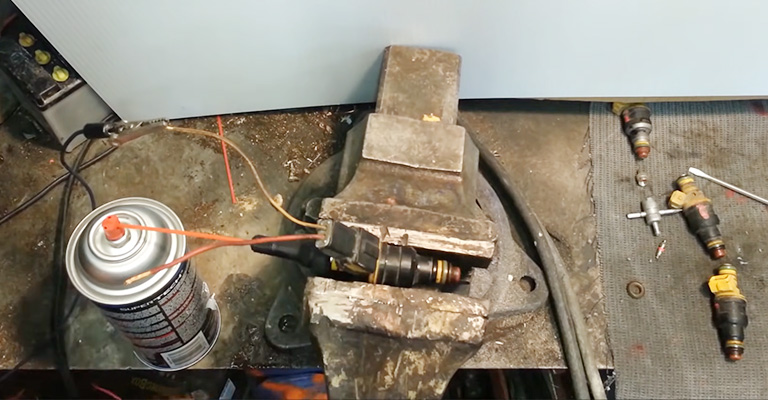 Be sure to turn off your fuel pump. Turn on your engine and let it run for a while. Upon exhaustion of the cleaning fluid, the motor will stop running automatically. Cleaners cycle through injectors and wear out within five to ten minutes.
8. Remove The Cleaning Kit And Reattach Your Pump And Injectors
Disconnect your fuel port's hose and fittings. Attach the power supply to the fuel pump and the vacuum hose to the pressure regulator. Return the fuel cap to its original position.
9. Turn The Vehicle On Again To Make Sure The Fuel Injectors Work
Starting the engine can check that everything has been reattached correctly. You should pay attention to any abnormal noises which may indicate a problem.
Make sure the vehicle runs smoothly by driving a short distance. Contact a professional auto mechanic if you notice abnormal noises after following the procedure correctly.
Alternative Fuel Injector Cleaning Options
As for the decarbing and cleaning, I plan to follow these steps:
Fill the tank with gas and pour one can of Seafoam in it
When the engine is running, run two-thirds of a can of Seafoam through the brake booster vacuum line
Run the engine for a few miles (a short, spirited drive) after adding 1/3 can of Seafoam to the crankcase
Put 1-2 tablespoons of Seafoam in each cylinder and run for a few miles (spirited drive) once it has set for 15 minutes.
Through the intake manifold and throttle body, spray Seafoam Deep Creep
My next step will be changing the spark plugs, fuel filter, and oil after completing all the steps above. I am looking to do this. I know it's safe to use in the gas tank and won't cause any problems.
You won't have any problems running it through the brake booster vacuum line, provided you only use a little at a time and let the car absorb it slowly. Using the crankcase is the only thing I am partially convinced of.
Does Fuel Injector Cleaner Work?
The short answer is that fuel cleaners work if they are used regularly. Removing harmful deposits, preventing new deposits from forming, and enhancing vehicle performance can help enhance your vehicle's performance.
In addition, there are many benefits to using fuel additives, including improved gas mileage, lower long-term maintenance costs, and affordability.
As part of the Top Tier fuel program, some brands of gasoline meet higher fuel standards while others only meet minimum federal standards. This means that the amount of carbon inside an engine varies as well. Injector cleaners play a crucial role here.
How Well Does Fuel Injector Cleaner Work?
The fuel injector cleaner works, as we've already mentioned. It works to varying degrees, however. A lot depends on the quality of the gas, the age and condition of the engine, and other things.
You need a higher additive concentration than pump gas to remove heavy, long-term deposits. Fuel injector cleaners are added to some pump fuel brands.
If you want your injectors to be free of deposits, you should use a Top Tier fuel. Fuel injection cleaners: when do you need them? You should change your oil every time you change your car.
When you notice rough idling or irregular combustion, add a fuel system cleaner at regular intervals to help prevent mechanical issues. Compared to gas engines, diesel has more properties that need protecting, which is why there's a need for diesel injector cleaners.
Fortunately, injector and fuel system cleaners are relatively inexpensive. Of course, adding them to your maintenance schedule won't hurt.
Note From The Author:
Avoid skipping yearly cleanings if you cannot perform them on your own. Instead, it is recommended that you have the fuel injectors in your vehicle professionally cleaned every year.
Before you decide where to take your car for cleaning, check with local repair shops for price estimates. Although this will cost you money, it will prevent future engine problems that could prove costly.
It is recommended that you replace your fuel injectors if they are showing signs of malfunction. To ensure that your vehicle functions properly, fuel injectors may sometimes need to be replaced entirely. Immediately bring your vehicle to a mechanic if you suspect fuel injectors malfunctioning.
It is recommended that you clean your fuel injectors once a year. Preventing the buildup of harmful deposits can be achieved by using a fuel injector cleaning kit every year.
You may hinder the function of your vehicle if you don't clean regularly. For example, carbonaceous deposits will grow and harden if you don't clean them regularly. Organize a yearly reminder on your phone or computer, or time it with something similar, such as changing the oil in your vehicle.
Final Words
That is all there is to know about how to deep clean the Honda Accord fuel injector. To maintain the car's performance, it is necessary to keep the car's engine in good condition. This is usually the easiest and best way to clean fuel injectors without removing them.