Various things, including a damaged hose or a faulty vacuum valve, can cause a vacuum leak in a Honda Accord. The best way to diagnose and fix a vacuum leak is to take the car to a mechanic who is experienced with working on Honda Accords.
They can use a diagnostic tool to pinpoint the source of the leak and repair it. If you are experiencing a vacuum leak, having it fixed as soon as possible is important, as it can lead to poor engine performance and reduced fuel efficiency.
To find a vacuum leak in a Honda Accord, you can first try using a vacuum gauge to test the engine's vacuum level. If the vacuum reading is lower than it should be, there may be a leak.
You can also try using a spray bottle filled with soapy water to help locate the source of the leak. Spray the soapy water around the vacuum hoses and any other areas where a leak may occur, such as the carburetor or intake manifold. If you see bubbles forming, it indicates a leak in that area.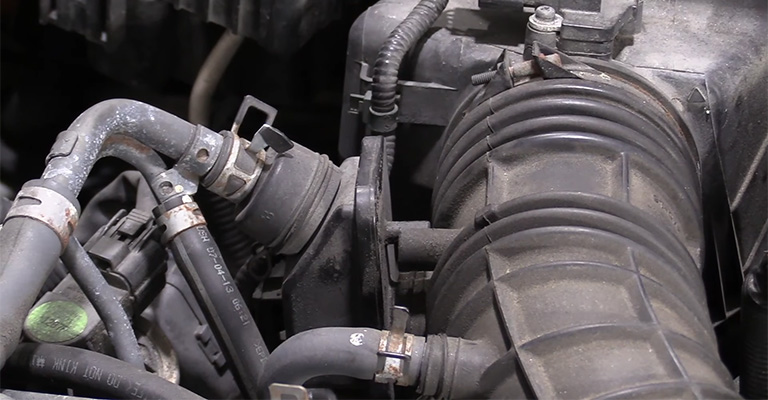 Reasons A Honda Accord Has A Vacuum Leak
There are several reasons why a Honda Accord (or any vehicle, for that matter) might develop a vacuum leak. Leaky vacuum hoses failed gaskets and seals, or faulty actuators and valves are the most common causes of vacuum leaks in Honda Accords. Some other possible reasons include the following:
A Cracked Or Damaged Vacuum Hose:
The vacuum hose is a rubber tube that carries air from the engine to various parts of the vehicle, such as the brake booster and the air-fuel mixture control valve. Over time, these hoses can become brittle and develop cracks or leaks, which can cause a vacuum leak.
A Faulty Or Loose Vacuum Fitting: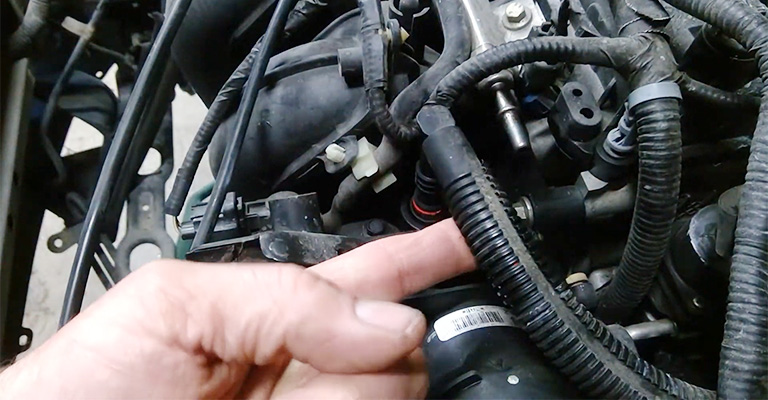 The vacuum fittings are the connectors that attach the vacuum hose to the various components in the vehicle. If a fitting is loose or faulty, it can cause a vacuum leak.
A Worn Or Damaged Gasket:
The gasket is a rubber seal that helps to prevent air from leaking between the various components in the engine. If the gasket is worn or damaged, it can cause a vacuum leak.
A Worn Or Damaged Vacuum Pump:
The vacuum pump is a mechanical device that helps generate the vacuum needed to operate certain vehicle parts. If the vacuum pump is worn or damaged, it can cause a vacuum leak.
What You Need to Know About Vacuum Leaks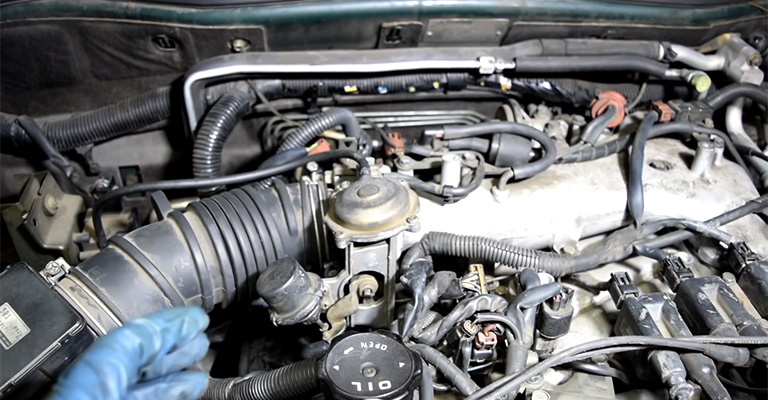 The first thing we need to understand is what a vacuum leak is. The downward motion of the piston creates a vacuum that draws in air and fuel for internal combustion.
The cylinder draws fuel into the bore through the intake system as the piston travels downward. Air can enter the system through abnormal means or not through the induction system if there is a vacuum leak. That's not good.
It is possible to enter the engine through the intake system through damaged or faulty gaskets, cracked or damaged hoses, and even broken components. Outside of just the engine, many other parts utilize the engine vacuum.
Engine vacuum can power brakes, power steering, PCV valves, and even the cabin climate control system. Various systems in cars utilize engine vacuum, so you can imagine how difficult it can be to pinpoint a leak.
You can find your car's vacuum system diagram under the hood, online, or in your dusty manual. Although this information will not help you find a vacuum leak, it will tell you all the places you need to look for one.
It is, however, extremely important that you research your exact vehicle's system thoroughly, especially if it has been modified.
How To Find Honda Accord Vacuum Leak?
Engine performance and fuel injection computer efficiency are adversely affected by vacuum leaks. Eventually, a severe vacuum leak will cause the air/fuel mixture trouble codes to illuminate (such as P0171 or P0172).
In this section, I will explain three types of tests that can be done to find the source of the vacuum leak.
Vacuum Leak Detection Basics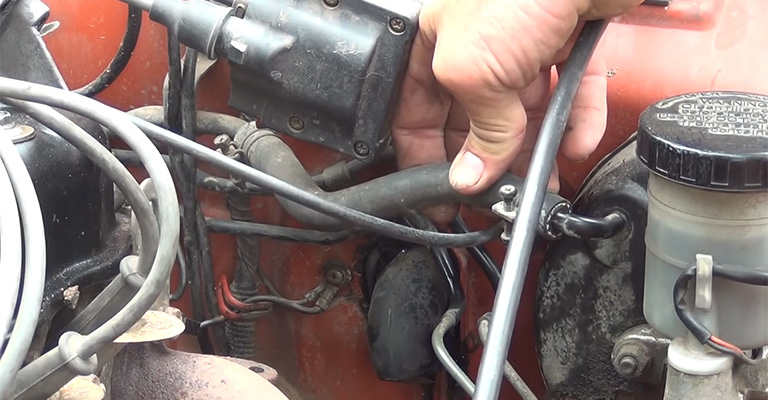 Leaks can occur on the Honda Accord engine in several places, but you should always visually inspect the vacuum hoses first.
Ensure that the vacuum hose routing diagram on the vehicle emissions label (on the hood) includes the following information:
Whether each vacuum hose is in good condition and fits properly, there should be a tight fit between the vacuum hoses and the metal lines or vacuum ports.
The routing of a vacuum hose. Make sure they are connected to the right component or vacuum port.
A repair manual will help you if your Honda Accord (Odyssey) is missing its vehicle emissions label.
You can perform a vacuum leak test with a carb-cleaner, propane, or water if the engine's vacuum hoses are fine and you still suspect a leak.
Using Water To Detect A Vacuum Leak
Spraying water around a suspected vacuum leak is another method of locating it.
The process is as follows:
Starting the engine.
Water is sprayed onto/around suspected vacuum leak areas during engine idling using a water spray bottle.
A vacuum leak will be temporarily sealed by water wherever it is present.
A noticeable difference will be observed in the engine's idle as a result.
The vacuum leak is located wherever spraying of water changes the engine's idle.
Using A Propane Torch To Find The Vacuum Leak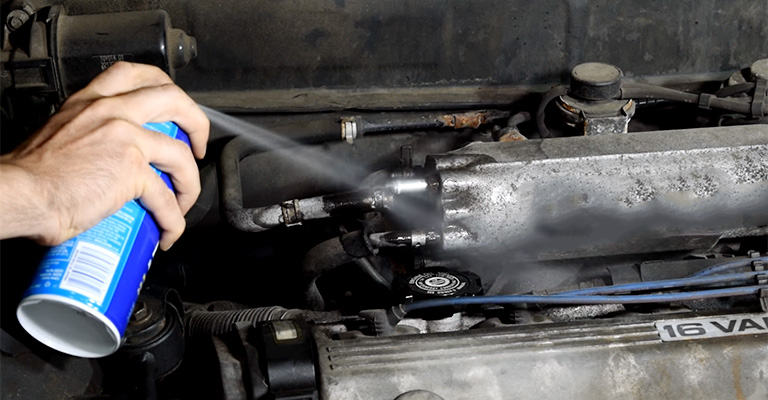 Another very common test is to use an unlit propane torch to locate the vacuum leak source (something I have personally done several times).
Basically, it works as follows:
Connect the torch's outlet nozzle to the propane tank using a hose.
The engine has been started.
An open propane torch is used to release propane on/around the areas suspected of vacuum leaks while the engine idles.
The propane is sucked into vacuum leaks wherever they exist.
Eventually, the mixture of air and fuel will stabilize, and the idle will change dramatically.
Vacuum leaks occur wherever propane releases cause a noticeable change in idle.
A cold engine is also necessary for this test. You should stop the test once the engine reaches normal operating temperature.
Using Carburetor Cleaner To Find The Vacuum Leak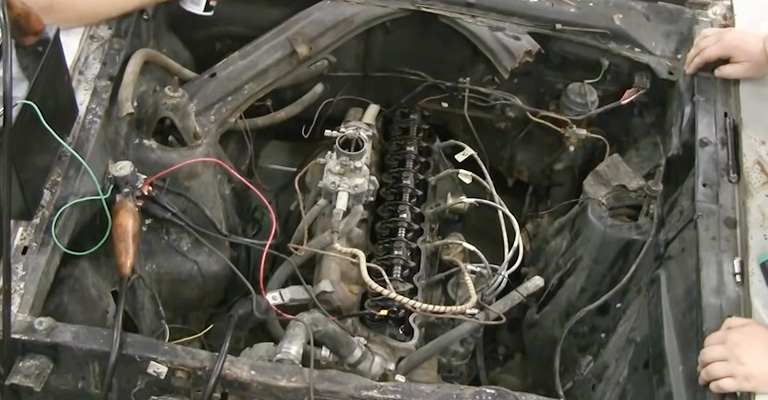 An old mechanic's technique is to use a carburetor cleaner spray (most commonly called air intake cleaner) to locate vacuum leaks (especially around the throttle body gasket or intake manifold gasket areas).
It works this way:
The engine has been started.
The carb-cleaner is sprayed onto/around the suspected locations during engine idling to find any suspected vacuum leaks.
Carb-cleaners are sucked into vacuum leaks wherever they are present.
Eventually, the mixture of air and fuel will stabilize, and the idle will change dramatically.
Spraying the carb-cleaner causes a noticeable change in the engine's idle, so that's where the vacuum leak is located.
There is a risk to spraying the carb-cleaner around a hot engine since a hot exhaust manifold can ignite the carb-cleaner.
Cold engines are recommended for this test to mitigate this risk. You should no longer spray the carb-cleaner once your engine has reached normal operating temperature.
In addition, you should use short sprays of carb-cleaner around the suspected leak area instead of a continuous stream.
Safety Tips For Finding Vacuum Leaks
Protect yourself whenever you work under the hood. When trying to locate vacuum leaks, it's easy to lose a few fingers or build a barbecue. Here are a few safety tips to keep in mind if you don't want to be at dinner.
Mind your Flammables:
A running engine is sprayed with flammable fluids or gases during some tests. It is important to be aware of the risks associated with these substances and to control their direction to the greatest extent possible.
Keep Your Fingers Clear Of Moving Parts:
Most of the tests we highlight will be run with the engine. No matter what gloves you wear, you shouldn't forget to be careful around the fan and other moving parts.
Include The Usual Suspects:
A running engine is under the hood of your car. To protect your goods, you should put on safety glasses and gloves.
Honda Accord Vacuum Leak Symptoms
Vacuum leaks create lean conditions when they occur. In essence, it throws off the fuel and air mixture, which will impact the vehicle, but how it affects it will depend on a few things.
Air and fuel are constantly monitored and corrected by modern cars using an O2 sensor. As a result, when a vacuum leak is present, the engine attempts to correct the mixture by sending more fuel to compensate for the air influx. Usually, this results in a high idle speed.
On older vehicles with carburetors, the system cannot enrich fuel mixtures on its own. To correct it, you probably have to add way more fuel than normal to stabilize things, which leads to a rough idle.
Considering this information, you should note that vacuum leaks can be easily found using your ears. You'll hear the engine's running condition changes as you troubleshoot many of the steps mentioned here.
What Does A Vacuum Leak Sounds Like?
A vacuum leak can produce a variety of sounds, depending on the location and severity of the leak. Some common sounds associated with a vacuum leak include a hissing noise, a high-pitched whistling noise, or a sound similar to an engine misfiring.
In some cases, a vacuum leak may not produce any noticeable sound at all. If you suspect you have a vacuum leak, it's best to have a mechanic check your vehicle to diagnose the problem.
Will A Vacuum Leak Throw An Engine Trouble Code On A Car?
Yes, a vacuum leak can cause the engine computer to throw a trouble code. A vacuum leak can affect the air-fuel ratio of the engine, which can cause a variety of issues including reduced engine performance and reduced fuel efficiency.
Depending on the severity of the vacuum leak and the specific vehicle, it may trigger a check engine light and set a trouble code. It's always a good idea to have your vehicle checked by a mechanic if you suspect there may be a vacuum leak.
Cost Of Repairing A Vacuum Leak
The cost of repairing a vacuum leak can vary depending on the cause of the leak and the specific vehicle. In some cases, a vacuum leak can be repaired relatively inexpensively by tightening a loose hose or replacing a faulty gasket.
In other cases, the repair can be more complex and costly, such as if the leak is coming from a vacuum pump or the intake manifold. It's best to have a mechanic diagnose the problem and provide an estimate for the repair cost.
Final Words
Overall, vacuum leaks can be caused by various factors, including wear and tear, damage, and faulty components. If you think your Honda Accord has a vacuum leak, it's important to have it checked by a qualified mechanic as soon as possible to avoid further damage to your vehicle.