In the compact car market, the Honda Civic has established itself as one of the most stylish and safest models on offer.
However, when you are involved in a fender bender, your Honda Civic bumper cover may experience large dents or cracks that may reduce its ability to absorb impacts in a low-speed accident as a result.
It is possible that your bumper could fall off your vehicle for a variety of reasons. A rear-end accident is one of the most common causes of these accidents.
There is usually a small amount of damage left behind by these accidents, and they are usually targeted primarily at the bumper. It is the bumper that absorbs the impact so that no other part of the vehicle is damaged.
You might be wondering if this happens to you, how much does it cost to fix a bumper that is falling off, and how much does it cost to put it back on your vehicle?
Are You In Need Of A New Bumper?
Why not try fixing it? If you don't have the time to do it yourself, you can hire a professional to do it for you. However, you may not be able to get a professional body shop to help you with this job if your bumper is too badly damaged.
If they can fix it, it may just be an adjustment and a few bolts, and you're good to go. There have been instances where people have rehung their bumper using Duct tape, although this is not recommended.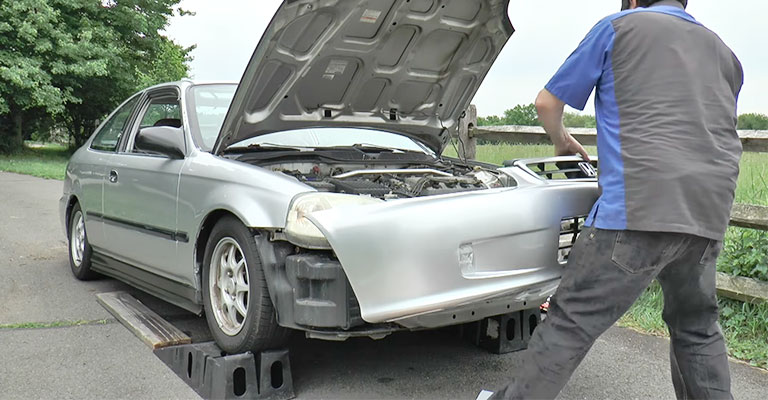 This method or something similar like wire or a clothes hanger could be used to hang your bumper to get to a body shop. However, these methods are not recommended for everyday use or for increasing speed during activities.
Putting A Bumper On Your Own And Hanging It
It's always cheaper to do minor repairs yourself, such as tightening a few nuts, bolts, or screws, if your bumper needs that. However, if your bumper isn't as good as it should be, then you'll be looking for a replacement.
When you look on eBay, Craigslist, or in a junkyard, you might find a bumper in good condition for about half the price of a new one.
The part you need is available at most dealerships that deal with the make and model of your car; you can also check Amazon: automotive, carparts.com, RockAuto.com, and other automotive outlets.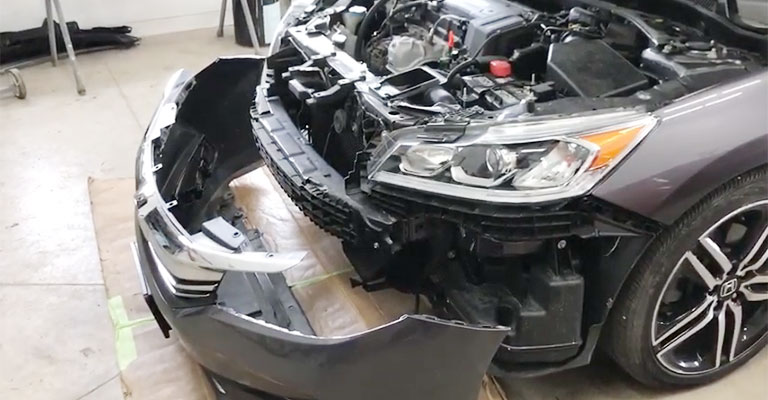 The choice of paint for your bumper is now yours. Having the ability to do the painting yourself is great, and you've just saved some more money. It is best to leave the painting to the professionals if you do not know how to paint auto parts.
A Guide To Replacing The Front Bumper Clips
In order to fix your bumper clips, you can try the following:
To begin with, you may want to consider buying new bumper clips for both sides. Unless your Honda is very old, consider replacing the other clips as well, even if only one side of the bumper is dangling.
You can save time by performing preventative maintenance. It is necessary to loosen the bumper screws in order to install the new clips. Pop off the front bumper in order to do this.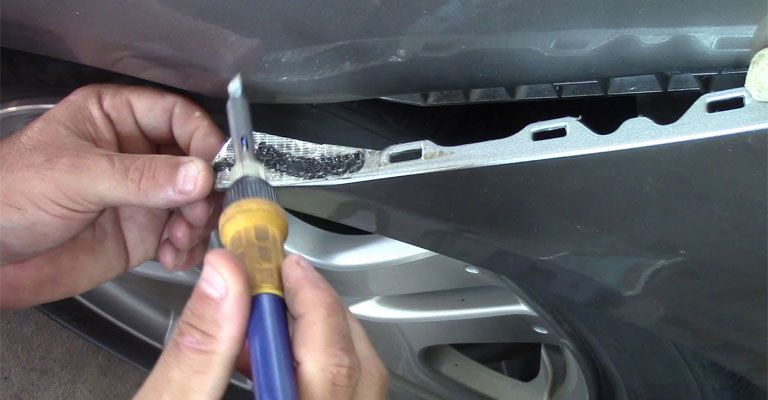 If the broken clips are located in this area, you should be able to access them. The bumper should be replaced after the new clips have been installed.
Should I Replace Or Repair A Hanging Bumper?
A bumper repair is less expensive than a bumper replacement. For example, a $15 epoxy can sometimes fix a loose or hanging bumper. New bumper covers cost between $200 and $1500, depending on your vehicle type.
When it comes to fixing a Honda Civic front bumper, how much does it cost? It depends on the model and year of the vehicle and how much it costs to replace a Honda Civic bumper.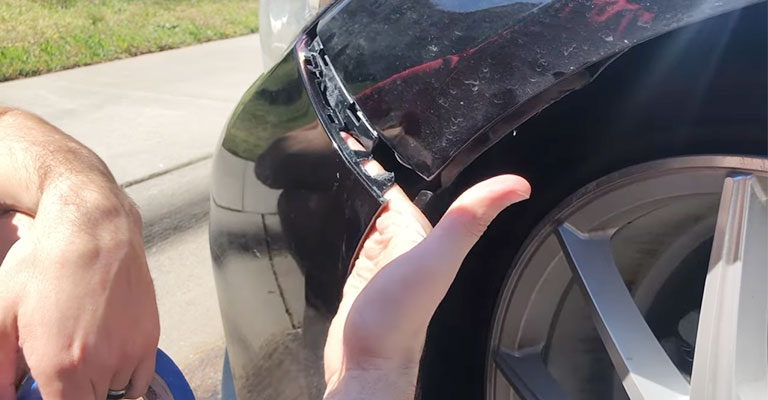 There is typically a range of $130 to $1400 for OEM replacement parts. You can purchase bumper covers individually, in two packs, or as part of a kit.
What Is The Cost Of Fixing A Loose Front Bumper?
The cost of a new bumper for a passenger car ranges between $100 and $1,000, according to Cost Helper. In addition, between $200 and $600 can be spent on installing and painting a new bumper. There will be a higher cost for bumpers on pickup trucks, SUVs, and luxury cars.
What Is The Labor Cost For A New Bumper?
It depends on the shop or dealership you take the bumper to how much it will cost to paint and hang the new bumper. It will cost you about $900 – $1,500 to paint the bumper and hire labor to install it.
The price difference between a good shop and a bad one is probably not that great. However, if you incorporate headlights or parking lights into the bumper, you will pay more, and if you integrate cameras and sensors into the bumper, you will pay more.
How Does Insurance Work When It Comes To Bumper Repair?
If you live in a no-fault state, then you will usually be held responsible for hitting the person in front of you.
A no-fault insurance state requires that your insurance pick up the tab regardless of who caused the accident. Knowing what your insurance covers make it easy to see why it is so important to have insurance.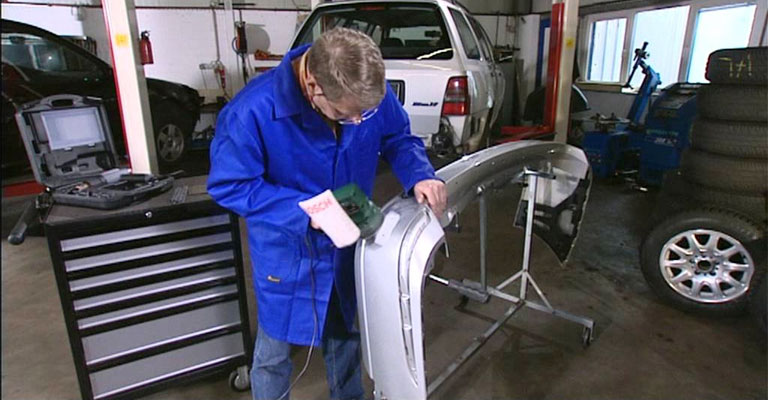 What Is The Insurance Deductible?
In order to reduce their monthly insurance payments, some people opt for a higher deductible. If this is the route you want to take, you might be better off getting an estimate for the damage.
In cases where the damage is less than the deductible, it is best to pay for repairs yourself. If you pay more than the repair costs and do not pay the deductible, your insurance premiums will increase.
Can You Drive With A Loose Bumper?
It's generally unsafe to drive with a loose bumper even though it won't directly affect your driving. The bumper can only be secured to the vehicle using zip ties or mounting clips if there is a small section of the bumper that is loose. If you have a loose bumper, you may be pulled over by the police and given a ticket.
Does Driving Without a Bumper Make You Illegal?
Even though your car doesn't run better without a bumper, the police can pull you over for defective equipment and issue a fix-it ticket or a fine in conjunction with the ticket.
The police would be much more likely to pull you over if you had a dragging bumper as opposed to having no bumper. In the meantime, tie or tape the bumper up until the repair has been made or remove the entire bumper if you need to wait a few days.
Final Words
Most often, the technician will determine whether it is possible to repair or replace the bumper. A bumper that's only scratched, dented, or otherwise damaged on the surface is still a good candidate for repair. The best option, however, is to replace the bumper if it is cracked or badly damaged.