During combustion, fuel and exhaust gases are recirculated into the engine through the Exhaust Gas Recirculation system. This helps control emissions. The EGR port in your Accord intake manifold is connected to each runner through an EGR port panel with openings or provisions in each port.
The EGR system, located on top of your Honda intake manifold runners, is constantly in operation while you are driving. The tailpipe emissions of your engine are reduced when you route excess exhaust, unburnt fuel, and other gases created during the combustion cycle back into your intake manifold.
Your Honda ECU will set an error code P0401 when the EGR valve, or the ports that connect your 2.3 liters F23 Honda engine to the EGR system, becomes clogged or fails to function.
P0401 Insufficient EGR Flow is the diagnostic code corresponding to this OBDII code. Clogged intake manifolds or faulty EGR valves are signs that your intake manifold or EGR panel needs attention.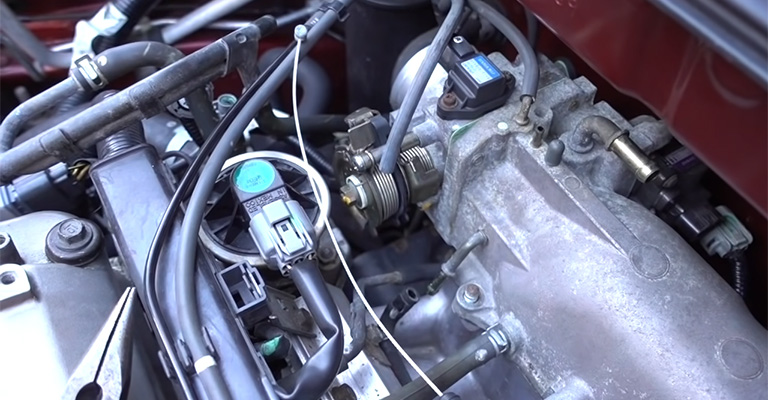 P0401 Honda Code Definition: Exhaust Gas Recirculation Insufficient Flow
Oxygen oxides (NOx) are reduced by exhaust gas recirculation (EGR). When combustion temperatures are high, NOx is produced.
NOx emissions are reduced by circulating inactive exhaust gas back into the air/fuel mixture, which lowers the peak combustion temperature.
An EGR valve position sensor detects the valve lift amount by installing it inside the valve. To optimize exhaust gas recirculation depending on driving conditions, the powertrain control module (PCM) stores the target valve lift command.
The PCM controls the EGR valve to make the actual valve lift equal to the command value by comparing the command value to the EGR valve position sensor output signal value.
If the output value of the EGR valve position sensor differs significantly from the command value stored in the PCM for an extended period, then either the EGR valve or the EGR valve position sensor will be considered faulty, and a DTC will be stored.
Honda Accord P0401 Symptoms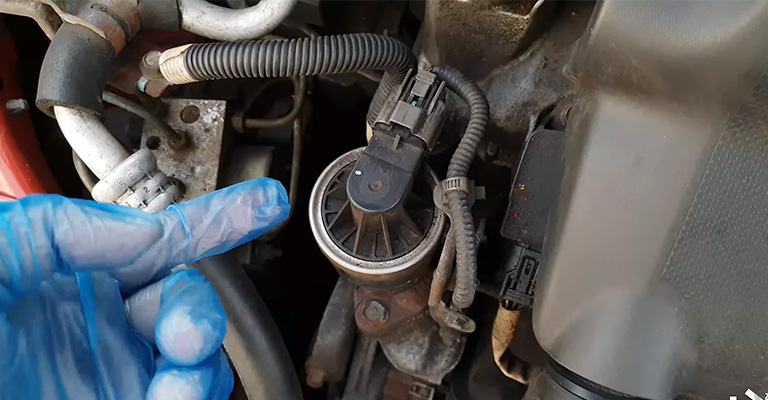 In most cases, triggering P0401 will not cause any symptoms other than the service engine light coming on. However, it is possible to experience slight pings or knocks in some extreme cases.
Service Engine Soon Light:
An engine service light will soon illuminate when P0401 is activated.
Knocking Sound:
A noticeable knock may be heard from the vehicle in some cases. The sound will almost resemble piston slapping.
What Caused the P0401 Code On Honda?
The EGR valve on your Honda Accord can be affected by three types of conditions. You may see a Check Engine Light or CEL on your Accord ECU if you have any one of these problems. It means your EGR has a P0401 code.
1. Accord EGR Stuck Open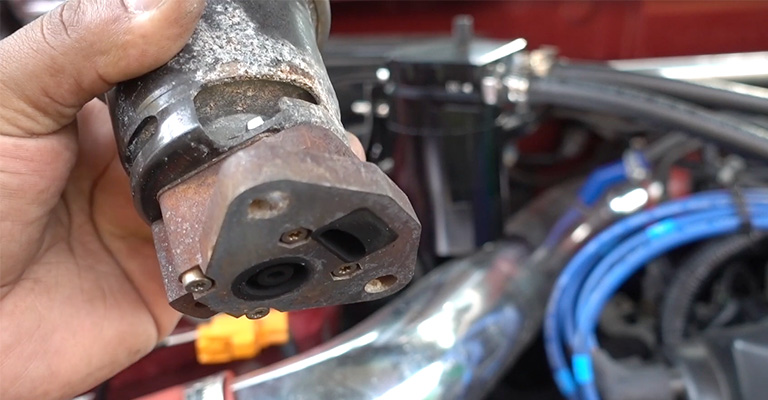 A faulty EGR valve or contamination causing the valve to seat incorrectly can cause your EGR valve to become stuck open. Your vehicle will feel this pretty easily when this happens since the EGR is unable to regulate gases reentering your engine. The most common issues with a car are hesitancy, surging, and bucking when it is being throttled.
2. Accord EGR Stuck Closed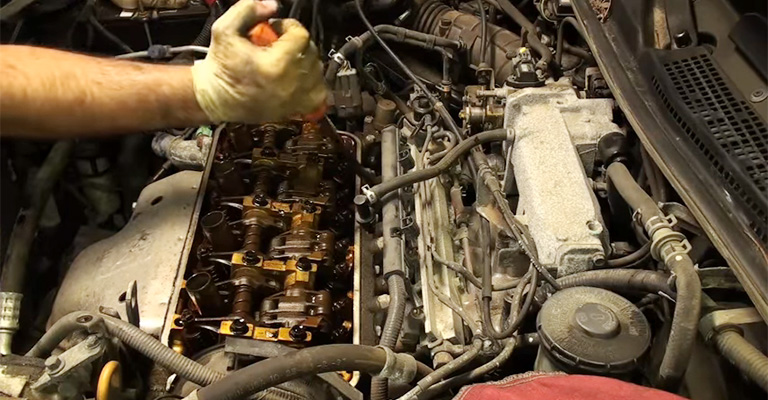 In the case of EGR wiring problems or defective EGR valves, this is common. However, it is a dangerous condition that can cause your Accord to run rough and even cause your engine to break or be destroyed.
You might notice you have higher exhaust gas temperatures when your EGR valve isn't opening. You can experience pre-ignition or detonation this way, which can damage your SOHC Accord engine. Serious engine damage can occur if this condition is not corrected.
There is good news for you: both of these problems can be easily fixed in your Honda Accord. The image above shows you the EGR valve directly in front of the throttle body.
Take off the two nuts holding the EGR valve to the intake manifold and disconnect the EGR plug. Don't bother trying to save your EGR valve gasket; the valve should be removed cleanly and carefully.
Intake manifold surfaces should be cleaned carefully once you have removed and replaced the EGR valve only.
Ensure that your new EGR valve and Honda EGR valve gasket are mounted on a clean surface. The mounting surface could be dirty or contaminated, complicating matters further.
OBDII DTC P0401 can occur after replacing the Honda Accord EGR. Using our DIY guide to clean the Honda Accord EGR can help you resolve the P0401 problem.
3. EGR Valve Or Passages Clogged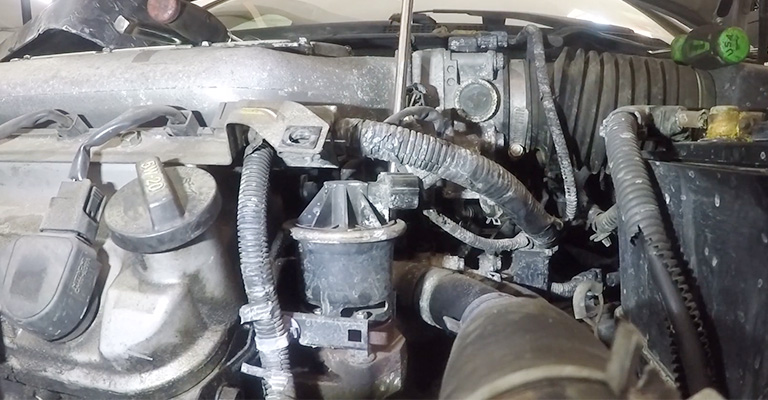 As the third cause of EGR valve failure, the process behind our DIY guide is not difficult, but it does take some time. An EGR valve receives combustion gases from the intake manifold runners through a plate and a passage system.
These passages can become completely blocked as a result of contaminants and carbon buildup over time.
How To Clean Your Honda Accord EGR System?
You'll need to disconnect the negative post on your Honda Accord battery before beginning our DIY guide for cleaning the EGR.
Having this information will prevent you from accidentally causing an electrical problem on the vehicle while you're working on it. Furthermore, removing your fuel rail will decrease the chance of sparks igniting.
The fuel pump relay or fuel pump fuse will need to be located if you are cleaning the EGR plate and the passages in your intake manifold. Removing the FUEL fuse from your Honda Accord's fuse box will allow you to restart your vehicle.
As soon as your Accord starts, it should shut off promptly. You can easily remove the existing fuel pressure in your F23 fuel rail because your fuel pump is no longer receiving power.
Take out the PCV valve from your Honda Accord valve cover and gently unplug it. There is a connection here to the PCV valve that we will unplug later in this guide. To remove your fuel injector harnesses, unplug the solenoid once the PCV valve has been removed.
We'll start by removing the main fuel pressure damper, which is the oblong plastic box shown above. Pull the damper off the fuel pressure damper, and then unscrew it. Keep track of the gaskets and washers and remember how they mount to your fuel rail.
Disconnect the banjo fuel pressure line and set it aside. I don't want to mention the obvious, but you shouldn't be smoking right now, and your battery should be disconnected.
The next part is the fuel pressure regulator, which is at the end of the fuel rail on your Honda Accord. The fuel pressure regulator is held in place by two 10mm bolts, so undo them and carefully remove them.
Finally, check your Honda Accord fuel rail for the o-ring of your fuel pressure regulator, which might be stuck there or inside the regulator itself.
You should now be able to remove the three 10mm nuts holding the fuel rail in place since you've removed your PCV and fuel pressure lines.
To clear your throttle cable bracket from your intake manifold, remove the 10mm bolts that secure it to the throttle body. If your throttle cables get in the way, do not disconnect them from the body.
You should remove the fuel rail and undo the 10mm bolts holding the EGR plate in place. Next, you will need to remove your EGR valve as a whole assembly. Finally, for extra carbon and deposits that have built up over the years, scrub the plate with brake cleaner or acetone.
This EGR plate needs to be scrubbed cleanly to ensure that your EGR valve receives the correct amount of airflow to operate properly. Using a Honda Accord EGR cleaner and a pick, we will clean the intake manifold's EGR ports with a shop vac.
Code P0401 Honda Tech Notes
A contaminated or clogged EGR system may occur in some Honda Odysseys and Pilots from 1999 through 2003. During light acceleration, the vehicle may hesitate or surge, and the MIL (malfunction indicator lamp) could be illuminated with DTC P0401 (insufficient EGR flow) or P1491 (insufficient EGR valve lift).
It is recommended to clean the EGR port, install an EGR pipe kit, and clear the DTC P0401 or P1491 if they are stored, or the engine hesitates or surges. It is also common in Honda Accords manufactured between 1998 and 2001. A bulletin from the factory contains instructions on how to clean the intake system.
Notes On Cleaning Honda EGR
You cannot do this procedure without completely removing the intake manifold. Using your pick to break through the EGR ports that are probably fairly clogged may be necessary. Make use of your shop vac to capture as much material and carbon as possible once you have an opening.
It's impossible to prevent carbon from falling into your combustion chamber. However, taking it slow will allow you to remount your SOHC Honda EGR plate and valve in clean EGR ports.
Final Words
After you have cleaned all the necessary EGR parts, reinstall them to complete our guide on how to clean your Honda Accord EGR. Then, if your OBDII trouble code is cleared with a scan tool or a device like the HKS OB Link, you're good to go.