With advanced features like the remote control and key fob, you don't need to lock and unlock your car door manually using a key nowadays.
While these two features saved a lot of hassles for users, some car manufacturers like Honda made things more convenient and added an auto-lock and unlock feature to their cars.
However, you need to know how to program the Honda auto lock to unlock the feature properly to enjoy the benefits of this excellent feature.
To make this task super-easy for you, here we will discuss how to set up your car program to lock and unlock it conveniently as per your needs. So without further ado, let's jump right in.
Set Up Your Honda's Auto Lock Unlock Feature – Step By Step
Luckily, the process of programming your car to set up the auto-lock/unlock feature is a very simple job to do. This beneficial feature will unlock your car doors automatically when you park the car and lock it again once your vehicle speed exceeds 10 mph.
Here's how to program your Honda for setting up the feature —
Set Up Auto-Lock Settings
Step 1: Park your vehicle in your garage or a low-traffic area. Then turn on your car's ignition. From the center display, choose the 'Home' button.
Step 2: Go for the 'Settings' option and tap on 'Vehicle'. Now you need to scroll down a bit and then touch 'Door Setup'.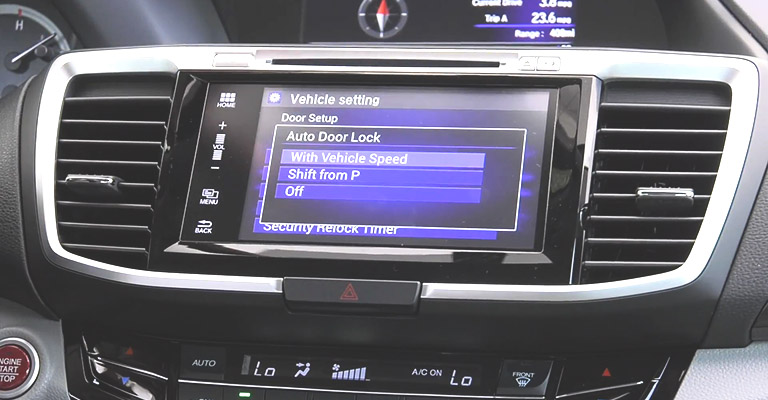 Step 3: As a new screen will arrive, you need to choose 'Auto Door Lock' from the options. After that, three new options will appear on your center display. You need to go through the options properly and pick the ones that you find the most convenient for you. The options are —
With Vehicle Speed: If you select this option, the doors of your Honda will become locked automatically once it reaches 10 mph of speed.
Shift from P: This means your car doors will get locked when you move your car out of the parking area.
Off: You can disable the auto-lock feature anytime by choosing this option.
Step 4: Tap on a particular choice out of the three and a pop-up will arrive asking for confirmation. Select 'Yes' or 'Save' for successfully turning on the auto-lock feature.
Set Up Auto-Unlock Settings
Step 1: On your vehicle's multimedia center display, press the button 'Home' and then go to 'Settings'. Touch the option 'Vehicle'.
Step 2: Keep scrolling down until you find the option 'Door Setup'. Touch on it to open a new screen. From there, choose 'Auto Door Unlock'.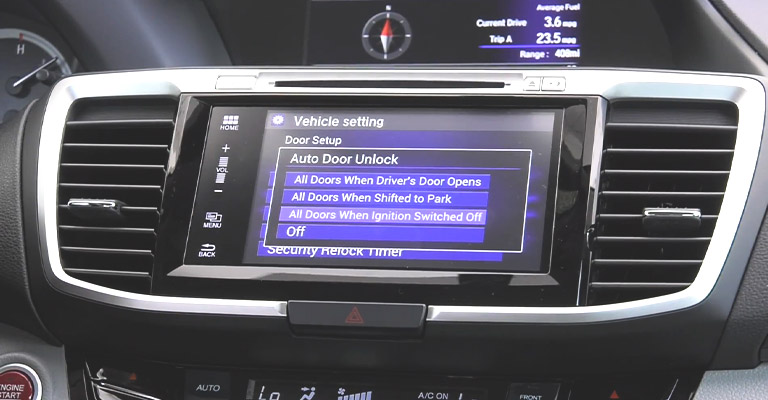 Step 3: Now you'll get four choices to choose from. Carefully read every detail to know what happens if you choose a particular option. The choices include-
All Doors with the Driver's Door Opens: When you select this option, all your car doors will unlock automatically if you open the driver's door.
All Doors with the Shift to P: It means all your car doors will unlock when you park your Honda.
All Doors with the IGN off: If you choose this option, it will unlock all your car doors upon switching off the ignition.
Off: You can turn off the auto-unlock feature by choosing this option.
Step 4: Touch on any of the options to select it and then choose 'Yes' or 'Save' for saving the changes.
Wrapping Up!
That was everything on how to program the Honda auto lock unlock feature following some simple steps. It'll also work in eco mode. Remember that this process mainly works for the fifth-generation Honda models.
It might also work for some older car models. If you fail to program the auto settings, visit the Honda manufacturer website to resolve the issue.