Even though Integra GSR and Prelude cars come from the same manufacturer, their construction is entirely different. So it's difficult to tell which one is better between Integra and Prelude.
Yet, Integra GS-R Vs Prelude, what's the difference? The Honda Prelude is superior to the Integra in terms of build quality and design. Thus, it was given more consideration to affordability and aesthetics than to power. On the other hand, the Integra is a powerful vehicle with 300hp. It won't have many additional amazing features, but its functionality is extremely rigid.
However, in addition to these, there are some other factors; read on to learn about them all.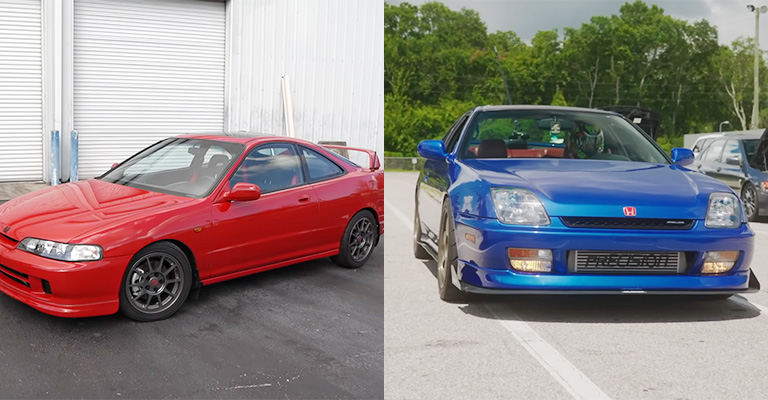 What Are the Differences Between the Honda Prelude and The Integra GS-R?
| | | |
| --- | --- | --- |
| Differences | Honda Integra GS-R | Honda Prelude |
| First Launch | 1985 | 1978 |
| New Addition in Design | Large wheelbase front spider eye headlight | Aerodynamic design decrease dragALB anti-lock brakePop light |
| Type | Luxury sport-oriented car | Sport car |
| Generation Spanner | 5 | 5 |
| Highest Horsepower | 210 | 200 |
| Motosport compatibility | 1st | 2nd |
Back in the 1980s, 1990s, and even the 2000s, the Honda Prelude and Honda Integra GS-R were both highly anticipated vehicles. Even the most recent version of these vehicles is getting attention.
Despite being different categories of vehicles, they are comparable. There are a lot more differences too. Let's take a ` closer look at both of these cars to gain more insight.
History
The Integra, also known as the Honda Quint Integra, is a well-known automobile made by Honda Automobiles. It was produced for 21 years prior to 2006, and it started up again in 2022. The basic design of this vehicle is that of a compact car with a sporty flair.
Currently, Honda Integra 5th generation models are on the market. However, the second-generation GS-R was the most popular one. This vehicle is available in three-door, four-door, and five-door configurations. Integra GS-R was only present in second and third-generation cars.
On the other hand, the Honda Prelude was another sensational vehicle of Honda automobiles. It was a double-door, front-engine sports car. It has spanned five generations from 1978 to 2001. The Prelude series has undergone a significant transition in terms of design, functions, and performance over the years.
Design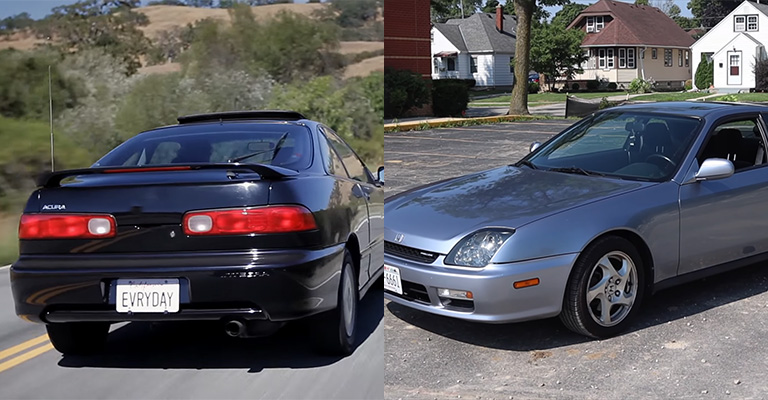 Integra GS-R was a big deal in terms of design. They always made an effort to make their car look better. Although their first generation of vehicles had a somewhat boxy appearance. However, the later version's design and overall appearance have significantly improved.
There were 3-door, 4-door, and 5-door versions available. Wheelbases for the four-door and three-door variations were 2450 mm and 2520 mm, respectively. Additionally, it had a distinctive front with four headlights and a spider-eye headlight. Both a liftback and a sedan version of the GS-R were offered.
Here, the Honda Prelude has a very straightforward design in its older generation, much like the Integra GS-R. The updated version, however, made significant changes.
They increased front aerodynamics, decreased drag, and added distinctive headlights. Besides, they added two crucial components to their vehicle: an A.L.B. anti-lock brake system and a pop-up headlight.
Function
It was available in a liftback version in the United States. A DOHC 1.6 L sixteen-valve four-cylinder engine is used in versions of the vehicle. The liftback version of the Integra GS-R has a DOHC cylinder with four cylinders and sixteen valves in it.
Other than this, these are also available in other vertigo cars EW5 1.5L, ZC 1.6 L, D16A1 1.6 L, D15A1 1.5 L. There are also two different transmissions available, one is an annual 5-speed and another is an automatic 4-speed.
The initial generation car had 100 hp, but the latest one has 195 hp, which is a massive improvement.
As for the Prelude, it came up with an A18A or ET-2 12 valve double carburetor engine with 1.8L and 105 horsepower. There were 12 or 16 valves in the initial version of the engine, which had 1800 to 1900 cc.
But later editions came with 2.1L DOHC PGM-FI 140 hp engines. And there were 187 to 209 horsepower in the last version, which is the fifth version.
Power: for Honda Integra GS-R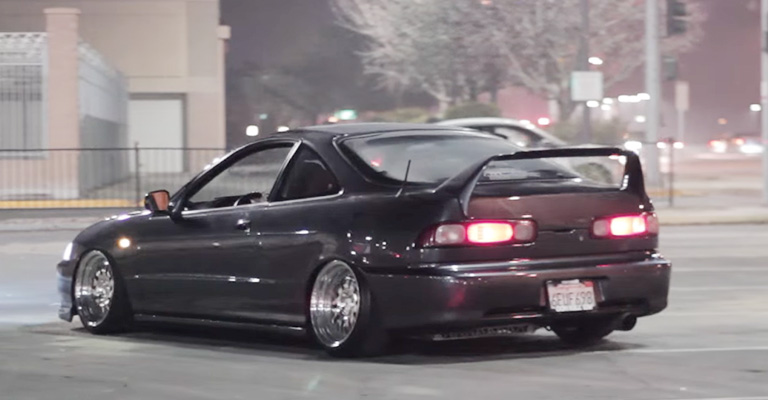 Over the course of its generations, Integra's power has dramatically increased. First-generation Integra GS-R vehicles mostly used CRX Si's suspension and disc brake. In addition, they used a four-cylinder D16A1 1.6-liter DOHC, which has a total of 113 hp power.
The second generation Integra GS-R vehicle used an engine known as B17A1, a naturally aspirated 1.8-liter 4-cylinder DOHC with a 130 horsepower power output.
Third generation Integra GS-R vehicle has increased a more in this generation. They used a 1.8-liter 4-cylinder DOHC VTEC (B18C1) engine with a 170 horsepower power output.
Fourth generation Acura GSX vehicle, unfortunately, stooped producing GS-R at that time. But if we talk about the nearer vehicle of Integra Acura RSX, it has a 2.0 L DOHC i-VTEC four-cylinder engine with 220 hp power output
Fifth generation Type S vehicle, similarly GS-R production was off. So if we describe 'Type S', it has a turbocharged 2.0L 6-speed manual transmission with an inline-4 engine. It could produce 300 hp output.
Power: for Honda Prelude
The first generation Honda Prelude has a SOHC 12-valve 1,751 cc CVCC inline-four. It produced about 80 hp.
The second generation Honda Prelude used a 2-liter DOHC 16-valve PGM-FI engine that was able to produce about 137 hp power.
Third-generation Honda Prelude used 2.0L DOHC PGM-FI 160/143 PS output.
The fourth generation Honda Prelude used a 2.2L four-cylinder with DOHC VTEC H22A1, 190 PS output
Fifth-generation Honda Prelude has 16-inch alloy wheels with independent front suspension and an FF layout. It also has a VTEC model with 200 hp power.
Motosport compatibility
In Motorsport racing, there are not many records for Honda Prelude. But both cars participated in formula one as safety cars. Prelude attended the Japanese Grand Prix in 1994, and Honda Integra attended the Canadian Grand Prix in 1992.
Honda Integra has a lot of experience in real-time racing in different tournaments. It bagged the IMSA international sedan series tournament. From 1997 to 2002, Integra won the SCCA touring challenge, winning six consecutive titles.
So it can be easily declared that in the motorsport compatibility, Honda Integra GS-R is one step ahead of the Honda Prelude.
FAQs
Here are a few questions and answers regarding Integra GS-R and Prelude vehicles. This will give you more insights into these cars.
Q: Which one is more costly: Honda Prelude or Honda Integra GS-R?
In every way, Integra is more expensive. About $30,000 will be spent on the fifth generation. However, Prelude cost between $15,000 and $20,000 after further customization. Honda Integra is, therefore, a more expensive car here.
Q: Between the Honda Prelude and Honda Integra GS-R, which can produce more power?
Since the Integra GS-R is a pure racing car, the manufacturer makes it more powerful. Here in the latest version (5th) generation, it has a 300 hp output. But on the other hand, Prelude's latest car has a 200 hp output. So Integra is the clear champion.
Q: Is there a new version of this two-car Prelude and Integra series on the way in 2023?
Prelude may not have a car this year, but Integra did launch a vehicle in June. Although there hasn't been a formal announcement, we can only hope that a new version will be released soon.
Final Words
Hopefully, you got what you wanted to know about Integra GS-R vs Prelude vehicle by Honda. Both vehicles were extremely popular in the 1990s and 2000s. And if we disregard Integra's racing compatibility, it is difficult to tell them apart.
In terms of function, built quality, design, and additional features, both cars are of a high standard. When it comes to compatibility with racing, the Integra GS-R is just one step ahead of the Honda Prelude. However, both are fantastic if you want to buy something for daily use, but Prelude is superior.