Earlier, we reviewed the Honda CRV 2024. It was a clear-cut review of the upcoming CRV model coming this 14 June 2024.
However, whether it's hydrogen-fueled or not, we are still to find out! But one thing is for sure, a fuel-cell SUV is coming in 2024.
The camouflaged prototypes already went through some selective test drives in Japan and the USA (as spotted), where they will be up for sale.
Why do we think it's going to be a CRV? We have strict proof to support this theory! Find out below! Our article offers a board discussion of the new fuel cell CRV in 2024. Stay with us till the end to find out what lies ahead.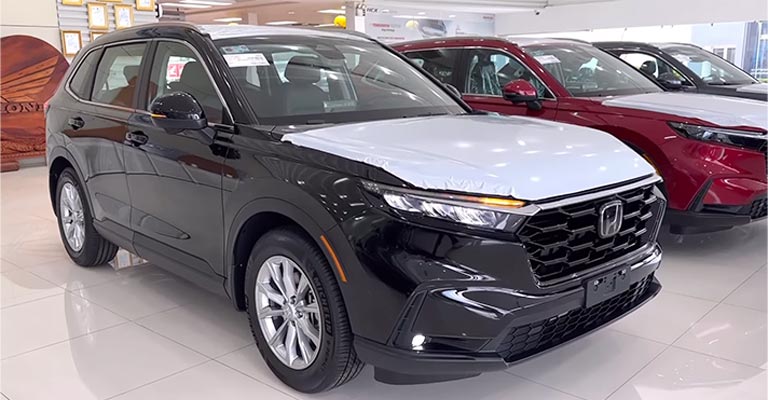 Honda CRV 2024 in Brief
The upcoming Honda 2024 CRV includes all the amazing features of the sixth-gen CRV 2023. But with a higher edition!
Some creative lineups are on the way – LX, EX, Sport Hybrid, EX-L, and Sport Touring Hybrid. In addition to this, you will have an entirely new lineup in the hybrid CRV – Sport L Hybrid.
Additionally, the LX trim will meet some improvements, such as the Real-Time AWD™. All four wheels remain on track for equal power distribution.

All the upcoming CRV models will also be able to handle slippery roads better than before, thanks to the Vehicle Stability Assist™ (VSA®) with traction control. Plus, don't forget the latest and all-new trendy wireless Apple Carplay and Android Autoplay capability.
With everything set on board, the CRV 2024 will launch in the middle of 2024. Now, why do we think, it's going to be a fuel-cell car? The reasons are below,
Is the 2024 Honda CRV Powered By Hydrogen?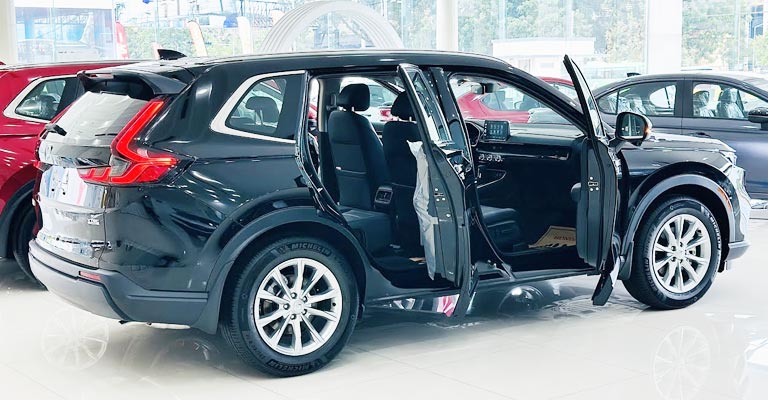 A year ago, Honda confirmed that they have plans to launch hydrogen vehicles that are based on CRVs in 2024 (Source: Motor 1).
However, it is still not the time to quit on the hydrogen fuel cell-based electric vehicles, and that's what Honda officials believe.
Since completely battery-based EVs are overtaking the industry, Honda believes there is still a lot to explore with the hydrogen fuel cell EVs.
" We also will begin low volume production of fuel cell electric vehicles there to further explore their great potential as part of a sustainable transportation future, " said Gary Robinson, vice president of auto planning and strategy for Honda.
He also added,
"The new FCEV will help the automaker achieve its goal of BEVs and FCEVs representing 100 percent of its global auto sales by 2040. Honda is accelerating its plan to produce battery EVs in the US,"
Going a little back, Honda had already introduced the first and only hydrogen-based fuel cell vehicle in 2002 – the Honda FCX, later followed by the Honda Clarity in 2017.
However, Honda Clarity was also discontinued in 2021, given the promise that, the brand will come up with some more renovations for a fuel cell vehicle in the future.
Well, now is the future!
In early October 2023, a CCTV camera caught something on the road in Japan – a fuel cell SUV. Honda showed no mercy to hide its old badge in this SUV. That makes it quite convenient that this fuel-cell SUV is from Honda.

Why do we think it's a CRV? Look at the points below,
The size of the vehicle was the same as a CRV, with the upper part just as sleek as the CRV headlights.
However, although the front of the vehicle was slightly different than the 2023 CRV models, it's quite normal for a small upgrade in CRV 2024. In the fascia, there are big corner vents that are almost similar to a split grille design.

However, the back side of the SUV was a little bit different than regular CRV models.
Perhaps, that's because of the notably fewer exhaust outlets, which proves that it's a fuel cell vehicle. Plus, it's quite convenient with the large hydrogen mark on the body wrap.

Similarly, the one which was sighted in the California state of the USA also had the same front fascia with the split grille.
What takes more is Honda themselves, confirmed that the new fuel cell SUV is going to be CRV-based. However, it's essential to mention that, even though we are labeling it as a CRV, we have Honda's statement as our solid backup.
Notes from Honda,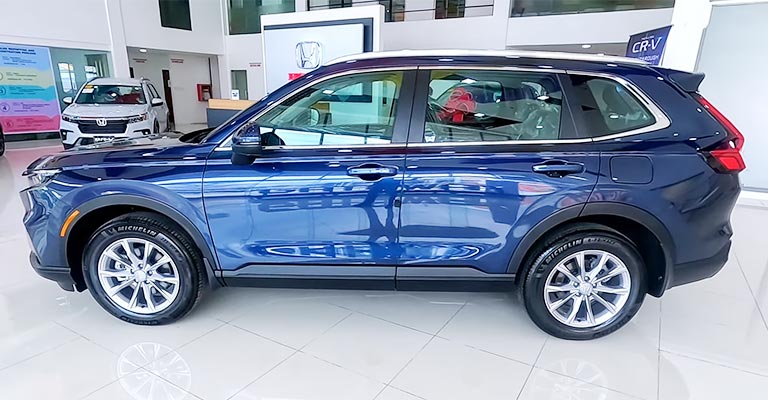 Honda did make sure that the upcoming SUV won't simply depend on hydrogen. We are still not sure of the size and range of the battery yet.
However, it's believed to level up the hydrogen demand in a world, where not much infrastructure was built before to support the need.
Even though, the cost and pricing of raw materials remain the same, and sometimes with more hikes than before, Honda is fully committed to deriving the best output from hydrogen-based vehicles, and we are hopeful of it too.
The upcoming CRV-based fuel cell has doubled the durability with only ⅓ of the system cost of the Clarity. It's also going to have a plug-in capability to charge a battery like a traditional EV.
Honda may not introduce it as a CRV at all! They may offer an entirely new lineup that's CRV-based but not entirely a CRV. Perhaps, it's the Clarity again in new form? We are not sure yet!

Let time wear out a bit and we will have the answer.
Conclusion
Hydrogen fuel cell-based vehicles offer zero carbon emissions when driving with an exhaust note. Apart from Honda, other automobile manufacturers also believe, the potential of the hydrogen fuel cell vehicle is yet to be discovered.
Oliver Zipse, BMW chairman said that "hydrogen will be the hippest thing to drive." in October 2022. They planned to launch a viable hydrogen car within 2030.
So, we are hopeful that, Honda will retain the legacy and surprise with a more efficient version of the fuel cell SUV, like they always do. What do you think?

Is the 2024 Honda CRV will be powered by Hydrogen? Take stands to support your comment below. Let us know what you think. We will be glad to help you out.