On September 04, 2023, Honda launched the Elevate SUV in India. It has been a long time since Honda offered something new in India. Soon after the launch, bookings and deliveries were in a row.
We can't refuse that, Honda Elevate successfully derives high performance and balanced driving dynamics. With the Elevate, Honda is genuinely trying to have a piece of the compact SUV-C segment.
However, there's no denying that, Honda Elevate is the hotcake of 2023 in India. If you compare it with other SUVs, Elevate lacks some flexible features like lack of engine preferences, not a turbocharged petrol engine or a diesel powertrain.
What else is there to find out? Let's find out together! Today, we will present the top 5 details of the Honda SUV, that not many people know of!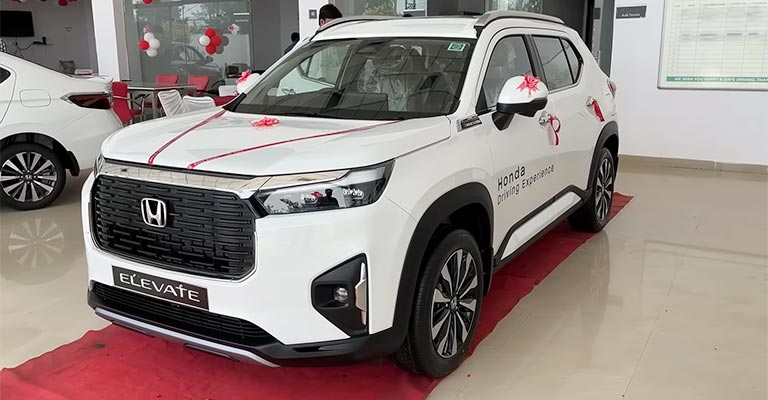 Key Takeaways
Honda Elevate has four trims – SV, V, VX & ZX. It is built on a modular platform (built primarily of the floor assembly). You have different options for configurations and adaptability.

Unlike traditional vehicles, the Honda Elevate features an adjustable ground clearance system – of 220mm. You can easily modify your ride height for different driving conditions, whether rough terrain or cruising on city streets.

Elevate has a regenerative shock absorber in the suspension system. This feature manages energy from bumps and vibrations during driving. It also converts the energy into electrical energy and recharges the Elevate's battery.

Do you know one of the primary selling points of Honda Elevate is the Level-2 ADAS driver assistance system (2024 Honda models will have Level 3 ADAS)? Learn more about Honda Sensing 360.

This Dubbed Honda Sensing features adaptive cruise control, auto high beam, lead car departure notification system, lane keep assist, and collision mitigation braking system.

Do you have your eyes on Honda Elevate 2023? Before you approach, you should consider the five key points.
Expect the 4 Things Before You Buy Honda Elevate: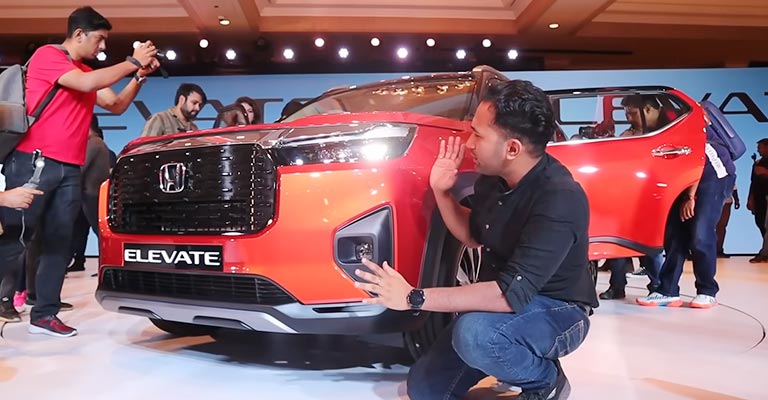 The Silhouette Exterior
The upstanding silhouette of Honda Elevate features a chunky design from the outside. You will love it! A large grille with plane slats is the core new feature of the fascia. The familiar Elevate badge takes a solid stand on the tailgate, where we also have the LED tail lamps.
Unlike genuine LED headlamps, you also have integrated LED DRLs (daytime running lights) and indicators for better visibility, not only at night but also in daylight.

Plus, the all-around cladding is something we shouldn't forget. The compact wheel arches have solid cladding within the structure of Honda Elevate.
In addition to this, we also have roof rails for the first time, in association with the ORVMs (Outside Rear View Mirror), thanks to Honda City for lending us the idea! Honda Elevate also utilized the minimalistic City design that we can also notice on the alloy wheels.
The Classy Interior
Honda left no stone unturned to uphold its legacy in quality. The interiors of Honda Elevate the proof of it. Honda Elevate is a 5-seat compact SUV-C segment. We can clearly see the use of premium materials in the interior of the Elevate.
The seats are made of leather, with a smooth combination of brown and black padding. The transition in colors blends like butter, that's not even visible in clear eyes.
All variants of Honda Elevate get the floating touchscreen infotainment system. Look at the colors, the beautiful two-tone dashboard will steal your mind.
However, other variants such as the Honda V, VX, and ZX promote the black and beige color scheme, which is similar to the Honda's one-above-base V variant models.
Built In Elevate Features
Honda Elevate 2023 did see some improvements with the built-in features. Take a look at the sunroof. It's a single-pane sunroof, ideal enough for a single person to stand high.
In addition, you will also have a 10.25-inch touchscreen system with wireless Android Auto and Apple CarPlay. It is also associated with a 7-inch semi-digital driver's display and automatic climate control. And yes, you can charge your phone without having to use a wire! That's great!
As mentioned earlier, you will also have the benefits of ADAS level 2 tech. With the added benefits of automatic emergency braking (AEB), adaptive cruise control, lane assist, and high-beam assist, the safety features couldn't get any better.
Plus, Honda also ensured to integrate the connected car tech this time, 'Honda Connect with the Elevate.' It is a connected car experience with which, you can control your Elevate remotely and always stay up-to-date for better convenience. It's a clear peace of mind!
What to Expect from Elevate Variants and Price?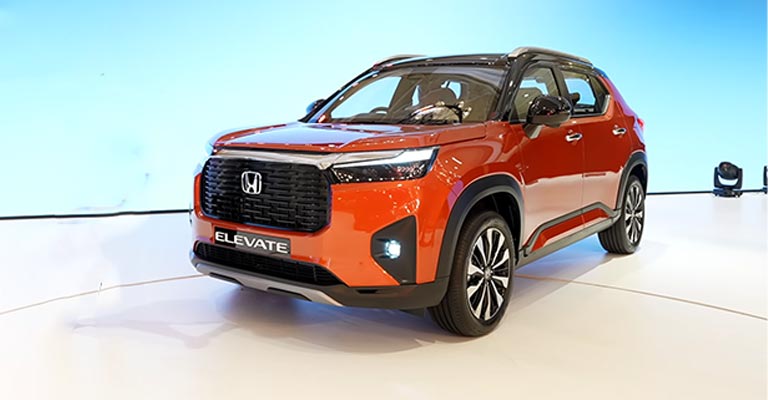 It's no wonder Honda has put some of the best of their features in Honda Elevate. Even though we have the straight base model of the Elevate, the list of variants is still long to choose from.
The way one variant offers a bit more than others, you may find yourself in a dilemma. It also depends on your specific need and pattern of driving.
Whether you prefer manual or automatic driving needs, the Elevate VX and ZX would be the best pick for you. The VX trims come with most of the key features of an SUV, including the most demanding ones. Such as a lane watch camera, digital MID, etc.
On the contrary, the Elevate ZX trims also have everything an SUV upholds, as well as the ADAS tech onboard. With everything included, you will have the starting price of Honda Elevate at 11.04 Lakh,
In detail,
Elevate VX – Rs 13.50 lakh
Elevate ZX – Rs 14.90 lakh
Elevate V – Rs 12.11 lakh
Lastly
Honda Elevate had a great opening in the launch event. It has been on the waiting list for six months, and when it was launched, the number of prebookings would amaze you!
So, if you are planning to buy the Honda Elevate, despite a few lacks in features, this company SUV-C stands with quite a good demand in the market. However, we do expect Elevate will launch the missing features such as automatic wipers, heads-up display, 360-degree camera, and powered driver's seat in the upcoming year.
Are you happy with Honda Elevate 2023? Let us know in the comment section what you think. Also, share our article with others!