The master cylinder is a critical component of a vehicle's braking system, responsible for converting the pressure applied to the brake pedal into hydraulic pressure that activates the brakes.
Over time, due to wear and tear or other issues, the master cylinder may fail and require replacement.
However, the cost of replacing a master cylinder can vary depending on several factors, such as the make and model of the vehicle, the type of master cylinder needed, labor costs, and where the replacement is performed.
In this article, we will explore the factors that can influence the cost of master cylinder replacement, provide a general price range, and offer some tips on how to save money when replacing a master cylinder.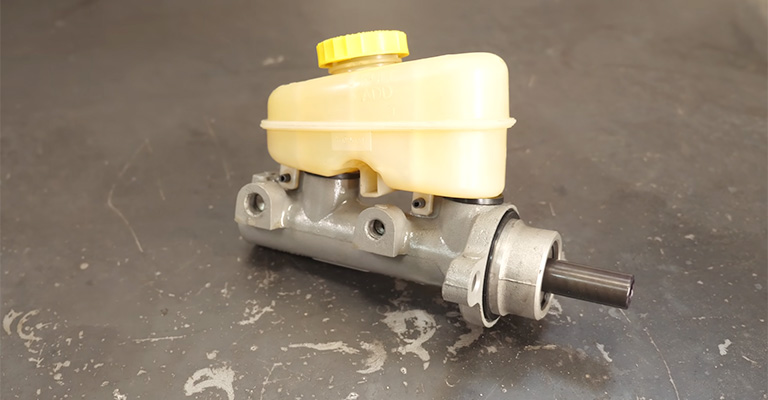 Brake Master Cylinder Replacement Costs
It costs roughly $841 to $944 to replace a brake master cylinder. You may need to pay more for Brake Master Cylinder Replacement depending on your location and vehicle.
These numbers do not include taxes and fees, nor do they take into account the location or the make of the vehicle. The final cost may also increase if other repairs are required.
What Is A Brake Master Cylinder?
In front of the brake pedal, the master cylinder is located under the hood. In addition to controlling the individual brakes, it is the first step towards developing braking force.
How Does The Brake Master Cylinder Work?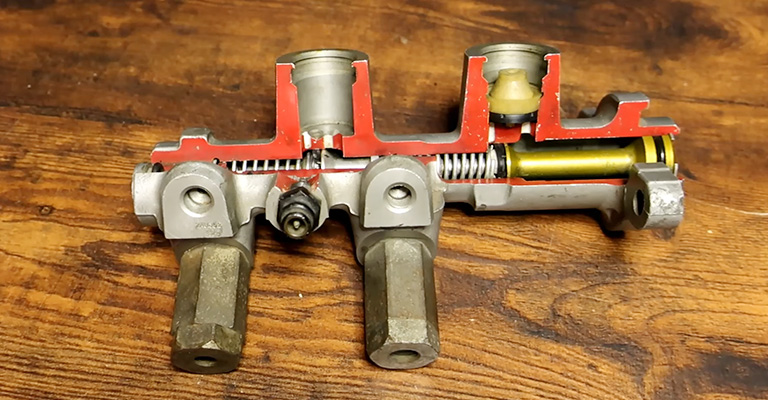 Under high pressure, the master cylinder forces brake pads into brake rotors when the brake pedal is depressed.
By pushing the brake pedal forward, two small plungers inside the master cylinder compress the brake fluid and create this pressure.
What Are The Symptoms Related To A Bad Brake Master Cylinder?
In the automotive world, the term 'spongy' describes how the brake pedal feels when air enters the master cylinder or when air is injected into the brake lines.
It is also possible for the brake pedal to sink to the floor when pressed and held. As a result, the plungers in the master cylinder are leaking internally, preventing the vehicle from slowing or stopping.
Vehicle Drifts When Braking
Two separate hydraulic brake circuits are typically present in a brake master cylinder, with one circuit controlling two wheels.
If one hydraulic circuit fails, the other circuit will still be able to stop the vehicle. When the brakes are applied, a failure in one brake circuit can cause the vehicle to drift to one side.
Uneven Brake Pad Wear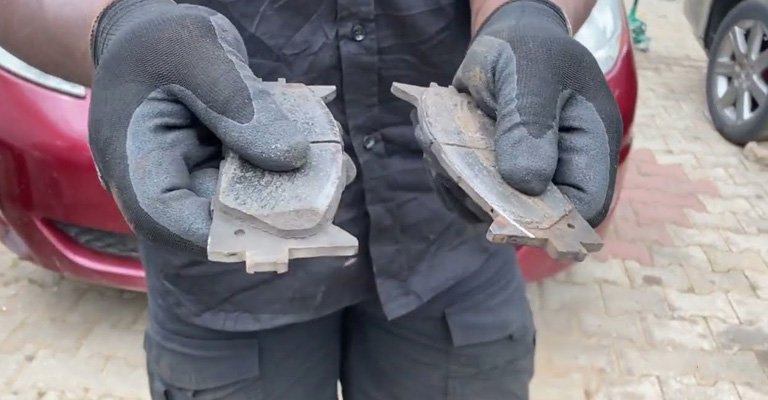 Uneven brake pad wear may occur if one of the hydraulic circuits in the brake master cylinder malfunctions.
The brake pads of one set will be more worn than the other since the one with hydraulic circuit issues will not function effectively. Pressing the brake pedal again can result in vehicle weaving.
Contaminated Brake Fluid
As well as keeping brake fluid in, master cylinder seals also prevent external contaminants such as dirt, dust, and rust from entering.
Seals that are damaged or broken will leak more than just fluid. This will adversely affect braking performance due to the contamination and air that they let in.
If you're using DOT 3 brake fluid or DOT 4 brake fluid, new brake fluid is typically clear or amber in color. A dark brown to almost black color can be associated with contaminated brake fluid.
When brake fluid degrades faster than usual, coupled with other brake symptoms, it may indicate brake hardware failure.
The Brake Warning Light Is On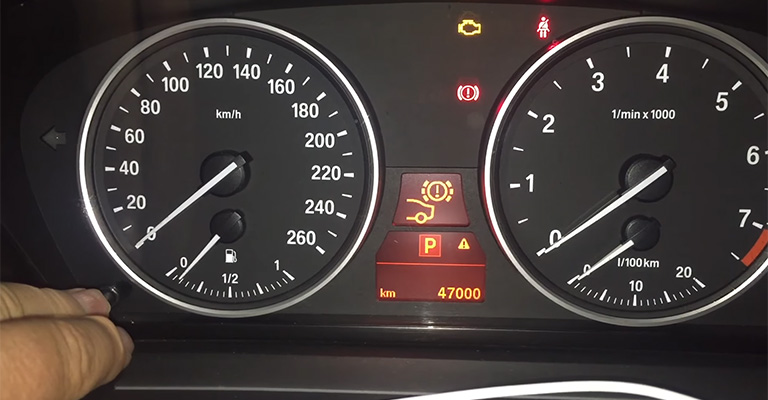 Sensors that monitor brake fluid or hydraulic pressure in your vehicle will alert you when the levels are too low. Check engine light or brake warning light illuminates during this time.
It's a clear sign that something is wrong with the brake system if the brake warning light comes on.
It is important to note, however, that the check engine light can indicate a variety of problems, not just brake system problems. To isolate the actual problem, you will probably need an OBD code diagnosis.
Brake Fluid Leak
In a disc brake system (or drum brake system), brake fluid leaks can occur at nearly any point in the braking system – from the master cylinder to the brake line.
Master cylinder fluid leaks can be caused by a few things, such as:
Rubber seals on the master cylinder are damaged
Reservoir of the master cylinder is not secured
A cracked master cylinder housing or a leaky brake fluid reservoir
Keep an eye out for any brake fluid leaks under your car by regularly checking the brake fluid reservoir level.
Misbehaving Brake Pedal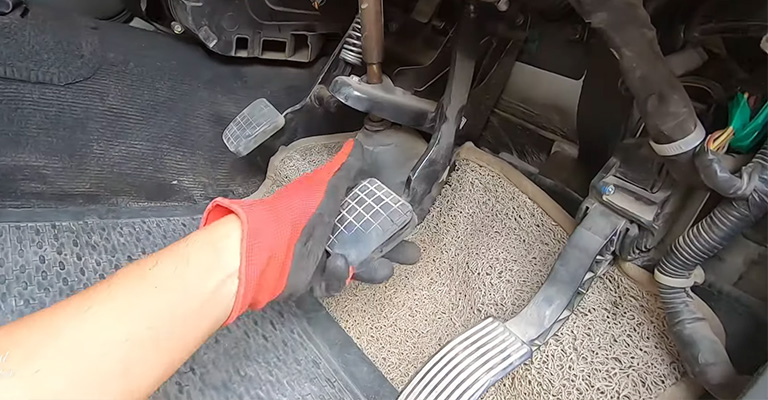 In many cases, the brake pedal is a mirror for problems with the brake system. You will likely feel a soft and mushy brake pedal if you have a bad brake master cylinder.
In some cases, the brake pedal may travel too far, or it may even sink to the ground completely. If it doesn't bounce back, it won't return at all.
In most cases, the master cylinder's rubber seal is damaged. The brakes won't be able to stop the wheels effectively if the master cylinder does not function correctly.
As a result, your brake calipers will not obtain enough pressure to clamp brake pads to brake rotors. There will also be problems with wheel cylinders delivering brake shoe pressure to brake drums.
What You Should Know About Brake Master Cylinder Replacement
In the braking system of your car, the master cylinder plays a crucial role.
To engage the brakes, you must apply force to the brake pedal.
Check engine or brake warning light comes on, brake pedal feels spongy or goes to floor, brake fluid leaks, car "weaves" when braking, and brake pedal feels spongy or goes to floor.
It is possible to lose control of the brakes if the master cylinder fails.
Your car's braking system is controlled by the master cylinder. The brake pedal converts foot pressure into hydraulic pressure.
In turn, this forces brake fluid through the brake lines, which engages the brakes. There are a few warning signs that this essential component needs to be replaced:
You feel spongy when you press the brake pedal,
If the brake fluid is leaking or dirty,
When the check engine light or brake warning light illuminates,
When you brake, your car "weaves".
It is possible for your brakes to fail if the master cylinder fails. Visit a mechanic immediately if you suspect there is a problem.
How Critical Is A Brake Master Cylinder Replacement?
When a vehicle has braking issues, you should never drive it. If a master cylinder malfunctions, the car will be unable to brake at all.
Replacement master cylinders should be installed as soon as possible after your vehicle has been taken off the road.
Can I Drive With A Brake Master Cylinder Problem?
When a vehicle's braking system is malfunctioning, it is unsafe to drive. The vehicle should be immediately withdrawn from service and repaired if there are signs that the brakes are not performing as intended.
Parking brakes should never replace the normal service brakes, as collisions result from brake system failure.
How Often Do Brake Master Cylinders Need To Be Replaced?
Most vehicles will not require this repair before 125,000 miles, however. Brake master cylinder replacement is a common repair for many makes and models.
As a result, there are only a few moving parts, and the system is sealed against air, dust, and other contaminants.
By providing a maintenance schedule for the entire braking system, manufacturers protect their customers from master cylinder failure.
As part of this maintenance, brake fluid is flushed, components are cleaned, components are inspected, and wear-and-tear parts are replaced.
It may even be possible to extend the life of a master cylinder by following these recommendations.
The onset of these symptoms may occur sooner if the master cylinder plungers are neglected, as specified by the factory.
How Long Do Master Cylinders Last?
Rubber seals wear out the fastest in brake master cylinders. Between 70,000 and 125,000 miles is the typical lifespan of these regular wear components.
However, your driving habits and conditions will determine how long it will last. If you brake aggressively or are exposed to stop-and-go traffic frequently, your master cylinder will have to work harder.
Maintaining your brake master cylinder on a regular basis will keep it working properly. In addition to brake fluid flush, components can also be inspected and cleaned, and worn parts can be repaired or replaced.
Is It Hard To Replace A Brake Master Cylinder?
Depending on your level of comfort handling mechanical components, the answer will vary.
It is generally not too difficult to repair a brake master cylinder. In order to access the master cylinder, you may have to remove other engine parts, hoses, or wires.
Any brake repair should be handled by an auto repair professional when in doubt. There is no margin for error when it comes to your brakes.
Final Words
In the event that the master cylinder is damaged, faulty, or contaminated, a brake system failure is likely to occur. There's a good chance that your master cylinder is going bad if you notice a soft, low, or mushy brake pedal.
As a result, braking distances will be longer than expected, increasing the chances of a crash. No brake pressure will be applied to the wheels if the brake master cylinder completely fails.
The parking/emergency brake level or pedal, which applies brake pressure with a mechanical connection rather than hydraulic fluid, can still be used to stop the vehicle if this occurs while driving.
Press and hold the parking/emergency brake button until the brakes begin to apply if your vehicle has one.