The transmission is an essential component of a vehicle as it transfers power from the engine to the wheels. The transmission fluid is a vital component of the transmission system, which lubricates, cools, and cleans internal parts.
Finding metal shavings in the transmission fluid can be a cause for concern, as it indicates wear and tear on internal components such as gears or bearings. It may indicate the need for a transmission repair or replacement.
In this article, we will explore the implications of metal shavings in transmission fluid and what it means for the overall health of your vehicle.
Some harmless shavings can be found in transmission fluid due to normal wear and tear, even when metal shavings are present.
Indicators of whether transmission work is necessary immediately can be found in the situation. The best way to prevent metallic fragments from entering your transmission fluid is to follow these steps.
There are two possibilities for metal shavings in transmission fluid: normal wear and tear or more profound problems. Check out this article to learn about the differences between the two.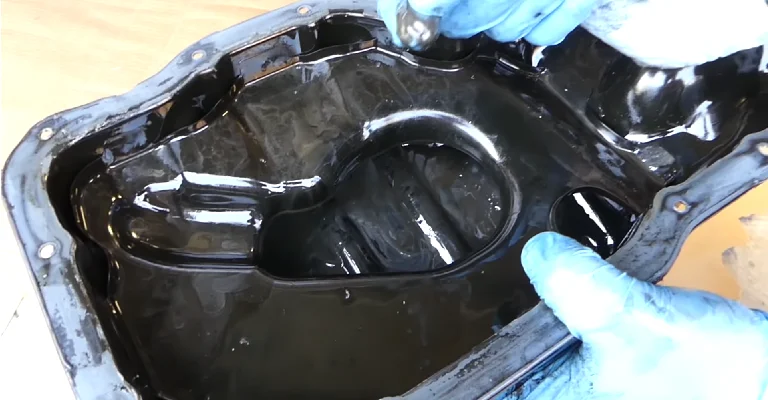 Types Of Transmissions
The wear and tear in transmissions result in their eventual failure. Many components matter whatever the transmission type, whether it's automatic, manual, CVT, or EV.
Normal Shavings?
There is a good chance you've seen metal shavings in the transmission fluid at some point if you've inspected it. In most cases, this is just normal wear and tear of harmless shavings, primarily if your transmission is functioning normally and you're not experiencing grinding or noise.
The transmission pan is equipped with a magnet or magnetic drain plug to pick up these metal particles. The smooth consistency of a fine powder is normal, but chunks and fragments aren't. The transmission pan is covered in metal shavings. How big are they?
Nothing wrong with them if they are small enough to appear as fuzz. In contrast, if the fragments are large enough to pick them up and feel their sharp edges, you have a problem. If the transmission needs to be serviced or rebuilt, you should stop using the vehicle until you can get it done.
How To Check Transmission Fluid For Metal Shavings?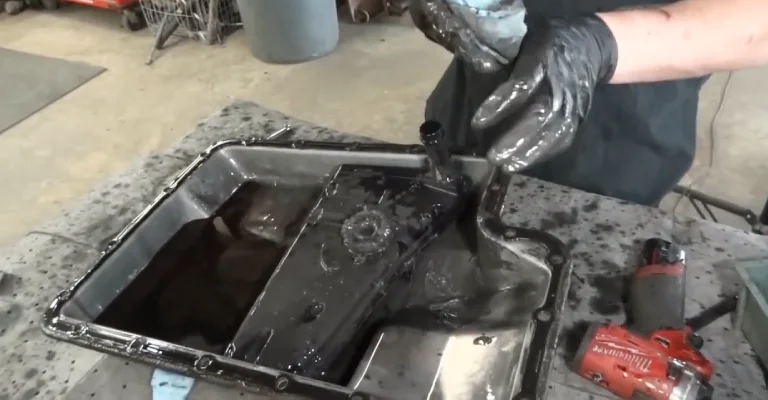 Keeping your transmission fluid topped off is a good idea. Hence, you will have a good idea of the condition of the transmission fluid. You will know whether it's clean or dirty or if metal shavings are in it.
This is all important because it will give you a lot of insight into the health of your transmission. To check the transmission fluid, how should you go about it? It is only after the transmission has warmed up that the transmission fluid is checked.
Because all the other fluids are checked when the transmission is cold, you may be confused by this. Is it because the transmission fluid is checked after it reaches an operating temperature that it is tested during driving?
I have a simple answer for you. You won't get a good reading when you check the transmission fluid when it's cold. You will get an inaccurate reading if you check your transmission fluid when it's cold since most of it is inside your torque converter.
Getting a good reading means the transmission fluid has to be spread throughout the transmission, giving you a good insight into the transmission level. You can take your car for a drive around the block by cranking it up. Open the hood of your car when you get home.
Make sure the dipstick is level by pulling up the dipstick. In the case of low transmission fluid, you will need to add more. Furthermore, you should look for leaks under the car if you have low transmission fluid. As a result, this indicates a leak.
Ensure the fluid is in good condition; the color should be bright red. Inspect the transmission fluid for metal shavings if the color is brownish or if there is dirt.
If you find any metal particles, check them out. In this section, we will tell you what to do if you detect metal shavings in transmission fluid.
What Indicates A Problem With Your Transmission?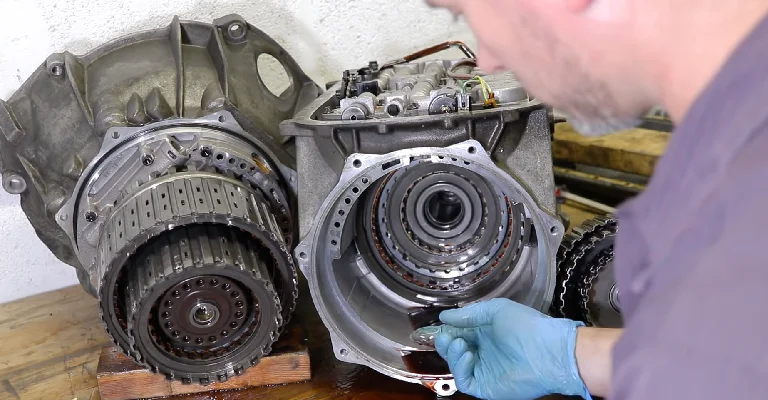 It is normal for the powder to be fine, but chunks and fragments are not. What are the sizes of the metal shavings in the transmission pan? It's fine if they're small enough to appear like fuzz.
You have a problem, however, if you can pick up the fragments and feel their sharp edges. Don't use it until that vehicle's transmission is serviced or rebuilt.
How Do You Know What's Not Normal?
An oil pan is composed of four types of material. In the bottom of the oil pan, metal shavings or even fine powder are usually found. A large or sharp shaving usually indicates something is wrong if it can be picked up with your fingers.
Check gear sets for worn or chipped teeth, as this is a common finding during inspections. In some of the transmission components, casting slag or material indicating an imperfect manufacturing process can be found.
Although extremely fine particles are normal in most cases, black pieces could indicate a worn clutch. Particularly if the magnet finds these fine particles, proving that it performs its function.
It is common to find brass or gold-colored flakes after some mileage has been put on the car. They may come from bushings or thrust washers since brass materials are used in these components.
What Causes Metal Shavings in Transmission Fluid?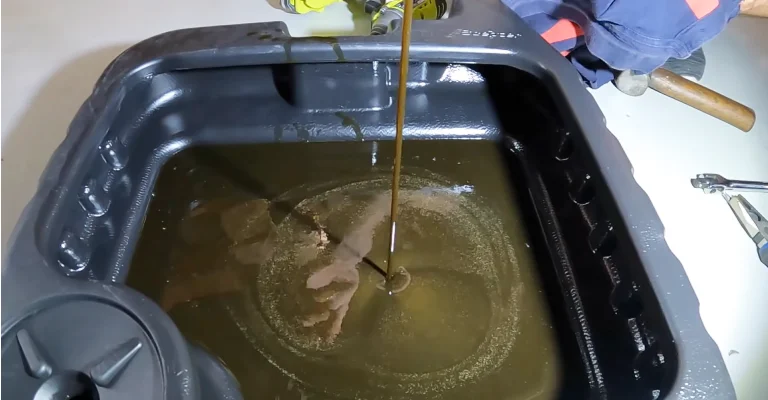 In the same way, your engine needs regular maintenance; your transmission also requires regular service. A faulty transmission or not replacing transmission fluid regularly will wear out the gears and cause fragments to fly everywhere.
This strain will wear out your transmission much faster, and the fragments can lodge themselves in places that are hard to reach and further damage your vehicle.
Your drip pan magnet can't catch everything. Your vehicle should be serviced as soon as you find sharp metal shavings in the transmission fluid pan.
Other Possible Causes And General Maintenance
Neither the motor nor the transmission will benefit from over-revving the engine, so the fluid cannot adequately lubricate the moving parts.
The accumulation of thick and sludgy oil due to late oil changes, or even the lack of oil changes, can depreciate the drivetrain components.
Putting stress on transmission could result from abusive driving, such as miss-shifting gears. It is important to follow the manufacturer's recommended schedule for routine maintenance to ensure everything stays in order.
If you are using your vehicle hard for an extended period and are racing, we also recommend changing the oil after about 20 hours.
How To Do A Transmission Fluid Flush DIY?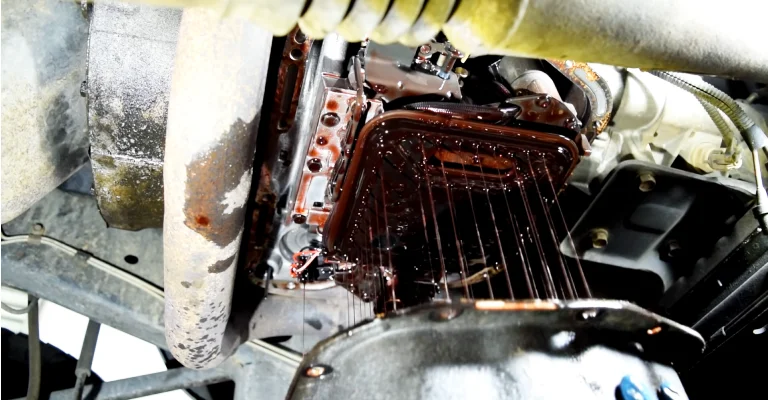 Those of you who are car guys like me, you'll love this. What is the best method for flushing transmission fluid in your vehicle? Using this tutorial, you can perform a transmission flush in no time at all.
Since you need to access your car from underneath, this job does not require a difficult working environment. You must raise your car in the air to do this. It will be necessary to use a lift, or some jack stands.
The transmission oil pan gasket needs to be replaced as well as the transmission fluid and transmission filter. What are the steps involved in performing this task?
Step 1
You will need to raise the car in the air. If you want to do this, you will need to add some jack stands or use a lift to lift the car. There is also the option of using a tunnel if you have one.
Step 2
Taking the fluid out now is the next step. You will need to unbolt the bolts holding the transmission's oil pan to flush the fluid. Make sure you're prepared because you'll find a lot of liquid inside the pan. It would help if you had a large bucket where the transmission fluid would be placed.
Step 3
As soon as you have flushed the transmission fluid and removed the pan. You should clean off the pan thoroughly with some paper towels and brake cleaner. Don't let anything remain on the pan.
Step 4
It is important to clean the gasket material off of the transmission pan as well as from the transmission. You should prevent the transmission from getting contaminated.
Step 5
Changing the transmission fluid filter is now necessary. A clean transmission fluid requires this filter to be replaced.
Step 6
Now it's time to reassemble everything. Make sure that you mount the gasket properly and also the pan. Add the bolts but do not over-tighten them; you don't want to damage the new gasket. Torque them in a crisscross pattern.
Step 7
The oil pan must be bolted in place to lubricate the transmission, and then the transmission fluid must be added. To accomplish this, you must remove a bolt on the transmission's side.
Using a pump, remove the bold and pump some transmission fluid into the transmission. As soon as the fluid starts leaking from the hole, add more fluid. After that, torque up the bolt and ensure it's tight.
Make sure the car is leak-free and take it for a spin. The fluid level needs to be checked. Ensure the transmission shifts properly. Once you've completed this step, you're ready to go.
Metal Shavings In Transmission Fluid Repair Cost
Transmission fluid contaminated with metal shavings can cost a lot if you do not fix the issue on time. Transmission flushes must be performed as soon as you notice metal shavings in the transmission.
Putting this first is of the utmost importance. You should flush your transmission if you want to make sure that you have good transmission fluid. When you do your transmission flush, it should only cost you about $70; however, if you do it at a mechanic's shop, it could cost up to $150.
The torque converter is likely to cause a problem if a transmission fluid flush does not resolve the issue. With a good torque converter, your transmission likely needs to be rebuilt or replaced.
Replacing your device will cost you a lot of money—as many as thousands of dollars in some cases.
What Will Happen If I Continue Driving Like This?
Continuing to drive in this manner is likely to worsen the situation. Contaminated fluid will not work on the transmission. You will experience faster transmission component damage if your fluid is contaminated.
There will be jerking and slippage of the transmission. There is no doubt that the driving experience will be awful. A failing transmission will cost you thousands of dollars to repair, and you will ultimately throw money away.
Note:
Metal shavings in the transmission fluid may appear to be an emergency requiring immediate attention. The powder isn't always able to turn into shreds of metal if it starts turning into fragments and actual shavings.
You can't always tell from the pan whether what you see is normal. Always err on the side of safety when you are uncertain! Ensure your vehicle is in good working order by contacting an expert.
Final Words
Some parts of your transmission, including the differential, are not bulletproof. Some types of recalls or even weak parts are possibly documented for specific transmissions. Keeping this in mind when considering possible causes or prolonging your transmission's life should be a priority.