It is important to consider the sounds your car makes to gain a good sense of its power and performance capabilities. For example, engine components and vehicles are in good health if they produce a humming, purring sound.
Under the hood, however, a sputtering sound could indicate an issue that shouldn't be ignored. Your engine repair will only become more costly the longer you delay it. It is rare for problems associated with sputtering engines to disappear on their own or improve over time.
You may be running out of gas if your car is sputtering. However, there may be something more serious, such as fuel or exhaust system issues, even if the check engine light is not on.
Parts that are dirty or worn out fall into this category. Discover why fixing engine sputtering is so important as we explain some possible explanations.
What Causes The Engine To Sputter?
Sputtering can usually be detected immediately by your engine. If it doesn't sound and feel normal, it might be backfiring. Many different problems can cause a struggling engine to make a gasping sound.
When diagnosing an issue with a vehicle, an experienced mechanic will usually have to run a diagnostic on it. So here are some possibilities as to why the engine may be sputtering.
1. A Dirty Mass Airflow Sensor
A dirty mass airflow sensor can also cause sputtering engines. This is because the mass airflow sensor measures air as it enters the fuel injection system. The vehicle's computer receives this information.
As a result, the combustion chamber receives the proper amount of fuel. However, when the mass airflow sensor is dirty, it will lead to a rough running or sputtering engine.
In the fuel injection process, this sensor keeps track of the temperature and weight of air traveling to the engine. Unfortunately, a dirty sensor can cause many other problems besides poor engine performance and low gas mileage.
2. Car Out Of Gas
When you are running low on gas, an engine sputter most commonly. Eventually, as the engine runs out of fuel, the car will not start. So, whenever your engine sputters, the first thing you should do is check your fuel gauge.
Your problem isn't likely to be running out of gas if your fuel gauge still shows gas (unless it's faulty).
3. Worn Out Spark Plugs
You may also need to replace your spark plugs if your vehicle is sputtering. Spark plugs are one of the most critical components of your engine.
Your vehicle's engine is powered by the small-but-mighty spark plugs that "spark" your engine's air and fuel mixture.
In the end, you might be unable to start your vehicle if they're dirty or otherwise malfunctioning.
4. A Problem In The Fuel System
Fuel system problems, such as a clogged filter, a malfunctioning pump, and clogged injectors, can cause a sputtering engine.
The fuel tank, the fuel injectors, and the pump all play an important role in ensuring fuel flows smoothly from the tank to your engine.
As a result of this process, fuel, and air are combined to create a perfect mixture, which produces the combustion that drives your vehicle.
Dirt and debris can cause the fuel filter, pump, and injectors to fail if just one part is clogged. As a result, the engine can perform poorly or even fail.
5. Dirty Fuel Injectors
Engine cylinders receive fuel from fuel injectors. Air is then added to the mixture, and it is ignited.
Over time, fuel injector nozzles can become clogged, leading to a sputtering engine, slow acceleration, and insufficient power.
It is possible to clean fuel injectors if the issue is caught early, but it may be necessary to replace them if the problem worsens.
6. Malfunctioning Oxygen Sensors
Exhaust gases are measured by oxygen sensors when they leave the combustion chamber of a vehicle. The vehicle computer adjusts fuel amounts based on this information.
Dirty or faulty sensors can cause the engine to run rough or sputter due to too much or too little fuel being delivered to it. Therefore, a regular oxygen sensor replacement is necessary.
7. Clogged Fuel Filter
It filters the fuel going to the fuel injectors and entering the engine through the fuel filter. When the fuel filter gets clogged, the engine gets low fuel pressure, or the fuel injectors get clogged.
Engines that run lean are more likely to sputter, which is caused by low fuel pressure. When it is time to replace the fuel filter, you should do so as soon as possible.
You may need to do so if you have not replaced it during the last service. In most cases, fuel filters can be easily replaced and do not cost a lot.
Engine Grunting Can Mean Fuel System Problems
Spluttering is caused by low fuel levels, whether they are caused by leaks in the fuel system or a lack of gas in the tank.
This is because the fuel system delivers the right amount of fuel by injecting fuel into the engine's cylinders.
It happens when these injector sprays get clogged, worn down, or somehow damaged, and the cylinders can't receive the right amount of fuel they need.
As a result, the engine will sputter because it must work harder to accomplish the same task.
If you want to repair or replace fuel injectors in a BMW, Audi, or Mercedes Benz, it will cost you between $1200 and $1500.
However, you can save a few hundred dollars rather than having to replace the injector nozzle or spout entirely if it's just clogged or dirty.
The Exhaust System Troubles Often Lead to Engine Repair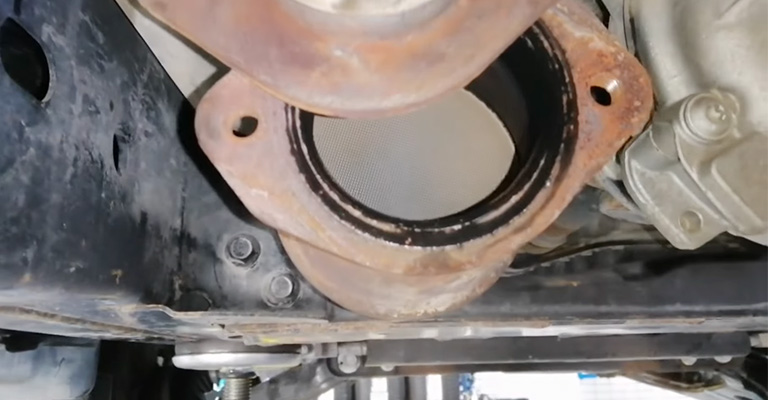 Problems with the fuel system don't always cause stuttering and snorting engines. Sputtering engines can also be caused by problems with the more extensive multifaceted exhaust system.
As a result of the exhaust system on your vehicle, toxic chemicals and toxins emitted by the engine are safely expelled.
However, an engine will likely sputter if any component in the exhaust system leaks or wears out.
If your vehicle's exhaust system leaks one of its gaskets, you'll also notice strong burning smells coming from beneath it.
This is because its functionality has been compromised by a leak along the bigger exhaust system.
The device cannot release toxic fumes efficiently and safely as a result. If you do not respond to the problem quickly, your engine could sputter, and toxic fumes could come into your cabin.
Final Words
Sputtering in your engine occurs occasionally and can seriously damage your vehicle if left untreated. Before anything else happens, you should have the problem checked out and properly fixed.
The sputtering engine is usually a warning sign of a deeper issue that needs to be addressed as soon as possible.
In the case of a sputtering engine, the problem lies deeper in the engine compartment if the gas gauge indicates full.
The engine can sputter if there is incomplete combustion, or the ignition system is malfunctioning. Vehicles may also sputter if their fuel systems are clogged, such as the fuel injectors.
Even though a sputtering engine may not appear to be a major problem, it is a sign of a much more serious problem. This issue won't self-correct and will lead to a much more expensive repair.
Therefore, investigation and repair of the sputtering source should be undertaken immediately.