The 2023 Honda Ridgeline is a pickup truck that has been designed to provide both on-road comfort and off-road capability. It offers a unique combination of versatility, convenience, and utility that sets it apart from other trucks in its class.
With a spacious and well-appointed interior, powerful engine options, and advanced technology features, the Honda Ridgeline is an excellent choice for those who want a truck that can handle various tasks.
When it comes to off-roading, the Ridgeline has the capabilities to handle rough terrain and inclement weather conditions. Its standard all-wheel-drive system, high ground clearance, and strong suspension make it a capable off-roader that can easily tackle tough obstacles.
Whether you need to haul heavy loads or venture off the beaten path, the 2023 Honda Ridgeline is up to the challenge. The same can be said for the 2022 Ridgeline model.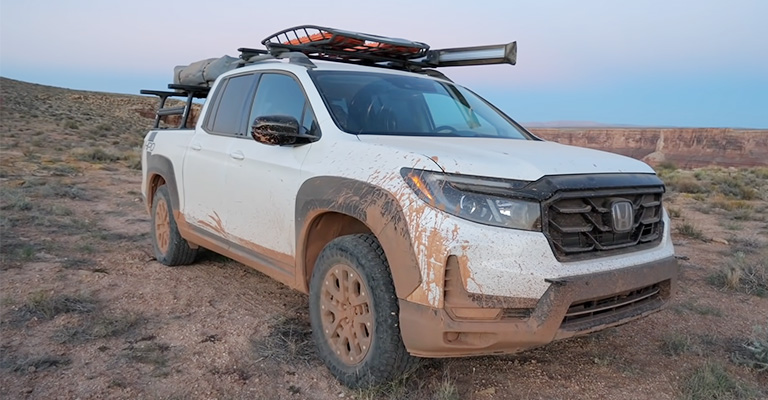 Should You Take The Honda Ridgeline Off-Road?
There are some impressive features on the Honda Ridgeline regarding off-roading. While it's a trail boss, some fundamental specifications, such as ground clearance and chassis style, can keep it from being a true trail machine.
The Honda Ridgeline 2022 is marketed as a "mid-size adventure truck," so it has a lot of pressure to live up to its advertising. Having said that, we'll go deep into the Honda Ridgeline's off-road abilities.
The Honda Ridgeline's V6 engine produces 280 horsepower. Despite its limited off-road capabilities, it can handle some light adventures.
There is a traction management system included in the all-wheel-drive system. As a result, Ridgeline owners can adjust their drive based on the current weather conditions. Regardless of whether it is snow, sand, or mud.
Can The Honda Ridgeline Go Off-Road?
The majority of the time, yes. This SUV is equipped with performance metrics and off-road technology features enabling it to traverse less-traveled roads easily.
However, the ground clearance and the chassis style are fundamental specifications that might cause some concern during intense adventuring. Taking a look at the situation from our perspective.
Body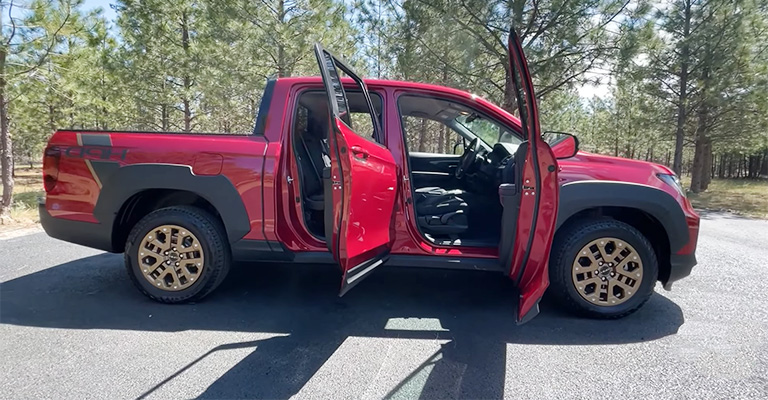 This truck is one of the few on the market with a unibody, which means the body also functions as the frame. Trucks typically have frames and bodies that are separate parts, known as body-on-frame designs.
In exchange for a lower center of gravity, a smooth ride, more sturdiness, and a lower center of gravity, a unibody makes for an appealing off-road vehicle.
Torque
For a vehicle to be considered a powerful off-roader, it has to have a lot of low-end torque-that is a lot of torque at low speeds.
It is essential to have this kind of power to overcome boulders or climb steep inclines. Despite having 262 lb-ft of torque, the Ridgeline maintains momentum without overtaxing the engine.
Ground Clearance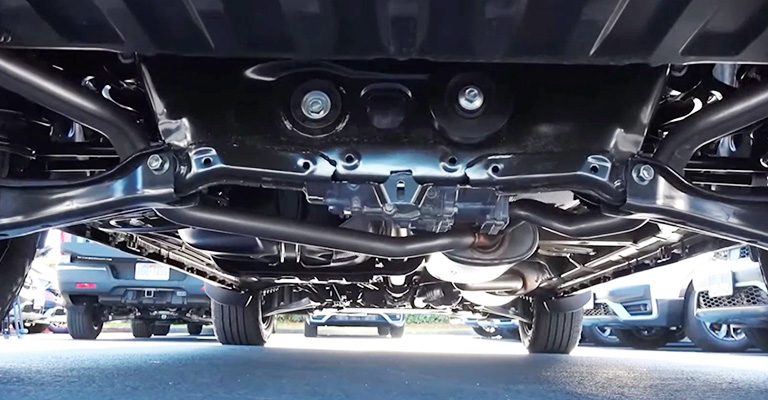 Its ground clearance is 7.6 inches, less than the off-road recommendation of 8.8 to 10.8 inches. An auto's ground clearance is the distance between the ground and its lowest part.
It is particularly important to do this if you are off-roading because you can encounter obstructions or uneven surfaces.
The Ridgeline's clearance of only 7.6 inches makes it vulnerable to bottoming out or underbody damage, which is not ideal for off-road use.
Angles
The approach angle and departure angle play a significant role in off-roading:
Departure angle: the angle at which a vehicle can descend without interfering.
Approach angle: Maximum angle at which a vehicle can climb without interfering with other vehicles.
The 2022 Honda Ridgeline's approach angle is 20.4 degrees, and the departure angle is 19.6 degrees.
The 22.9-degree approach angle and 25.3-degree departure angle of the 2022 Ford F-150 Lariat give you a sense of its approach angle and departure angle. Accordingly, the Ridgeline falls behind the competition here.
Drivetrain
It is here that the Ridgeline shines as an off-road vehicle. As a result of Honda's intelligent variable torque management system (i-VTM4 Ridgeline), the truck can distribute optimum torque between each tire as a function of conditions.
In addition, its intelligent traction management systems accurately sense and adjust to handle normal, snowy, sandy, and muddy terrains.
By simply pressing a button, terrain management can be controlled. Easy-to-use features allow for easy use. In terms of on-road safety, the Honda Ridgeline has independent suspension.
As a result, the vehicle will handle better and ride more comfortably. It will be easier for you to handle rough terrain with independent suspension when you are off-roading.
What Unique Features Does The Honda Ridgeline Offer?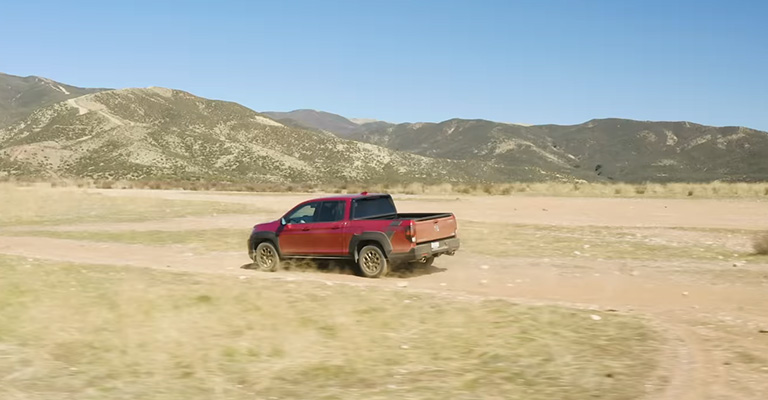 Additionally, the Ridgeline offers some off-roading capability and a 280-horsepower V6 engine. The torque of 262 lb-ft allows this mid-size truck to tow 5,000 pounds when properly equipped.
Additionally, Honda offers performance packages with features like fender flairs and bronze wheels. In this way, the Ridgeline stands out in the crowd. Furthermore, the grille has been updated to look more aggressive with the package.
Shopping for a new truck will likely want modern safety technology. That's not to say that this mid-sized truck falls short. Collision mitigation means preventing collisions, road departure warnings mean preventing accidents, and so on. As a result, drivers can have a greater sense of confidence.
What Does It Mean If A Truck Is Unibody?
Traditional pickup trucks have a body-on-frame construction. A 2023 Honda Ridgeline is not one of them. It is considered more vital to construct with a unibody frame instead of a conventional frame. The reduction of noise and vibration also results in a quieter highway.
There are, however, a few disadvantages associated with unibody construction. The feel of being connected to the road is enhanced by body-on-frame trucks. Aside from being strong enough to stand up to rugged terrain, they are also easy to maintain.
Why Doesn't The Ridgeline Sell Well As An Off-Roader?
Ridgeline 2023 is not the most off-road capable model. The truck is unibody constructed and lacks features such as a locking differential found in other mid-size trucks.
There is AWD on the Ridgeline now. This should make it more suited to light off-roading. Numerous factors could be preventing the Ridgeline from becoming a popular truck.
Despite their comfort, body-on-frame vehicles are preferred by most truck owners since they have a more connected feeling to the road.
Furthermore, the Ridgeline is not fit for serious off-roading. The capability to go off-road is something to appreciate, even if the truck never sees a trail.
Final Words
The Honda Ridgeline has long been a popular pickup truck known for its capable, unibody design. Various automotive roles are well-suited to this vehicle, thanks to its available all-wheel drive and convenient features.
Even though it is not as capable as trucks such as the Toyota Tacoma and Nissan Frontier, it still offers some off-road capability. Those who own mid-size trucks are likely to appreciate this.
There are other trucks available that are more capable than the Ridgeline. Ridgeline, however, isn't designed to attract shoppers of that type. Off-road capabilities are still available, however.