It indicates a misfiring or random misfiring of cylinder 4 when the P0304 code is displayed. This one can also be seen with codes related to lean/rich and misfires.
There is a relatively common trouble code in the Honda Civic called P0304, which can occur in any vehicle. The cause of this code in your situation can be attributed to several factors, and a mechanic will need to diagnose the exact cause.
However, there is no doubt that P0304 is a cause for concern and constitutes a threat to your Civic's drivability. Unlike P0300, which indicates misfiring cylinders randomly, P0304 refers to cylinder-specific problems, which makes diagnosis easier.
There are many causes of multiple misfires, including faulty spark plugs and low engine compression. This code is often accompanied by other codes such as P0301, P0302, and P0303. A misfire in cylinders one, two, and three is indicated by these codes.
What Is The Meaning Of Honda Code P0304?
Gasoline burns inside a cylinder chamber, and the combustion generates power. Engines typically have four, six, or eight cylinders, with more cylinders resulting in more power.
A piston moves up and down while fuel is ignited at specific times to generate power. Misfires occur when the ignition timing is incorrect. There is a problem with cylinder 4, as indicated by P0304, which means that it is experiencing misfires.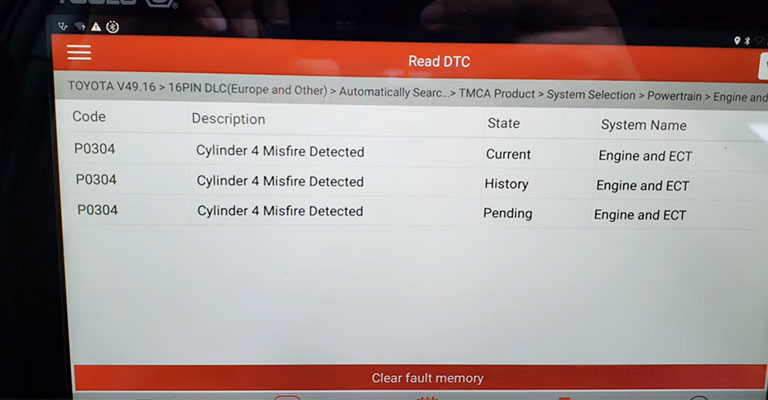 Specifically, P0304 indicates cylinder four is misfiring, causing the code to display. Therefore, cylinder #4 will be the 4th cylinder in the vehicle's firing order, not the 4th cylinder on the engine's surface when you locate it. This is important to understand when finding Cylinder #4.
Honda P0304 Code: What Causes It?
Misfires in cylinder 4 can occur for a variety of reasons, including faulty ignition systems, gas systems, and engines. However, spark plug coil packs that are faulty or worn out are the most common cause of this, especially if you haven't tuned up your car in a while.
The cause of DTC P0304 can be attributed to several factors. The majority of these issues stem from a lack of fuel or spark delivery, which can easily be the root cause of cylinder #4 misfiring. Here are a few of the most common problems.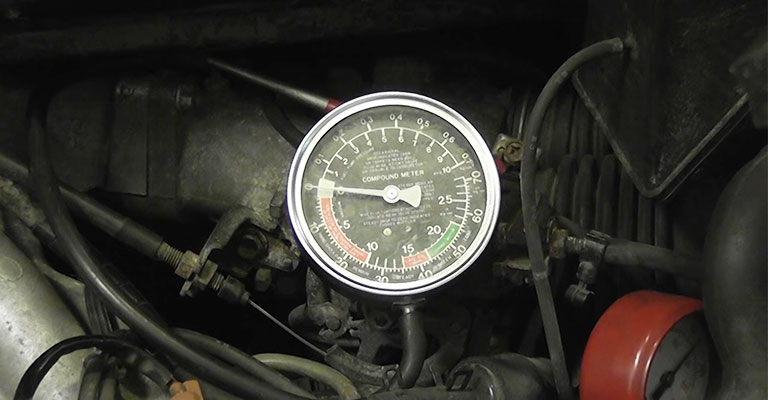 The quality of fuel is poor
Engine compression is low
The head gasket is leaking
The engine timing is off
The crankshaft sensor is defective
The camshaft sensor is defective
Fuel pressure is too low
A vacuum leak has been detected
An injector is faulty
Failure of the distributor
The coils or wires of the spark plug are faulty
Spark plugs that are faulty or worn out
Symptoms Of The P0304 Code
Is it possible to tell if you're dealing with a P0304? P0304 or other similar error codes are often accompanied by a number of warning signs that you can keep an eye out for before using an OBD-II scanner.
It is important to look out for several symptoms of a P304 engine misfire. The following are just a few: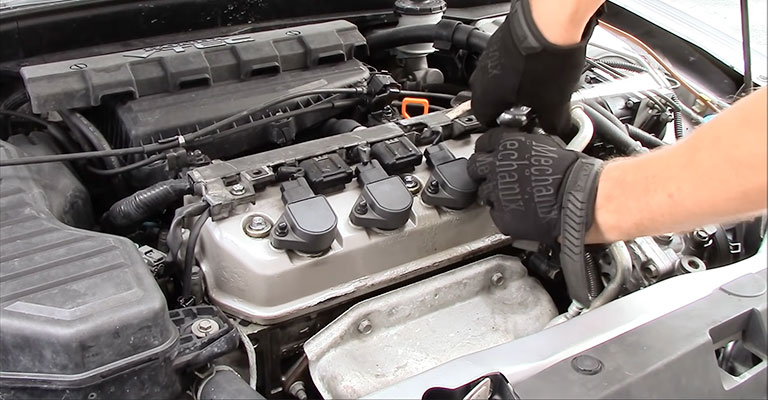 An error code P0300 is often associated with this problem
An unpleasant odor emanates from the exhaust
Consumption of fuel is excessive
Power loss, especially when driving uphill
Shaking and rough running of the engine
When accelerating, there is hesitation or jerking
An engine that is difficult to start
The engine isn't producing enough power
How to Fix the P0304 Code?
To determine whether to replace coil packs, plugs, or wires in your ignition system, inspect and test the components around the cylinder. The problem usually comes down to one of those three factors. Cylinder 4 must be swapped, the trouble codes reset, and the coil pack, wire, and plug replaced.
By moving these three components, you've changed which cylinder the trouble code has registered in, so if you get a different P030X code, it means that one of those three components is faulty.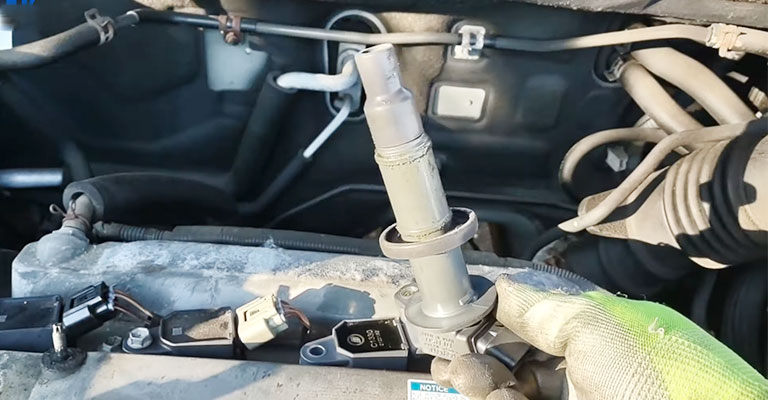 Replacing them or testing them after that will be a good idea. If your ignition components are failing, this is an easy and inexpensive way to determine if they need to be replaced.
The fuel injection system would then need to be tested. You might want to do a compression test to see if that cylinder has a leak if that doesn't work.
How Much Does It Cost to Fix Code P0304?
There are many reasons for P0304, including old spark plugs, vacuum leaks, and poor engine compression. Until the issue is properly diagnosed, it's impossible to give an accurate estimate.
There is typically a $75-$150 cost involved, depending on the shop's labor rate. If you have them perform the repairs for you, most shops will apply this diagnosis fee to the repairs. Afterward, the shop can provide you with an accurate estimate of repair costs for the P0304 error code.
When P0304 is properly diagnosed, one or more of the following repairs may be necessary to resolve the underlying problem. National averages are used to calculate these prices, which include parts and labor. Depending on where you live and what kind of vehicle you have, your costs may differ.
The cost of a fuel pressure regulator ranges from $200 to $400
The cost of a fuel pump ranges from $1300 to $1700
The cost of a vacuum leak is between $100 and $200
The cost of fuel injectors ranges from $1500 to $1900
Wires for spark plugs cost between $180 and $250
Intake manifold removal is required for some cars. Ignition coils cost $230-$640.
The cost of spark plugs ranges from $66 to $250
A Few Additional Comments Regarding Code P0304 For Your Consideration
A coil pack may fail in a vehicle equipped with a coil pack that has higher mileage. The suspect coil pack can be moved to another cylinder to determine if it is at fault. After the new cylinder is installed, test drive the vehicle to see if the code changes.
In this case, the coil pack itself has failed. There are three types of coil packs on vehicles: the most modern coil packs, spark plug wires, and distributor caps and rotors, which are usually on carbureted vehicles.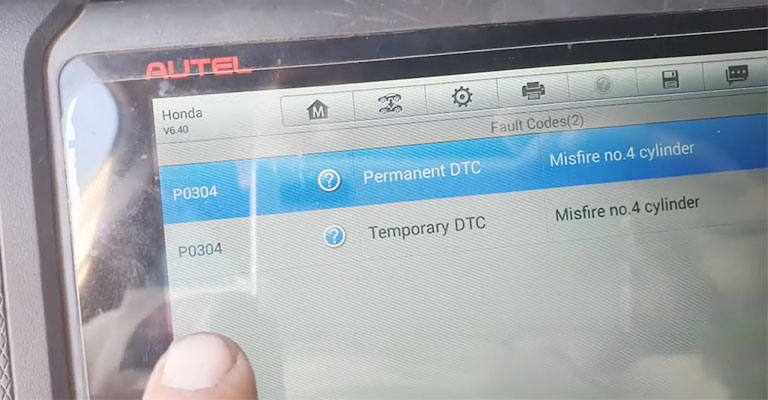 On vehicles with high mileage, each of these items is subject to wear and failure. Therefore, routine maintenance generally involves replacing the spark plug wires, cap, and rotor along with the spark plugs.
The proper diagnosis of P0304 requires an advanced-level scan tool – one that provides access to live engine data as well as reading codes. Misfires can be tracked, and fuel and intake information can be viewed using this data.
What Is The Severity Of The P0304 Code?
If symptoms start, driving the vehicle to a safe location is safe once the condition has been identified. It is recommended to have this code repaired as soon as possible to prevent drivability issues.
Mistakes To Avoid When Diagnosing P0304
The failure to test components or replace unnecessary components can lead to mistakes. Be sure not to skip any steps to avoid this.
For example, a spark plug, and wire replacement will fix the problem in most vehicles. To determine what needs to be repaired, the entire system must be tested.
Final Words
A Honda Civic can display the P0304 trouble code due to several factors. Therefore, a high priority should be given to fixing P0304. Unlike many OBDII codes, this one has a direct connection to engine combustion.
Misfires can also damage a vehicle's catalytic converter if ignored, leading to expensive repairs. Cylinder 4 also passes raw fuel into the exhaust because the engine isn't firing all of the fuel. Your Civic's mileage may also be affected if you have a P0304.