Lowered car culture is not new but is dominant in many parts of the world nowadays. And this car culture is not only applicable to tiny cars but also pick-ups, mini trucks, and jeeps as well. But would this go for minivans like Honda Odyssey as well?
Does slammed honda odyssey a good idea? Yes. Slamming Odyssey is a good idea for getting a good grip, enhancing aerodynamics, displaying an adventurous personality, etc.
To hit the in-detail ground, we've researched whether slammed Honda Odyssey is a good idea or not. Let's explore the findings.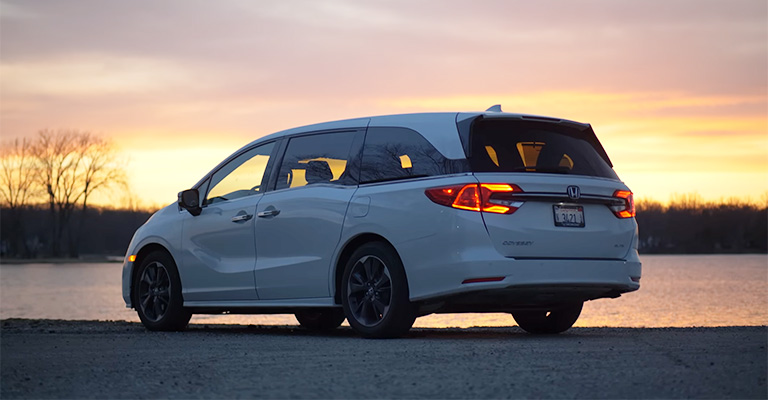 Why Slam Your Honda Odyssey?
Honda maintains a standard clearance of the chassis in association with highly sensitive shock absorbers. This feature allows safe passage through potholes, hilly areas, unpaved roads, extreme weather conditions, etc.
However, it is a good solution for poor roads but triggers a shaky feature while changing lanes on a good-condition road, taking sharp turns, or just after hitting any tiny uneven road surface.
And this (the shaky context) hosts some problematic issues,
It's irritating for skilled drivers
It is a superior obstacle in case of speeding
The shaking lessens the balance in highway driving if the tires hit any uneven surface
Causes damage to the exterior in speedy and sharp turns
It obstructs hard breaking; eventually, you won't get the stop-on-the-spot feature
Avoiding these is the very basic reason for slamming the Honda Odyssey. However, there are several other reasons. Some are highlighted in the section below.
Should You Go With The Slammed Honda Odyssey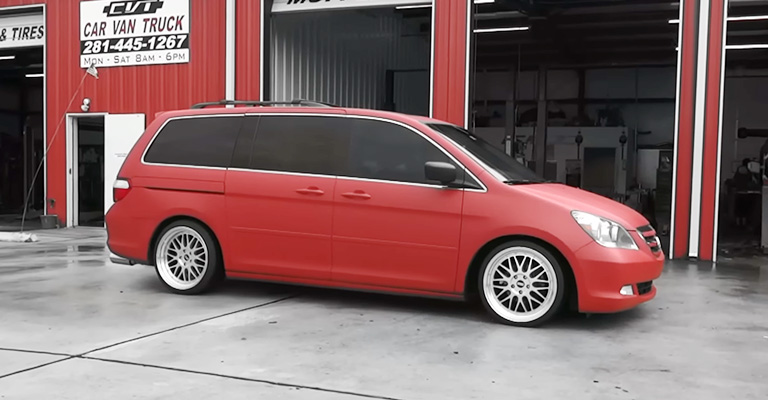 Before heading to other sections, you must ensure that the lowered Honda Odyssey concept suits your lifestyle and needs.
We say go for it if any of the below criteria are met.
You follow a car-lover group, and its resolution demands lowering the vehicle
You are keen to integrate advanced aerodynamics into your car
Fond of the unique and personalized car looks, so want to stance your car by every means
You can lower the suspension if you want a comfortable but speedy driving experience on the highways
You want more grip while dealing with sharp turns (your daily route is full of such)
Driving a slammed car is a trend, and you want to be a part of it, showing your love for speedy beasts
How to Slam Honda Odyssey?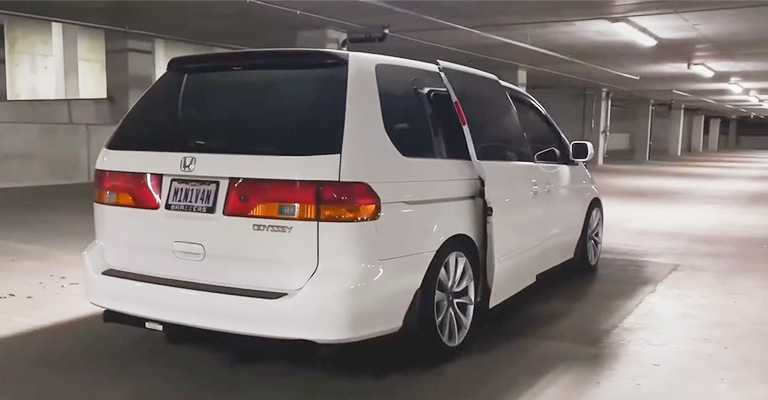 If you are thinking of buying a slammed Ody, it's okay. But if you want to modify your Odyssey, this section is for you.
To perform this aftermarket suspension work, you have two options:
Take your vehicle to a mechanic or modifier for service
DIY
Here, we detail a do-it-yourself scenario step by step.
Using Coilovers
Coilovers are the best solution for lowering the minivan's height. These accommodate adjustable springs and shock absorbers.
Rear Side of the Van
Step 1: Jack up each wheel separately or all four wheels at a time
Step 2: Take out the wheels
Step 3: Take out the lugs
Step 4: Remove the rare side's cupholders and arm resters
Step 5: Locate and loosen the two pieces of 14-mm nuts inside the rear shocks (cupholders)
Step 6: While keeping this position, use an OEM jack to level up the lower subframe
Step 7: Now identify two existing (connecting subframe and breaks) 17mm nuts and remove them
Step 8: Release some pressure from the OEM jack to lower the subframe. Lower it till the springs fall out
Step 9: Remove the 2 nuts mentioned in step 5 (rear shock)
Step 10: Put the new spring setup in position. Remove the jack
Step 11: Now go for the front side
Front Side work
Step 1: Identify and remove the two 14-mm bolt pieces (break line)
Step 2: Under the hood, at shock towers, lose three 14-mm nuts
Step 3: Remove the shock fork and respective 17 mm bolt
Step 4: Remove the OLD shock absorber
Step 5: Install the new system
Step 6: Now, use the new setup's mechanism to get the desired height
Using Lowering Springs
This is another simple process to lower your Honda Odyssey. However, the height will be fixed; if you need to change it, you'll have to redo the process.
Step 1: Use jacks to lift the vehicle
Step 2: Remove the bottom ball joint to remove the first strut and stock
Step 3: Now compress the stock spring (with the spring compressor)
Step 4: Remove stock/struts top nut and cap
Step 5: Remove the compressor spring
Step 6: Take out the spring
Step 7: Place the new spring
Step 8: Set the removed nuts and cap
Step 9: Follow the same process for the other sides
Final Check On Whether Slammed Honda Odyssey is a Good Idea or Not
If you are fond of trendy car cultures in association with modern lifestyles, lowering your boring-shaped Honda Odyssey is a good idea. With some additional expenditure on this car standing, you'll be able to show your adventurous personality.
In addition, if you are between 20 and 35, you must go for it; after all, the minivan's original shape circulates a very conservative mindset.
This can bring a drastic change to your image
Lowered Odyssey allows you to show your master-level driving skills
With lowering and some other styling, you can give your van a unique look
And this modification is certainly capable of satisfying your modernistic mindset
FAQs
In this section, we answer some most common questions regarding Honda Odyssey and its modification.
Is a slammed Honda Odyssey worth buying?
Sure, the Honda Odyssey is a superb minivan. And if the slamming consists of coil overs, you can go for off-road drives as well.G
Are Honda Odysseys fast?
Yes. Its engine characteristics are a V6, 3.5-liter, and 280 hp, which can generate torques of 262 lb-ft.
How much do coil overs cost for the Honda Odyssey?
It depends on the brands. However, the average price ranges from $600 to $1,500.
Conclusion
We hope this article will help you determine whether going for a slammed Honda Odyssey is a good idea. However, if you have purchased or modified one, you should be very careful to get habituated to the new chassis height for the first few days.
At the same time, you will be able to identify any problems with the modification. Please be cautious when approaching speed bumps or speed breakers; if there is any slight height extension in those, it may cause damage to your van's bottom parts.