Welcome to the world of Honda ownership! As a Honda owner, you may have seen the acronym "TPMS" on your dashboard and wondered what it means.
TPMS stands for "Tire Pressure Monitoring System," a vital safety feature designed to keep you and your passengers safe while on the road.
In this post, we'll take a closer look at TPMS, how it works, and why it's so important for Honda owners to be aware of.
We'll also share some tips for maintaining and troubleshooting your TPMS so you can keep your tires properly inflated and your vehicle running smoothly.
And as an owner of Honda myself, it is always important to understand how these features work to ensure you are getting the best out of your car.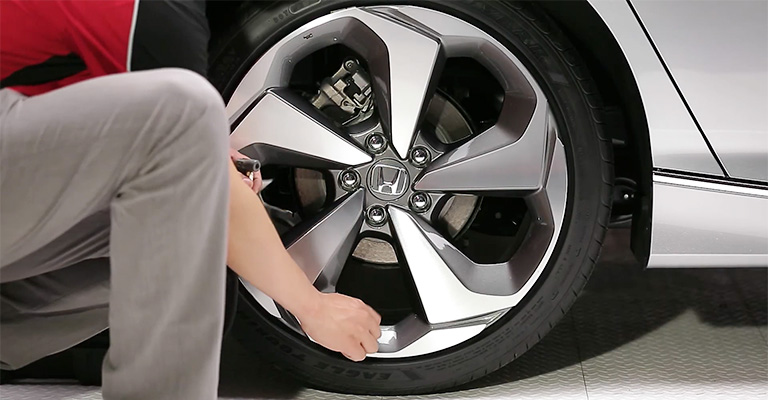 What Is The TPMS Light?
An onboard tire pressure monitoring system, or TPMS, monitors the inflation pressure of your tires and warns you when one or more are underinflated.
Automakers have several options regarding the types of sensors they use, but the goal remains the same.
You may occasionally see the TPMS light illuminated in your car's gauge cluster and ruin your day.
In contrast to other, more serious warning lights, the TPMS light usually doesn't require a mechanic's attention.
What Does The Tire Pressure Light Honda – TPMS Mean?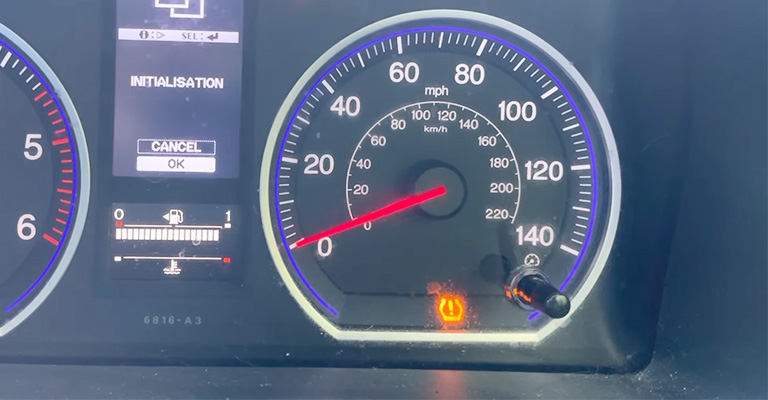 You will receive an alert from your Honda's tire pressure monitoring system (TPMS) when one or more tires are underinflated.
Most of these warning lights are yellow and look like cutaway tires with an exclamation point; however, some have a warning message saying, "Tire Pressures Low."
When equipped with the Tire Pressure Monitoring System (TPMS) with Tire Fill Assist, Honda vehicles provide their drivers with even more information as it displays the current tire pressure for each tire and indicates which tire needs to be inflated.
It can mean a few things when you see that dumb little exclamation point staring back at you. Most of the time, this is as benign as a shift in tire pressure caused by changes in temperature.
Often, it is the result of a puncture or some other damage to the tire that has resulted in a loss of pressure. Inflating your tires too low can also set off the sensor and cause the light to illuminate.
Honda Direct TPMS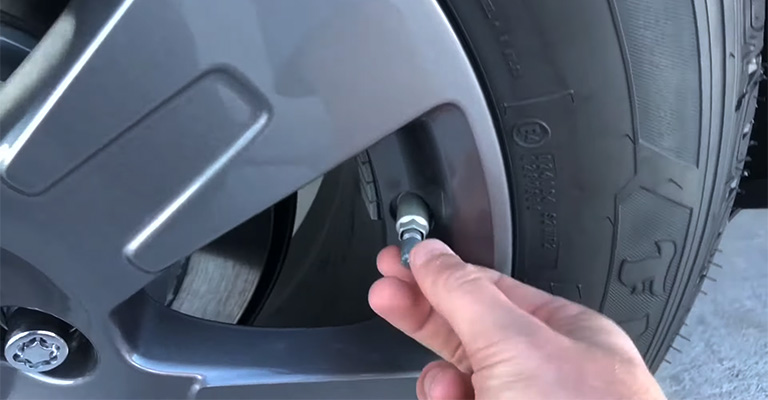 Domestic TPMS systems do not require a scan tool to program sensor IDs and positions. On the other hand, Honda direct TPMS systems require a TPMS tool connected to the OBDII port.
It is not possible to avoid this process by using any special tricks or procedures. Honda Pilots (automatic relearn) and Honda Civics and Accords from 2013 to current models have indirect TPMS systems, so the rule does not apply to them.
It is usually possible to activate the sensor with dedicated TPMS tools to collect the sensor ID and its location on the vehicle. It then transmits the information to the TPMS module via the OBDII port. Scan tools that can access TPMS modules can be used to enter sensor IDs.
For Honda direct TPMS systems, 28 mph is the magic number. The vehicle confirms sensor signals, IDs, and pressures once it has reached 28 mph for at least one minute. TPMS modules and serial data buses detect 28 mph instead of sensors. Honda claims that other sensors and radio frequencies are less likely to interfere at this speed.
TPMS lights should go off after one minute of driving at 28 mph or more if a customer comes in with a solid light. After every relearn or reprogram procedure, you should also follow the 28-mph rule.
The magic numbers for indirect systems are 40-60 mph for 20 minutes. Pressing the TPMS to reset button or instrument cluster information center initiates the process.
Codes & Fail-Safe Modes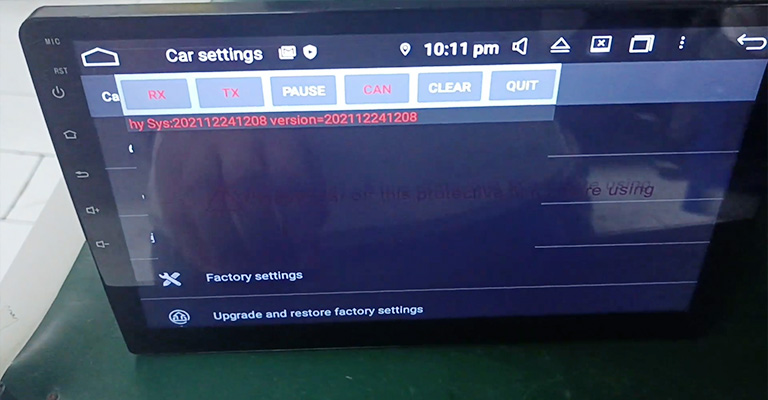 TPMS lights for direct systems are typically located in the instrument cluster on Hondas. A low tire light is an ISO-standard tread light.
There is also a "TPMS" (spelled out) light that indicates a warning/MIL. Honda TPMS systems detect tire pressure problems but do not notify the driver of low tire pressure when a code is set.
The TPMS light will flash for 30 to 90 seconds after the code has been set and then remain on for the next key cycle. When a system is healthy, the light will flash for two seconds and then turn off.
Disconnecting the battery will not clear the TPMS codes in the non-volatile memory. TPMS codes can only be cleared with TPMS tools that can communicate with the module.
All possible TPMS codes can be stored in the memory. The most recent DTC, however, overwrites the previous one when the same code is detected more than once.
When the spare tire is replaced with a flat tire on a vehicle with a direct system, the TPMS indicator illuminates (DTC 32, 34, 36, 38) since the system is no longer receiving a signal from the flat tire's transmitter. The spare tire is not the problem.
Indirect Systems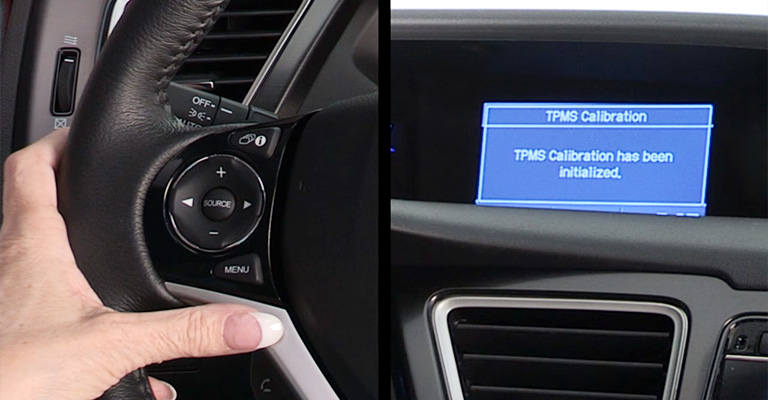 Air pressure sensors are not installed inside Honda's indirect TPMS systems. The anti-lock brake system (ABS) wheel speed sensors detect low tires by comparing relative wheel speeds. A tire's diameter decreases slightly when it loses air.
Honda introduced indirect TPMS for the 2013 model year on its highly popular Accord. It is recommended to recalibrate the system after any corrections or changes to the inflation.
No tools are required for the procedure. A series of buttons in the i-Mid driver information center or the TPMS reset button under the steering wheel initiate calibration.
What To Do If The TPMS Light Is On?
The situation needs to be rectified as soon as possible, no matter which indicator is on your Honda model.
It can make your tires wear out faster, reduce fuel efficiency, or cause a dangerous blowout while driving if you have low tire pressure.
To prevent any of the above scenarios and turn off the warning light, take the following steps:
Get out of the vehicle and park it somewhere safe.
Adjust the air pressure to the level specified on the label inside the driver's side door jam by using an air pump.
Leaving the vehicle on if you have Tire Fill Assist is recommended. In addition to providing audio assistance, it will also provide visual assistance. There will be a beep sound and fast flashing of exterior lights when the pressure is properly set.
If your vehicle does not have Tire Fill Assist, you can monitor tire pressure using the tire gauge.
If you have over-inflated your tires, let some air out until they are at the recommended tire pressure. You can drive safely on over-inflated tires just as well.
How Do You Fix a TPMS Warning Light?
One of several ways can be used to fix the TPMS light. It is possible to fill the tire at a service station or to release enough air to get it to the proper pressure.
Would you mind telling me how you know what that level is? Inside your driver's side door is a small white and yellow label that shows you what the cold air temperature should be.
Therefore, you will need to wait a few minutes for the tires to cool down before you get an accurate reading.
Tires cannot withstand higher inflation levels than those listed on their sidewalls because those numbers represent the maximum pressure they can withstand. In addition to bumpy rides, that level can also result in a blowout.
Importance Of Proper Tire Inflation on a Honda
Both overinflated and underinflated tires can cause several unwanted problems. Properly inflated tires, however, can provide the following benefits:
The rolling resistance of the vehicle will be reduced, increasing the efficiency
Tire life is prolonged by reducing tread movement
Increasing water dispersion decreases the hydroplaning likelihood
To learn more about proper tire pressure for your vehicle, consult your Honda owner's manual. You can prolong the life of your vehicle by following the owner's manual recommendations. By doing so, you can avoid expensive repairs in the future.
How Do You Know If You Have A Bad TPMS Sensor?
There is nothing unusual about TPMS lights appearing and disappearing, especially in parts of the country with cool mornings and warm afternoons.
To determine if your TPMS sensors need to be replaced, you should notice that the light is blinking rapidly and does not seem to be staying on or going away. Generally, this means that one or more sensors are bad or the system itself may malfunction.
Tips To Fix TPMS
Keep an eye on the light itself. Are the lights blinking, or are they solid? Have you noticed a big change in air temperature lately, or did it come on while driving? When viewing something, you need to understand what you see clearly.
Check your tire pressure regularly instead of eyeballing it. You need the pressure gauge to tell that you've inflated the tire to the correct level, so adding some air won't work. Your tire could also get blown out or experience poor ride quality if it is overinflated.
Ask your tire shop how the TPMS sensors were replaced or transferred when having your tires replaced.
Generally, most vehicles allow you to reset the light from inside the cabin if you are sure your tires are inflated to the correct pressure and that no damage has been done to the tire itself. If you own a hybrid vehicle, you'll need to either press the trip-mileage reset button or turn it on and off to reset it.
Is It Safe To Drive With TPMS Light On?
Your TPMS light shouldn't be illuminated when driving. If you do not inspect your tires, you do not know how quickly air is leaving them or whether they have been overfilled or underinflated for an extended period.
To check the inflation level on each tire, you should use a tire pressure gauge. If the light comes on while driving, slow down and make your way to the closest gas station or service station for an inspection.
Why Is My TPMS Light On But Tires Are Fine?
Your wheel sensor can wear out or be damaged due to improper wheel balance. It is like when your tires are too low that the TPMS light comes on if the wheel sensor is faulty.
It's not difficult to replace a wheel sensor, which usually costs less than $100 at an auto parts store or tire shop. Make sure your new sensor matches your old one (some sensors are specific to specific wheels) and ask if your TPMS can be reset when they replace it.
Final Words
If your TPMS light remains illuminated, and you're uncomfortable taking the next step, you should visit a professional mechanic. If the problem is diagnosed and fixed, they can resolve it.
A mechanic can also assist you if your TPMS uses low tire pressure warning lights rather than the telltale wheel sensors found on some vehicles or if resetting them doesn't solve the problem.
It is not difficult to fix the low tire pressure light but getting to the root of the problem requires assistance from a mechanic.