CCA stands for Cold Cranking Amps, and it is a battery rating that indicates the battery's ability to deliver a large amount of electrical current at cold temperatures, typically at 0 degrees Fahrenheit (-17.8 degrees Celsius).
CCA is commonly used to measure the starting power of automotive batteries. The CCA rating represents the maximum current that a battery can deliver for 30 seconds while maintaining a voltage of at least 7.2 volts.
It indicates the battery's ability to start an engine in cold weather conditions, where the engine may require more power to overcome the increased viscosity of the oil and other factors that make it harder to turn over.
When selecting a battery, choosing one with a CCA rating that meets or exceeds the requirements of your vehicle's engine is generally recommended.
A higher CCA rating generally means the battery has a stronger starting power, which can be particularly important in colder climates. However, it's important to note that a higher CCA rating may also result in a larger, heavier battery.
You can choose the right battery with the right power for your vehicle by understanding battery ratings and how they relate to your battery's operating conditions.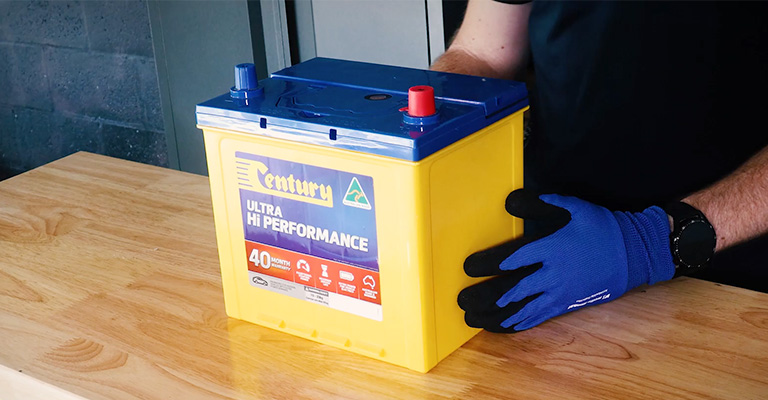 Understanding Cold Cranking Amps (CCA)
Batteries are rated using CCAs to determine their ability to start engines in cold temperatures. The engine starts easier in a warm environment than in a cold one.
At 0°F for 30 seconds, a 12-volt battery can deliver 7.2 amps while maintaining a voltage of at least 7.2 volts. A battery's starting power is increased by its CCA rating.
Consider the CCA Rating if You Live in a Cold Climate
The CCA rating is more important if you live in a cold climate than in a warm one. Over time, battery starting power decreases, so a battery with higher starting power will provide you with more confidence.
Regarding ratings, replacement batteries should be equal to or superior to OE batteries. Low CCA batteries may perform poorly when replaced with the original equipment.
How do you choose the right battery for your vehicle? To help you make the right choice, here are some quick tips.
You can find the original equipment manufacturer's recommendations in your vehicle's manual.
Battery group size – the size of battery that fits your vehicle's physical dimensions. It is possible to fit more than one size group in many vehicles.
Cold cranking amps (CCA) – A high CCA is essential for good cranking performance. This is the maximum amount of amps a battery can support for 30 seconds at 0°F before it loses its usable voltage.
Reserve capacity (RC) – provides power to your vehicle's electrical system if the alternator fails. A battery's power capacity indicates how long it can run your vehicle without falling below the minimum voltage required.
Generally, the higher the CCA and RC, the better. A battery's CCA rating is important if you live in a cold climate. A climate with high temperatures, on the other hand, requires less CCA.
The CCA Battery Rating That a Vehicle Needs to Start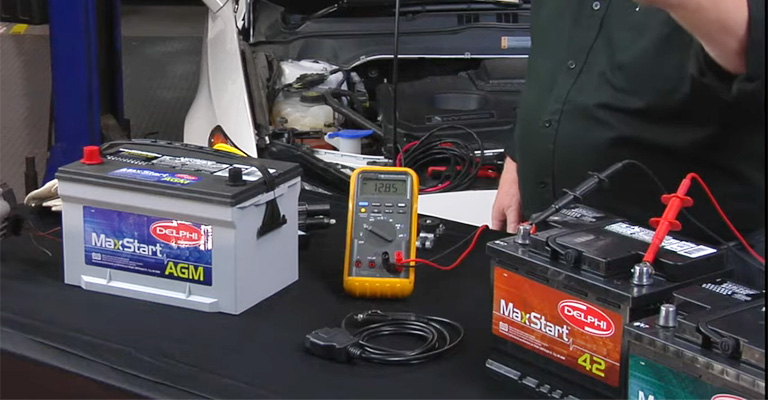 In today's automotive industry, each cubic inch displacement engine requires at least one CCA, and diesel engines require at least two.
Each model and engine's CCA requirement is usually provided by the manufacturer. Automobile batteries cranking current depends on a number of factors, including:
Size of the engine
Circuit resistance
The climate
The viscosity of engine oil
It may be necessary to crank a different amount of current for different starting accessories, for example.
Compared to eight-cylinder vehicles, you may not need the same amount of cranking current if you have a four-cylinder vehicle. To provide the vehicle with its required power, the more cylinders the engine has, the more CCA it requires.
A battery with a higher CCA is not necessary if you live in a maritime or warm area even if you want your vehicle to start faster because something other than temperature could be causing your vehicle to start slowly.
Cold Cranking Amps Vs. Cranking Amps (CA)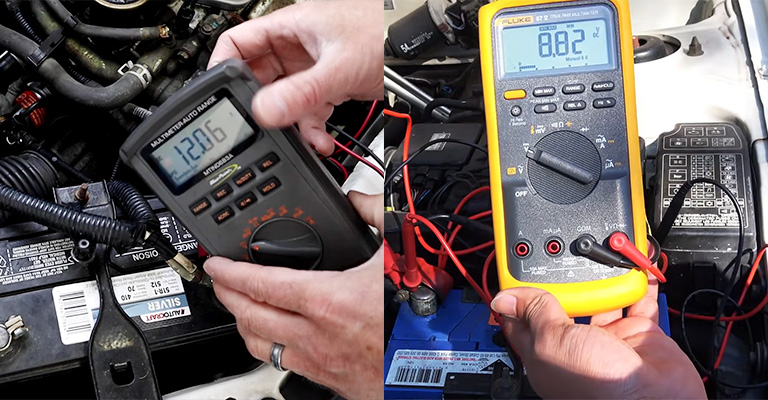 Battery output is measured by Cold Cranking Amps (CA) and Cranking Amps (CCA) at different temperatures. At 0°C or 32°F, the current flowing from the battery is measured to calculate the Cranking Amps (CA).
In normal or marine environments, cranking amps measure how much current (power) your vehicle's engine needs to start.
In CCA, 12-volt battery power is measured by the amount of power required to run a vehicle engine for about 30 seconds at 0°F(-18°C) without falling below 7.2 volts. Due to this, CCAs are better suited to low temperatures.
A CA is typically used to quantify the useful life of a battery at mild temperatures (between 64°F and 86°F). Nevertheless, they cannot predict how well a battery will perform under extreme conditions, such as high or low temperatures.
Battery life can be accurately estimated using CCA. The test allows for the determination of a battery's performance at different temperatures.
Heat, overcharging, and repeated deep discharges can dramatically alter the behavior of batteries, in addition to climatic conditions.
Calculating Amp Hours in a CCA Battery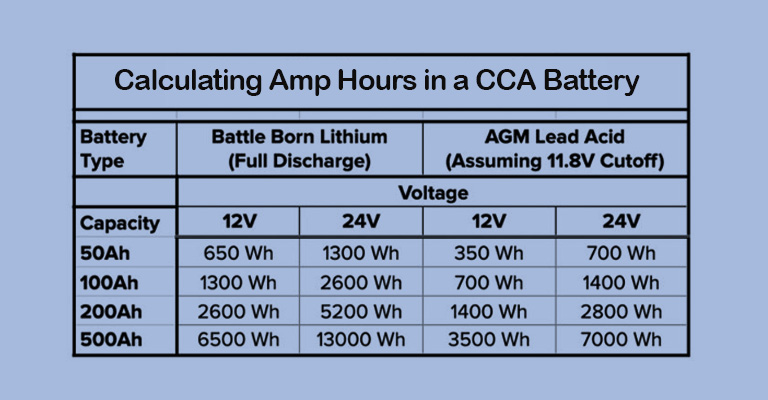 Modern automobiles are becoming increasingly complex, so battery performance is becoming more important.
When purchasing a battery, knowing how many amp-hours it has is crucial. A car battery's CCA values can be used to calculate this.
Batteries can output a certain amount of energy in an hour, measured in amp-hours. For CCA batteries, you can use the following formulas to calculate amp hours. To calculate Ah, divide CCA by 7.25, using CCA/7.25 = Ah.
In other words, if you have a battery rating of 725 CCA, converting it to Ah will give you 100 Amp-hours. Therefore, ten amps of voltage will last the battery for ten hours.
Alternatively, if you multiply the CCA value by 0.7, your Ah value will be 210. Taking 300 as your CCA value, multiplying it by 0.7 will give you 210 as your Ah value.
You can calculate both Ah and CCA ratings using these formulas. When you live in a cold climate, you can select a battery that is appropriate for your vehicle's powertrain.
How Important Are Cold Cranking Amps?
Cold cranking amps are more important in areas where temperatures drop below freezing than in places with consistently warm temperatures.
The CCA of an engine will significantly impact how effective it is for anyone who lives or frequents cold climate locations where temperatures regularly fall below freezing.
Cold weather makes batteries weaker and slower, so it is important to confirm any battery you purchase has a strong CCA rating. Otherwise, you may find yourself struggling to start your engine.
All consumers, even those who don't live in colder climates, should follow battery cranking recommendations for vehicles.
When you attempt to start your car, if your battery gets burned out too soon, you won't be able to crank the engine.
Will A Higher CCA Battery Last Longer?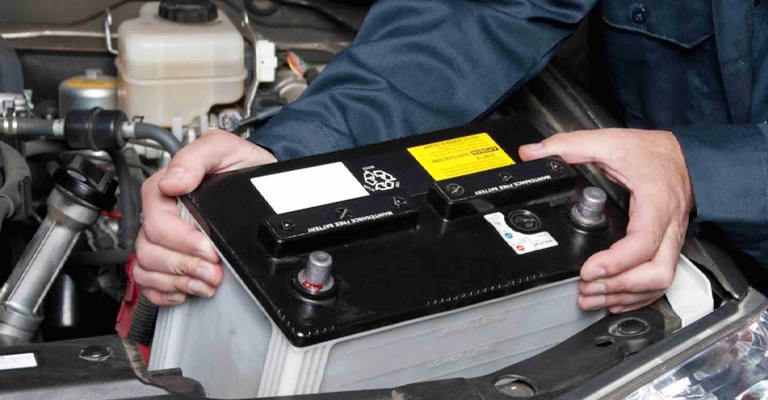 It is possible for a battery with a higher CCA rating to be more reliable and possibly last longer. Further, it doesn't need to be replaced frequently.
Materials, however, determine how long a battery will last. In general, batteries designed for maximum cranking performance tend to live longer than those with reinforced plates and high lead content.
Is It Okay To Put A Higher CCA Battery In My Car?
You can use a battery with a higher CCA rating in your car. High CCA batteries are more likely to leak and fail in hotter climates, so it's only recommended for colder climates. Car battery trays are sometimes too small for batteries with higher CCA ratings.
What Is Considered A Good CCA Rating For A Battery?
Even a battery with 150 CCAs can start a small car. Batteries with 400 to 500 CCAs are required for larger vehicles, such as pickup trucks and SUVs. The CCA rating of some batteries can reach 1150.
It doesn't mean that you need it just because you can find it. A battery's CCA rating should be as high as possible. This is because they are more capable of withstanding extreme weather conditions and have a greater overall capacity.
Make sure your replacement battery has at least 650 CCAs. However, battery models with a high CCA rating will be more expensive.
Your battery may fail in cold conditions if it has a low CCA since it may not be able to deliver enough current to initiate the engine. Low CCA ratings can also lead to the following problems:
Problems with the air conditioner
Failure of windshield wipers
A rapid clicking sound
A dim headlight
Most people use CCA to determine whether a material is good or bad for certain purposes since it estimates the range and lifetime at lower temperatures.
Batteries provide electrical power to some vehicle components, such as air conditioning, radios, and clocks. Batteries with good CCA ratings can therefore support other vehicle accessories.
If a battery has a low CCA rating, it will not be able to start the engine or turn on the headlights.
In small cars, you should use a battery rated at least 150 CCAs, while in high-performance vehicles, you should use a battery rated at about 500 CCAs.
CCA indicates how your battery would perform under worst-case conditions. The climate is the most important determining factor.
Investing in a battery with a higher CCA rate makes sense if you live in a cold climate. What if you rarely see zero in your hometown?
That's probably not the case. You should still make sure any battery you purchase meets the minimum CCA requirements for your vehicle, even if you live in a warm area.
Bottom Line
Cold Cranking Amps (CCA), a rating used in the automotive industry, measured battery performance in cold temperatures.
When a battery is rated for ten amps, it means that it is rated for ten amps for 30 seconds at a temperature of 0°F (-18°C) before it drops to at least 7.2 volts per cell.
Different temperatures affect the performance of batteries. It is, therefore, important to understand your battery's CCA rating, especially if you live in a cold region.
Battery fluids are affected by cold temperatures by slowing down chemical reactions. As a result, the electric current becomes weaker.
Additionally, low temperatures thicken engine oil, making it difficult to pump it through the engine block. Such temperatures cause diesel fuel to gel in diesel engines.