SRS (supplemental restraint system) light indicates the presence of an airbag. In the event of an SRS light, the system is experiencing a problem. The airbags in your Honda vehicle are disabled if the SRS (Supplemental Restraint System) light in the instrument panel remains on.
You shouldn't ignore the airbag light or SRS warning when they come on. There isn't necessarily something wrong with the car, but if you keep driving it, you're playing with fire. Your airbags may not deploy in an accident if this light is illuminated because your safety system isn't functioning at 100%.
It is important to visit a mechanic who has experience finding and fixing problems with your airbags. Airbags do not deploy randomly; they may also not deploy during an accident.
SRS Light Honda Meaning
As soon as a Supplemental Restraint System (SRS) fails to operate properly or operates against its intentions, the car's computer will illuminate the Supplemental Restraint System (SRS) Warning Light.
When the computer detects an accident, the system deploys airbags and tightens seat belts. Most newer models have the fuel pump turned off and the battery disconnected to reduce fire risks.
In order to ensure that the car is running properly, the computer checks the status of the system every time the engine starts.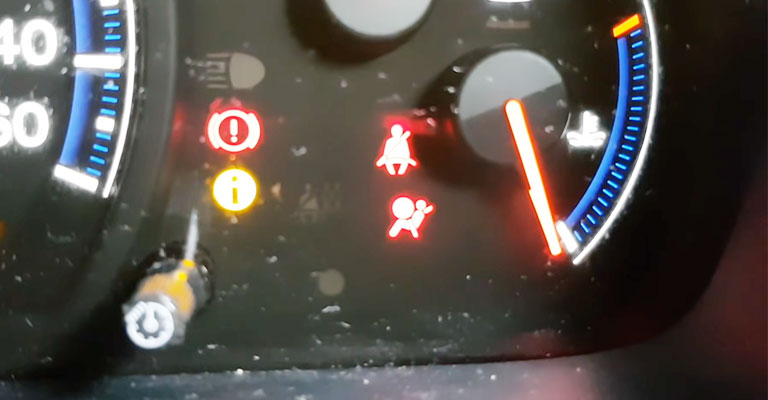 What to Do When the SRS Light Stays On?
The SRS light will illuminate for 6-7 seconds when you start your car, and then turn off if no problems are detected.
You may have issues with the airbags themselves, with a loose wire, with a faulty seat belt buckle, or with the Engine Control Unit (ECU). If the airbag warning light stays on or flashes, you may have a problem with the airbags themselves.
Your first step should be to have your car inspected by a mechanic to discover the issue. The technician can then determine whether the problem is with the ECU or the airbag module by adjusting the airbag sensor in your car.
An experienced technician will scan your car's computer system to find the specific problem and repair the damaged or malfunctioning parts if your SRS light stays on due to an issue with the airbags themselves.
What Does It Mean When My Supplemental Restraint System (SRS) Warning Light Is On?
We are pretty much left with the mechanical seat belt if we are in an accident with a disabled SRS system. The growing number and increasing speed of cars create peril on the roads, and all precautions should be taken, even if we feel like we are the safest drivers on the road.
It is also possible for the insurance company to find out whether the SRS system was disabled prior to an accident, since the SRS computer records data much like an airplane's "black box".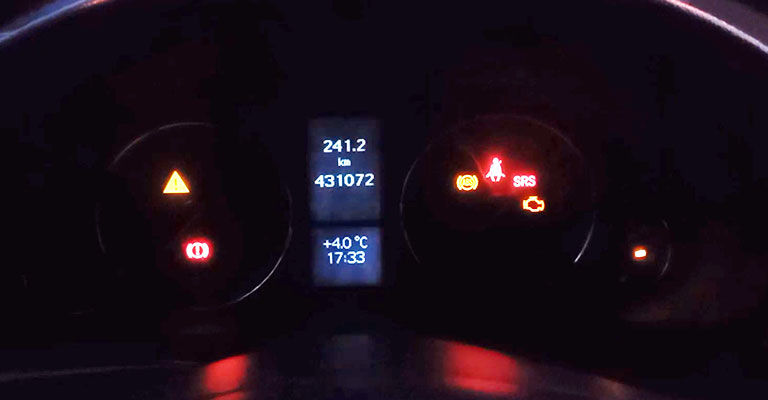 What Would Cause The SRS Light To Come On?
SRS lights typically illuminate when a vehicle is started, then extinguish shortly afterward. The light may not illuminate when starting, or it may remain illuminated for a long period of time, if one or more components of the SRS are malfunctioning.
Airbag warning lights that stay on or flash may indicate problems with the airbags themselves, loose wires, faulty seat belt buckles, or Engine Control Units (ECUs).
Any component of the SRS that is not working properly will cause an SRS warning to appear. The warning light can be triggered by issues like these.
Defective or needing to be reset crash sensor
Steering wheel clockspring damaged
Seat belt switch malfunction
Resetting The SRS Light On Honda
If you reset the SRS light, it will remain off, but it doesn't fix any underlying problems. SRS lights can also be caused by simpler problems such as a low-voltage battery or a weak battery.
The light can be reset on your own, but it won't address any underlying issue(s). Here are the steps you should follow.
You will need to locate the Memory Erase Signal (MES) plug. It can be found under the dashboard near the fuse panel on the driver's side. There are two wires coming out of the yellow harness.
The MES plug should be disconnected from its socket. Strip each speaker wire end. After that, insert one end of each wire into each plug opening. Paperclips can be used instead of wires if you don't have any.
Then, turn on the ignition by holding both wire ends together. There will be an SRS light that will come on, and it will turn off after a few seconds. Pull the wires apart once the light has turned off. You should be able to turn on the light again.
Once the wires have been stripped, hold them together again. There should be no longer any SRS light. Pull the wires apart when the light goes out. There should be two blinks of the SRS light.
Start your car as normal after turning off the ignition. Initially, the SRS light should come on, and then it will turn off and remain off for a short period of time.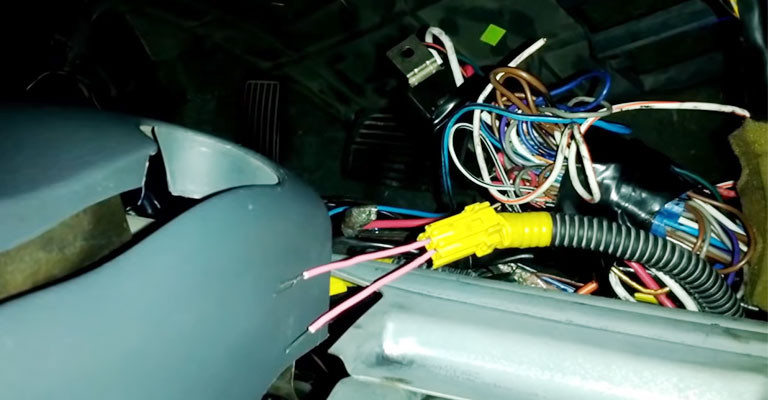 Cost Of Resolving SRS Warning Light
Your vehicle may need a few airbags replaced with all their sensors, which could easily end up costing you tons of money on a repair that may not even be as expensive as the airbags themselves. Perhaps you should sell that car before you open a can of worms.
For the initial diagnosis, you can expect to pay between $100 and $200. Consider reputation over price in this case, so don't just shop by price. When a shop has to dig down to the component to test it, some of the diagnostic work is folded into installation.
The diagnostic cost is estimated to be between $100 and $200
The estimated cost of the part(s) is $75-$1000
It is also important to realize that the shop might need to return for additional time and money to resolve the problem. It will be expensive to buy parts.
Because of the nature of this system, very little aftermarket distribution exists, so many components are purchased from the factory directly by dealers.
You may have to pay $75 to $125 for a clock spring or crash sensor, $200 to $300 for a seat belt with pretensioner, and upwards of $1000 for the computer.
Can You Drive With Your SRS Light On?
It's not recommended to leave the airbags on with the light on, even though it's possible the airbags could still deploy if an accident were to occur. You can also turn it off. The best thing to do is to have it looked at by a professional and diagnosed as soon as possible.
Did you know? In spite of the fact that you have never been involved in a car accident, you need to have your SRS system inspected and replaced.
The airbags in your vehicle have sensors and wiring located throughout, which wear out with time. Manufacturers recommend having them inspected every 10 years or so.
The system does not necessarily have to be replaced, but you should make sure it is working properly and check it regularly.
What Should I Do If My Car Has An SRS Light On?
In the event of an SRS light, there is no need to panic, but rather to be aware of what is going on. Visit your local repair shop to have the vehicle repaired. The computer of the car should be diagnosed, and the code checked to determine why this warning light is on.
It would be best to contact a local Honda dealer first. There are some SRS components that might still be covered by their original warranty (or by a longer warranty than standard); if this is the case, you might not have to pay for the repair. You don't have to pay anything to ask.
Depending on the results of the diagnostic, you will be able to determine what repairs need to be made. When your vehicle is relatively new and only needs a simple crash sensor reset, you should have that fixed so you can drive with peace of mind.
The Bottom Line
An SRS system that has been disabled outside of an accident poses no immediate danger to the driver. There will be no stranding on the side of the road. Nevertheless, it is important not to ignore the light.
Safety devices are built into this system to prevent serious injuries or deaths in case of an accident. Take your time in finding a good mechanic, one who is experienced in SRS work, and give the system time to be repaired.
There may be some delay in diagnosing because of the wiring and electronic device checks required. Getting to these components can be very difficult, but if they need to be repaired, it might be as simple as replacing a seat belt, corroding a crash sensor, or removing water from a connector.