Regarding engines, enthusiasts and gearheads throw around plenty of terms. One term that often pops up in discussions about high-performance engines is "Frankenstein motor." But what is a Frankenstein motor, and how does it differ from other types of engines?
In this article, we'll examine this term and explore its meaning, where it came from, and why it's become such a popular concept in high-performance engines.
Whether you're a seasoned gearhead or just starting to learn about engines, read on to discover the world of Frankenstein motors.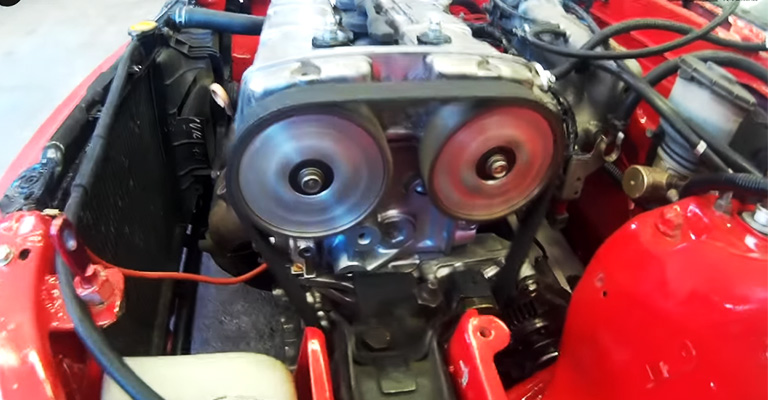 In-Depth About What is a Frankenstein Motor?
A "Frankenstein motor" describes an engine built using parts from different manufacturers or models. This creates a hybrid engine that may not have been originally intended.
The term often describes high-performance engines assembled using aftermarket parts, custom modifications, and tuning.
The name "Frankenstein" comes from the famous novel by Mary Shelley, in which Dr. Frankenstein created a monster piecing together different body parts.
In the same way, a Frankenstein motor is made up of various components from different sources. This creates a unique and often powerful engine that you may not find in any production vehicle.
Frankenstein motors are commonly used in motorsports and racing. That's where performance is a top priority, and custom-built engines can give a competitive edge.
However, they can also be found in street vehicles and hot rods built by enthusiasts looking for powerful engine setups.
Building a Frankenstein Motor: Tips and Tricks for Assembling an Engine from Scratch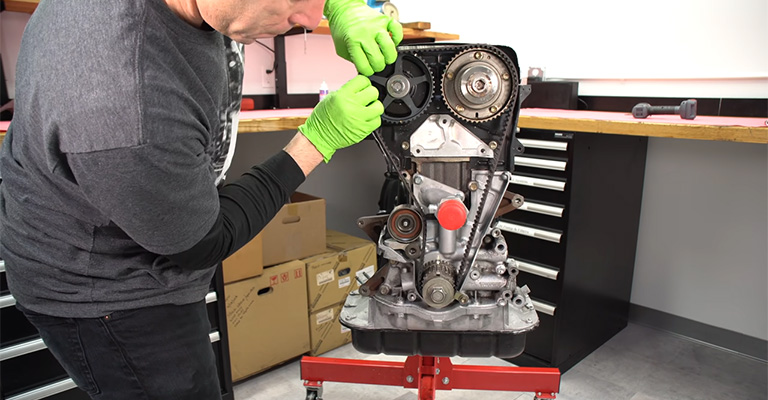 If you're looking to build a high-performance engine, one option worth considering is a Frankenstein motor.
These engines are built by piecing together components from different manufacturers or models to create a robust engine setup. Here's a closer look at how Frankenstein motors are built.
Choose Your Donor Parts
If you're building your Frankenstein motor, choosing the right donor parts is essential! You need to be careful when selecting the engine block to even the pistons and valves. Ensuring this will make your Frankenstein work like magic!
Get Your Parts Machined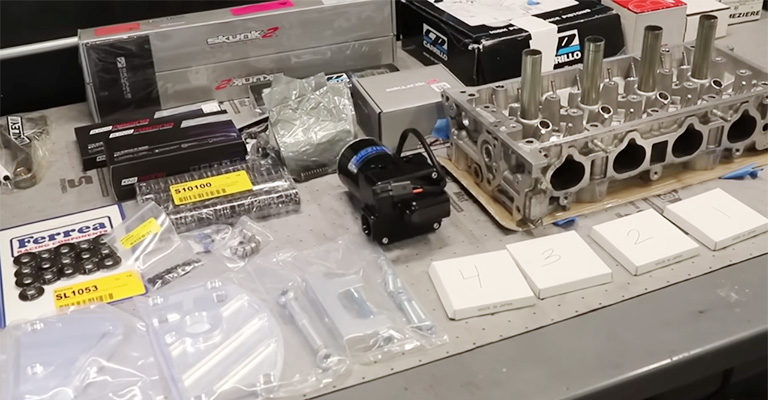 After getting all your donor parts, the next step is ensuring they fit together perfectly and with the right precision. This includes boring out cylinders, honing pistons, and even milling cylinder heads.
Assemble Your Engine
It's time to put the pieces together! The process requires precision and can also be challenging at times. This is because you must ensure everything is correctly fitted and torqued.
Fine-Tune Your Engine
Fine-tuning your engine is a must to ensure optimum performance. You can do this by adjusting the carburetor or changing spark plugs. And once you're done, take a dyno-test to check the power output reading.
The Pros and Cons of Using a Frankenstein Motor in Your Vehicle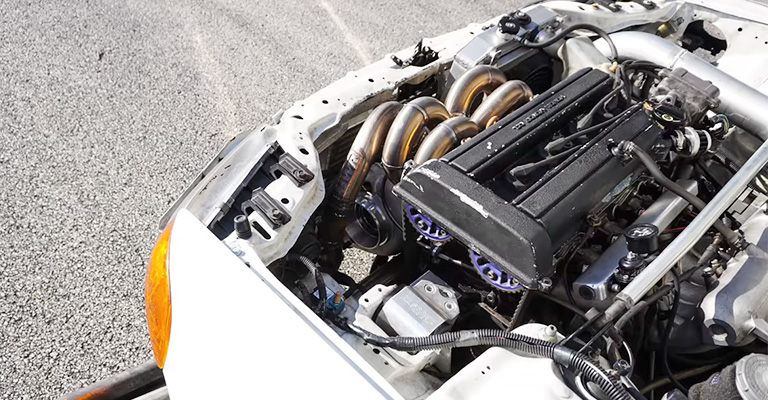 In this section, we'll talk about the possible good sides and drawbacks you can face while using a Frankenstein motor in your vehicle.
Pros:
Frankenstein motor can offer increased performance compared to a stock engine.
The motor comes with a pretty unique build that can set your vehicle apart from others on the road.
Building this motor is a cost-effective way to produce a high-performance engine.
Cons:
One of the significant drawbacks of a Frankenstein motor is the compatibility issue between different components. If the parts aren't matched, it can lead to engine failure.
Since this motor comprises different components, diagnosing and repairing problems that arise can be difficult.
Depending on the laws in your area, using a Frankenstein motor may not be legal for street use. So, checking the local regulations before getting a Frankenstein motor is necessary.
How to Maintain and Repair a Frankenstein Motor?
Maintaining and repairing a Frankenstein motor requires careful attention to detail and a good understanding of how the engine works. Here are some tips for keeping your Frankenstein motor running smoothly.
Regular Maintenance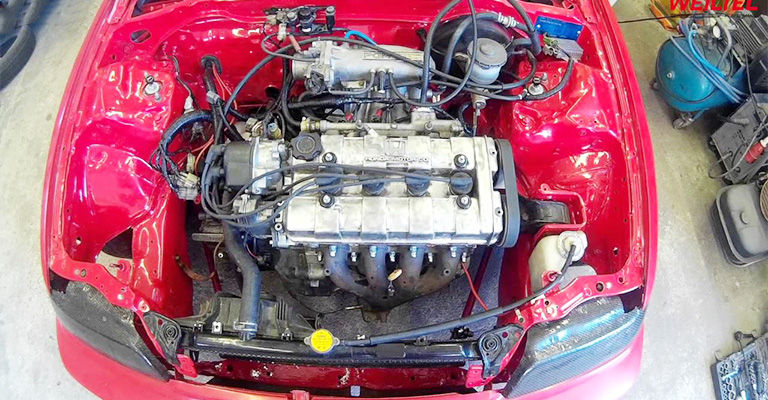 You can keep your Frankenstein motor well-maintained with regular maintenance! The maintenance should include changing the oil, swapping out spark plugs, and also keeping a close eye on its cooling system for any overheating issues. You should also check on the carburetor settings to ensure optimum performance.
Identify and Fix Problems Early
Stay ahead of any issues with your Frankenstein motor. Never ever delay with any of the problems you encounter.
Check for strange noises or even sniff for any odd smells that could indicate something is wrong. The quicker you address problems, the more maintained your motor will be!
Work with an Experienced Mechanic
Working with experienced mechanics is a must when it comes to your necessary for Frankenstein motors.
An authentic specialist can identify any issues and suggest repairs or upgrades ensure your vehicle runs smoothly and fine.
Use High-Quality Parts
Keep your Frankenstein motor running smoothly by using its best components. Remember this; quality parts will always make all the difference when you need a reliable and powerful engine.
Perform Regular Dyno Tests
Regular dyno tests will keep you updated about your motor. These check-ups will help you diagnose any issues before they can prove detrimental to the engine.
Keep Good Records
Maintaining maintenance and repair records can help you stay on top of your engine's needs and ensure that it continues to perform well over time.
Common Problems with Frankenstein Motors: Diagnosis and Solutions
While Frankenstein motors can offer superior performance, they can also come with their own unique set of problems. Here are some common issues with Frankenstein motors, along with possible diagnoses and solutions:
Overheating
One common problem with Frankenstein motors is overheating. Several factors, including improper coolant levels or a malfunctioning water pump, can cause it.
To diagnose the issue, check the coolant levels and inspect the water pump for signs of damage.
And to solve the issue, replace the water pump if necessary, and ensure that the coolant levels are properly maintained.
Misfiring
Misfiring can be due to various issues, including faulty spark plugs, a clogged fuel injector, or a malfunctioning ignition coil.
For diagnosing the issue, check the spark plugs and ignition coil for signs of wear or damage, and inspect the fuel injector for blockages.
And to solve the issue, replace any faulty components, and ensure that the fuel injector is properly cleaned.
Oil Leaks
Oil leaks are a common problem with Frankenstein motors, which faulty gaskets, worn-out seals, or damaged oil pans can cause.
Diagnose the issue by inspecting the engine for signs of oil leaks and checking the gaskets and seals for wear or damage.
Replacing faulty gaskets or seals and repairing or replacing the oil pan would solve this issue.
Engine Knocking
Engine knocking can be due to many issues, including worn-out bearings, low oil pressure, or a malfunctioning timing belt.
To diagnose the issue, check the oil pressure and inspect the bearings and timing belt for wear or damage.
And to solve the issue, replace any faulty components, and ensure the engine is properly maintained.
Case Study: Famous Frankenstein Motors in Automotive History
Throughout automotive history, there have been numerous Frankenstein motors that have left their mark on the industry. Here are some notable examples:
The Shelby Cobra
This legendary sports car owes some success to its unique engine. The first generation used a Ford V8, but the second featured a hybrid motor combining a Ford V8 and a Chrysler transmission. And the result was a powerful and dependable engine that helped the Cobra dominate on the track.
The Dodge Viper
Another iconic sports car that utilized a Frankenstein motor was the first-generation Dodge Viper, which featured a V10 engine developed from two different Dodge V8s.
This custom-built engine gave the Viper incredible power and performance, making it a favorite among racing enthusiasts.
The Hennessey Venom GT
Built to compete with supercars such as the Bugatti Veyron and Koenigsegg Agera, the Hennessey Venom GT is a hypercar that features a hybrid motor.
The engine combines a modified Chevrolet LS V8 with a Lotus Exige body to deliver a mind-boggling 1,244 horsepower, setting a new world record for the fastest production car.
The Singer Porsche 911
Combining classic Porsche design with modern engineering, the Singer Porsche 911 features a Frankenstein motor.
It combines a Porsche flat-six with components from other manufacturers to create a high-performance engine that delivers impressive power and torque.
These famous Frankenstein motors demonstrate the potential of custom-built engines that combine components from different sources.
By piecing together the right components, enthusiasts can create engines that deliver impressive power, reliability, and performance.
The Bottom Line
In conclusion, we hope this article has helped you understand what is a Frankenstein motor. A Frankenstein motor is an exciting part of the automotive world that allows for unparalleled customization and performance.
By combining parts from different engines, you can create a truly one-of-a-kind machine that delivers impressive power, speed, and efficiency.
With the right tools, knowledge, and passion, you can create an engine as unique and powerful as you are.
So, if you want to learn more about Frankenstein motors and how they can transform your ride, keep exploring this fascinating topic.